Print This Post
Summer Vegetable Pasta Sauce and Purée
Ingredients:
-1 zucchini, chopped
-Kernels from 1-2 ears of corn
-1 onion, chopped
-1-2 carrots, peeled and chopped
-1 clove garlic, smashed and peeled
-A few leaves of basil
-Olive oil, salt, pepper and red pepper flakes, to taste
-1 mug of reserved cooking liquid from the pasta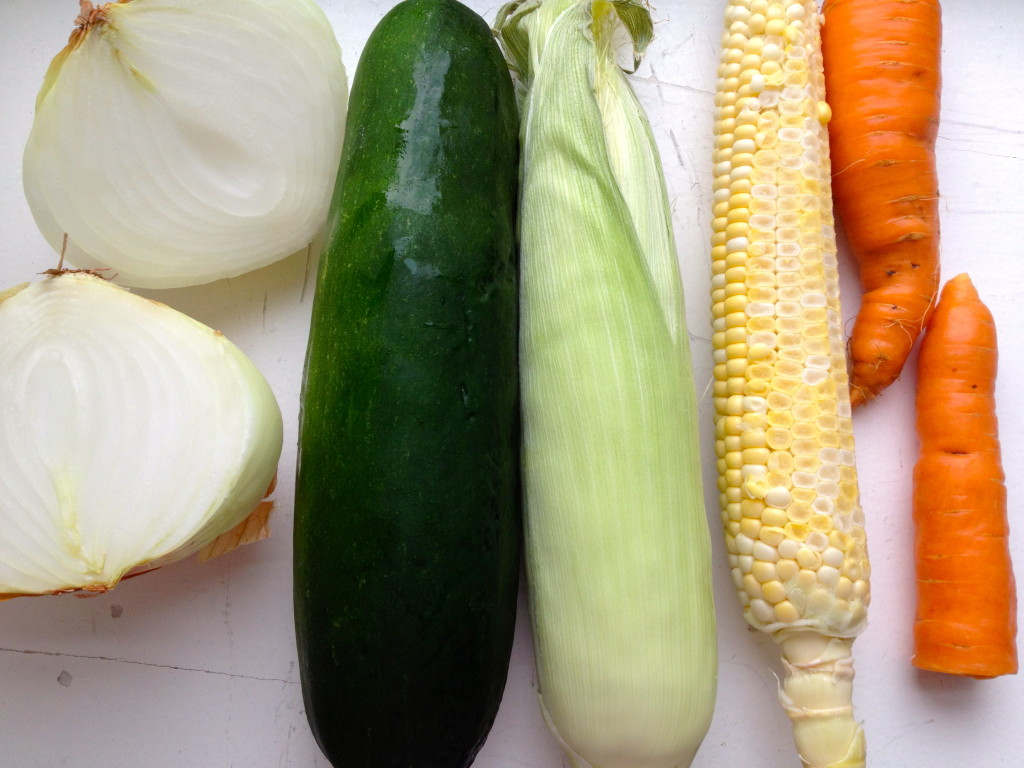 Preparation:
Start the pasta and prepare the vegetables:
Fill a large pasta pot with hot water, a little olive oil and a few pinches of salt. Cover and heat over high until it comes to a boil. Meanwhile, peel and chop your vegetables.
Once the water comes to a boil, cook your pasta according to the directions on the package. Scoop out a mugful of cooking liquid and set it aside. Return the cooked pasta to the pasta pot and set aside.
Cook the vegetables:
In a large sauté pan, heat the olive oil over medium heat. Add the garlic and red pepper flakes and let cook for about 30 seconds. Then, add the onions, a pinch or two of salt, stir and sauté for around 5 minutes. Stir occasionally.
Add the carrots, a pinch of salt and stir. Cook for another 3 minutes.
Stir and add the zucchini and another pinch of salt. Stir and let the vegetables cook for another 2-3 minutes or until the carrots are softened. Add a pinch of salt and pepper and stir in the kernels of corn. Cook for another minute, add in the basil, stir and remove from the heat.
Purée and prepare the sauce:
Using a food mill or blender, pour in the vegetables and purée until smooth. Return the mixture to the warm pan, stir and taste. If the sauce is too thick, stir in a few tablespoons of reserved cooking liquid from the pasta until the desired texture is achieved. Taste, adjust seasoning as desired and spoon in the cooked pasta.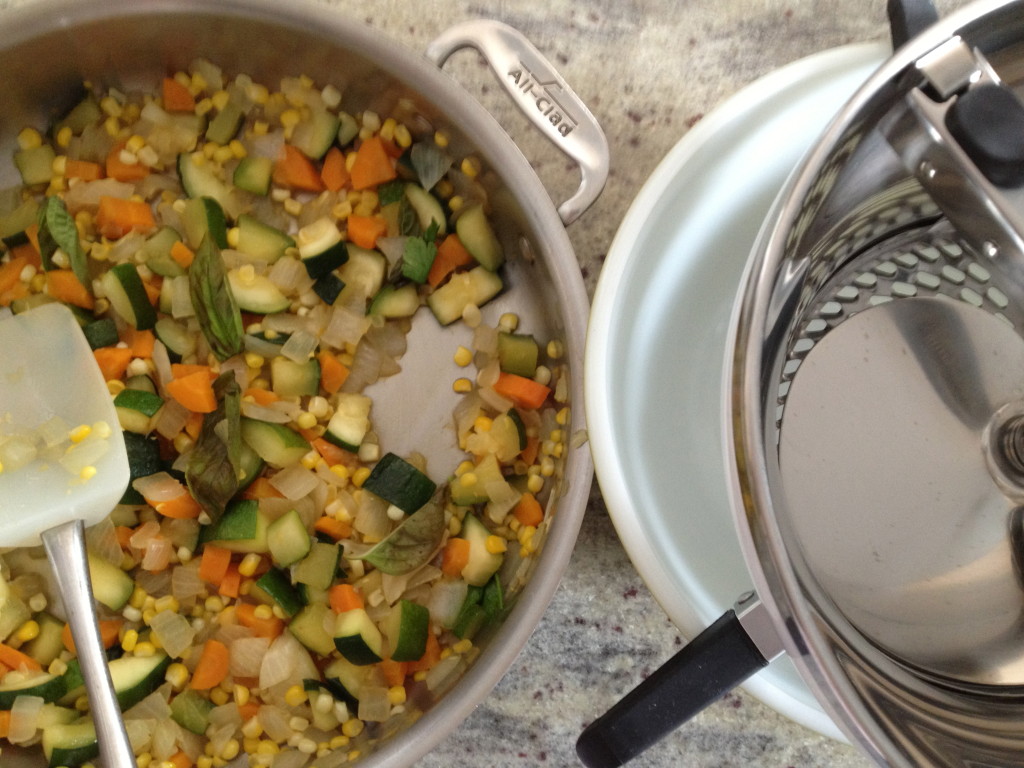 Mix, serve and enjoy.
Are you new to using a Food Mill? Check out my Tips for Using a Food Mill to make using one a breeze.
Happy Cooking!
Tags: baby and family, carrots, corn, Meatless Monday, onions, Purees For Two, summer, vegan, vegetarian
« Previous Tips for Using a Food Mill and GIVEAWAY!! Massaged Kale Salad with Roasted Beets: {Meatless} Monday Meal Next »