Print This Post
I know this is not a big deal and I feel a bit silly getting all bent out of shape about it. But, it's making me so frustrated. What am I whining about? Around a month ago, Eliana began her own potato strike and has been refusing to eat them ever since. It's like the moment she figures out that potatoes are involved in a meal–she's done! What the heck did the potatoes do to her?? So in response, I've begun my own one-woman crusade for the love of potatoes. As part of this crusade I've made the following dishes with potatoes. Recipes for all of these meals are at the end of the post.
1. Purple Mashed Potatoes
2. Pasta with Hidden Potatoes
3. Tortilla Española
4. Smitten Kitchen's Oven-Baked Fries
5. Potato Leek Soup using Peter Berley's Vegetable Stock Recipe
I have no idea why Eliana's potato strike began. But, I have read that this isn't an uncommon occurrence right around the 18-month mark. These little people all of a sudden want to exert their newfound abilities and independence all the time, so why wouldn't that extend to mealtime? And how can they claim their autonomy in this arena? By refusing to eat, of course. And they love when we get all crazed and freaked out about it. Or, at least my little 19-month old thinks it's a freakin' riot.
So what am I doing about Eliana's self-imposed potato strike?
1. Not giving up on the meal she's been served and getting her something else to eat. Instead, I include at least 1 or 2 things she will (typically) eat with every meal so she doesn't completely starve.
2. Not begging, pleading and bribing her just to eat them. Though, it does occur to me! Instead, I make sure to seem particularly disinterested by the whole topic of eating potatoes and sometimes I even walk into the kitchen for a few moments just to prove that I don't care if she eats those damn potatoes or not. EVEN IF IT IS BURNING ME UP INSIDE!!!
3. Preparing potatoes in a variety of ways so they are presented with different ingredients and in different textures.
So here's a description of how each potato preparation was received. Keep reading until the end for the recipes! Hells yeah, I'm making you wait for them! 😉
(Or, I suppose, you can just scroll on down to the bottom of the post).
1st preparation: Mashed Potatoes
So, straight up potatoes might have been too intense. But, I thought the pretty purple color would draw Eliana in. Nope. Nada. She did, however, enjoy playing with them raw.
2nd preparation: Sautéed Potatoes with Pasta (recipe is called Pasta with Hidden Potatoes)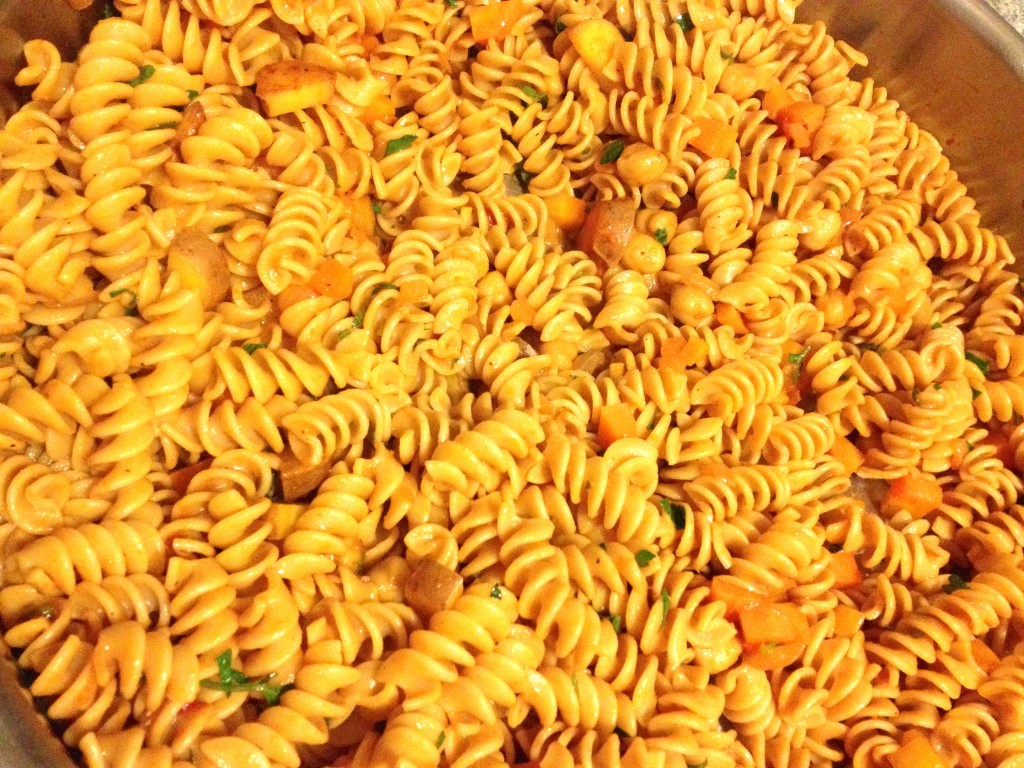 Well, she did take a bite or two of the potatoes mixed in with the other vegetables and pasta. But then, mid-chew, she gave me a look like I had just stabbed her in the back. "Et tu, Brute?" POTATOES??? She did, however, eat the rest of the dish, minus the potatoes, of course.
3rd preparation: Sautéed Potatoes with Eggs (recipe is Tortilla Española)
Like the pasta recipe, I figured this recipe was a good one because the potatoes were mixed in with the eggs and Eliana is a big fan of eggs. The result was basically the same as the result with the pasta dish. She ate a few bites until she discovered that I put those awful tubers in there. I'm so rude, right? After she discovered the potatoes, she tried to give the rest of the tortilla back to me. Sigh.
So that led me to my 4th preparation because I thought, well, if at first you don't succeed, fry, fry again! Right?
4th preparation: French Fries (recipe is called Smitten Kitchen's Oven-Baked Fries)
Yes, fries. Experts say to introduce a food with all different textures, so fries were on the list. But, I wanted to make Eliana a healthier version of fries so I consulted a much-loved source for recipes and found one that looked delicious in the new cookbook from Deb Perelman–writer and creator of Smitten Kitchen.
I figured this would be the preparation she would eat. I mean, who doesn't love french fries? Isn't it a widely known fact that everything is delicious when fried?? (Well, or at least, oven-baked?) But, before she even tried one of the ah-ma-zing fries right out of the oven, she knew something was up. Too big of a deal was being made over this thing we all wanted her to taste. She refused to take the one that was offered to her but did eat the fry I was eating. Everything tastes better off of someone else's plate, huh? I think she consumed two of them.
What kid in America won't eat french fries??? Now I'm sure she's a super freak. Honestly, we were shocked she wouldn't eat them but we were pretty psyched that there was a bigger pile for us to devour!

5th (and final, for now) preparation: Potato Leek Soup using Peter Berley's Vegetable Stock Recipe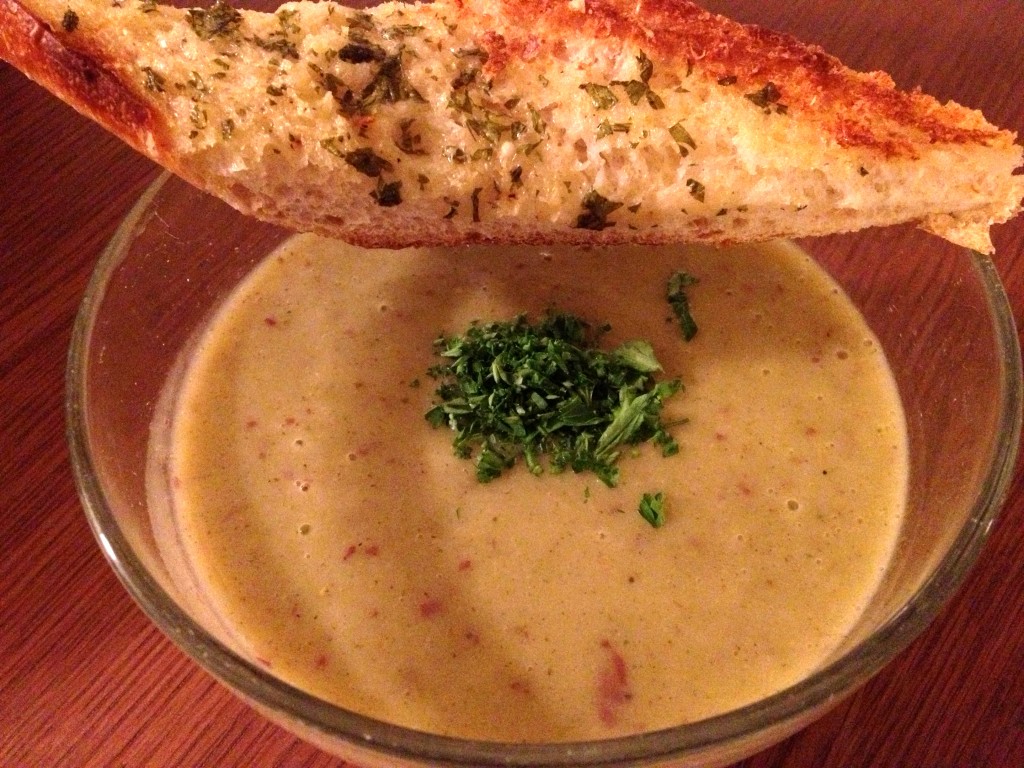 After four other potato preparations, the fifth time was the charm! Eliana loved both eating and wearing the soup! Woohoo! So, maybe it's a texture thing after all?
Click here to see a video of Eliana eating the soup on our YouTube channel. Can you feel my anxiety over the mess she's making with the soup??
And finally, here are all the recipes. Enjoy!! One quick note about the recipes: I typically leave the skin on my potatoes. I just make sure to scrub them really well so all excess dirt and grime is removed.
1. Purple Mashed Potatoes
-4 purple fingerling potatoes, scrubbed clean and chopped
-3 regular fingerling potatoes, scrubbed clean and chopped
-¾ cup warm milk (I used ½ cup 1% and ¼ cup whole milk)
-½ tablespoon unsalted butter
-Salt, pepper, garlic powder to taste
Boil the potatoes in salted water until tender, around 8-10 minutes. Drain and return to the hot pot. With the heat on medium-low, add a few pinches of all three spices, ½ tablespoon of butter and ¼ cup of milk and begin mashing the mixture with a fork or potato masher. Keep mashing and adding more milk until your desired consistency is reached. Taste and add more butter and/or seasonings as needed.
2. Pasta with Hidden Potatoes
-1 box whole-wheat rotini pasta
-1 mug of reserved cooking water from the pasta
-2 large carrots, peeled and chopped into small chunks
-1 large yellow onion, chopped into small chunks
-3-4 fingerling potatoes, scrubbed clean and chopped into very small and thin slices
-½ can chickpeas, rinsed and drained
-2-3 garlic cloves, smashed
-Small handful parsley, chopped
-3-4 tablespoons tomato paste
-Parmesan cheese, freshly grated
-Olive oil, salt, pepper and red pepper flakes to taste
Start the pasta:

Boil the water for the pasta and cook the pasta according to the directions on the package. Don't forget to reserve a mugful of the cooking liquid and set it aside.
Prepare the sauce:

Meanwhile, heat olive oil in a large sauté pan over medium heat. Add the garlic and red pepper flakes and cook for around 45 seconds to 1 minute. Add onions and a pinch of salt and stir. Sauté for around 4 minutes, stirring occasionally. Add the carrots, potatoes, some pepper and more salt. Stir and sauté until the potatoes are softened, 7-10 minutes. Add in the chickpeas, tomato paste and a few tablespoons of the reserved cooking liquid. Stir and let simmer around 1 minute. Taste. If needed, add more liquid and adjust seasoning levels as you prefer. Stir in ¾ of the chopped parsley.
Add it all together and serve:

Stir in the cooked pasta and mix well so the sauce and pasta is combined. Transfer pasta to individual plates and top with parmesan and remaining parsley and serve.
3. Tortilla Española
Click here for a link to my recipe.
4. Smitten Kitchen's Oven-Baked Fries
Deb calls them 'Tarragon Oven Fries' and her exact recipe can be found on page 156 of the SK book. I had sage, but no tarragon, so I used that herb instead.
-2 Yukon Gold potatoes with the skin on
-3 (ish) tablespoons Olive oil
-1½ tablespoons sage, finely chopped
-Fine Kosher salt and pepper to taste
Heat the oven to 450°. Line a large baking sheet with parchment paper, and spread most of the oil over the pan. Slice the potatoes into sticks—around ½-inch thick. Place them in a pot and cover them with cold water. Bring them to a simmer over medium-high heat for around 6-7 minutes until they are halfway cooked. A fork should be able to pierce the potatoes but not go all the way through. Carefully drain the potatoes so they don't break and spread them out onto paper towels and blot them so they dry off. Heat the baking sheet in the oven for around 4 minutes. Spread the fries out onto the warm baking sheet. Drizzle them with the remaining olive oil, some salt and some pepper. Bake them for 25 minutes, tossing them after 12 minutes. Remove them from the oven and transfer them to a large bowl. Toss them with the chopped sage and more salt and pepper as needed.
5. Potato Leek Soup using Peter Berley's Vegetable Stock Recipe
Here's a link to my original Potato Leek Soup recipe from April 2012. I changed it up a bit for this soup based on the ingredients I already had at home. And, when I was complaining to my mom about Eliana's self-imposed potato strike, she suggested that maybe my baby girl wants a bit more spice with her potatoes. So, I literally spiced up the soup!
Also, I made my own vegetable stock. I know—who am I? It sounds like a lot of effort but it was actually super easy—especially since I had a bounty of fresh veggies lying around. Recently, I had the amazing fortune to spend the weekend cooking with and learning from Peter Berley and I used a recipe for vegetable stock that I learned that weekend. (I know. I didn't tell you about it yet. Awful. I just haven't set aside the time to even process my amazing weekend much less be able to tell you all about it! Post forthcoming, I promise!!)
Peter Berley's Recipe for Vegetable Stock
Makes about 2 quarts
-2 large onions, chopped into ½ inch chunks
-4 carrots, peeled and cut into ½ inch chunks
-2 stalks celery, chopped into ½ in chunks (include the leaves, too)
-2 parsnips, peeled and chopped ½ inch chunks
-2 heads garlic, unpeeled and cut in half
-10 cups water
-2 bay leaves
-2 sprigs fresh thyme (I used parsley)
In a large pot, place the onions, celery, parsnips, carrots and garlic along with the water. Bring to a boil. Skim the foam off the top of the pot and add the bay leaves and fresh herbs. Lower the heat and simmer for 1 to 1½ hours. Strain out the vegetables and store liquid in an airtight container. The stock is good for up to 4 days in the refrigerator or 4 months in the freezer.
My revised version of Potato Leek Soup
-3 red potatoes, skin on and chopped
-4 french fingerling potatoes, skin on and chopped
-3 leeks, white parts only
-4 scallions, white parts only
-5 leaves of red swiss chard, chopped
-1 quart vegetable broth
-Olive oil, salt, pepper and chili powder to taste
In a large saucepan, heat olive oil over medium heat. Add the leeks, scallions, a pinch of salt and stir. Sauté for 5 minutes, stirring occasionally. Add the potatoes, swiss chard, more salt and some pepper and stir. Sauté for another 5 minutes, stirring occasionally. Add the vegetable broth and bring the heat up to high so the mixture begins to boil. Boil for a minute, stir and reduce the heat to low. Cover the soup and let it simmer for 15 minutes or until the potatoes are tender. Turn off the heat and puree the soup until smooth. Add chili powder and taste. Adjust the seasoning levels as needed.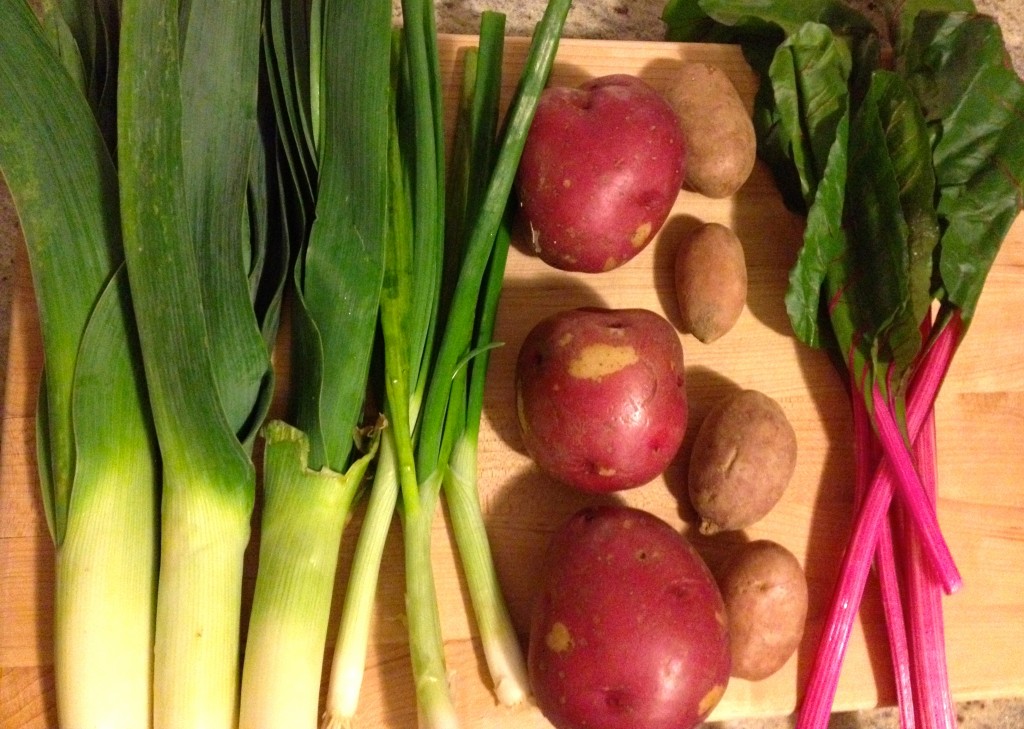 So there's the story of Eliana's self-imposed potato strike and my one-woman crusade to end it!
Happy Cooking! And cooking, and cooking and cooking….
Tags: carrots, chickpeas, leafy greens, onions, potatoes, swiss chard, tomatoes
« Previous Quick and Hearty "Rice Pudding" Fish with Sautéed Vegetables and Rice: Monday Meal Next »