Print This Post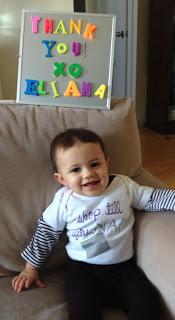 Thanks for reading about me!
Thanks to everyone who is publicly "Following" us on Google, Facebook and Twitter and to those who are privately subscribing by email. We LOVE the Love!
 I'm so excited to learn that there are people out there who are interested in teeny tiny foodie. (People other than my family and friends who are bullied into reading the posts.) I was amazed to see that not only are people all over the U.S. reading us, but also, people in Singapore, the United Kingdom, Thailand, Russia, Germany and Spain too! Wow! teeny tiny foodie has gone global! Wow!!
I got an email this morning from someone who asked about following us by an RSS feed. (Thanks for your interest!) I have to be honest here, I don't know what an RSS feed is. Full disclosure? A lot of the layout and "buttons" on teeny tiny foodie are a direct result of the efforts of my amazing brother-in-law, Greg. The "Facebook Like Box" and "Follow Us on Twitter" buttons? ALL GREG. (Thanks, Greg!!) I'm learning about some of this stuff as I go. But, in an effort to be proactive, I was looking at both the blog and our Facebook page this morning to try to figure out how to answer her question. Someone who is not a friend or family member is interested in us? I cannot disappoint!
So, if anyone is else interested, here are the ways in which you stay up to date with teeny tiny foodie by receiving new posts: (And, really
, who wouldn't want to receive our updates??)
If you scroll all the way down to the bottom of the posts, there is a button on the left side that says "Subscribe to: Posts (Atom)." When I tried it, what showed up in my email said RSS on it. (Are RSS and Atom the same thing?? Rest assured, I'm waiting for a response from Greg to tell me both what RSS is and how it differs from Atom.) But that is one method that seems to work.

Also at the bottom of all the posts, there is a gadget on the right that says, "Follow by email." This definitely works. But there is a 12-24 hour delay between when I post and when it will show up in your email inbox. 
On Facebook:
Go to our page 

teeny tiny foodie

 . On the left side of the page under where it says how many people "Like" us and are "Talking about" us, there are two buttons you can use.  One says, "Get updates via RSS" and the other says, "Get updates via SMS."

If you "Like" us on Facebook, our new posts will always show up in your news feed. (Just learned that from Greg about 10 seconds ago.)
On Twitter:
So, thanks again! We really do appreciate your interest.
And, Greg: If I missed any of the ways people can stay current with us, please let me know. 😉
Now, just because I think they are funny, here are a couple of the other attempts at a "Thank You" photo.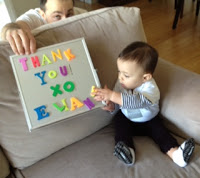 Ooh! Can I eat that? Is it organic?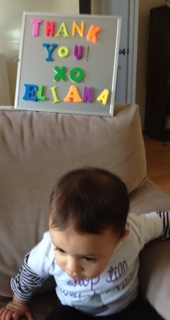 Alright. I've got things to do. Later!
« Previous Baby Food Recipes 2/8/12 Fungus Among Us- Part 1 Next »