Print This Post
I saw this (original) recipe on Babble.com and it looked super easy, fast and delicious. How can I not love that combination? Before I even started cooking, I modified the recipe a bit and doubled the amount of sauce I made. We like a lot of sauce over here. But, I did end up with some extra sauce so I found some other ways to use it. I've added those little extras to the bottom of the recipe. Don't like tofu? Just swap it out for your preferred protein. The star of this recipe is really the peanut sauce. So. Super. Good.
RIDICULOUSLY GOOD Peanut Sauce with Seared Tofu and Vegetable Rice
-6½ tablespoons smooth peanut butter (I look for brands that are just peanuts, no additives, like Arrowhead Mills)
-3½ tablespoons tamari
-Zest of 1 lime
-Juice of 2 limes
-2½ tablespoons maple syrup (Again, I look for brands made from just maple syrup)
-1½ cup water
-1-2 squirts Sriracha or other hot chili sauce
-2 pounds extra firm tofu, drained and pressed
-2 raw carrots, grated
-1-2 cups sautéed kale, finely chopped (Or whichever greens you prefer)
-2-3 scallions, white and light green parts, finely chopped
-Small handful parsley, finely chopped (You could use cilantro here)
-Few drops of sesame oil (Or vegetable oil if you prefer)
-3 cups cooked rice (I like to use brown rice or basmati rice)
Press the tofu:
Pressing tofu removes the excess liquid and gives it a firmer texture. This is not essential to do with the extra-firm tofu, I just prefer it this way.
Begin by slicing the block(s) of tofu down the middle so you have large, flat rectangles. Line a large plate with a clean kitchen towel or a stack of paper towels. Arrange the tofu pieces on the plate and cover with another kitchen towel or more paper towels. Cover the towel(s) with another large plate. Then place a stack of heavy books or other flat, heavy objects on top of the plate. Set aside for 15 minutes to 3 hours depending on how much time you have and how dense you prefer the tofu.
Start the rice:
Prepare the rice according to the directions on the package. Set aside.
Prepare the sauce: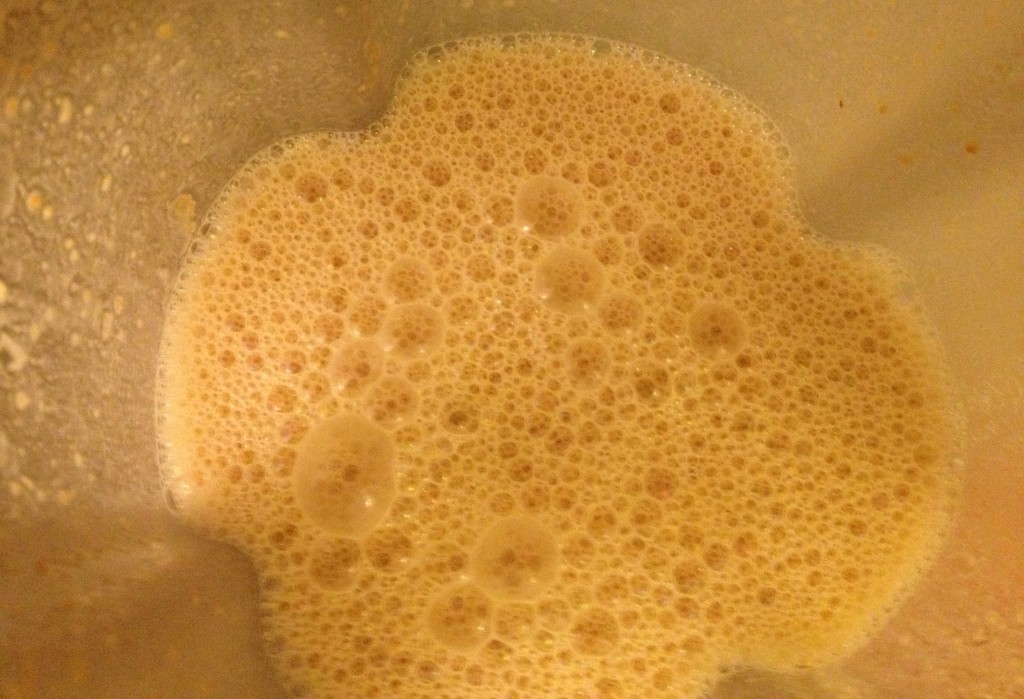 In a blender, add the peanut butter, tamari, lime zest and juice, maple syrup, water and hot chili sauce. Puree and taste. Adjust levels as preferred. Just before using it, give it a few pulses again to mix everything together once more.
Sear the tofu: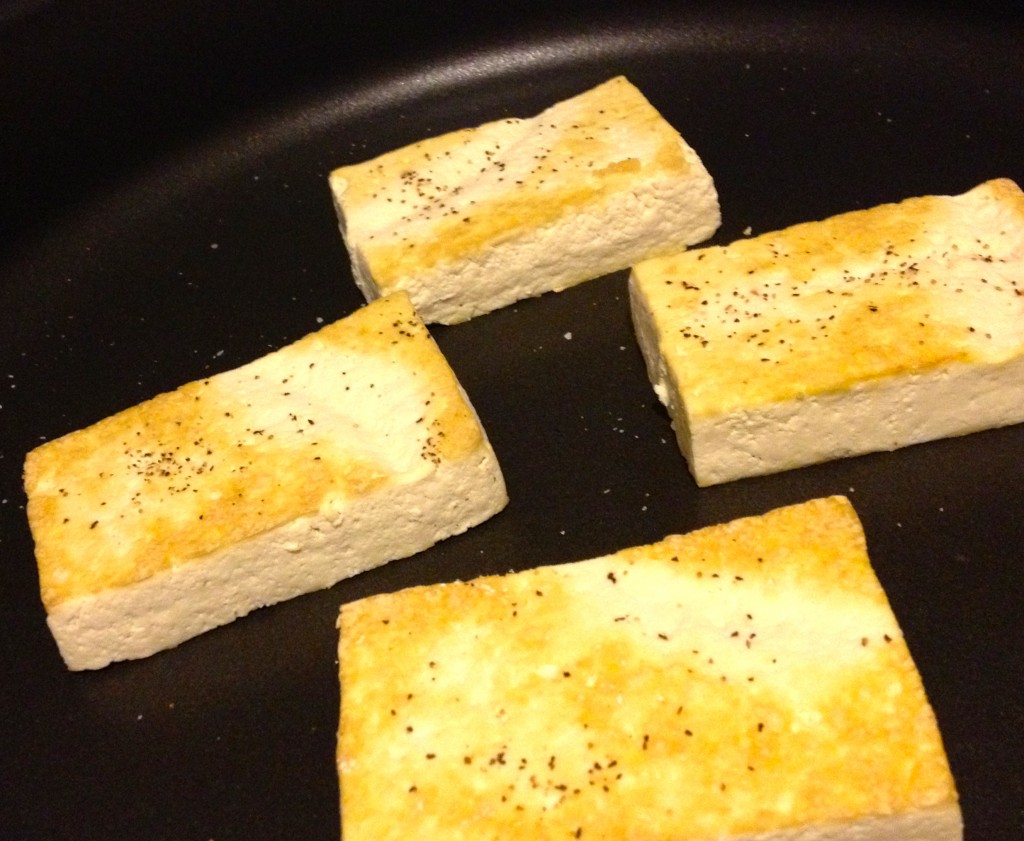 Heat a large non-stick pan over high heat. Cut the tofu rectangles in half to create smaller rectangles. Sprinkle salt and pepper over one side of the tofu and place tofu, seasoned side down, onto the hot pan. Leave alone for 2-3 minutes until a light brown crust begins to form. Sprinkle top side of tofu with more salt and pepper and flip. Cook for an additional 2-3 minutes. Remove to a plate and lower the pan's heat to medium-low. Cut the tofu into 1-inch cubes.
Finish the rice and build the plates: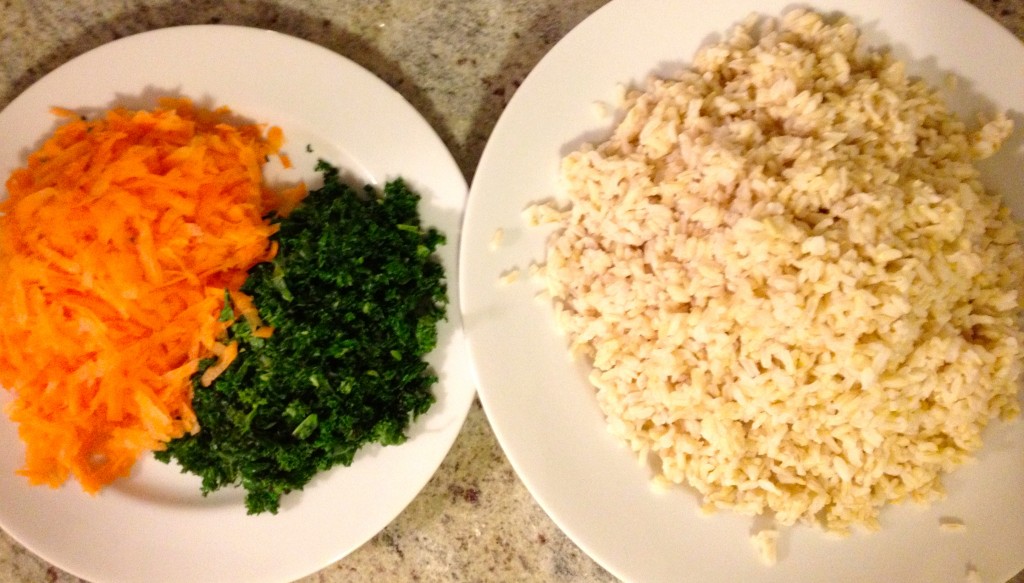 Into the same pan as you cooked the tofu, heat the cooked rice for 1 minute then add the carrots, greens and a few small drops of the sesame oil.  Heat through 1-2 minutes, stirring occasionally. Turn off the heat. Spoon rice onto plates or shallow, wide bowls and top with a few spoonfuls of sauce. Add the tofu and add more sauce. Top with parsley and scallions and serve.
Eliana really liked my original recipe. Woohoo!  But, of course, I didn't get a photo of her eating it. Boo.
With the extra sauce, I made a slight variation on the original recipe. I poured the sauce over baked chicken breasts that I shredded. I went lighter on the seasonings for the chicken breasts than usual and simply added a bit of salt, pepper, garlic powder and chopped fresh sage. (Here's a link to my recipe for baked chicken breasts). I then mixed the chicken with plain brown rice and sautéed bok choy that I finely chopped. Eliana, and Matt, loved it!
Happy Cooking!
Tags: carrots, gluten free, kale, leafy greens, Meatless Monday, nuts
« Previous No Recipe Pantry Pasta Sauce Apple Muffin Recipe (Slightly Revised) Next »