Print This Post
Typically during a meal, Eliana and I sit at the table and she feeds herself off her tray. We "talk" about what we are eating, what's been happening that day or upcoming events. But, sometimes we get a little goofy and silly. At times, I even let her play around a little bit while she eats. I will let the pictures below tell most of this story.
Lately, she has been really excited about her new OXO Tot brand high chair and likes to explore it, even when she isn't eating. Sometimes these explorations continue into mealtime. Thankfully, the baked chicken she was eating 
in this series of photos
 (recipe below) wasn't going to leave any stains anywhere. Come on, you think I'd let her roam around while eating something like blackberries or salsa?  
Puh-lease!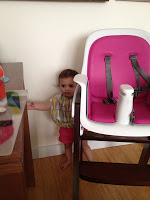 Here I come!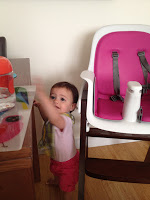 Bite break!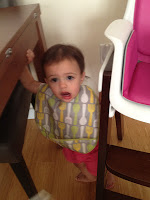 I know, Mommy. I need to make sure I swallow so I don't choke. Sheesh!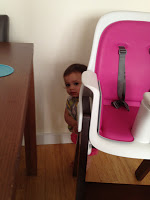 Is she looking?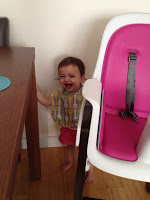 Peekaboo!!!!!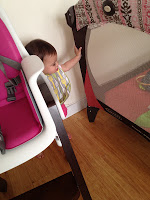 Hmm, let me try something here.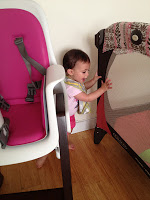 Maybe a little redecorating.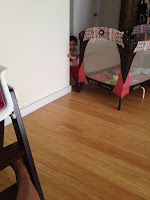 Oh yeah, later Mommy!
One thing we love about the new high chair is that Eliana is now at the perfect height to be able to sit at the table with us and she doesn't need to use the tray. This will be perfect when she gets a little older and eats off a plate. For now though, it isn't realistic. I don't like the idea of putting most of her food directly onto our fake-wood table. And using those plastic table covers we use at restaurants is really wasteful four times a day. But, sometimes, depending on what she is eating, I forego the tray altogether or pull her up to the table. And that means Eliana gets to lounge a bit as she eats. Take a look at my classylittle girl.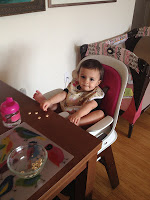 What? Can't a gal relax and enjoy her snack?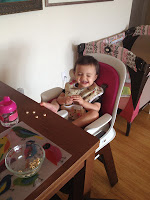 Hee hee! I LOVE putting my feet up on the table.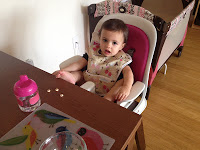 I know, I know. Don't get used to it.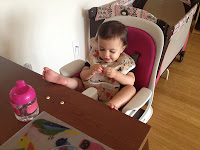 Maybe if I stop looking at her she will let me snack in peace.
How can I raise a teeny tiny foodie if we don't have fun with our food, right?
·     4 chicken breasts, rinsed and patted dry (I like Murray's brand)
·     Salt, pepper, garlic powder and chili powder to taste all mixed into a small dish
Heat the oven to 365°. Pour a little bit of olive oil into a baking dish and put the chicken in, one breast at a time, and rub it around in the olive oil. (I use a fork to do this so I don't have to touch anything.) Do this on both sides. Squeeze the lime juice onto both sides of the chicken breasts, too. Finish each side with the spice mixture. Bake for around 30-35 minutes. Turn the broiler on low-heat and cook for 3-5 minutes more so the top is golden.
« Previous Cold Cucumber Soup Vegetable & Cheese Strata Next »