Print This Post
If you've been reading my posts about the teeny tiny foodie over the last several months, then you know that Eliana LOVES eggs. Since I make a lot of them, I'm always looking for new recipes using eggs. I've also been trying to make sure that I use all of our food before it goes bad and goes to waste. That may seem like an obvious goal, but for me it wasn't always accomplished. I'd forget about produce in the fridge only to find it again after it was way past its prime. I hate the idea of wasting our money and also wasting food that someone else could have eaten. So, a strata is a perfect way to use left over veggies, cheese and bits of bread that no one wants to eat. So, what is a strata? A strata is a cross between a bread pudding and a frittata. Over the last few months, I've come across a bunch of different recipes to make a strata and it looked super easy. Just time consuming. So this weekend when I realized I had the heels of two loaves of bread in the back of the refrigerator, and

I wasn't trying to get a meal on the table ASAP, I figured it was time to finally try making a strata. 
The recipe I used as my guide was for a Spicy Strata by Aida Mollenkamp. I found it online. And, in the spirit of "using rather than losing," I didn't go out and buy the various vegetables, herbs and cheeses she used in her recipe. Instead, I used what I already had in the refrigerator.  Below is the recipe I created using hers as a "mentor recipe."
Vegetable & Cheese Strata 
This is a 3-part recipe. Part 1 is prep time and takes only around 15 minutes. Part 2 is the resting time. The strata needs to rest in the fridge for at least an hour and up to 12 hours so the bread gets soaked through and the flavors meld together. Part 3 is the baking time. It takes 40-45 minutes to bake in the oven.
·     3-4 scallions, white and light green parts only and thinly sliced
·     1 ear of fresh corn, kernels scraped off
·     A large handful of either cherry or grape tomatoes, cut into quarters
·     5 egg whites and 3 whole eggs
·     A splash of organic whole milk
·     2-3 heels of sliced bread, cut into 1-inch chunks
·     A small handful of parsley, finely chopped
·     A few sprigs of rosemary, finely chopped
·     1 ½ cups of shredded mozzarella and shredded Parmesan cheese, mixed and divided into thirds
·     An additional ¼ cup of shredded Parmesan, set aside
·     ¼-½ cup fresh mozzarella, chopped into chunks
·     Unsalted butter, salt, pepper, chili powder to taste
Part 1: Preparing the Strata
Butter an 8×8-inch baking dish. Heat butter over medium heat and add scallions. Stir. After about 1 minute, add the corn kernels and tomatoes and stir. Cook for around 1 minute more and remove from heat. Into a medium-sized bowl, put the eggs/egg whites, milk, salt, pepper and chili powder. Whisk. Put half of the bread chunks onto the bottom of the baking dish creating an even layer. Top the bread chunks with half of the corn mixture, half of the chopped herbs and ⅓ of the shredded cheese mixture. Pour half of the egg mixture over the dish. Drop ⅓ of the fresh mozzarella chunks over the egg. Repeat the layers with the rest of the bread, corn mixture, herbs, ⅓ of the shredded cheese mixture, eggs and ⅓ of the fresh mozzarella. Top with final ⅓ of the shredded cheese mixture and remaining chunks of fresh mozzarella. Push down on the top of the strata to make sure all of the bread is covered. Cover the dish with plastic wrap. Place a plate on top of the baking dish and put a 1-2 pound weight on top of it. A 28-ounce can of tomatoes works perfectly.
Refrigerate for 1-12 hours. I left it overnight for around 9 hours.
Part 3: Cooking the strata:
Heat the oven to 325°. Remove the strata from the refrigerator and let it sit at room temperature for at least 20 minutes. Top the strata with the reserved shredded Parmesan cheese. Cook the strata, uncovered and on the middle rack, for 40-45 minutes.
Let cool slightly before serving.
Happy Cooking!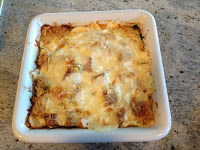 Looks yummy, right?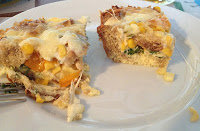 See all the layers?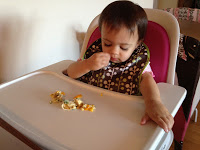 Hmm. What's this?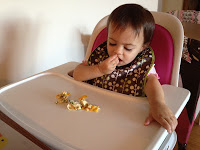 Bread, cheese and eggs all in one? Sounds like my kind of meal!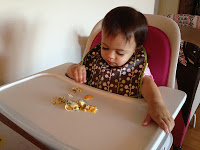 I'm too busy eating to look at you!
Tags: corn, parsley, rosemary, scallions, tomatoes
« Previous Foodie Fun How To Roast Beets Next »