Print This Post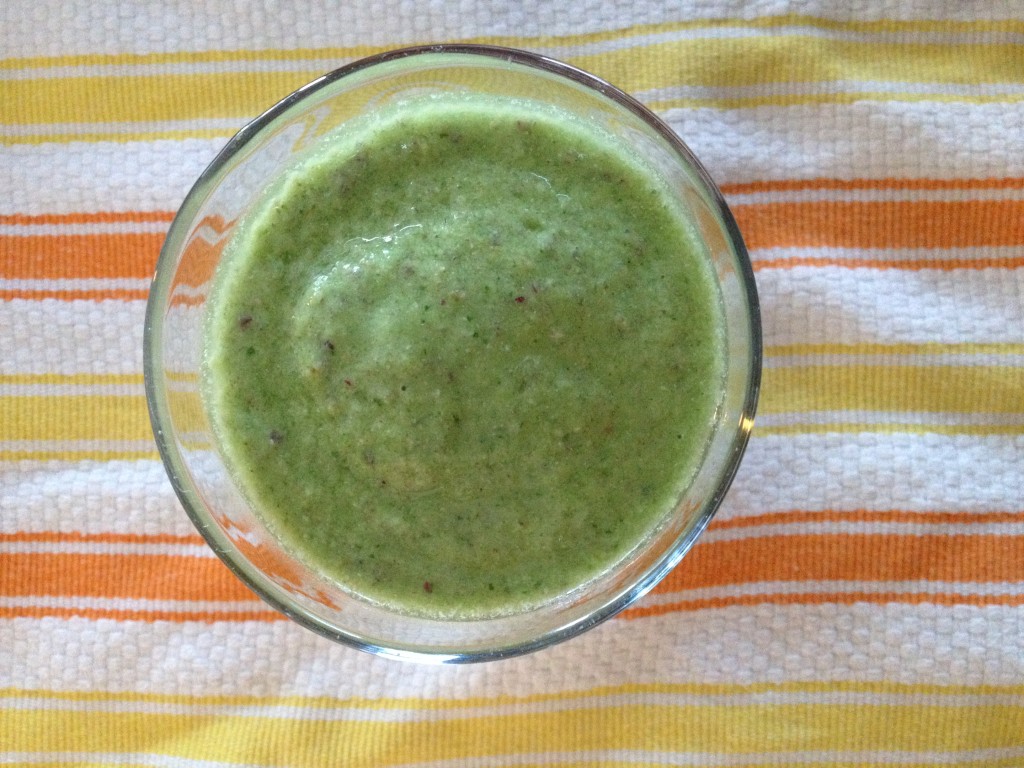 Many studies have shown that sharing a meal together as a family has health benefits for everyone involved. Since Eliana eats dinner earlier than my husband gets home from work, breakfast is the meal my family most often shares together.
I love to make smoothies for breakfast for our family. Here are some of the reasons why:
1. Smoothies are fast and easy to prepare.
2. Smoothies are a great way to pack a lot of nutrients into one meal. The blender already breaks down the fruits and vegetables, so it is easier for your body to digest them and absorb all the benefits the produce has to offer.
3. Smoothies can be customized to include whatever you like or have on hand.
4. Smoothies are a tasty option to create with your own teeny tiny sous chef. Eliana loves to help out by filling the blender with the different ingredients and pressing buttons.
5. You can save time in the morning by prepping the ingredients ahead of time. Just wash and chop the fruits and vegetables you want to use and store them in a container in the fridge overnight or in the freezer up to a few weeks in advance.
6. You can freeze smoothies in single portions and take them with you as a tasty snack when you're on the go.
7. The Little Foodies who are eating purées in your family can also enjoy smoothies, so they are a great meal the whole family can enjoy.
Below is the latest smoothie we've been making in the teeny tiny foodie kitchen. It is packed with seasonal produce that can easily be found at a farmers market or in your local grocery store. I call it the "Super Foods Smoothie" because every ingredient on the list is considered a super food, which is packed with nutrients, antioxidants and other healthy goodness for your body. Thankfully, there are a bunch of foods out there called super foods so I've included a different link to each different list I used while making this smoothie.  Visit each list by clicking on each underlined phrase "super food(s)."
Before the recipe, I want to share that this is my inaugural post as a "Blogger on Board" for the movement Kids Cook Monday which is part of the Monday Campaigns. The Monday Campaigns are a health initiative associated with major universities such as Johns Hopkins, Columbia and Syracuse and it is a way for people all over the world to come together and start their week off in a healthy way. These are the same folks who started the concept of "Meatless Monday" as a movement towards healthier eating and a healthier planet. Now, they are trying to get our kids involved in healthy cooking and eating, too. Brilliant, right? Want to know more? Click here!
Super Foods Smoothie
Ingredients:
-1 apple, cored and roughly chopped
-1 pear, cored and roughly chopped
-1 banana
-1 cup roasted pumpkin, cooled (either as a puree or in chunks) Click here for How-To Roast a Pumpkin
-1 cup Greek yogurt
-1 cup kale, rinsed, patted dry and roughly torn or chopped
-1 tablespoon coconut oil
-2 tablespoons chia seeds
-¼ cup apple cider or water
-Optional ingredient for adults only: 1 cup chilled green tea
Preparation:
Place all ingredients in a blender and puree until smooth.
Enjoy!
Unfortunately, I wasn't able to snap any photos of Eliana helping me make this particular smoothie. Sometimes she is too impatient to get into her FunPod in order to help me and instead she "cooks from my hip" while I try to balance both a squiggly toddler and cooking whatever meal I'm making. Since despite my best efforts, I have not been able to grow a third arm and hand in order to photograph all the different ways Eliana and I cook together, you'll just have to imagine her filling the blender and pushing buttons. Or, click to see her huge grin while she helped make Berry Kale Smoothies a couple of months ago.
Happy Cooking!
Tags: apples, bananas, chia seeds, Fall, gluten free, green foods, kale, Kids Cook, leafy greens, milkshakes and smoothies, naturally green recipes, pears, pumpkin, smoothie
« Previous My Interview on Red Tricycle's Website Pumpkin Ginger Purée Next »