Print This Post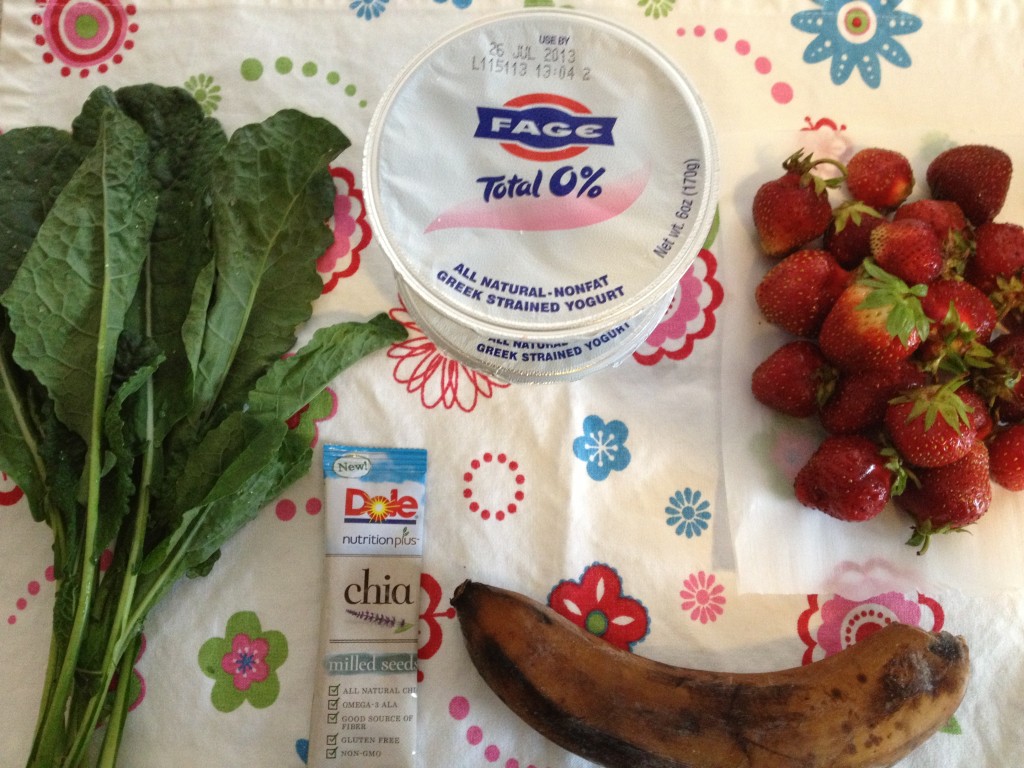 Are you looking for a quick and healthy  breakfast or snack for all the Foodies in the family? Smoothies are a fast and easy choice, but not just because they are quick and tasty. They are a great choice for many reasons:
1. Smoothies are easily portable which makes them a perfect "fast food" for Foodies on the go.
2. Smoothies are so easy to make that you can save money by making them at home rather than buying them while out. I like to make them all year round using either fresh, seasonal fruit or frozen fruit when it isn't available.
3. When you make smoothies at home, you control the ingredients. I'm willing to bet that the smoothies that one particular fast food chain is hawking do have fruit and yogurt, but that they're also loaded with a ton of processed sugar, food coloring and other crap that pretty much negates any health benefits the fruit and yogurt provide you.
4. You can add in healthy "extras" like chia seeds or wheat germ for extra fiber, protein, healthy fats and other nutrients.
5. Your Little Foodie can help you prepare smoothies. Eliana loves to help add the fruits and veggies into the blender and then push the buttons, too.
Eliana and I have been making smoothies together for breakfast lately. It's not uncommon for me to make berry smoothies- especially the last couple of weeks since strawberries have been showing up at the farmers market around here. But, the inspiration for adding the kale is Eliana's "Bestie" named Sophie. Sophie and Eliana (and the four parents) hung out together all the time until Sophie's family moved away in April 2012. Boo! But, we still keep in touch and recently, Jessica (Sophie's mom, my buddy) asked me about smoothie combinations using leafy greens to get more greens into Sophie's diet. Since I love a recipe challenge, I told her I was on it! The recipe below is the result. So yummy! Enjoy, Sophie!! xoxoxoxoox
Two tips about creating a teeny tiny foodie:
1. If your Little Foodie is wary of vegetables and you've found that hiding them inside of other foods, like Apple Spinach Muffins, is the most successful way to get her to eat them, be sure to tell your Little Foodie about the "secret" ingredient after she has gobbled it up. This will create a positive association with an otherwise "scary" food.

2. Get your Little Foodie to help you prepare this recipe and even taste ingredients along the way. And if he is too young to be actively involved, get him to sit safely at counter height and just narrate what you're doing in order to promote familiarity with different types of foods and ingredients.
Berry Kale Smoothies
Ingredients:
-1½ cups or 12 ounces Greek yogurt
-1 ounce raw kale, ribs removed
-1 banana (frozen or raw)
-1½ cups berries (I used a mix of strawberries and blueberries)
-½ cup milk (cow's milk or vanilla almond milk)
-1½ tablespoons maple syrup*
-1 tablespoon chia seeds or wheat germ
Preparation:
Put all ingredients into a blender and purée until smooth.
*Omit the maple syrup if using vanilla almond milk because it adds enough sweetness
And here are a couple of photos of Eliana and Sophie, Then and Now:
Happy Cooking!
Tags: almond milk, baby and family, bananas, blueberries, chia seeds, creatingateenytinyfoodie, gluten free, kale, Kids Cook, leafy greens, Meatless Monday, milkshakes and smoothies, smoothie, strawberries, summer, Valentine's Day, wheat germ, yogurt
« Previous Watermelon & Ricotta Salata Salad: Monday Meal Pineapple Banana Mint Purée Next »