Print This Post
Usually, our neighborhood has a pretty spectacular kids Halloween parade. This year, Matt, Eliana and I had been planning to host a pre-parade party for Eliana's friends and their families. But, the parade was cancelled this year due to clean up from Hurricane Sandy. So, instead of a pre-parade party, we hosted a Halloween play date! The guests were toddlers ranging in age from 1 year to 17-months old (in adorable costumes!) along with their parents. The menu was orange-themed in keeping with the Halloween tradition, but since it was going to be between the kids' lunch and dinner, I didn't prepare anything too substantial. When the party had been called for later in the day, I'd been planning to prepare Mini Baked Penne with Butternut Squash (the squash was going to make the dish orange-colored). Instead, I revamped the menu to better suit the new time. You'll find recipes at the end of the post.
Here's the list of orange-colored snacks I served:
2 cantaloupes cut into bite-sized pieces for the little people
Clementines
Rice Krispie Treats that I dyed orange
Obviously, the grown-ups could eat all of the above, but I also put out a bowl of candy and some wine for them.
Here's the spread pre-party:
Libations for the grown-ups: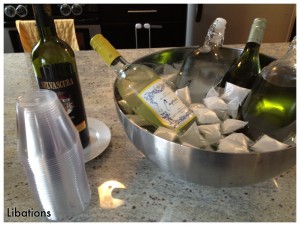 The little hostess checking out her costume. She is dressed as a picture book character named Ladybug Girl but I hadn't put her wings on yet.
So, did we have fun? Oh, yeah! Matt likes to say that "we saved Halloween" since the kids aren't really old enough to trick or treat and there was no parade to walk in or watch. Watching all the kids run around together was great and the costumes were SO cute.
All the cutie babies!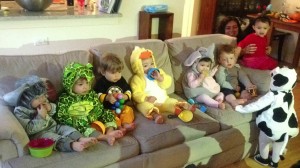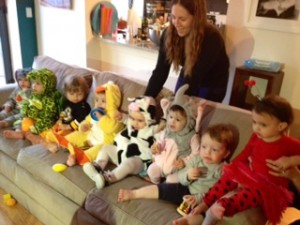 And let me tell you, toddlers know how to party!  Our place was trashed "Toddler Style" after they left. Stuff everywhere, furniture displaced, food smushed into random places. Kind of like cleaning up from our Halloween parties before Eliana came along. Minus the smell of stale alcohol.
Here is the recipe for the Orange Rice Krispie Treats:
Orange Rice Krispie Treats
-6 cups Rice Krispie Treats
-3 tablespoons margarine
-1 bag miniature marshmallows
-10-15 drops yellow food coloring
-5-10 drops red food coloring
-Cooking spray
Melt the margarine in a large microwave-safe bowl for around 45 seconds. Add both the yellow and red food coloring. Stir the margarine. Add the bag of marshmallows and stir again. Microwave for 1 minute and 30 seconds or until marshmallows are melted. Stir the marshmallow mixture. The color of the marshmallows will be less strong once mixed with the cereal so you want it to be dark. Stir in the cereal. Pour mixture into a 9×13-inch baking dish sprayed with cooking spray. Pat down so mixture is flat and fills the baking dish. I've found that flattening the mixture is easier if I pat it down using plastic wrap sprayed with cooking spray or my own hands sprayed with cooking spray.
Stay tuned for the recipe for Mini Baked Pasta with Butternut Squash. The story of this dish necessitates a post of its own!
Happy Cooking!
« Previous No One Said This Would Be Easy Happy Healthy Foodie Next »