Print This Post
I think we can all agree that this whole parenting thing is beautiful, amazing and hard as sh!t. Personally, I feel like any time I "figure something out" such as a nap schedule, what a certain gesture or grunt means, or how to deal with a tantrum, everything changes and my "go to" moves no longer work. I usually get about ten days to two weeks of feeling like "I got this" before it all implodes in my face. Sigh. But, this is not a Mommy Venting about How Hard Parenting Is type o' blog. So, I will change the channel on this little vent-fest back to our regularly scheduled program of food- and eating-related happenings in this household.
Instead, I will now vent about the food- and eating-related happenings in this household as well as share some tricks and tips my friends and I have gathered to try to ease the food-related challenges we face. Because, even though no one said this would be easy, in my world everything is made easier, or a little less hard, by hearing about how others are handling the same lovely little issues. At the bottom of the post I included some delicious recipes courtesy of my friend Amy. (Thanks for sharing, Amy!!)
So far, Eliana has remained "a good eater" and will usually taste, if not actually eat, whatever we offer her. But, that does not mean that mealtime in our home is easy, carefree or always so much fun. Or, that my teeny tiny foodie isn't hugely opinionated about what she wants to eat and when she wants to eat it. And because she is a toddler, she has what I think of as "Typical Toddler Testing Moments" which include but are not limited to the following during mealtime:
– Arching her back when I'm putting her into the high chair just because it's fun to see Mommy's reaction

– Eating more or less of something she is served just because it is fun to see Mommy's reaction

– Tasting a food and spitting it right back out just because it is fun to see Mommy's reaction

– Moving food around on her tray because then I might think she has eaten it just because it is fun to see Mommy's reaction

– Putting her food or fork into her hair just because it is fun to see Mommy's reaction

– Pretending to choke herself with her fork just because it is fun to see Mommy's reaction

– Tossing her food, fork or water off the tray just because it is fun to see Mommy's reaction
Notice a common theme?  So. Super. Fun.
You all can probably predict that the last bullet makes this O.C.D. HelicopterMommy bananas. I can't stand it! Eliana knows that I can't stand it, and so this is when I have to work the hardest to make myself not react—so I simply remove her from her chair when she does it.
Keep calm and carry on, right? It's better than screaming, "I'M IN CHARGE!!!!" which I try not to do. Aloud, at least.
So, without further ado, here is my list of tips, tricks and ideas that I've gathered along the way to help make mealtime a little less challenging.
·    –Introducing a food more than once and in different presentations. For example, if sautéedzucchini wasn't a hit, then I will grate the zucchini and mix it into pasta or eggs, or cut the zucchini into chunks and roast it or peel it into strips and sprinkle some lemon juice on it. Any way about it, Eliana tries a food many times and in many ways. Even if she spits it out, she is becoming more used to the flavors, textures, smells and tastes of a food.  
·

    –
Staggering the introduction of various foods in her meals
so she eats an "acceptable amount" of her protein, vegetables or fruit before the carbs come to the table. Because of Eliana's love affair with all things carbohydrate, I make sure she has eaten lots of the other foods before I even bring bread to the table. Matt and I have taken to hiding in the kitchen to eat a piece of toast if Eliana is awake and not eating any herself. We also refer to it as B-R-E-A-D because she knows exactly what the words "bread" and "toast" mean when we say them. And believe me, once the bread does hit the table, there is no fun way to get her focused on anything else. The rest of the meal typically sounds something like this:
"Eliana, you can have more bread after you eat one more bite of eggs. Just one more bite and you can have more bread. Eggs then bread. See? Mommy does that too, so she gets her protein. Oh, good! Eggs are yummy, aren't they? Okay, now here is a piece of bread. Okay, now more eggs, please."
·    Filling foods she likes with vegetables. Frittatas and scrambled eggs work well for me. I load them up with sautéed or roasted vegetables. I do this with pasta too. I put a little pile of pasta or piece of frittata on Eliana's tray and often, she picks out what she loves first. So the pasta, tomatoes and pieces of egg are devoured right away. Then, she will usually go back through the pile and pick out the vegetables, beans, tofu, etc.
·

   
Roasting vegetables
to bring out their flavor. I started doing this when Eliana began balking at the concept of my feeding her rather than her feeding herself. That meant no more purees and a lot more finger foods. I think some vegetables are fine to give her raw, like corn and chopped tomatoes. I think she can swallow those without problems. But, vegetables like carrots were a little trickier. I found that throwing them in a pan and roasting them made the veggies soft enough for her to eat in little chunks. Roasting vegetables also brings out their natural sweetness. So, I think it might make vegetables that are less appealing, a little more so.
·

   
Hiding the vegetables
. Honestly, I don't love this idea because I believe that Eliana should know what she is eating. But, if it comes down to it, I will do this more so Eliana still consumes vegetables even if she doesn't know it. This trick is something I did fairly often when I was making purees for Eliana. For me, it was more of a way to get her to eat vegetables I thought she would have a hard time eating on their own, such as sautéed greens. She couldn't manage them very well, so I typically put sautéed spinach, kale or arugula into purees I was already making. Plus, it was a good way to make sure my fruits and vegetables didn't go to waste. I'd steam and puree them and stick some in the fridge and some in the freezer. I realized that store-bought vegetable ravioli is a good trick, too.
My friend Amy is pretty masterful with hiding vegetables in really clever ways. She takes it to levels I've never thought of before. Her husband does not eat vegetables at all, so for years she did things like sauté and puree spinach and/or broccoli and add it to the meatballs she made him. I can't say he didn't notice a slight difference, but he ate them anyway. More recently, her son Joey, 4 years old, hasn't been as cooperative as he used to be about eating his vegetables. One trick Amy told me about was to puree cooked spinach with marinara sauce and put it on a mini whole-wheat pizza she made for him. Joey ate it all up!  See Amy's yummy recipes below.  If you have any recipes or tricks you'd like to share, either send me an email to jory@teenytinyfoodie.com, or even better, post it in the comments section of ttf!
(See below for how to add secret veggies, meat or tofu)
·

   

2 tablespoons olive oil

·

   

1 medium onion, chopped

·

   

2 teaspoons garlic, minced

·

   

1 28-ounce can crushed tomatoes

·

   

1 teaspoon oregano, dried

·

   

1 teaspoon basil, dried

·

   

1 whole bay leave (optional)

·

   

1/2-teaspoon sugar

·

   

Salt and pepper, to taste
Over medium heat, heat oil in a large pot until hot. Add onion and garlic, sauté for 3-5 minutes until the onions begin to appear translucent. Add the tomatoes, stir. Add in the herbs and bay leaves. Sprinkle in sugar, salt and pepper. Stir. Lower the heat and continue to simmer for 30 minutes, uncovered. Stir occasionally.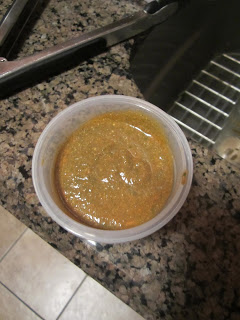 Marinara Sauce with Secret Veggies
Amy's Marinara Sauce with Secret Vegetables or Secret Meat
Veggie Version:
Steam or sauté spinach, broccoli, or your favorite veggie. When you are done cooking the veggies, drain off extra liquids. Put 1 cup of marinara sauce in the mini prep and add the veggies. Food-process the veggies and sauce. The sauce will become a brownish red.  When it is very smooth, you can combine this veggie sauce to more plain tomato sauce and hand mix.  This helps to hide the veggies even more.
Meat or Tofu Version:
Add pureed cooked chicken, meat, turkey or uncooked tofu the same way to add to sauce.
Amy's Spaghetti Squash with Sauce
·    1 Large spaghetti squash or 2 small ones
Slice spaghetti squash in half lengthwise. Scoop out the seeds with a spoon and clean as you would a pumpkin. Completely submerge the squash, 1 half at a time, in a large pot of boiling water and cook for about 20 minutes until the inside is just tender to a fork and pulls apart in strands. (It is better to undercook the squash if you're not sure.) Remove, drain and cool squash in a cold water ice bath to stop the cooking process. Scoop out the cooked squash from its skin with a spoon as you would an avocado and discard the skin. Use a fork to fluff and separate the squash into "spaghetti-like" strands. You can also use your hands. Just before serving, put the cooked squash into a strainer and dip it into boiling water to reheat. You can cook it more if it is a little too al dente for your liking as well.
Serve with one of the sauces above.
Amy's Cook's Notes:

·

   

1 cup of spaghetti squash is a full serving of veggies.

·

   

Making homemade sauce cuts out several grams of sugar as well as fat.

·

   

My favorite kitchen tool is my Kitchen Aide mini-prep. You can get them for between $30-$40.

·

   

For my Marinara Sauce with Secret Veggies, I use broccoli and spinach because they are really good for brain development. 
Amy's Whole-Wheat Mini Pizza with Hidden Veggies
 

·

   

Whole Wheat pita

·

   

Veggie marinara sauce (recipe above)

·

   

Shredded mozzarella cheese
Pre-heat the toaster oven to 375°. Put a few tablespoons of the veggie marinara sauce on the pita.  The veggie marinara sauce should be very smooth with no lumps.  Sprinkle the cheese all over the sauce so no veggie sauce is showing.  If you want you could put a few teaspoons of plain marinara sauce on top of the cheese.  Cook for 10-15 minutes.  Use a pizza cutter to cut pizza into 4-6 pieces.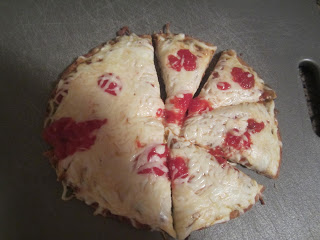 Whole Wheat Pizza with Veggie Marinara Sauce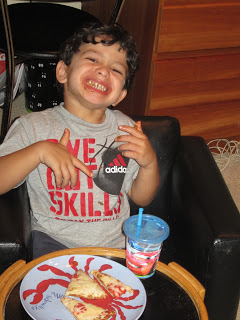 A happy Joey eating his pizza!
Amy's Cook's Notes:

·

   

I like to use Horizon brand organic shredded mozzarella for my pizza.

·

   

Whenever I buy whole-wheat pita, I make sure the first ingredient listed is "whole wheat."
Amy's Green Lentil Crusted Baked Chicken Cutlets
·

   

¾lb to 1lb of thin-sliced organic chicken cutlets

·

   

1 organic egg

·

   

Splash of milk

·

   

Organic Green Lentil Beans (Ground in the mini-prep to powder consistency)

·

   

Grated Locatelli or other Parmesan cheese
Preheat oven to 425°. Beat the egg and add a splash of milk to the bowl. Pour lentil powder on a plate and sprinkle in some salt, Parmesan cheese, and pepper. Dip the chicken into the egg mixture. Then press chicken into lentil "flour" on both sides. Place on either a non-stick cookie sheet or one that has been sprayed with cooking spray. Bake for 15 minutes turning over once in the middle.
Variations:
**To turn into green lentil baked Chicken Parmesan with hidden veggies:
If using sautéed chicken cutlets, put in a dish and pour marinara with or without hidden veggies over chicken. Sprinkle some mozzarella cheese and Parmesan cheese over chicken. Bake for 10 minutes.
**To make the baked cutlets into Parmesan:
Bake the cutlets above for 10 instead of 15 minutes.  Take out of the oven.  Gently spoon sauce over chicken and add mozzarella cheese.  You can put in a dish or keep on the cookie sheet. Cook for an extra 10 minutes at 425.
Amy's Cook's Notes:
·    I make a bunch of ground lentil flour and use it to replace flour whenever I cook. It adds fiber and protein with much less carbohydrates than breadcrumbs.
·    You can also cook the chicken in a pan with a little olive oil for 3 minutes on each side for total of 6 minutes instead of baking it first.
And here are some photos of my tomato sauce with zucchini and summer squash mixed into it. I guess I was inspired by Amy!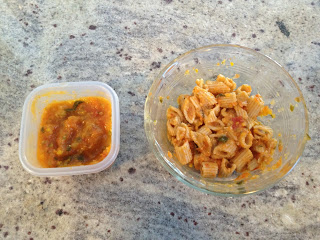 Mostly, I pureed it out of laziness because I didn't want to take the time to cut up the vegetables even more.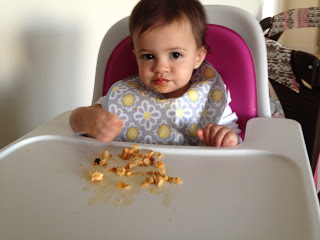 With whole wheat penne
Tags: pizza
« Previous Recipes for Homemade Pizza Halloween Play Date Next »