Print This Post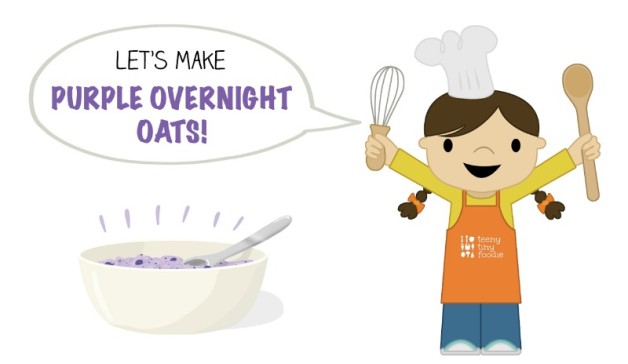 Let's Make Purple Overnight Oats is our latest illustrated recipe created just for young chefs! Our collection of Toddler Recipes is designed to allow your little sous chef to feel empowered and independent in the kitchen. Eliana loves to eat overnight oats and the fact that she can prepare them almost entirely by herself makes her ecstatic. As a very independent little lady, she's really into things she can do on her own or "All. By. My. Self" as she says. I hope your little sous chef will love to make, and eat, this dish too. Overnight oats have become one of our favorite make-ahead recipes for breakfast, school lunch or even dinner. I love that we can just toss all of the ingredients into an air-tight container, shake it up (So fun for young chefs!) and put it into the fridge. The next morning, we give it a stir and it's ready to go. How perfect is that?
Studies have shown that there are numerous benefits to getting kids involved in the kitchen and my hope is that these illustrated recipes will help make it easy for you to do so. I love to cook with my own teeny tiny sous chef because it's a fun way for us spend time together while I introduce her to real, mostly-healthy ingredients. Plus, we are preparing something to eat so she is learning an important life skill that will help her in the future. But beyond these emotional and social benefits there are also more educational advantages to cooking with kids. While cooking, kids are engaging in an activity that allows them to work on their math, science, social studies, kinesthetic and literacy skills all while having a messy, good time. Woohoo!
Happy Cooking with Kids!
PS: Don't forget that you can use the "Print This Post" button in the top right corner to print this free recipe! You can put copies into a small binder and make a cookbook for your own little chef.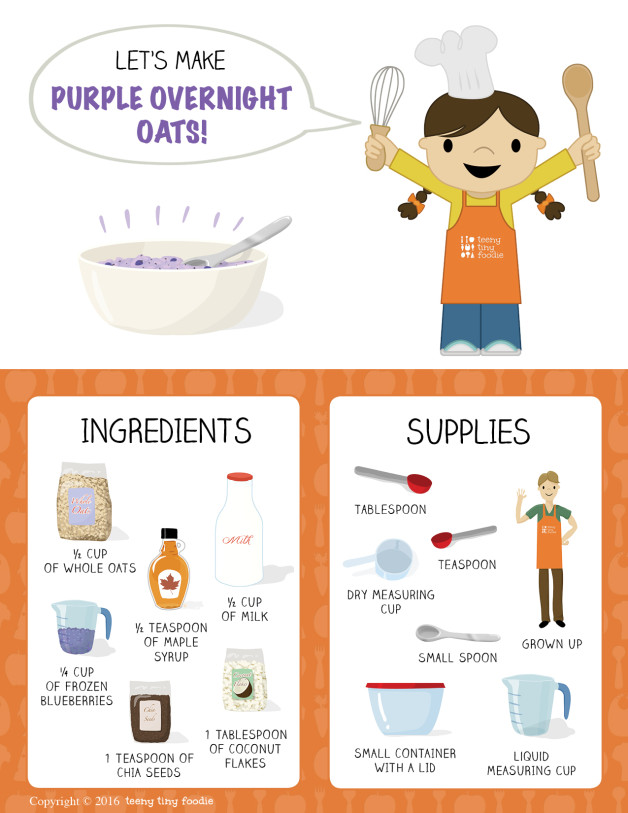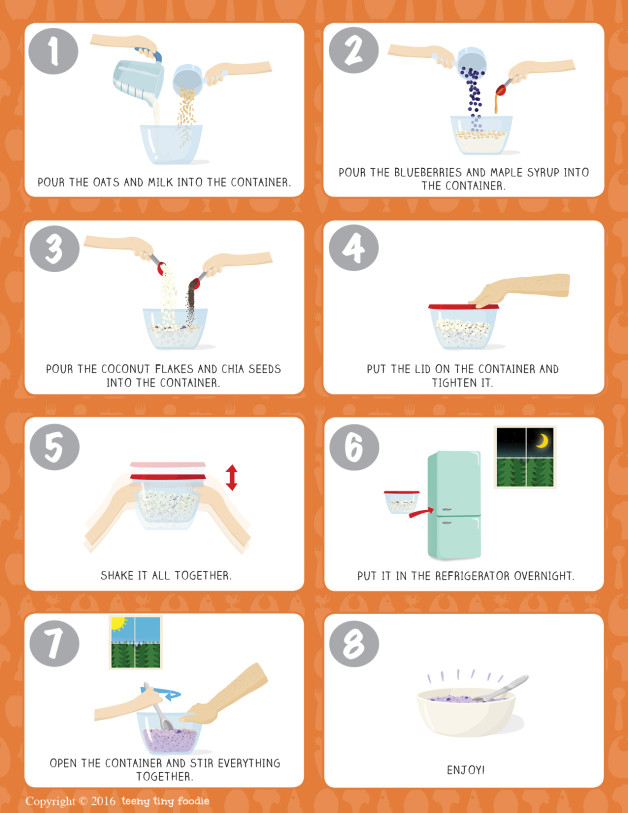 Tags: blueberries, breakfast, chia seeds, coconut, Kids Cook, maple syrup, oats
« Previous teeny tiny foodie turns 4! Let's Make Green Hummus: Toddler Recipe Next »