Print This Post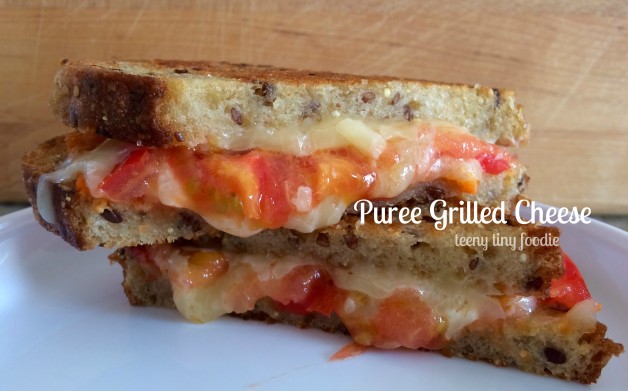 Sometimes I create a recipe accidentally by throwing together various ingredients I find in the kitchen. This recipe for Purée Grilled Cheese is an example. One night after I'd created a new recipe for a savory purée, I looked into the fridge to figure out what I could prepare for dinner. I saw the purée, some bread and cheese and the idea for making a grilled cheese with the vegetable purée came to mind. So here we are, a few trials and tribulations later and now I'm ready to share the recipe with you.
For a while now, I've been creating recipes that use the purées one would make for baby food and turning them into something scrumptious for the rest of the family to enjoy, too. The way I see it, if you're going to spend time making something healthy and delicious for your baby, shouldn't you get to enjoy it too in a more grown-up way? If you're interested in more of the recipes I've made for the baby and family which I call Purées For Two, click here.
Here are some tips and suggestions about this recipe:
1. You can customize this recipe by using any savory purée you create or have on hand.
2. I'm partial to adding tomatoes inside my grilled cheese sandwiches but you can add any vegetable you like. You'll see in the photos below that Eliana is partial to pulling her tomatoes out of her grilled cheese sandwich and eating them alone. 😉
3. Sometimes the oil in the griddle pan starts to burn and brown which will affect the taste and look of your food. I like to keep a clean towel on hand to quickly wipe off the griddle pan before adding more oil and continuing to cook.
4. This recipe comes together quickly. I recommend you have the following tools and supplies ready to go along with the ingredients:
-Large spatula
-Non-stick griddle pan
-Small spoon
-Dinner plate
-Small plate
-Butter knife
-Lid of a large pan or pot
-A clean kitchen towel or a wad of clean paper towels
Purée Grilled Cheese
Yields 1 sandwich
Ingredients:
-1 tablespoon Carrot and Parsnip Purée, warmed
-1½ tablespoon unsalted butter, at room temperature
-3 tablespoons shredded cheddar cheese
-2 slices of tomato
-2 slices of whole grain bread
-Olive oil, to taste
-A few sprinkles of sea salt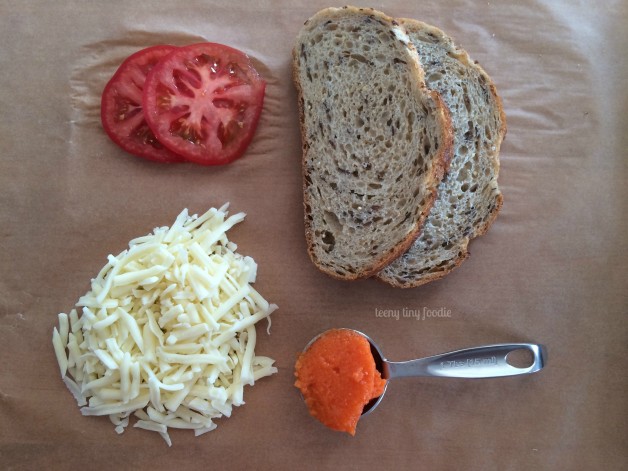 Preparation: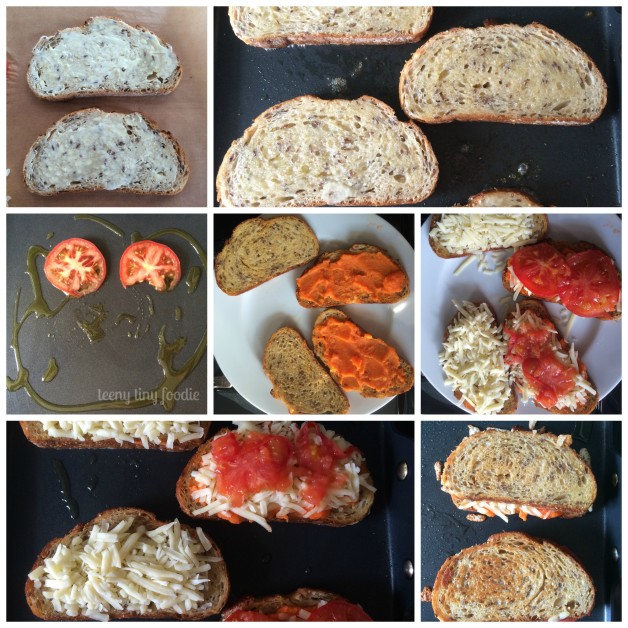 Prepare the bread and warm the tomatoes:
Spread butter onto both sides of the each piece of bread. Set them aside on a plate. Pour a little olive oil onto the griddle pan and heat it over medium heat. Place the tomatoes in the pan and sprinkle with a small pinch of salt. Cook for one minute and flip. Sprinkle with another small pinch of salt. Remove the tomatoes from the heat and set them aside.
Grill the bread:
Add a little more olive oil to the pan and place the bread onto the pan. Let it cook for around 2 minutes or until crispy. Remove the bread to a plate and place it grilled side up. Spread the puree onto one slice of the bread and cover with half of the cheese and the tomato slices. Cover the other slice of bread with the remaining cheese.
Cook the sandwich:
Place the bread back onto the griddle pan, cheese side up, and cook for 2 minutes. Carefully, place the piece of bread that does not have tomato on it onto the other piece of bread so the cheesy sides are in the middle. I like to use the lid of a pan to press down on the sandwich so it becomes panini-like and the cheese melts together a little more.
Remove to a plate or cutting board, slice in half and serve.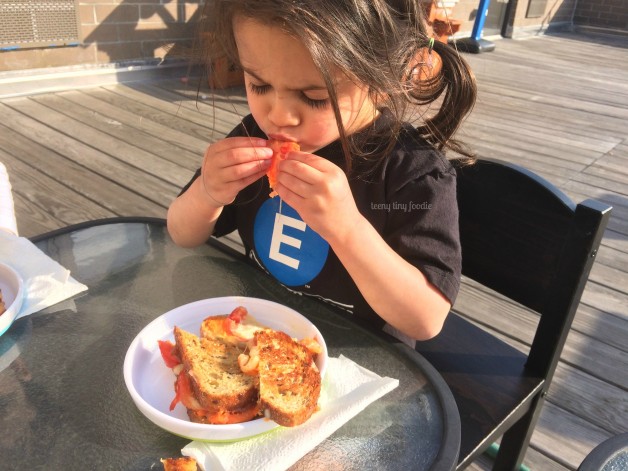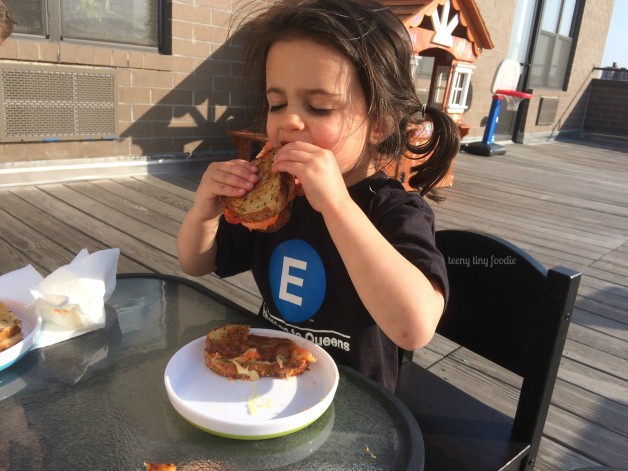 Eliana and her best friend M having a teeny tiny dinner date ♥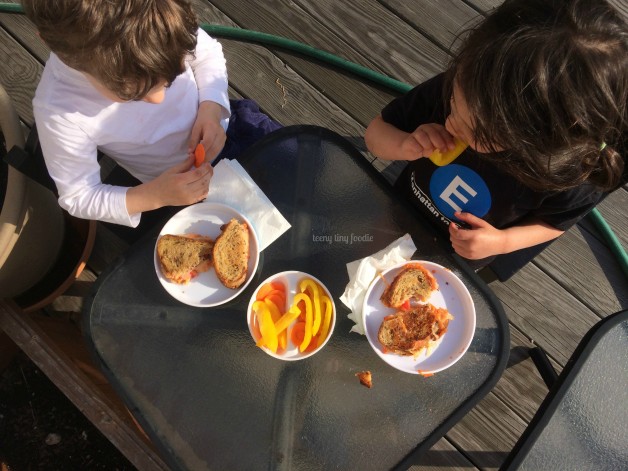 Happy Cooking!
Tags: 6-9 months, 9-12 months, baby and family, baby food, carrots, cheddar cheese, Meatless Monday, purée, Purees For Two, sandwich, tomatoes, vegetarian
« Previous Baked Veggie Shells: {Meatless} Monday Meal Let's Make Salsa: Toddler Recipe Next »