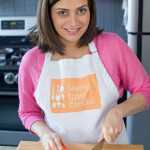 From Jory:
I've always been interested in food. My first word was, "More?" as in, "Can I have more food?" Mostly, my interests were in eating food but over the last 10 years, I've become more interested in cooking as well. As a teacher and consultant working in the NYC Public Schools, I didn't have much time to explore my budding passion as an at-home chef. Then, when Eliana was born in June 2011, I took time off from teaching to focus exclusively on raising my daughter. What I didn't expect was that I would also begin to explore the world of cooking, too.
I was raised to eat a (most-of-the-time) healthy and varied diet and my plan had always been to do the same for my children. And, when Eliana began to eat solid foods at around 6-7 months of age in January 2012, I set the goal for myself that I would cook all of her food. I use a variety of flavors, textures and spices with the intention of creating a teeny tiny foodie who is open to trying new foods.
I've come to learn that cooking food for Eliana is only one part of the process of creating a teeny tiny foodie. The other, equally important, part of this process has been her "education" about different concepts around food such as where food comes from, being part of the cooking process and "playing" with food, to name a few. I've been using my background in Early Childhood Education to develop appropriate activities and "lessons" to teach to my teeny tiny student. More recently, I've created "Toddler Recipes" that allow little chefs to create recipes with minimal support from a grown up.
On teeny tiny foodie you'll find the recipes I've been creating for Eliana and the rest of the family, the lessons I've been teaching her about food concepts, the tips and tricks I've learned throughout this adventure and stories about my experiences cooking for and feeding Eliana.
Thanks for visiting teeny tiny foodie. We hope you'll come back for seconds!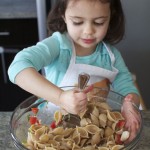 From Eliana:
Hi, Peeps! I'm a silly, sassy and hungry little girl. My Mommy is trying to keep me from becoming a picky eater, so she's been cooking me all different kinds of foods to eat, teaching me about where food comes from and getting me to help out in the kitchen. Keep visiting so you can find out what we cook up next!