My Tips and Ideas in this section are based on my own experiences, the advice and guidance of my pediatrician as well as research I've done in magazines and websites. Two websites I found helpful when I started this process in December 2011 were: Baby Led Weaning and the website of my pediatrician's office . Check back for more tips and ideas because I'll be adding to this page periodically.
Please feel free to leave comments, suggestions or tips you've discovered in the Comments Section at the bottom of this page.
Tips and Ideas for the Soon-to-Be Foodies (around 4-5 months)
-Dip your finger into your food to let baby taste it. Exposure to new flavors will make her more open to trying them on her own.
-Let baby lick your food. Again, she is exposed to new flavors without the worry of any pieces going down her throat just yet.
-Want to read more about giving your little foodie her first tastes of food? Click here and then here.
Tips and Ideas for the First-Time Foodies (around 6 months)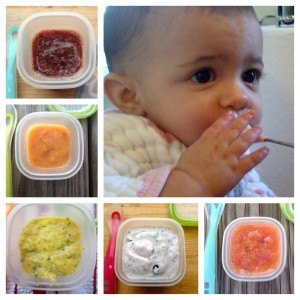 -Leave some small chunks in purees so there is always a bit of texture. Click here for the recipes for many of the first foods I prepared for my First-Time Foodie
-Use soft-tipped spoons that are gentle on little mouths like these from Baby Beaba. I love that they are dishwasher safe, too. We still use them now, at 20+months, for hot liquids or in "Eliana's kitchen."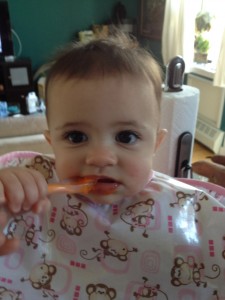 -Preserve your hard work! Refrigerate and freeze extra purees in small quantities like these 2-ounce containers from OXO Tot. Refrigerate leftovers for up to 3 days and freeze for up to 3 months.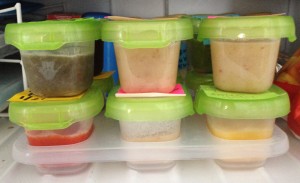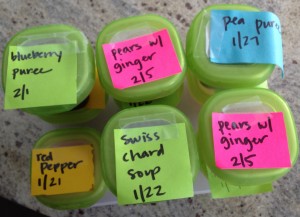 -Add a bit of seasoning and spices to purees. A little bit of salt is okay for a baby and using a variety of spices such as cumin, garlic powder, cinnamon and chili powder exposes him to more flavors right from the beginning.
-Don't give up when a food is rejected. Try again at another meal or on another day or even present or offer the food in another form such as a little stick as suggested by the folks at Baby Led Weaning.
-Want to see videos of a Baby Led Weaning style feeding? Click here for two videos of Eliana's first tastes of watermelon.
-Let the little foodie taste your food, too. Even if you're eating the same exact thing, the food might be more interesting simply because it is the food on your plate.
-It's totally natural to be anxious and a bit scared when feeding baby something that doesn't come out of a breast or bottle. I took many deep breaths and reminded myself that babies have made the switch from liquids to solids for centuries and have been okay. But, if it makes you feel more comfortable, get trained in how to help a choking baby if you aren't already. I repeated the steps to myself over and over during every feeding the first few months of her eating solids.
-At this stage, aim for two meals of solid foods per day. But, allow yourself to be a human and if days happen where there is only one meal or no meals, remember that tomorrow is a new day in this adventure.
-Want more sample recipes for this stage? See below:
Baby Food Recipes 3.5.12 (This post has recipes for the "Intermediate Foodie," too).
Tips and Ideas for the Intermediate Foodie (around 9 months)
-Begin mixing chunkier items like brown rice, quinoa or cut-up bits of pasta into purees so baby has to chew more and more.
-Gradually, add more and more texture as the weeks go on.
-Cut up whatever you are eating into smaller pieces or sticks so baby can enjoy it, too.
-Eat with your baby when possible so you are modeling how to use utensils, chew and swallow. It is also a nice social experience.
-Aim for three meals of solid foods per day as a goal but don't feel too guilty on the days when only one or two meals happen instead. You're dealing with a tiny human, after all! Want to see a sample schedule that balances bottle/breast feeding with solid foods and naps? Click here. And click here to read a little bit more about this stage.
-Want some sample recipes for this stage? Click on each post below:
And for a sample menu from this stage, click here.
Stay tuned! Tips and Ideas for feeding "Older Foodies" coming soon!
**I found that once my teeny tiny foodie became a bit savvier and stronger at 10-11 months, she began to remove the bibs that have Velcro closures like the ones from Skip Hop and Bumpkins. I switched to all JJ Cole brand with snaps because they stay closed and are very hard to unsnap—even for the adults! If you're just buying bibs for solid foods, you might consider buying bibs with stronger closures, like snaps, right from the start.
For easy cleaning of all the bibs for solid foods, I throw them in the washing machine at then end of the day and let them air dry.