Print This Post
This post is a bit of a departure from the norm since it isn't really about what Eliana eats. But, last week she turned 1-year-old. (1! Holy crap!!) So, I think this event is worthy of a departure…

Her "Baby Pool Party" was all set to happen out on our deck. A rain date would be announced if needed since there is no way we were going to be able to fit 50 people in our apartment! Now, I know that this was Eliana's first birthday party and she wouldn't remember it and this party is really for the adults yeah, yeah, yeah. I tried to keep that in mind so I wouldn't go nuts over this event. BUT, how could I let my baby's first birthday slip by without a bang? And in true Jory style, I began thinking about it, stressing about it and making lists and notes of what I wanted it to be like waaaay in advance. But the actual work for it began only about a week out. (I'm an excellent procrastinator.) I had the foresight to hire my amazing babysitter, Kate, for the day. I figured an extra set of hands the morning of the event would be great and during the party she could help out too. The nights leading up to the party my friend Michaele** and my mom helped me make the decorations and everything was going to be ready and happen seamlessly on Saturday morning.
Cut to the morning of the party. About an hour before it begins:
Eliana is in PJs, I'm clothed but not in my party attire, nothing is set up, party-related stuff is all over the apartment because when I did go outside to begin setting up, I felt raindrops. And no, I DON'T think they were psychosomatic. I actually saw raindrops too. The guy from the bagel place, who prepared most of the food, has called to make sure we are, in fact, going to pick up all the food he prepared. Eliana is refusing to chill in the pack and play like she usually will when I need to be "hands free" and I'm trying very
hard, and not really succeeding, to not freak the heck out about the state of affairs. I'm cursing everyone- including myself for sending Kate with Matt to get all the food rather than keeping her with me to help me prepare here. I always forget that having a party in my home is great. In theory. But in practice, it is so much more work than I remember from the last time I had the great idea to host a party at home. And then, in an instant, a crowd arrived to help. My mom, Michaele, Matt and Kate with all the food, my brother and his family and my in-laws. It was a whirlwind of activity with all hands on deck.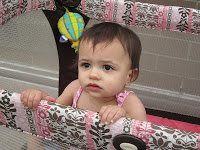 Um, you people are all getting ready for MY party. Why am I stuck in baby jail?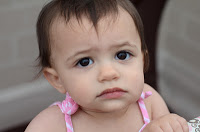 Really? You're not going to let me out??
Of course, it all came together in the end. I was able to stop for about 3 seconds and appreciate that the place looked great, our friends and family were laughing and having fun and the weather cleared up so the day was beautiful.
The decor: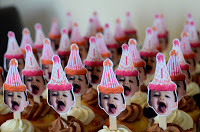 Cupcake toppers from BugandBoo designs
Shelley also created the banner below. Love it!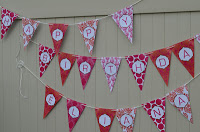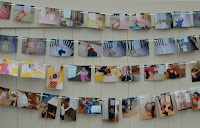 My favorite of the decorations. It is a collection of the weekly and monthly photos we've taken of Eliana over the year. My mom spent a long time putting this together for me. Thanks, Mom!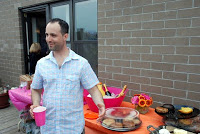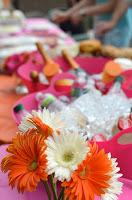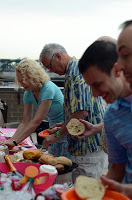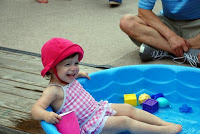 "I'm comfy people. Where's the pool for everyone else?"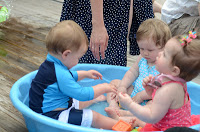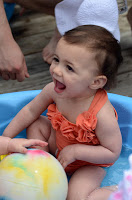 It's a par-tay, people!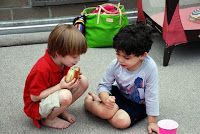 Who knew my nephew Ryan (left) and Joey (my friend Amy's son) would become instant buddies?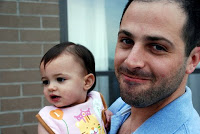 Matt's brother a.k.a. Uncle Greggy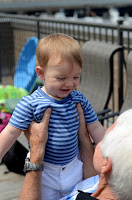 My dad with my nephew, David.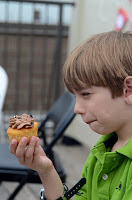 My nephew Zack inspecting the cupcake he decorated.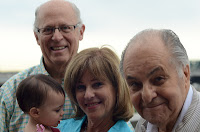 Matt's parents and Grandpa Paul.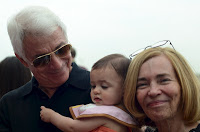 My parents with Eliana.
Eliana enjoyed some bagels with lox and, of course, the special cupcake that was made just for her. Yes, I allowed the teeny tiny foodie to have something full of processed sugar and void of any nutritional value whatsoever.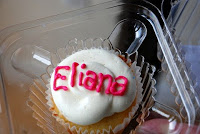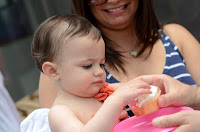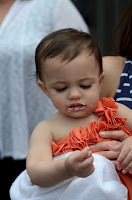 She did stick her hands in the frosting to lick it and even got some on her nose. But, she didn't do the typical baby move of sticking her whole face into her dessert. (I'd be lying if I said I wasn't a little bit happy about that.) And, I was overjoyed that frosting didn't get on either of us during that process. Woohoo! (Please, even though it was her party, you really think I wasn't on guard against stains and spills?? And, of course, she had a special bib to commemorate the event. Obviously
.)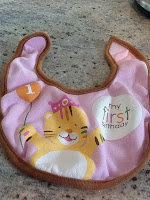 So, why is this post called "It's my party and I'll pee if I want to?" Well, once it started to get sunny, Matt and I agreed that we should fill the baby pools and get Eliana into her bathing suit. We went into our bedroom to change her. I quickly ducked into our bathroom while Matt started that process. 

All of a sudden Matt yells, "Which side is the front???" I assumed he was talking about her bathing suit so I yelled back, "The flowers go in front." "No! The diaper! Which side is the front?!" he yelled back. Then I hear our good friend Steve, dad to Eliana's "bestie" Sophie, talking to Matt. He came in to offer a little father-to-father support. For whatever reason, that set Eliana off and she began SCREEEEEEAMING at the top of her lungs and hysterically crying. (Thanks for trying though, Steve.) I finally finish up and come flying out of the bathroom to see a stressed-out Matt holding a naked and bawling Eliana. I'm about to step forward to help out when-whooooooosh-Eliana peed all over Matt. And I, of course, began cracking up. Yes, I was appropriately horrified by the fact that there was urine everywhere. And I was very glad that we have laminate a.k.a. easy-to-clean flooring, too. But, the look on Matt's face was priceless. And apparently, Eliana just needed that release because the moment she peed she was calm and happy and ready to continue partying.
So, Happy FIRST Birthday to my clever, funny, silly, sometimes-seemingly-suicidal, happy and amazing Little Lady! I look forward to what the years ahead will bring.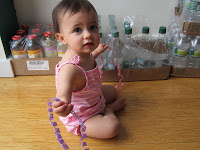 Who needs presents? These ribbons are great!
And, thank you, to our friends and family who traveled from out of town to celebrate this special day with us.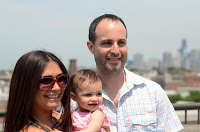 **Michaele deserves an ENTIRE post dedicated to her amazingness. Not only has she spent countless hours at my place with her toolkit hanging artwork and photos on the walls, consulting on interior design and researching furniture options online for us to buy. But, she also found the beautiful "Happy Birthday" banner I ordered from BugandBoo designs on Etsy.com which also led me to the ridiculously cute cupcake toppers I got as well. And that is only what she has done recently to help me, and my little family, out. Michaele- you are a wonderful friend and I only hope I can reciprocate somehow one day.  I'm so lucky to have you as a friend and Eliana is lucky to have such an awesome Auntie. xoxoxoxo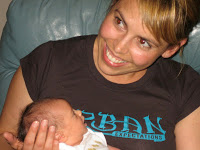 Michaele, of course, took photos during the party. I love this one from when Eliana was around 3 weeks old.
« Previous Basic Vegetable and Cheese Frittata Whole Wheat Muffins with Fruit Next »