Print This Post
Eliana is a pasta loving fool just like her Mommy. If I allowed it, she'd blissfully eat pasta for three meals plus one snack each and every day. (And really, so would I!) Obviously, I don't serve her pasta all day every day. But I know that when pasta is served, it will be gobbled up with no questions asked. What I didn't expect was to feed her a third serving of pasta for dinner tonight!
Now that fall is setting in and the weather is cooler, I decided I should use the remaining basil from our garden sooner rather than later. To me a big bunch of basil means one thing: it's time for pesto. Yum! The recipe I used is below.
Pesto Sauce
·    Fresh basil
·    Pine nuts, toasted (I used walnuts in this batch. See the explanation below.)
·    Garlic clove(s), peeled
·    Shredded or grated Parmesan cheese
·    Olive oil, salt and pepper
·    Reserved cooking liquid from the pasta
**There are no amounts listed on this recipe because it all depends on the amount of basil I use. I like a lot of basil. For all ingredients except the Parmesan, I start by adding smaller amounts and work my way up because it is easier to add more of anything to the food processor than to take away.**
Toast the pine nuts over low heat for a few minutes until they are browned and fragrant. All ingredients go into the food processor. Puree. Taste and adjust levels as needed.
If I'm putting this over pasta, I reserve a mugful of the cooking liquid, drain the pasta and add it back into the pot. I add the pesto, which is kind of a paste consistency, and begin adding the reserved cooking liquid from the pasta. I mix it all up and add more water as needed to help thin out the pesto and avoid adding a lot more oil.
Variations:
– Add organic baby spinach as well as basil
– Add fresh lemon or lime juice to brighten up the flavors
– Substitute the pine nuts with toasted walnuts (I just discovered this by accident. When I opened up the freezer to grab the pine nuts, there were none. Gasp! But, there were walnuts, so toasted walnuts went into this current batch of pesto.)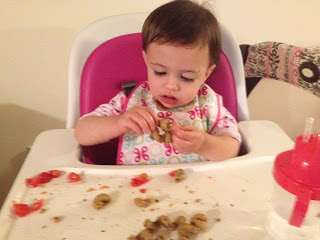 Now this pasta shape looks fun!
Happy Cooking!
Tags: nuts
« Previous Green Mashed Potatoes Whole Wheat Apple Banana Muffins Next »