Print This Post
Lately, the idea of making another kind of muffin with fruit and vegetables has been rolling around in my head. I've received tons of feedback on my Apple-Spinach Mini Muffins and, apparently, they are a hit with Foodies of all ages. (Thank you!) Before trying them, people are typically wary of spinach in a muffin. Even I agree that it sounds kind of weird. But then, once people taste the muffins, they have been pleasantly surprised by the fact that the muffins actually taste good. But, after making around 1,000 of them for the three expos where teeny tiny foodie exhibited over the last two months, I'm not at all interested in making muffins with apples, spinach or the combination of the two for a long, long time.
So, I've been playing around with new combinations and throwing in some new ingredients I learned more about while attending BlogHer Food in Austin in June. Chia seeds, anyone? Thanks for the free sample, Dole Nutrition Plus. And after a few weeks of trial, error and lots of experimentation I'm proud to share my newest wacky sounding combination for a muffin:
Pineapple Banana Kale Muffins
While I've been experimenting in the kitchen, I've also been playing around with words, too. As a former teacher and literacy consultant, I like to play word games but this word challenge has been just that: a challenge. To me, "Pineapple Banana Kale Muffins" is a mouthful, so I thought about calling them "Banapple Kale Muffins" or "Pinana Kale Muffins" but neither of those feel right. So, if you have any suggestions or ideas of what to call these muffins, please send them to me through the comments section at the bottom of this post or email me directly at [email protected].
No matter what you decide to call them, I hope you'll also call them "Yummy."
And here are two tips to share:
1. These muffins freeze really well.

Wrap each one individually in plastic wrap and then put them in a zip-top bag and freeze for up to 4 months.

2. They are a great on-the-go snack, too.

Just take one out of the freezer in the morning and around an hour later, it is ready to eat.
And remember to be honest with your Little Foodie about what he is eating. If your little one is wary of eating vegetables and you've found that hiding them inside of other foods, like these muffins or Apple-Spinach Muffins, is the most successful way to get her to eat veggies, be sure to tell your Little Foodie about the "secret" ingredient after she has gobbled it up. This will create a positive association with an otherwise "scary" food. And the word "kale" can sound pretty scary to Foodies of all ages!
Pineapple Banana Kale Muffins
Dry ingredients:
-1½ cups whole wheat flour
-¾ cup rolled oats
-2 teaspoons baking powder
-½ teaspoon baking soda
-½ teaspoon salt
-1 tablespoon wheat germ
-1 teaspoon ground ginger
-1 tablespoon chia seeds
-2 tablespoons flax seeds
Wet ingredients:
-1½ teaspoons almond extract
-3 tablespoons vegetable oil
-1 cup maple syrup
-1 egg, lightly beaten
-½ cup milk
-2 large or 3 small mushy bananas, mashed with a fork
-2 ounces Simple Pineapple Purée
-1 ounce kale, finely chopped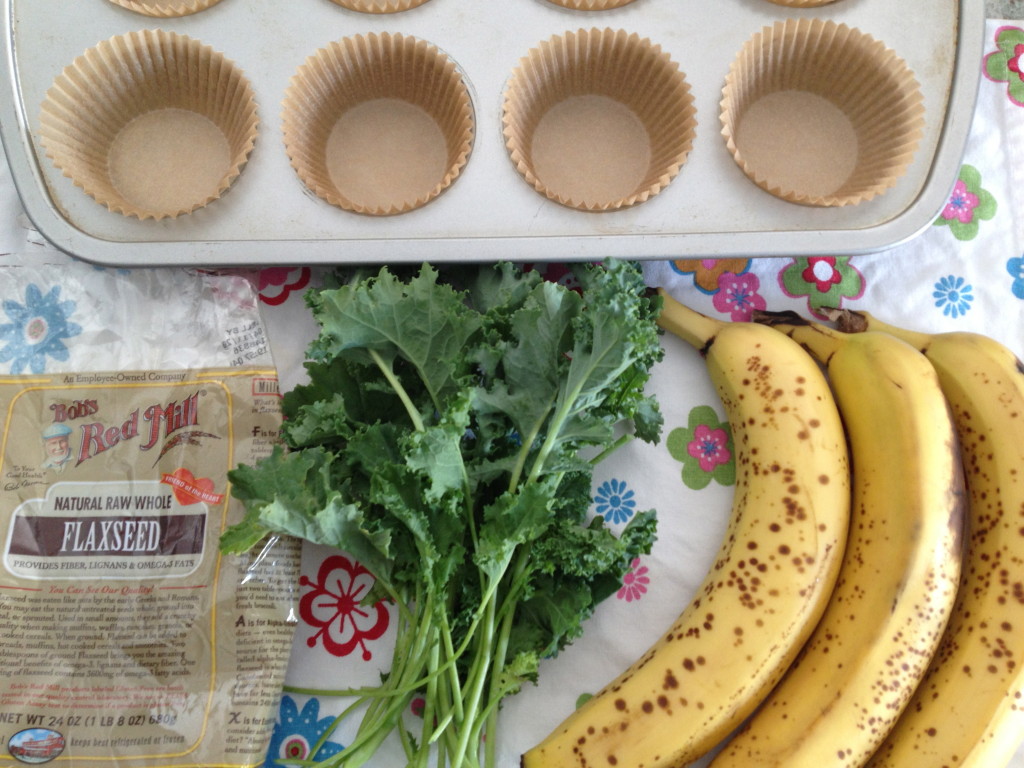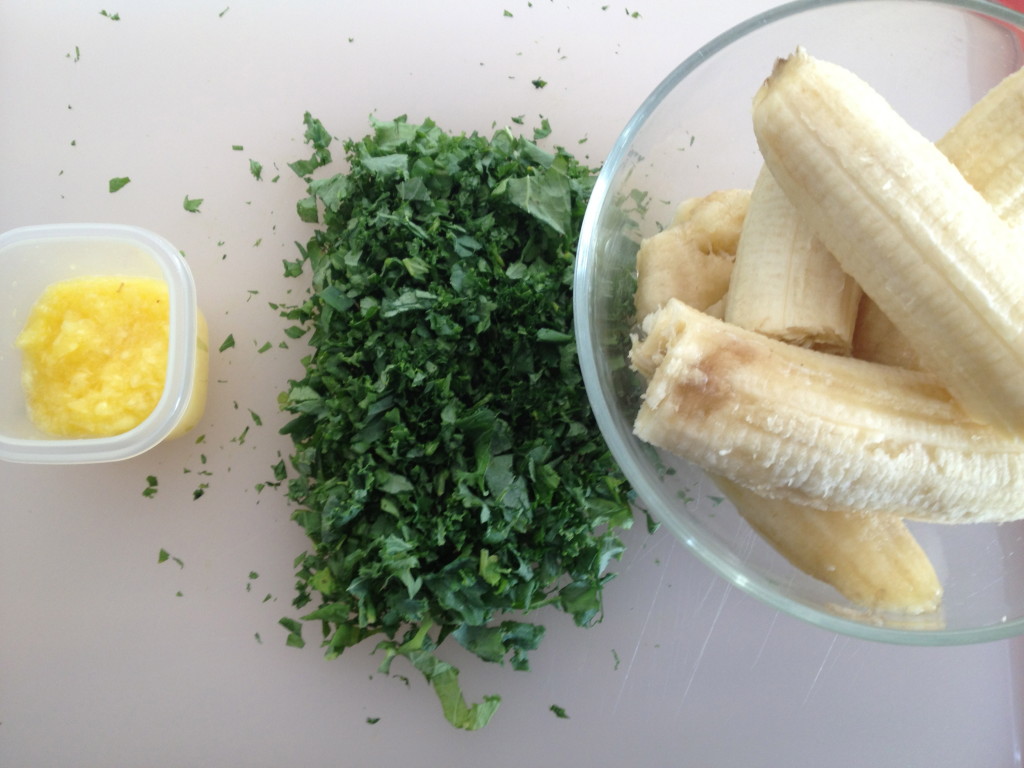 Preparation:
Preheat the oven to 350°.
Combine all of the dry ingredients in a small bowl.
Whisk the wet ingredients together in a large bowl.
Slowly stir the dry ingredients into the wet ingredients. Stir only until it is all combined- don't over stir.
Pour mixture into lined muffin tins. You can fill them to the top and they will puff up a bit over the actual muffin. Or, fill the muffin tins ¾ full and use the rest to make a little loaf of PBK bread.
Bake muffins for 35 minutes. Turn off the oven and leave them inside for an additional 10-20 minutes.
The muffins will be moist in the middle from the bananas, so a toothpick won't come out "clean." But, they will be fully cooked.
Variations:

-Mix in ¼ cup toasted slivered almonds
-Mix in ½ cup unsweetened coconut flakes
-Top with a few toasted, slivered almonds
-Top with toasted coconut flakes
-Top with additional chia seeds
Happy Cooking!
Tags: baby and family, bananas, chia seeds, flax seeds, kale, leafy greens, Meatless Monday, muffins, pineapple, Purees For Two, summer
« Previous Pineapple Banana Mint Purée Simple Pineapple Purée Next »