Print This Post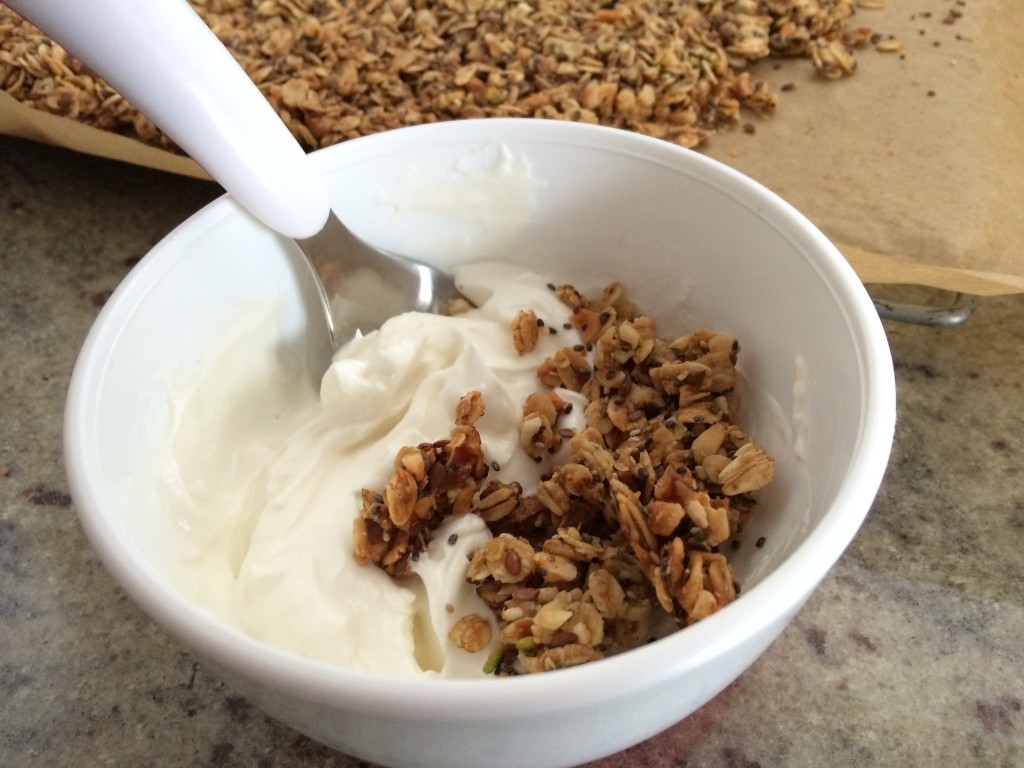 My family and I love granola. Typically we eat it over plain Greek yogurt but it's a great snack by itself, too. Ever since I started making my own granola, I've been searching for the secret to making it "clumpy" with big bites of granola goodness. Silly me should have realized right away that the answer would lie with Deb Perelman from Smitten Kitchen. I found her recipe for Big Cluster Maple Granola while reading her amazing cookbook.  The secret to the clumpiness?  An egg white. A-ha! Because I'm me, I had to tweak the recipe a little bit to fit the flavors my family prefers, so I omitted the dried fruit, reduced the amount of walnuts and added some other goodies we love here in the teeny tiny foodie home. Be warned-this granola is so delicious it may not make it past the cooling rack. For me, it is an amazing act of willpower not to grab pieces as I walk by the rack of cooling deliciousness. I hope you and your family enjoy it, too!
Barely Revised Smitten Kitchen's Big Cluster Maple Granola
Ingredients:
-3 cups old-fashioned rolled oats
-1 cup unsweetened coconut flakes
-¼ cup walnuts, crushed
-¼ cup roasted and salted pistachios, crushed
-¼ cup chia seeds
-¼ cup flax seeds
-½ teaspoon coarse salt
-¼ teaspoon ground cinnamon
-¼ cup wheat germ
-2 tablespoons olive oil
-½ cup real maple syrup
-1 egg white, whipped until frothy
Preparation:
Heat the oven to 300° and line a baking sheet with parchment paper. Leave around six inches of extra parchment paper on each end of the baking sheet.  Set up a cooling rack, too.
In a large bowl, mix together all the ingredients except the egg white. Whisk the egg white separately until it is frothy and mix it into the oat mixture. Spread mixture out onto a baking sheet in an even layer.
Bake for 20 minutes then check to see if the baking sheet needs to be turned around to brown evenly. Cook for an additional 25-35 minutes until the granola is evenly browned and dry to the touch.
Remove the baking sheet from the oven and lift the granola by the extra parchment paper on the sides and carefully transfer it to the cooling rack to cool completely.
Once cooled, break into whatever size pieces you want and enjoy.
Happy Cooking!
Tags: breakfast, chia seeds, flax seeds, granola, Meatless Monday, nuts, oats, pistachios, walnuts, wheat germ
« Previous Garlicky Spinach & Cheese Frittata: {Meatless} Monday Meal Black Beans & Rice Casserole: {Meatless} Monday Meal Next »