Print This Post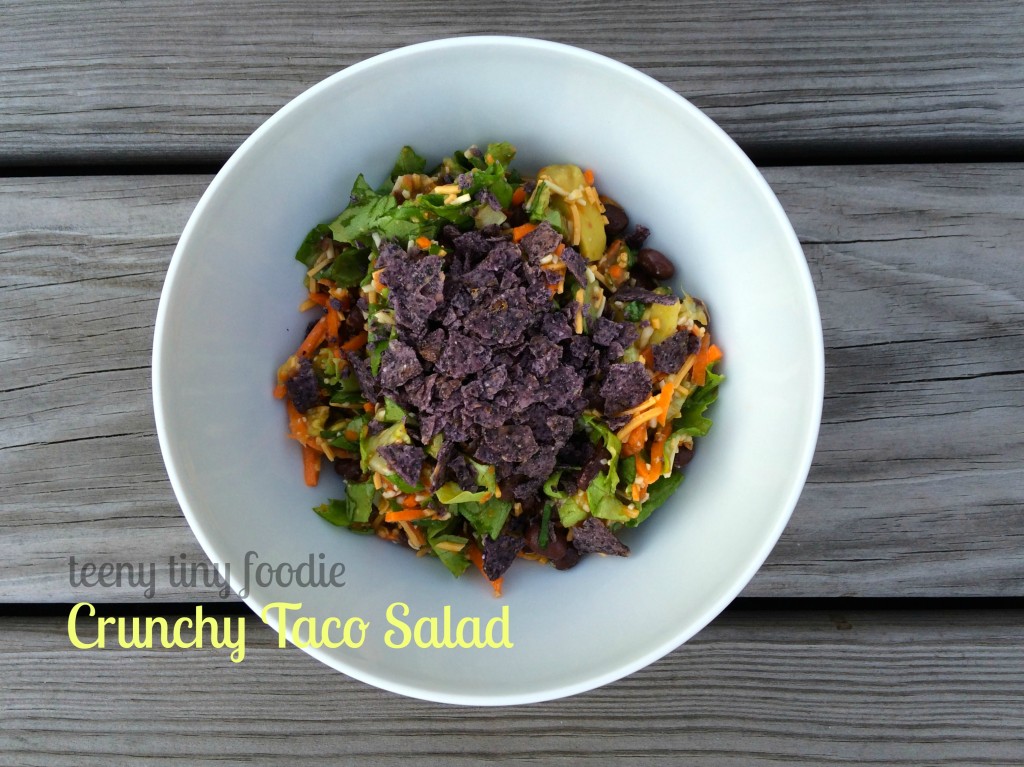 It isn't uncommon for me to have an idea of what I want to make for lunch or dinner but by the time actual preparation of the meal rolls around, I'm on to something a little different. That exact thing happened the other day. In the morning, I had been planning to make quesadillas for lunch for Eliana and myself. But by the afternoon, it was so hot outside that even the idea of turning on the burner to melt the cheese made me sweat even more. Gross! So, I scanned the pantry and the fridge with the idea of something Mexican-food themed still on my mind and a new recipe started brewing in my head. Woohoo! Along with the black beans and shredded cheese I was going to use for quesadillas, I found cherry tomatoes, an onion, a bag of organic blue corn tortilla chips, and the box of Blooming Brooklyn Iceberg lettuce the fine folks at Gotham Greens sent me and Eliana home with after our private tour of their Gowanus greenhouse. Hmmm. A new recipe was born and became this week's Monday Meal of Crunchy Taco Salad with Salsa Salad Dressing!
Some tips and ideas about the recipe:
1. This is a great salad to bring to a potluck. It's colorful, refreshing and a crowd pleaser. Leave a small bowl of crushed chips next to your salad for people to add their own.
2. You can make the salad dressing ahead of time and keep it in an airtight container in the fridge for to 2 days.
3. You can make the salad earlier the same day you want to serve it. Just don't add the avocado, chips or dressing until you're about to eat.
4. Unless you are serving the whole salad right away, add the chips to individual plates so they don't lose their crunchiness as they absorb liquid from the vegetables and dressing.
5. Your teeny tiny Sous Chef can help you make this recipe. Eliana LOVED crushing the chips and it was a great way to release the minor toddler-tantrum she was on the verge of having for no obvious reason. (She's 3. 'Nuff said.) More ways to get kids in the kitchen are to have them help: wash vegetables, mix the vegetables together, use a salad spinner to dry the greens and push the buttons on the blender or food processor to make the dressing.
Before I share the recipe, I want to tell you about the iceberg lettuce I used in this salad. To be honest, when Nicole from Gotham Greens gave it to me I was skeptical. I don't know about you, but to me "iceberg lettuce" conjures up images of white nutrient-void lettuce that canvassed almost every salad I consumed while growing up. I usually steer clear from it in the store, since its light green and white color means it doesn't have much to offer in the way of nutrition. But this version of iceberg lettuce is totally different. It's not your mother's iceberg lettuce. First of all, it's bright green. If there's anything I've learned about healthy eating, it's that I should eat (and feed my family) colorful produce. The bright green color means it's packed with nutrients. It's also really tender and tasty, too. Perfect!
Intrigued by this lettuce? You could go buy it at a store but where's the fun in that? Instead you can enter this giveaway which ends tomorrow to win your own seedlings of this lettuce and more!
Crunchy Taco Salad with Salsa Salad Dressing
Serves 2-4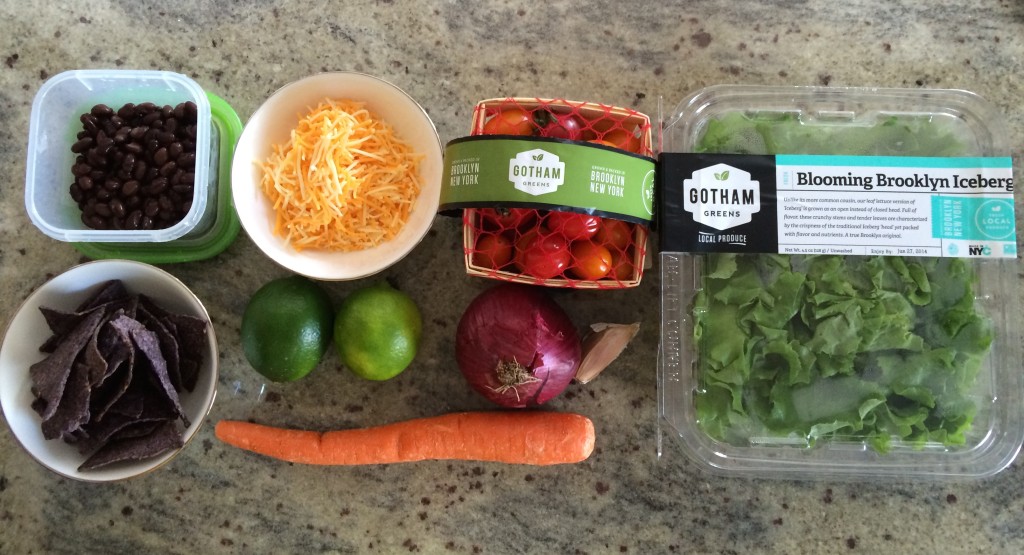 For the Salsa Salad Dressing:
Ingredients:
-1 pint Gotham Greens Brooklyn Sweets tomatoes
-Juice of 2 limes
-½ of a small clove of fresh garlic
-¼ red onion, roughly chopped
-2 teaspoons safflower oil or vegetable oil
-1 teaspoon white vinegar
-Salt, pepper, cayenne pepper, to taste
Preparation:
Put all ingredients in a blender or small food processor and puree until smooth. Taste, adjust spices and set aside around 2 cups for the salad. Store the rest in an airtight container for up to 2 days.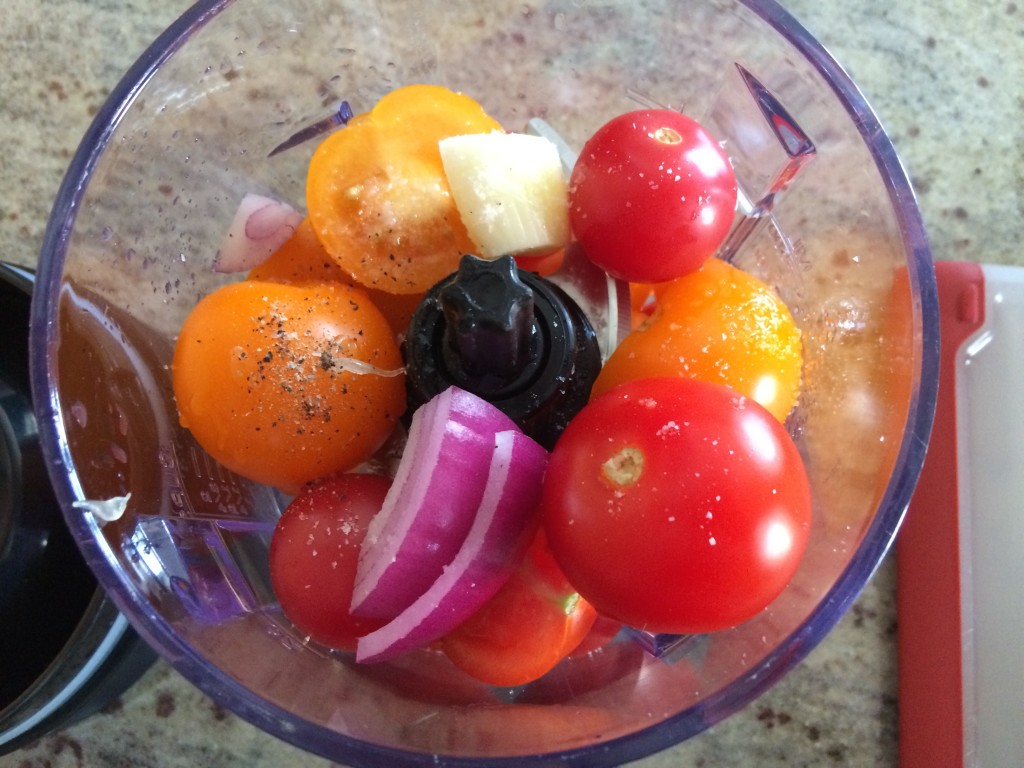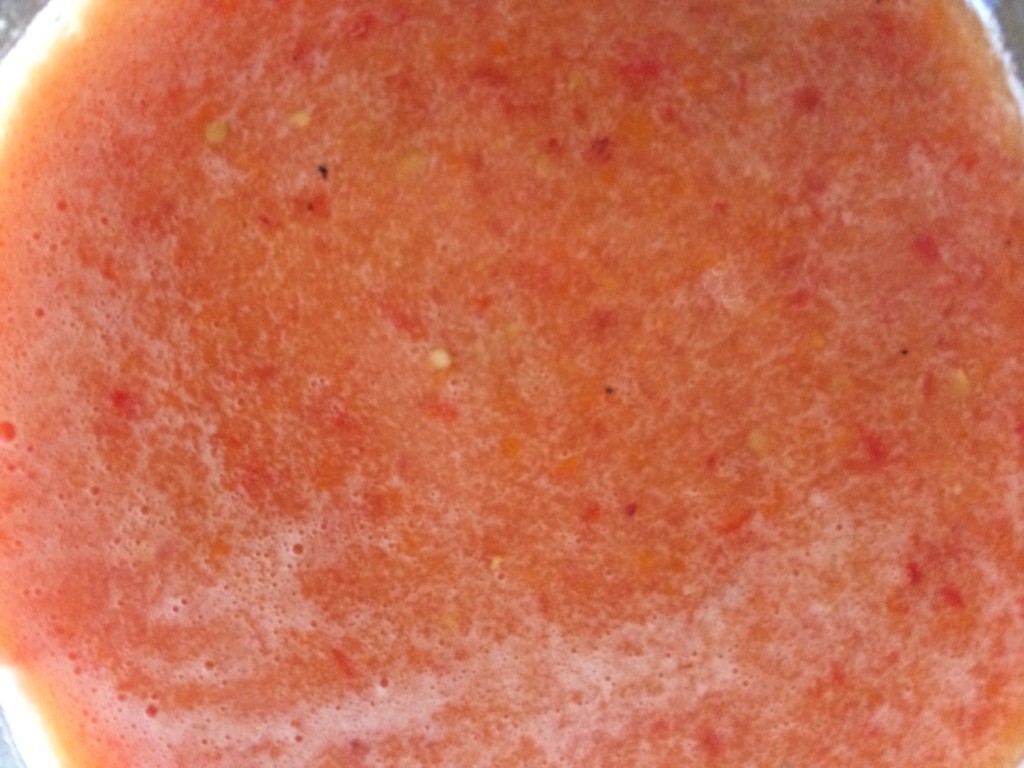 For the Crunchy Taco Salad:
Ingredients:
-3 ounces blue corn tortilla chips
-1 carrot, peeled and either shredded or finely chopped
-1 cup Mexican blend shredded cheese
-3 ounces Gotham Greens Blooming Brooklyn Iceberg Lettuce
-1 cup canned black beans, rinsed and drained
-½-1 whole avocado, chopped into ½-inch chunks
-1-2 cups Salsa Salad Dressing (give it a good stir before using it)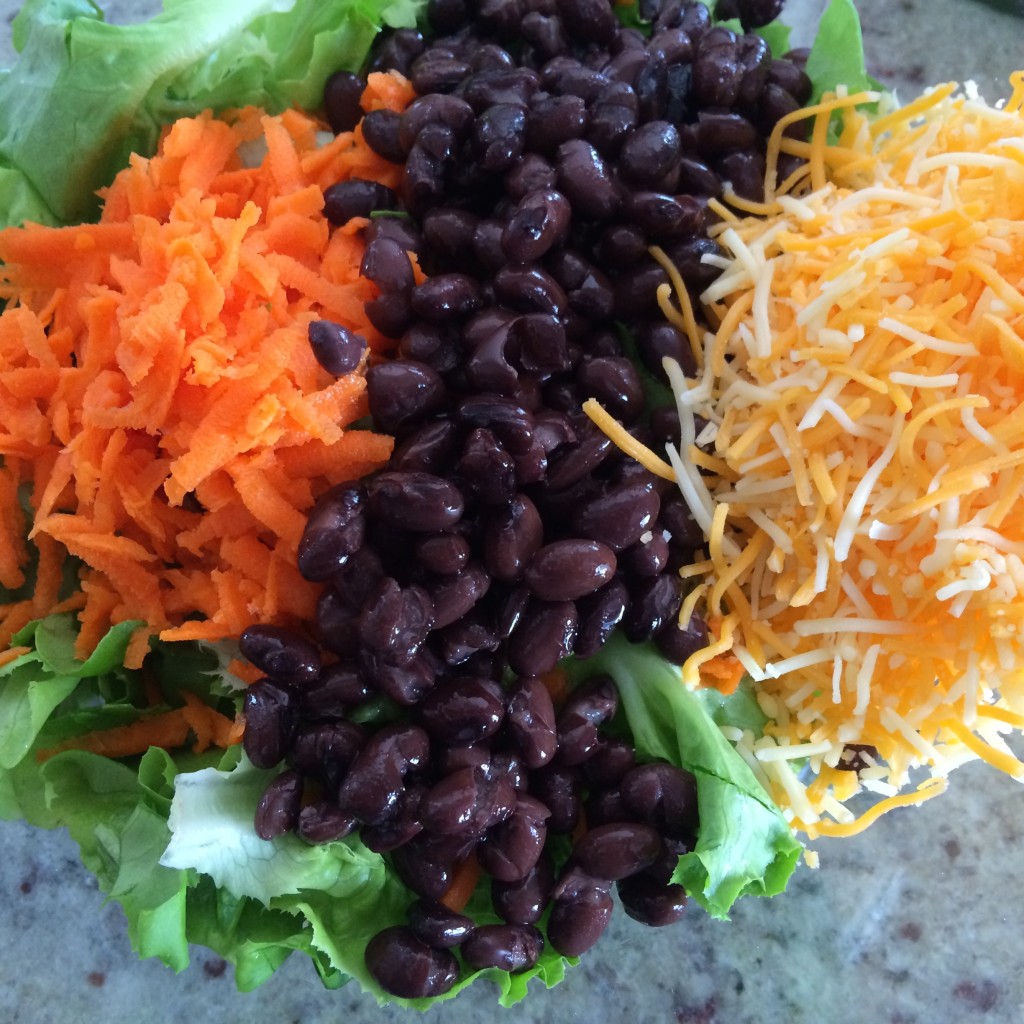 Preparation:
Mix the carrot, cheese and beans in a large bowl and set them aside.
Place the tortilla chips into a large zipper-topped bag and seal the bag. Crush the chips by lightly pounding on them.
Finely chop the lettuce and add it to the bowl with the bean mixture.
Gently stir in the avocado and salad dressing. Taste and add more dressing if desired.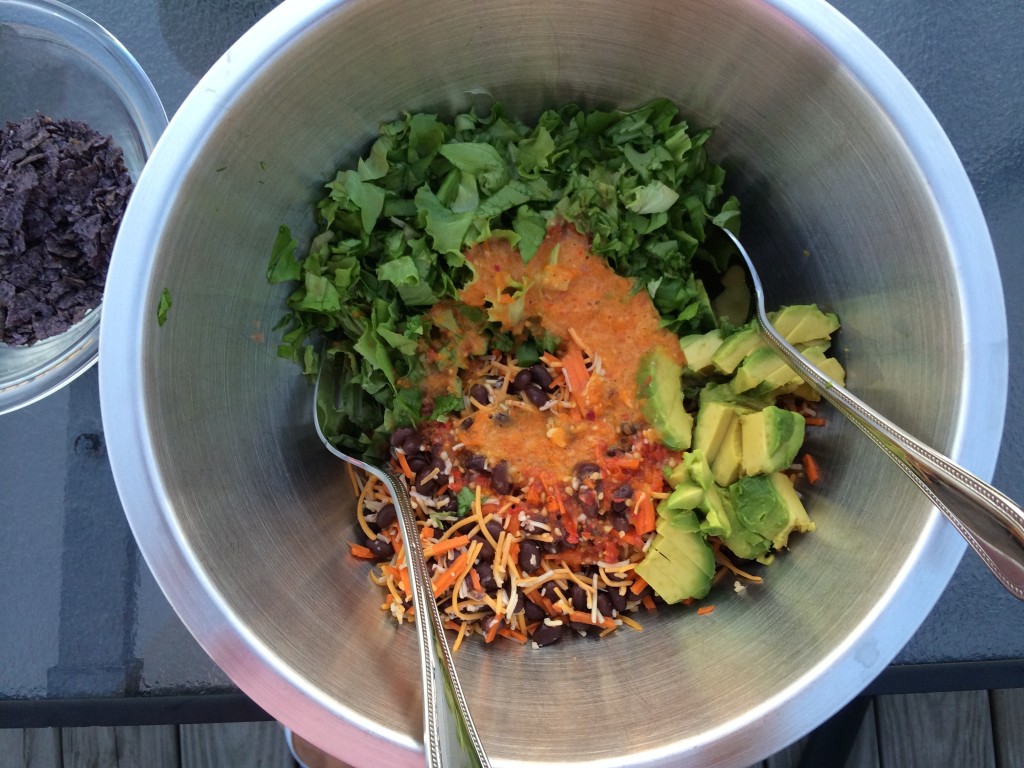 Transfer the salad to individual bowls, top with crushed tortilla chips and enjoy!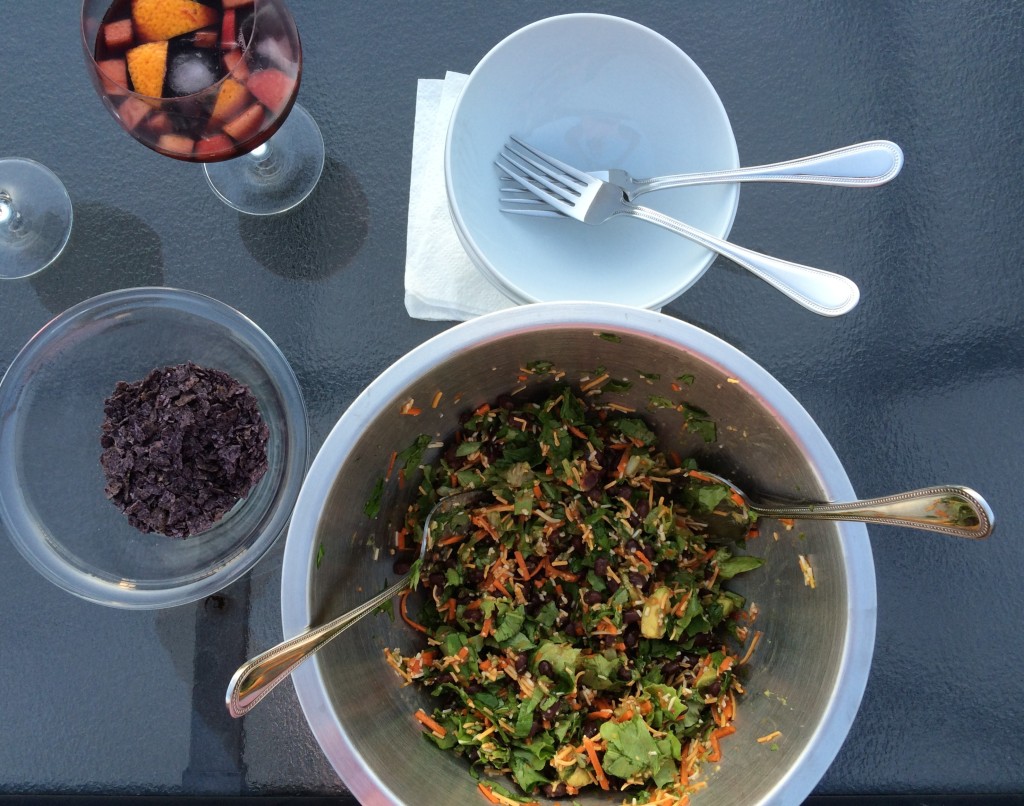 Eliana loved the lettuce and other components of the dish except for the beans. She ate a few bites of the salad and exclaimed about how much she liked it. She even showed me all of the ingredients. Then, she changed her mind about the beans. She picked out many of the beans but ate some, too. Sometimes, as I make this salad I make her a version without the beans.
Happy Cooking!
Tags: avocado, black beans, carrots, cheese, garlic, Gotham Greens, Kids Cook, leafy greens, limes, Meatless Monday, onions, salad, summer, tomatoes, tortilla chips, vinegar
« Previous Our Visit to Gotham Greens and a SURPRISE #GothamGreensGiveaway! Salsa Salad Dressing Next »