Print This Post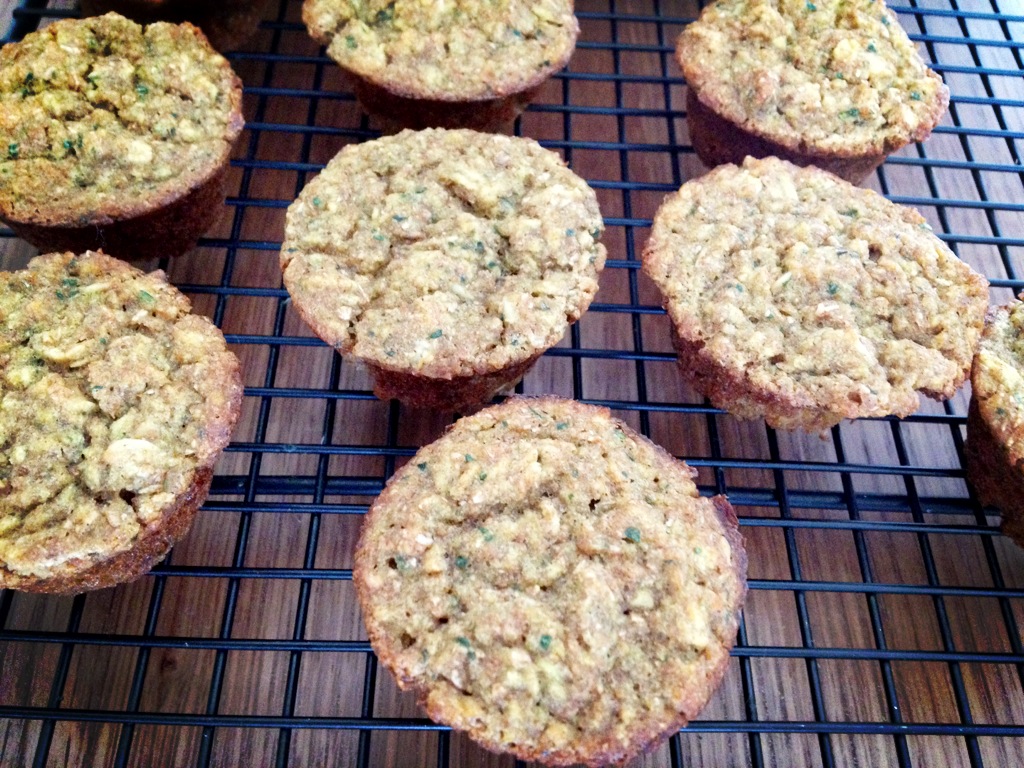 Lately, I've been experimenting with the idea of using 1 or 2 main ingredients to prepare two very different types of recipes; one recipe for First-Time Foodies aged 6+ months and another recipe for more "grown-up" Foodies aged 12 months to 12 decades.
Spinach just started showing up at the farmers markets again and that reminded me that Eliana loved the apple and spinach purée I used to make for her when she was a First-Time Foodie. For the last several months she has loved the apple muffins I've made for our family. So I began thinking about combining the two ingredients and the idea of mixing apple and spinach in a muffin was planted. Whole Wheat Apple-Spinach Mini Muffins is the grown-up recipe to compliment Apple-Spinach Purée.
Over the last month, I made and remade the muffin recipe a few times to get it just right. And over the last few days, I've been making literally hundreds of muffins in preparation for two upcoming events where teeny tiny foodie will be exhibiting: Brooklyn BabyFEST on April 27th and Mommybites Summit on May 1st. So, if you're in the NY area, drop by our table to say hello and get a free sample of these yummy muffins.
Have a First-Time Foodie at home and want to try the Apple-Spinach Purée? Click here for the recipe.
Whole Wheat Apple-Spinach Mini Muffins
Yields approx. 30 mini muffins or 14 regular sized muffins 
Ingredients:
Dry ingredients:
-1½ cups whole wheat flour
-½ cup rolled oats
-2 teaspoons baking powder
-½ teaspoon baking soda
-½ teaspoon salt
-1 tablespoon wheat germ
-¾ tablespoon cinnamon
-½ teaspoon ground ginger
Wet ingredients:
-3 tablespoons vegetable oil
-⅓ cup maple syrup
-1 egg, lightly beaten
-½ cup milk
-3 small or 2 large apples, grated, juice reserved
-1 cup raw baby spinach OR ¼ cup chopped spinach, thawed and pressed so all liquid is removed
Preparation:
Preheat the oven to 350° and grease a muffin tin or use liners.
1. Grate apples and finely chop spinach. Set aside.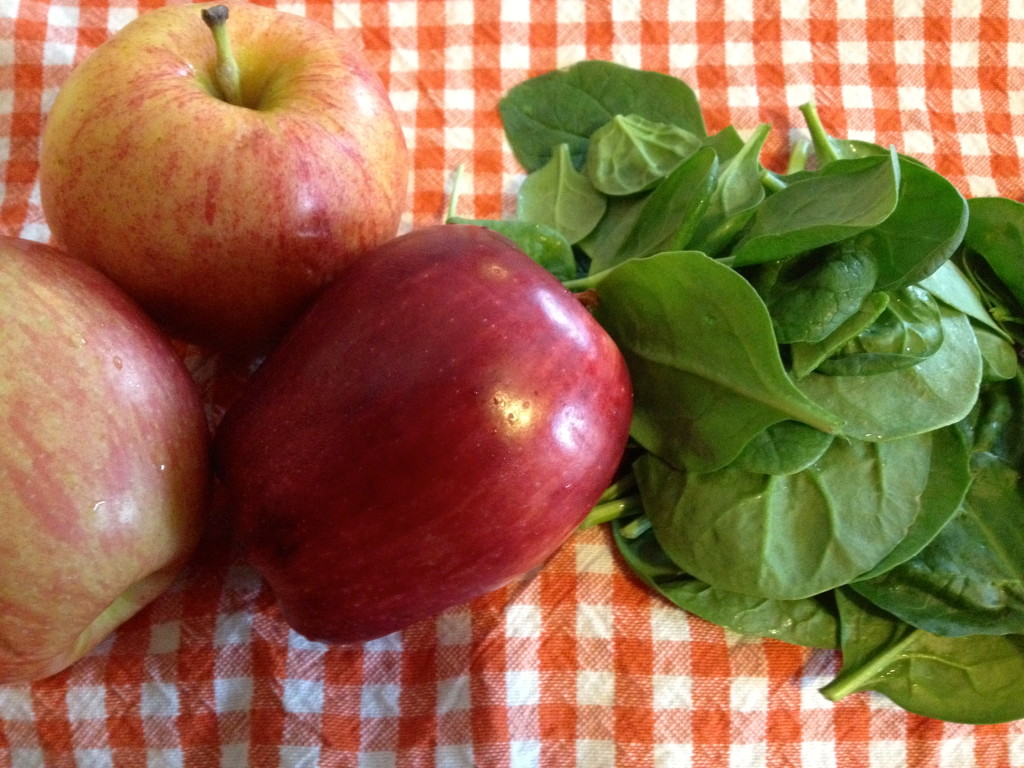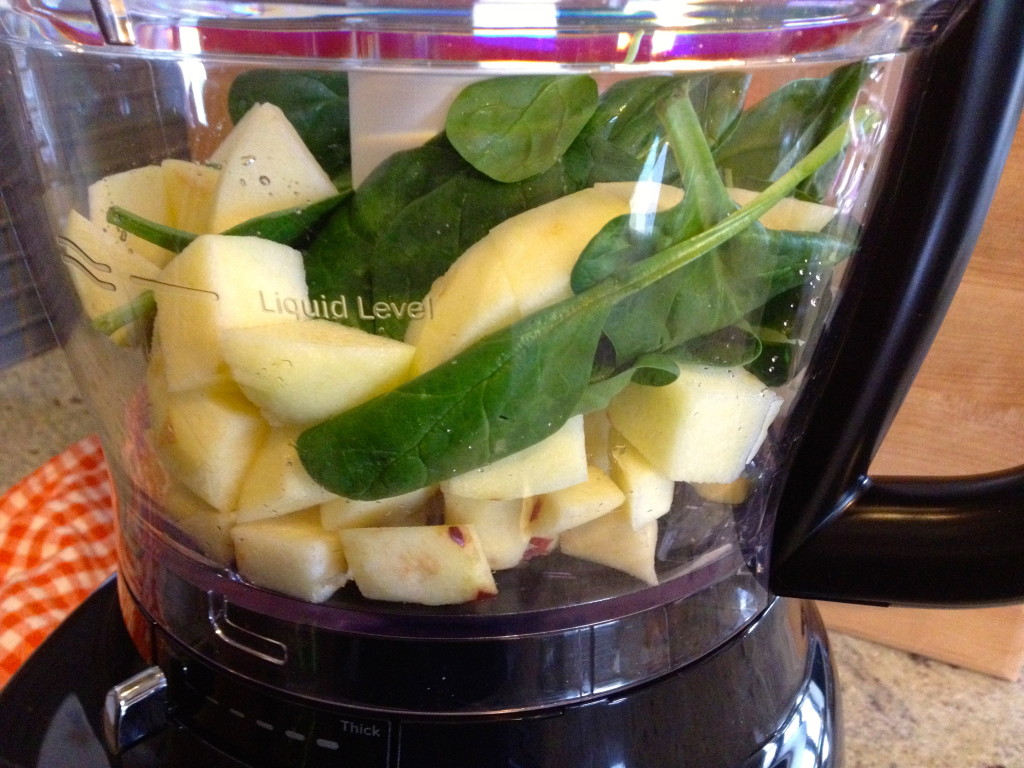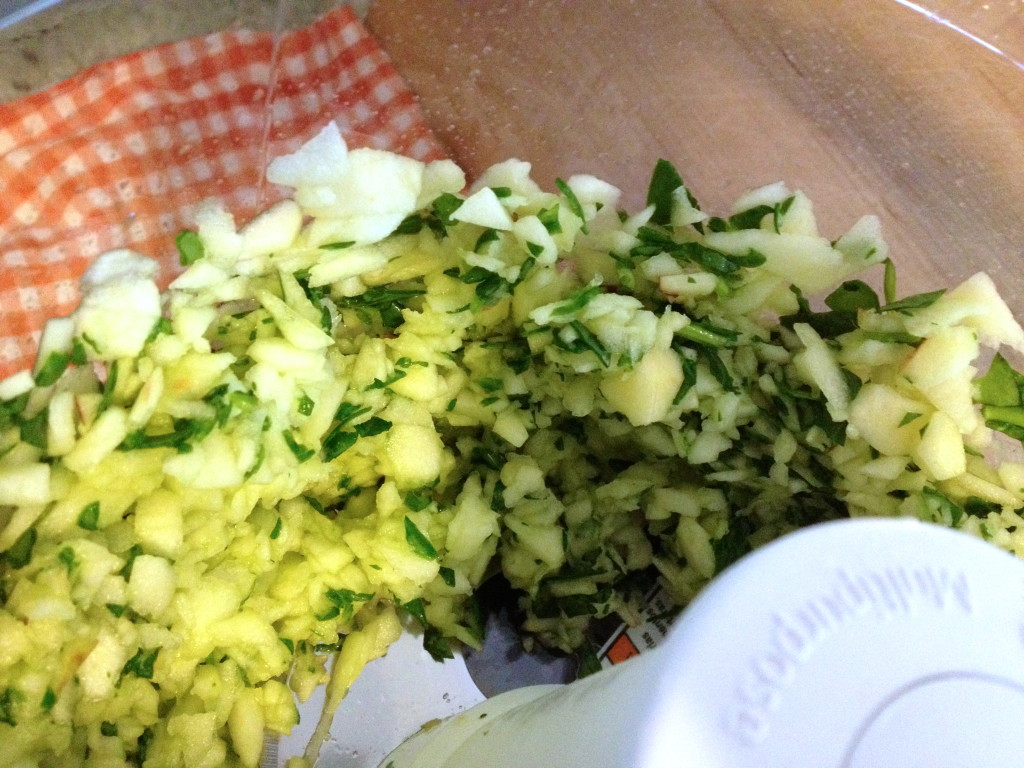 2. Combine all of the dry ingredients in a small bowl.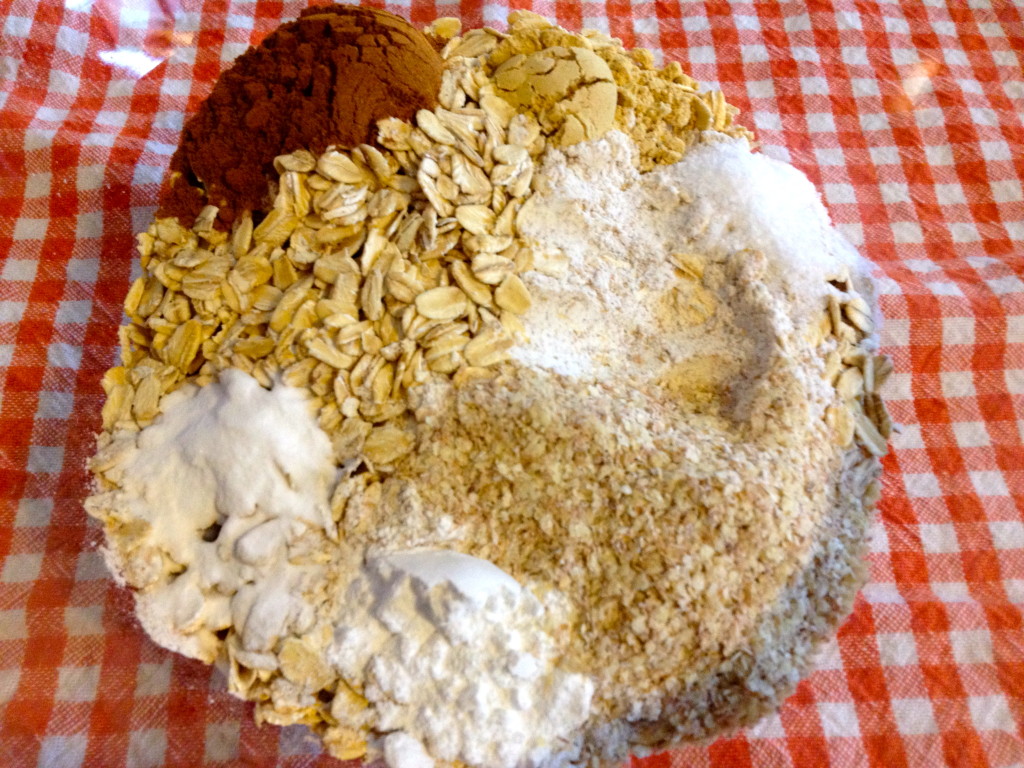 3. Whisk the wet ingredients together in a large bowl. Add in the apples and spinach mixture, including the juice, and stir together.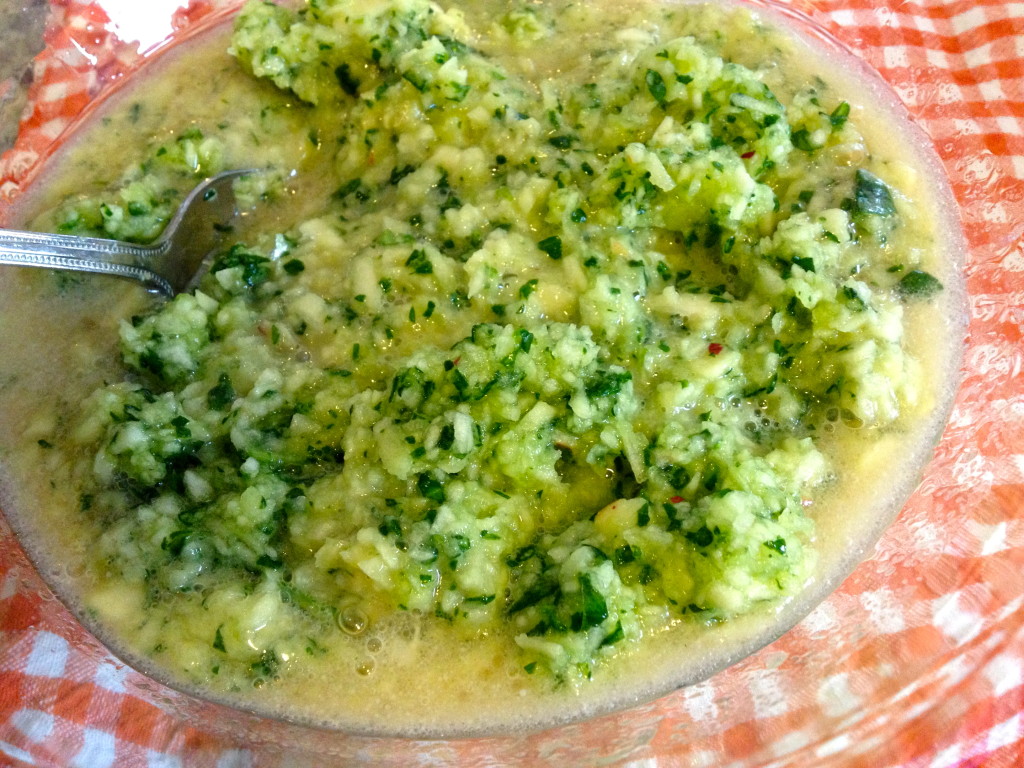 4. Slowly stir the dry ingredients into the wet ingredients. Stir only until it is all combined- don't over stir.
5. Grease a mini-muffin tin and fill each muffin cup almost all the way full.  Bake for 25-27 minutes or until a toothpick comes out dry.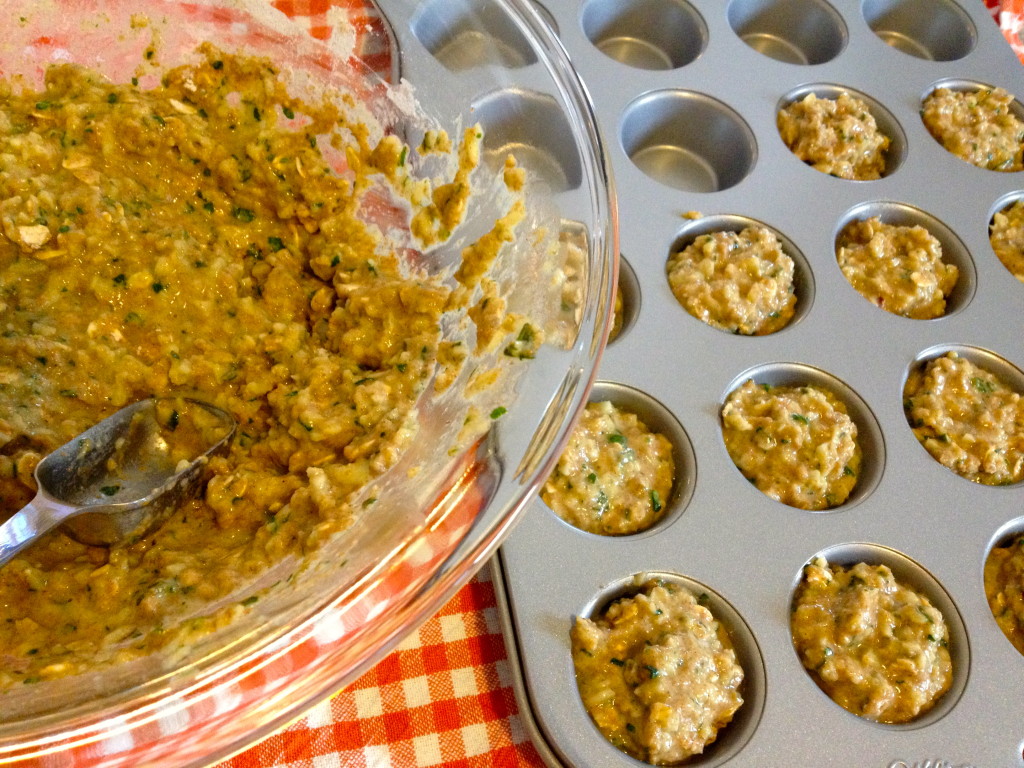 Did Eliana like these? OH, YES! First of all, she has been surrounded by them for weeks as I kept revising the recipe. Now that I've been making them in batches and batches for the upcoming events she has totally lost her mind in muffin-related bliss. She comes out of her room from her nap and sees the newest 100 cooling and screams, "MUFFINS!!!!!!!" She's also been saying, "Make…muffins…Mommy." ♥
Here are photos of her eating one of the first batches while I was still testing the recipe. Notice how much my darling daughter offers to me (3rd photo) when she claims she wants to "share" the muffin.
And here are two videos of Eliana celebrating muffin-y goodness.
Happy Cooking!
Tags: apples, ginger, leafy greens, muffins, spinach
« Previous Mini Veggie Mac-n-Cheese: Monday Meal Cuckoo for Coconut: Monday Meal Next »