Print This Post
Since we had been traveling last week, the fridge was pretty empty yesterday. I defrosted some peaches and roasted beets for Eliana to have some fruit and veggies and we shared some oatmeal for breakfast. But, she needed some protein for her lunch. The fridge was so bare we didn't even have eggs. But, we did have a container of tofu. Hmm. My friend Katy, mom to 11-month-old Joe, gives him tofu right out of the container. I can do that. But, I also saw a recipe Giadia de Laurentiis did recently on the Cooking Channel where she grilled tofu. I'd never tried that before. For being mostly vegetarian for around 20 years (I eat fish, too) I'm pretty boring when it comes to cooking tofu. It kind of scares me. So, I usually just bake it to go with stir frys. But, my Little Love needed protein and I had no time for that lengthy process. So, I got over it and got cooking! I felt very chef-like when the idea to prepare it two ways hit me. Hey, they do it in restaurants with meats and fish so why couldn't I do it too?
Here are the recipes below:
Tofu Two Ways
-¼ block of tofu- cut into two halves

-½ lemon

-Olive oil, garlic powder, salt & pepper to taste
**Taste the tofu first. Some tofu blocks are totally plain and in desperate need of salt. Some are already a bit salted and don't need any extra.**
First Preparation: Cut one tofu piece into small cubes. Sprinkle with a touch of salt, pepper and garlic powder. Toss and set aside.
Second Preparation: Place tofu piece inside paper towels and press down to drain excess water. Squeeze lemon juice into a small bowl, add salt, pepper, garlic powder and olive oil. Wisk. Pour into a small re-sealable sandwich bag and add tofu piece. Seal bag and swish around so it is covered with marinade. Let sit around 10 minutes. Flip and let marinate on the other side for 10 more minutes. Heat a grill pan over medium heat. Spray with a touch of cooking spray. Cook tofu for 3-4 minutes per side. Let cool slightly. Cut into small chunks and serve.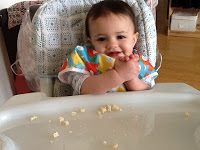 "Clap clap" for tofu! (Clapping is her newest "trick").
Tags: garlic, lemons, Meatless Monday, tofu
« Previous Dirty Dozen vs. Clean 15 Wearing Mommy's Lipstick? Next »