Print This Post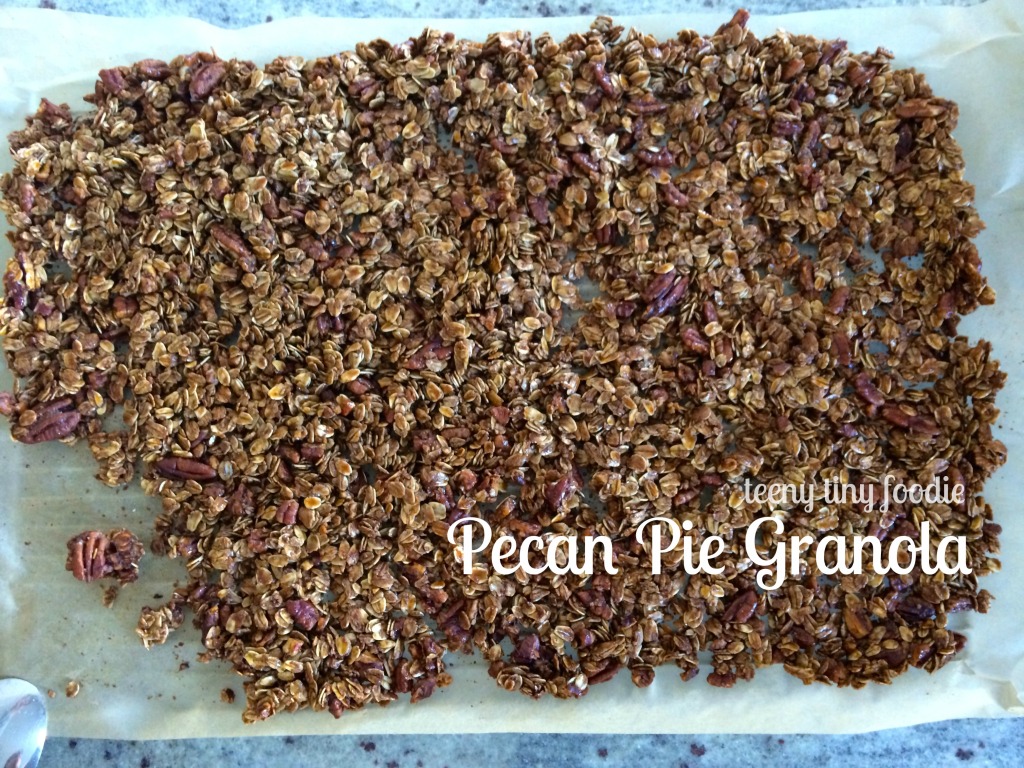 Typically, #WeCookWednesday is a day where Eliana and I cook something Eliana wants to cook. But, on this particularly Wednesday, she didn't have anything she wanted to cook. I, however, was really excited to try out a new recipe for granola that had been rattling around in my head so I suggested to her that we make granola. Eliana is a big fan of granola, so she agreed to let me dictate the recipe that week. (Whew!)
We did something a little different for this recipe. Before we began cooking, Eliana saw me writing out the ingredients and she wanted to do the same. Since she is 3 years old and not yet able to write letters or spell, we used her magnetic letters to help her create her own list of ingredients. I wrote out some of the ingredients on paper and she made her list by finding the first letter of each word and placing it on her magnetic board. The teacher in me was extra proud of her interest in reading and writing. ♥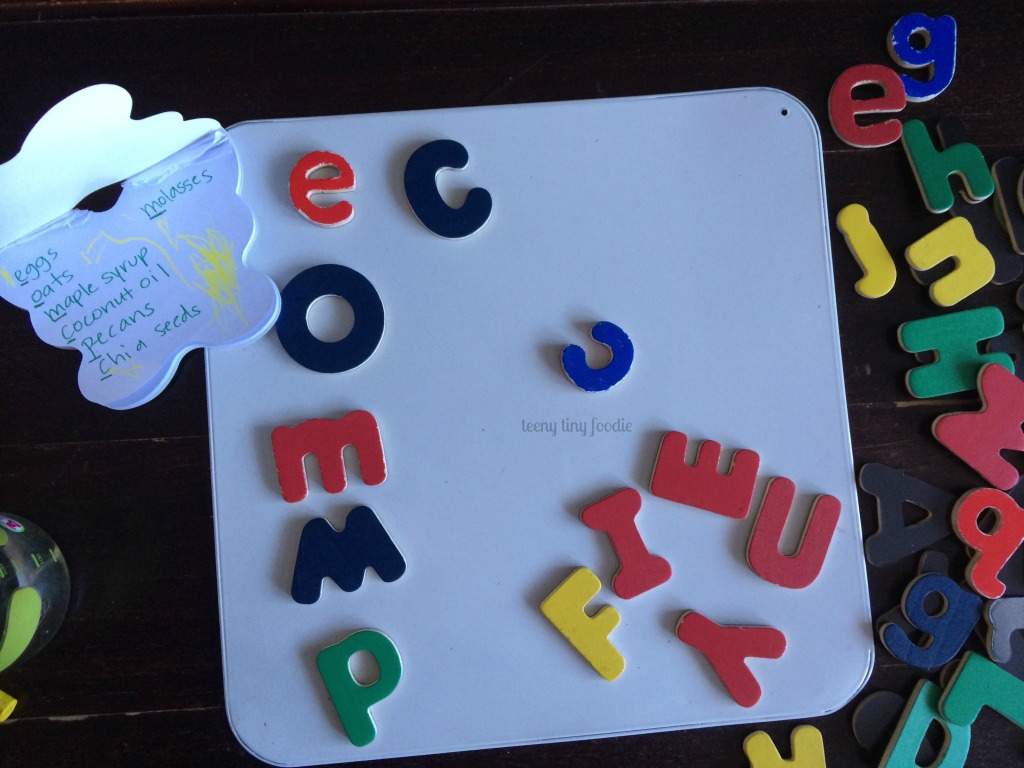 Eliana helped to prepare this recipe in lots of ways. As usual, I went though and "fixed" her work.
Here are the ways in which she helped:
1. She measured the pecans and poured them into a zipper top bag which I sealed shut.
2. Eliana chopped the pecans by placing the bag flat onto the counter and smashing them with a heavy jar.
3. She measured the oats and salt and poured them into the bowl. She then mixed all the ingredients together.
4. Eliana measured the molasses and syrup and poured them into a small saucepan before I placed the saucepan onto the stove.
5. She spread the mixture out onto the baking sheet before we put the granola into the oven to bake.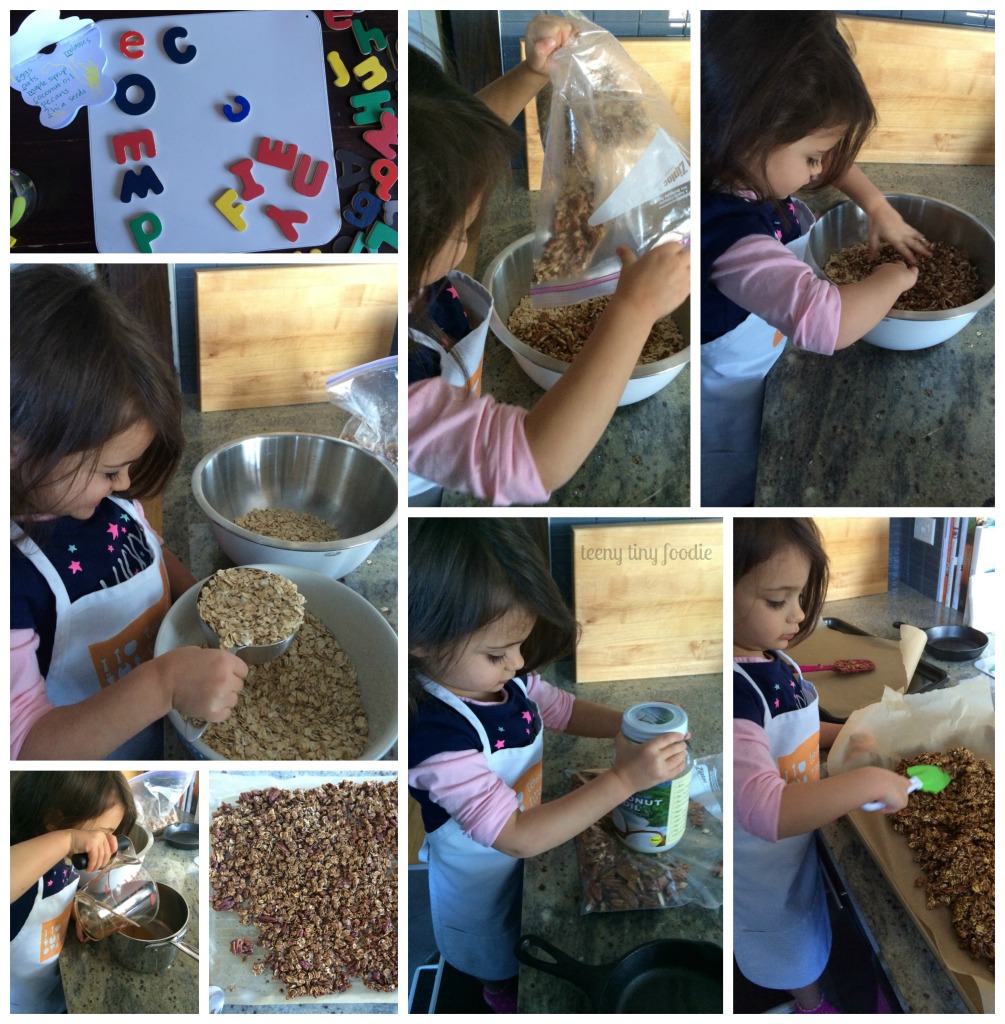 Below is our recipe for Pecan Pie Granola, the tasty result of our morning of literacy and cooking. It's not exactly a match for the flavors of a pecan pie but it is really delicious. We like to enjoy it as a sweet treat on its own or as a scrumptious accompaniment to plain Greek yogurt sweetened with a touch of pure vanilla extract. Plus, this recipe makes a great host or hostess gift when attending holiday parties this season. We are big fans of granola so we usually make two batches at a time. Store it in the fridge in an airtight container for up to one month and in the freezer for up to four months.
Pecan Pie Granola
Ingredients:
-1 cup pecans, chopped
-½ teaspoon salt
-3 cups whole oats
-¼ cup molasses
-2 tablespoons virgin coconut oil
-⅓ cup pure maple syrup
-¼ cup dark brown sugar
-2 egg whites, whipped until frothy
Preparation:
Heat the oven to 300°F and line a rimmed baking sheet with parchment paper. Leave a few extra inches of parchment paper hanging over on either side of the baking sheet. This will make transferring the granola to a cooling rack easier.
In a large bowl, mix together the oats, salt and pecans. Set the bowl aside.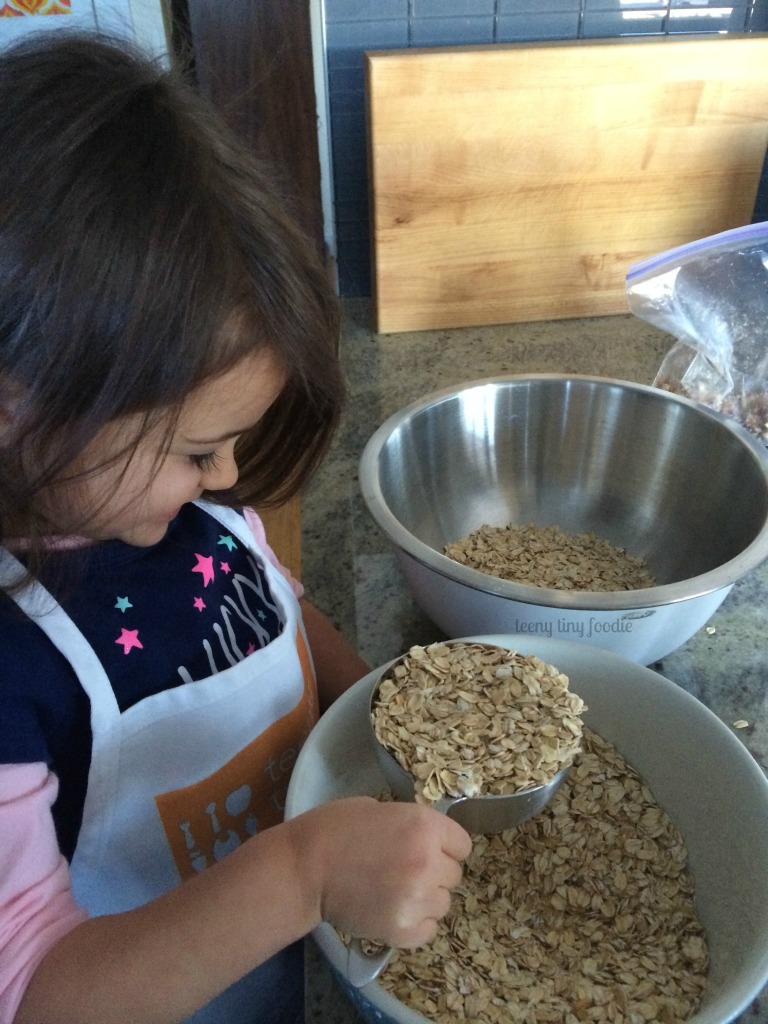 In a small saucepan, heat the syrup, molasses, sugar and coconut oil over medium heat. The coconut oil will liquefy in a few minutes. Once this happens, whisk the mixture together so the sugar dissolves and all of the ingredients combine.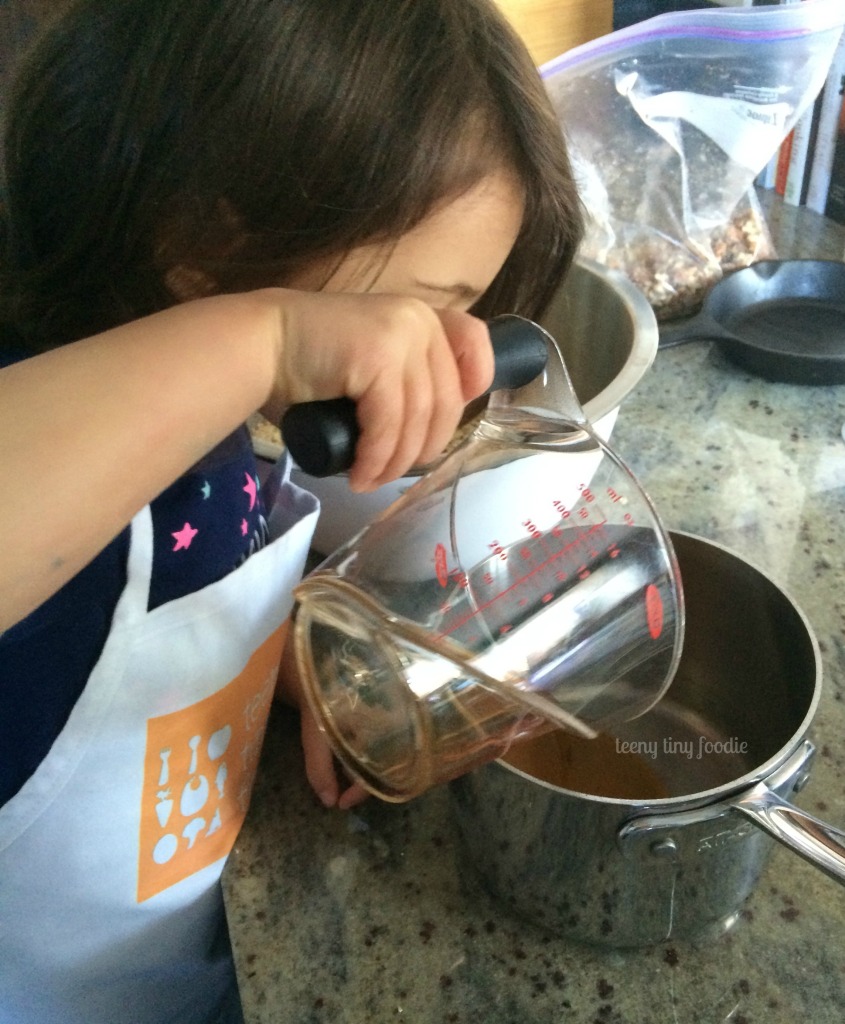 Carefully, pour the warm liquids over the oat mixture and stir until it is all combined. Stir it well for another 30 seconds so the mixture cools a bit. Then, pour the frothy egg whites over the oat mixture. Stir so it is well coated.
Pour the mixture onto the prepared baking sheet and spread it out into an even layer.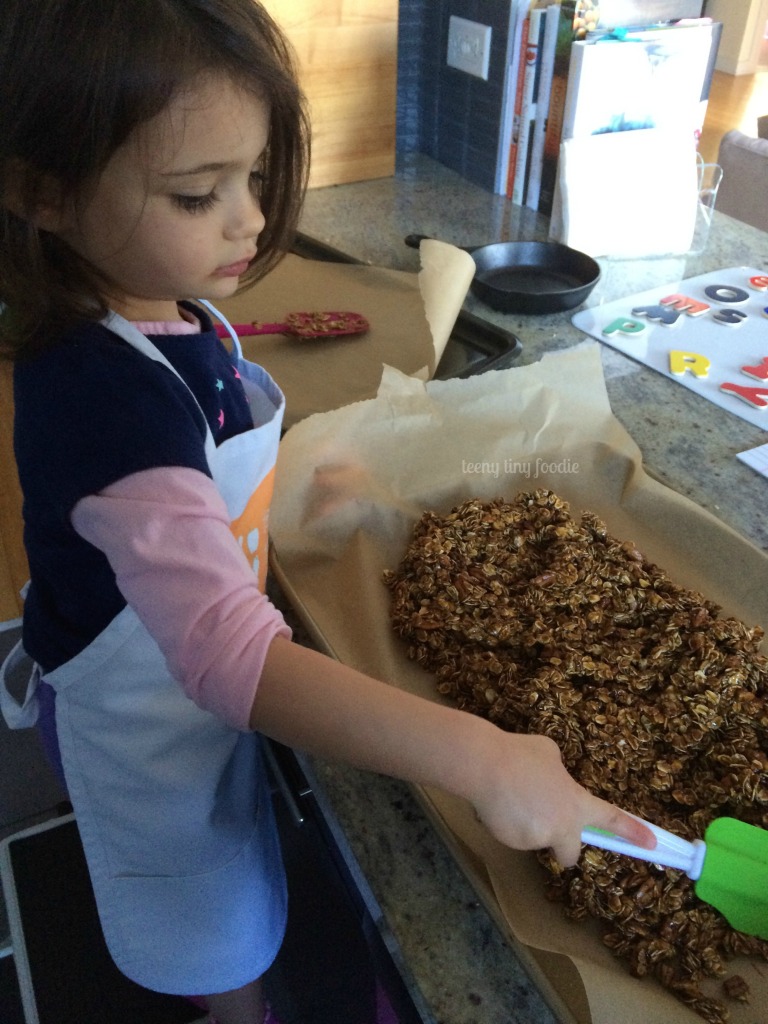 Bake for 20 minutes and set up a cooling rack. After 20 minutes, rotate the pan 180 degrees so it browns evenly and cook for an additional 25 minutes. Remove granola to a cooling rack and let cool for 30 minutes until it hardens.
Break into smaller pieces and enjoy.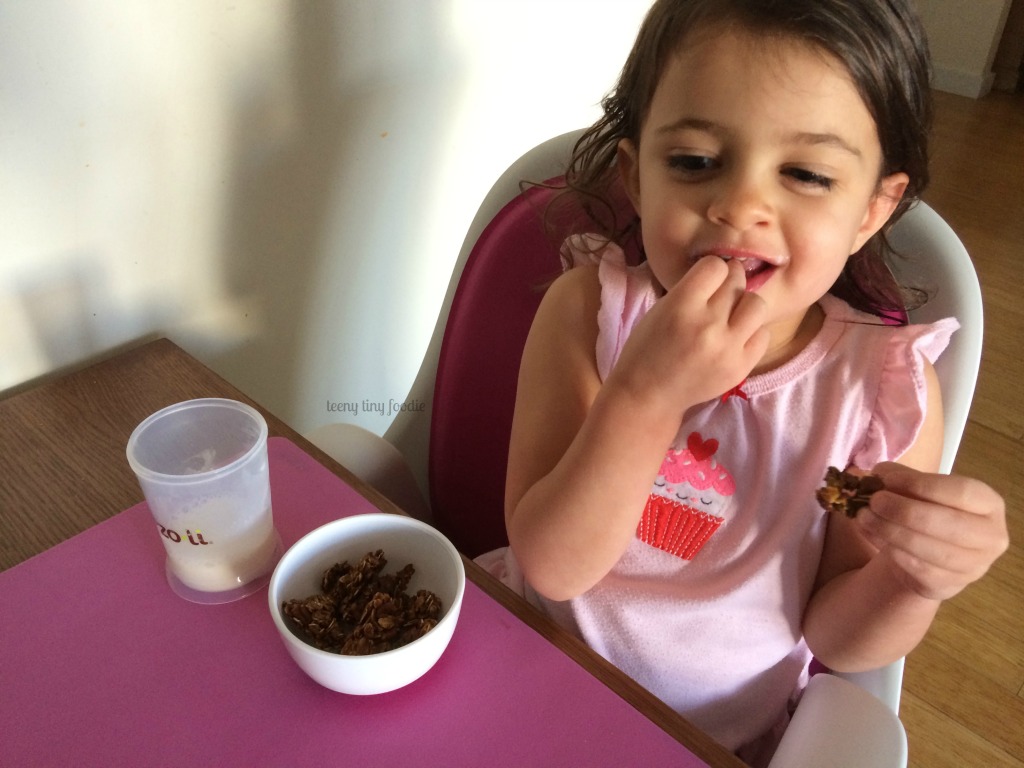 Happy Cooking!
Tags: #WeCookWednesday, coconut oil, dark brown sugar, eggs, granola, Kids Cook, maple syrup, Meatless Monday, molasses, oats, pecans, salt, vegetarian
« Previous Guacamole: {Kids Cook} Monday Meal teeny tiny foodie will be mentioned on tv! Next »