Print This Post
To me, part of making Eliana a teeny tiny foodie is teaching her not just to like a variety of tastes and textures but to have an interest in where her food comes from. On Mondays, we take our weekly trip to the grocery store and as we gather our goods I talk to her about all the foods we see and buy. We stop to touch, smell and, in her case, taste the green beans- see photo below. Or, whatever it is that we are looking at.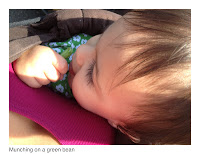 A view from above. She's in the carrier as we do our shopping. New meaning to eating on the go.
I've been thinking a lot more about how far our food travels as well. What is the cost to our health, and to the health of the planet, if our organic strawberries travel here from the other side of the country? There has been a constant debate going on in my head: local vs. organic? And then there is the seasonal factor as well. Obviously, produce that is in season is tastiest, healthiest and cheapest so we'd be silly not to buy it. We are lucky in that there are a few farmers markets each week that we can shop from, too. The farmers markets are also a place where I can get seasonal, local produce that might not be organic, but is very low in pesticides. So, we've been frequenting them more and more.
But, still, I want Eliana to have an even deeper connection to the process of getting our food. So what did I do? I recruited my mom and Suzanne, "Susu" to Eliana, to help me plant a garden! Before I go into that story, you need a little backstory first.  Suzanne is my father-in-law Steve's girlfriend and one of my favorite people. Suzanne keeps a garden at home so I knew she'd be a great choice to help me out. And then my mom, is obviously my mom so she is a top choice to help me with many projects, too. She has always been the resident horticulturalist who has cared for our houseplants and even coached me a few years ago, via Skype, to move one of our plants into a newer, bigger home. Every time she comes into town, she is tasked with caring for one plant or another that needs a little TLC. Mom and I have always talked about how "one day she would help me plant a garden." But, last year when Matt and I moved to an apartment with an amazing outdoor space, and my mom and I could finally start a garden, I was very pregnant and stuck on bed rest. And then two weeks later, I was in charge of a newborn. Not optimal conditions for getting my green thumb on. Sigh, my garden would have to wait.
When the warm weather arrived this spring, I started getting really, really impatient about my lack of a garden. I wanted my garden and I wanted it NOW! But, my mom lives in Florida. (Where, yes, she has a drool-worthy garden.) And when she came in town for Eliana's birthday party, there was a lot of other stuff going on so we didn't get to our little garden project. Well, actually, any time she might have had was taken up by birthday related projects she was tasked with completing.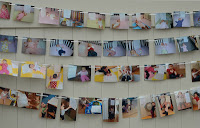 My mom spent forever stringing each photo so it looked perfect
Yeah, she pretty much rocks.
Anyway, with my mom not scheduled to come into town for a few more weeks, I set off on the gardening project with Suzanne. The other weekend, Suzanne and I drove to Lowes, gathered some vegetable plants, soil and supplies and came home to get to work. Suzanne knows a heck of a lot more about this gardening thing than I do so at the store the conversation mostly went like this:
"Jory, honey, what else do you want to get?"
"Uhhh, I don't know Suzanne. What else do we need? I guess we need dirt, right?"
There were slim pickings at the store for a variety of vegetables that looked healthy. I'm realistic, so went for actual baby plants as opposed to seeds. Maybe next year I will plant from seeds. I'm also impatient and wanted to be able to eat these vegetables before the weather turns cold. So, we came away with 2 cucumber plants, 3 patio tomato plants, 2 okra plants, 1 leek plant and, wait for it…wait for it…2 yellow squash plants. Yep! I WILL make myself like those icky yellow squash plants. (Oh yeah, did I mention that I'm stubborn, too?)
So, we came home, called Matt and his dad, Steve, to come help us drag everything upstairs and got to work. Before we began, Suzanne soaked the deck where we would put the planter boxes so it would cool off a bit. Of course, we chose one of the hottest days yet to embark on this project. Then, we set up the two wooden boxes that would house the vegetables. Again, it was pretty much Suzanne directing me, which was just fine. She was the sensei to my karate kid. A little bit of soil into the bottom, a water-bath for the plants and then into the box with more soil on top. We also re-potted a basil plant my mother-in-law, Lauren, gifted me, and also put an herb garden and mandevilla plant that Steve and Suzanne brought over into new pots. Our garden was taking shape!
After a long and sweaty day, the garden was done. It was too hot for Eliana to stay outside with us, but Matt brought her out periodically to check on the progress of our work. And she plastered herself to the door to watch from the inside as well.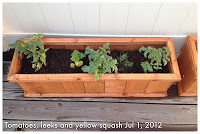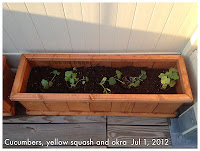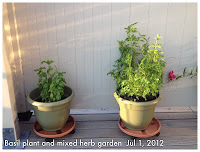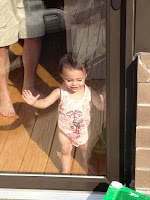 Aren't you done yet???
Over the past few weeks we've been enjoying a bounty of fresh herbs, but no vegetables have come up yet. With the exception of a little over-watering related illness that took out 1 okra plant and 1 cucumber plant, the vegetables seem to be thriving. Woohoo!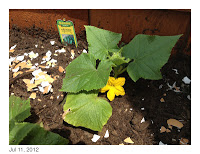 My mom says the cucumbers will replace the flowers. Cool!
And, before you know it, I'll be posting a recipe about preparing delicious yellow squash. 
« Previous Stringy Zucchini Salad Vegetable and Quinoa Salad Next »