Print This Post
Last night I got to catch up with my friend Tracy who is an amazing mom to twin boys who are Eliana's age. I was telling her about my OCD about getting Eliana's clothes all messy when I'm feeding her. Tracy gave me a brilliant idea: stuff a napkin inside Eliana's collar under the bib.
So, I tried it today.
But then this happened.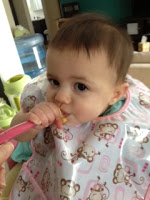 I'm in charge of the spoon, Woman!
We didn't escape mess free- but it helped. Corn puree wasn't on her clothes.
Just my clothes and neck.  And all over her face, hands and some of her hair.
I might go ahead and get those smock-like bibs I keep hearing about!
« Previous Carrot, Onion and Farro Purée Go Forth, Young Eater Next »