Print This Post
Well, I've done it! I've literally eaten my words. I figured out how to make yellow squash taste good! Yes, I know, you're shocked, right? Especially since I spent the better part of a post a few weeks ago complaining about how gross squash is and how it is everywhere blah, blah, blah. So, here is how it all happened…
At the farmer's market a few Sundays ago I was scouting out the vegetables when a gorgeous yellow caught my eye. I looked at it for a moment, dumbstruck.
It was freakin' yellow squash! And it looked beautiful. (Yeah, you read that correctly. I said yellow squash looked beautiful). After I picked my jaw back up off the floor, I knew I had to have it. I mean, how could I not buy a vegetable that looked so tempting? I only bought one because I wasn't ready to commit to liking it. After all, I have been burned by yellow squash my whole life. But, we all have to start somewhere, right? So I added a medium-sized yellow squash to my bag.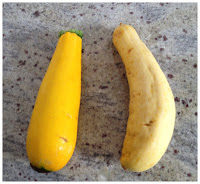 Amazing, right? The one from Migliorelli Farms (left) just looks so much more appetizing than the pale one from the supermarket (right).
So, now, what the heck was I going to do with it? I started with something simple and quick. I love the texture and shape of the zucchini strips when peeled, so I figured I should go with what has worked in the past and do the same for the yellow squash. I ended up with a salad of yellow squash and carrots.
Then, serendipitously, a few days later a reader named Susie commented on my post about how much I hate yellow squash. She wrote a recipe for making the squash with pasta and it looked really tasty. (Thank you, Susie! What a great idea to post a recipe in the comments section!) It was like the universe was telling me that I neededto be eating yellow squash. The following Sunday at the farmer's market, I bought a few yellow squash.
I took Susie's recipe and played around with it a little bit. Here's a photo of the end result.
Such pretty colors too, right?
So I guess the moral of this story is: Never say "never" because one day it could come back to squash you.
Yellow Squash and Carrot Salad
·    1 yellow squash, peeled into strips
·    3-4 carrots, peeled into strips
Add vegetables to a bowl and toss with lime dressing.
·    Olive oil or avocado oil
Add ingredients to a bowl and whisk. Taste and adjust levels as needed.
Fettuccine with Yellow and Green Squash
·    1 medium yellow onion, sliced
·    3-4 squash, peeled into strips (I used a mix of yellow squash and zucchini)
·    1-2 cloves of garlic, peeled and smashed
·    1 box of wheat fettuccine (I ended up using around ¾ of the cooked pasta)
·    A mugful of reserved cooking liquid from the pasta
·    Fresh herbs, chopped (I used parsley and basil)
·    Parmesan cheese to taste, peeled into strips
·    Salt, pepper, red pepper flakes and olive oil to taste
Cook the pasta according to package directions. Meanwhile, heat a large sauté pan over medium heat. Add some oil, the onion and a bit of salt. Stir and let it cook for around 3 minutes until onions begin to soften. Add garlic, stir and cook for around 2 more minutes. Add the mixed squash to the pan and stir. Add salt, pepper and red pepper flakes, stir and cook for around 2-3 more minutes. The squash should be cooked but still firm on the edges. Add some of the reserved cooking liquid from the pasta, stir and adjust seasoning as needed. Add about ¾ of the chopped herbs and stir. Add the cooked pasta to the pan and stir. Add more liquid and/or seasoning as needed. Transfer pasta to individual bowls, top with herbs, shaved Parmesan and serve. 
I also added some cubes of 
ricotta salata cheese that I had in the fridge.
Happy Cooking!
Here's Eliana enjoying the pasta dish.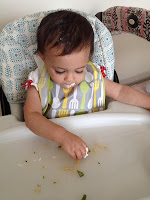 Hmm, stringy things! This looks fun.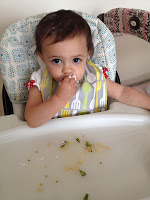 Tasty.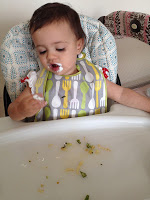 Oh. My hands are still full of yogurt.
This is a perfect time to show Mommy my new  favorite trick…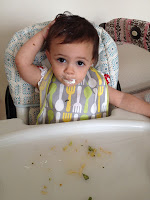 "Oh, no!"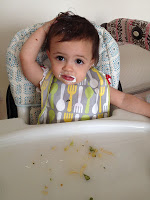 What, Mommy? You don't like it when I do "Oh, no!" with food on my hands?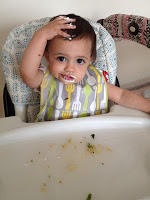 Oops.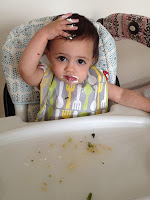 I don't know what to say.
Tags: carrots
« Previous Recipes for White Bean Salad & Lemon Garlic Dressing Recipes for Cold Cukes Soup, Chickpea & Tomato Salad and Garlic Bread Next »