Print This Post
Here's the white bean salad I made for lunch the other day. As you will see from the photos, Eliana loved the tomatoes and corn. She wasn't really into the cannellini beans. Next time I think I'll use northern beans or chickpeas. She has had both before and liked them. Also, I will finely chop the kale. She had a hard time swallowing the kale in this salad. Live and learn, right?
·    1 can white beans, drained and rinsed (northern beans, cannellini beans or chickpeas)
·    1 handful of baby kale, finely chopped
·    1 ear of corn, kernels scraped off
·    2 scallions, white parts only, chopped
·    Fresh herbs, chopped (I used rosemary)
·    Lemon and Garlic Dressing (recipe below)
Make the dressing and set it aside. Combine all ingredients in a large bowl and mix. Adjust seasoning as needed.
Lemon and Garlic Dressing
·    1 clove of garlic, crushed
·    In a small glass bowl combine garlic, pinch of salt, and a smaller pinch of pepper. Combine and mash with a spoon. Then add the juice of 2 lemons and whisk. While whisking, pour in a light stream of extra virgin olive oil. Taste and adjust ingredients accordingly.
·    Follow above recipe and add 1 teaspoon of Dijon mustard.
·    Follow above recipe except combine ingredients in a blender or small mixer. After adding lemon juice, add fresh parsley to taste and blend or mix. Then while blender or mixer is going add a stream of oil.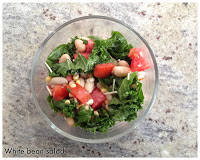 White bean salad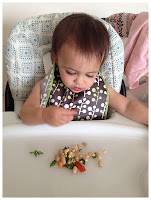 What's she trying to get me to eat now?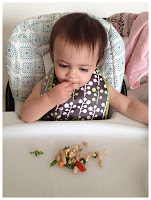 Hmm, not bad.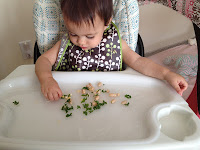 I wonder if she will notice if I just eat the tomatoes and corn?
Tags: corn, gluten free, kale, leafy greens, tomatoes
« Previous Who needs a teething toy? Squashed Next »