Print This Post
Oh boy! Here's what happened when Matt gave Eliana her yogurt with strawberry puree the other day.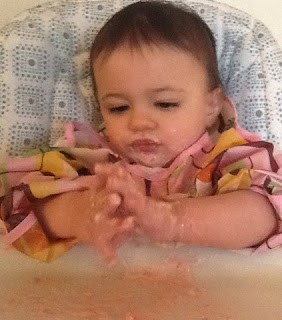 If you're happy and you know it, clap your hands!
All I can do is practice my calming yoga breaths and be glad we wash behind her ears every night!
Strawberry Puree
2 cups organic frozen strawberries, thawed
Puree strawberries and serve.
Variations: Mix with oatmeal for texture, yogurt for protein or cottage cheese for both.
Tags: gluten free, strawberries
« Previous Wearing Mommy's Lipstick? Tomato Sauce (Using Canned Tomatoes) Next »