Print This Post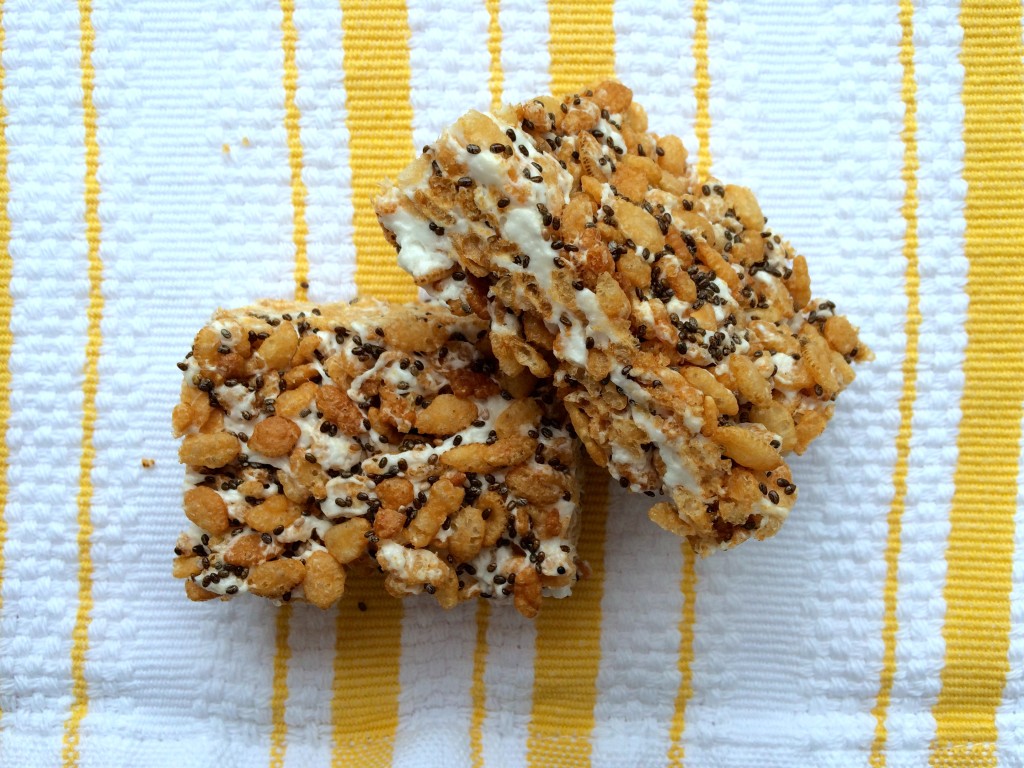 I've always loved the traditional Rice Krispie Treats by Kellogg. But I don't love that they are filled with tons of chemicals, sugar, white flour and animal by-products. So, because I'm me, I've set out to develop a recipe that makes me happier about scarfing down copious amounts, oh and also, um, to share with my family. Why would I make them a little less unhealthy? The more I read about healthier food choices and options, the more I think that as much as I can, I should use ingredients that are great for our bodies and minds such as whole foods and/or food that's been minimally processed. In the case of a sweet treat, I'm not necessarily trying to make it "healthy", but, if I'm able to make them completely scrumptious while also being just a little bit good for us (or a little less bad for us) then I'm all over that.
For example, I substituted the coconut oil for butter. Over two decades of research have proven that coconut oil is so good for us that it's considered a super food (and you all know how much I love my super foods). Some great things it can do are to lower cholesterol; maintain blood sugar and aid in digestion. Click here to learn more about the benefits of coconut oil.
I throw in chia seeds mostly because they add some fun, extra crunchiness to the treats. But it doesn't hurt that chia seeds also add extra fiber, calcium, protein and antioxidants. If preferred, you can omit them or just add them as a topping.
A few notes about this recipe:
1. These rice treats are better once they have had time to sit for several hours or even overnight. This makes them a super easy and tasty make-ahead delight.
2. This recipe is a vegan recipe. If you prefer, you can swap out the coconut oil for butter to make a vegetarian recipe instead or use traditional marshmallows for an omnivorous version.
3. You can get your teeny tiny sous chef to help you prepare this recipe. With support, younger sous chefs can help measure out the cereal and then mix together the cereal and chia seeds. Older sous chefs can additionally help use the microwave and stir the heated marshmallows, oil and cereal mixture. I bet teeny tiny sous chefs of all ages would love the chance to help spread the mixture into a baking dish, too.
Rice Crispy Treats Redux
Yields 1 9×13-inch baking dish
Ingredients:
-10 ounces (1 bag) vegan marshmallows (I used Dandies vegan brand)
-3 tablespoons refined coconut oil (If you want the flavor of coconut use virgin unrefined oil)
-4¾ cups puffed rice cereal (I used brown rice cereal by Whole Foods 365)
-3 tablespoons chia seeds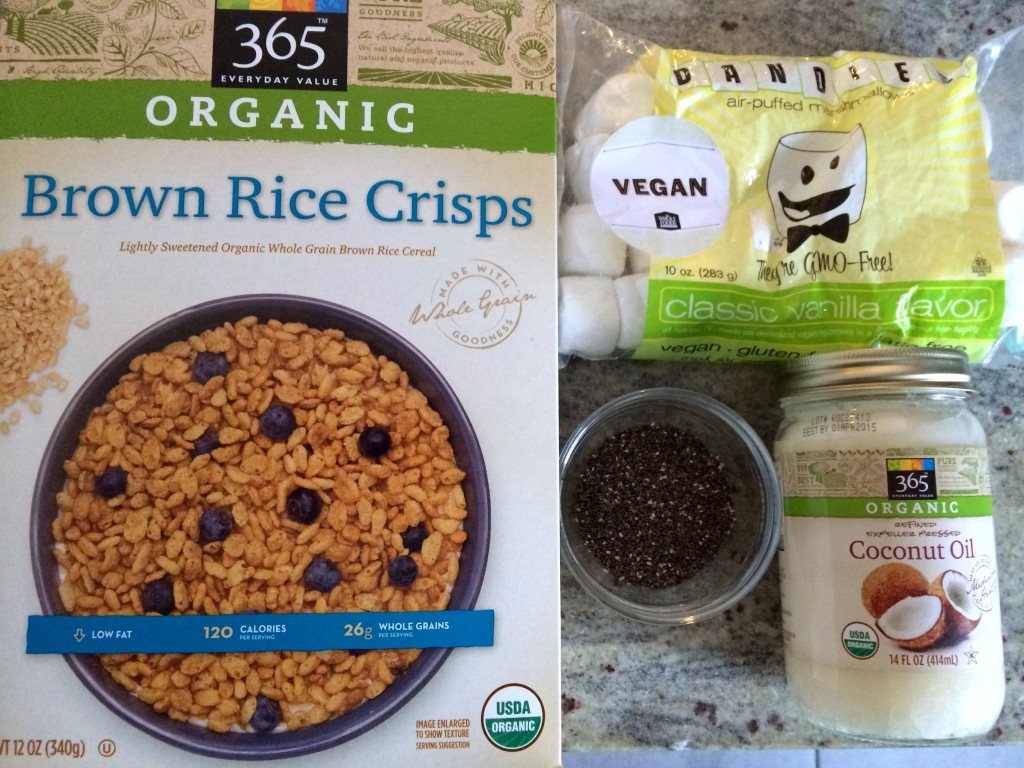 Preparation:
Grease a 9×13-inch baking dish.
Mix chia seeds with the cereal in a large zipper-topped bag and shake them well to mix together.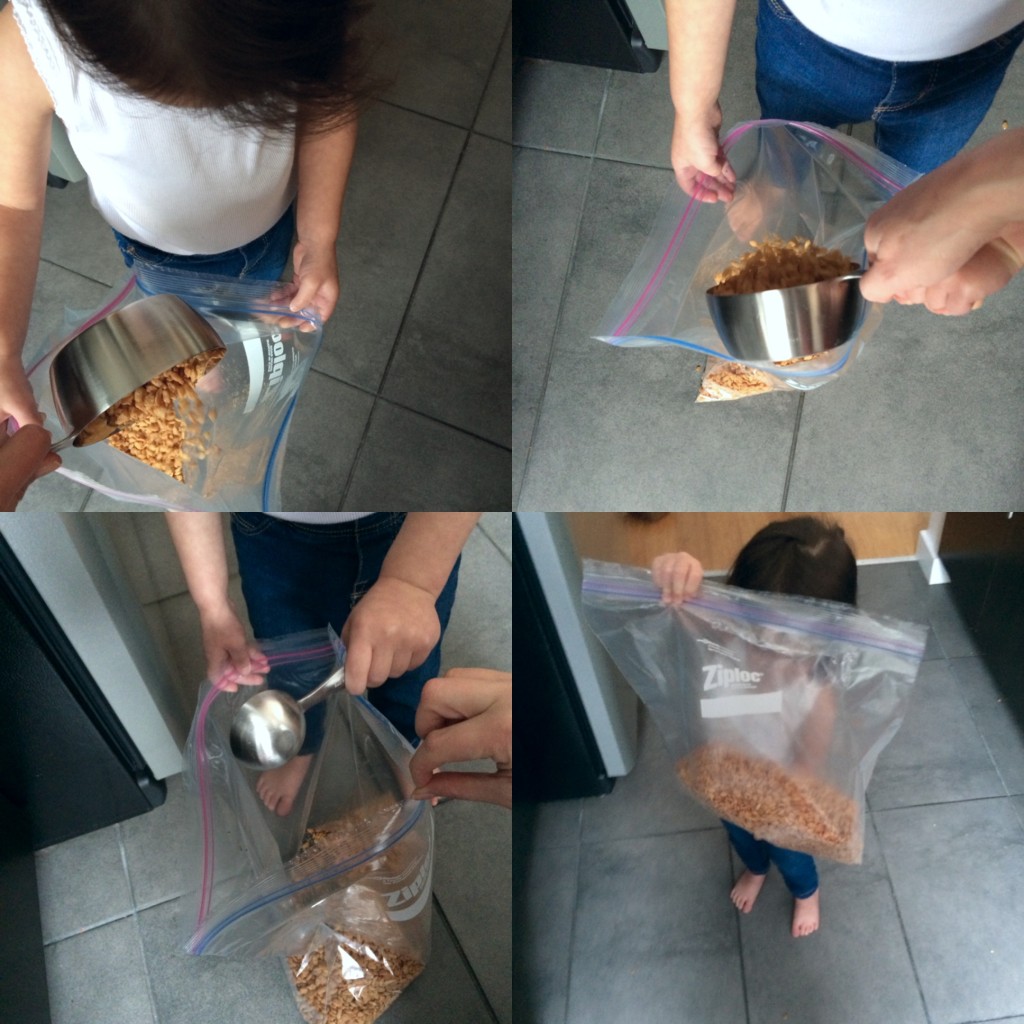 Into a large, microwave-safe bowl combine the marshmallows and coconut oil. Microwave for around 2 minutes, or until the marshmallows are melted. Stir to combine.
Add the cereal and seeds to the marshmallow mixture around a cup at a time. Stir well to combine between cups.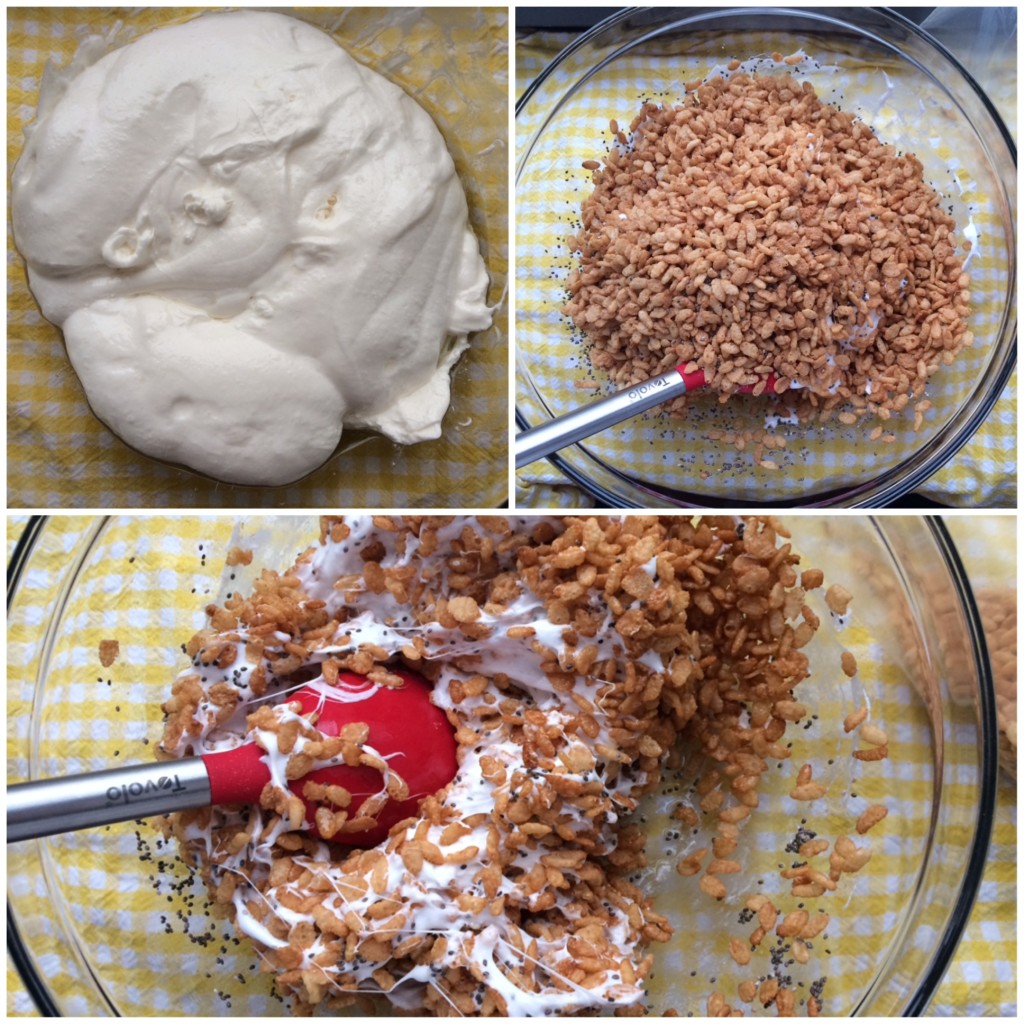 Spread mixture out into the baking dish. Flatten with the heels of your hands. Allow mixture to cool uncovered for an hour. Cover and let sit for at least 5-6 hours before slicing into squares and enjoying.
Happy Cooking!
Tags: chia seeds, gluten free, Kids Cook, Meatless Monday, Valentine's Day, vegan
« Previous Yam & Black Bean Tacos with Quick Pickled Cabbage: {Meatless} Monday Meal Simple Spinach Purée Next »