Print This Post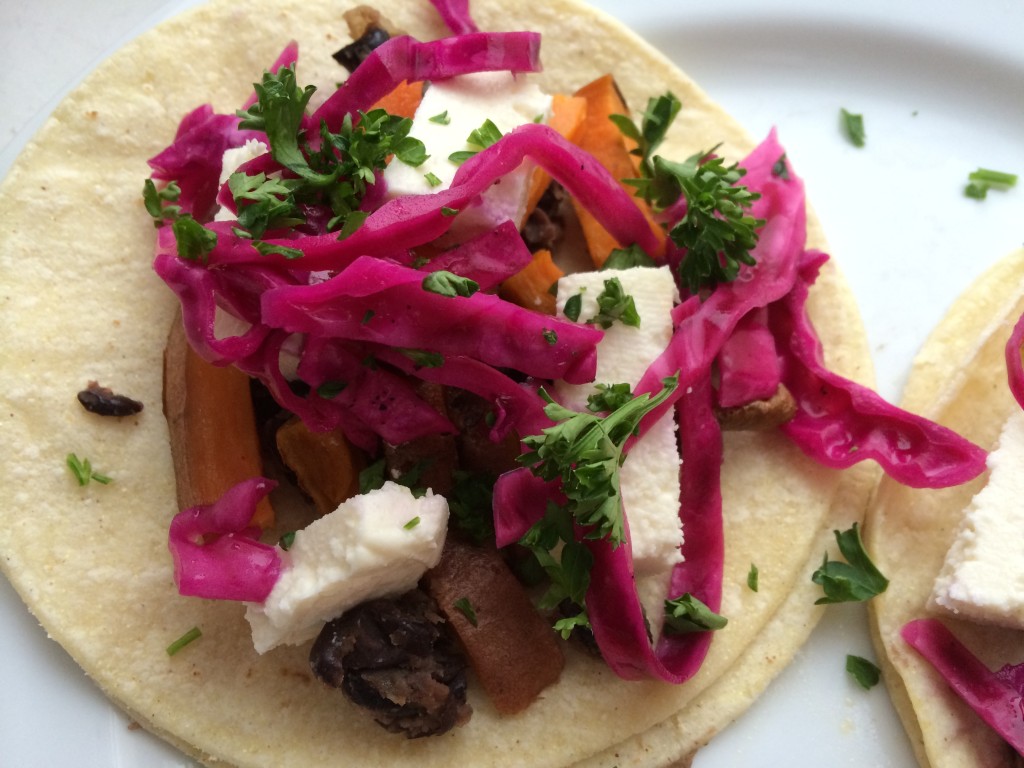 Happy First Recipe of 2014! I'm excited to share these Yam & Black Bean Tacos because they are one of my family's new favorite meals. I love the mix of colors, textures and flavors as well as the combination of starch, protein and veggies all wrapped in one tortilla. Balanced and tasty! To me, tacos are like eggs, pasta and grains in that you can customize them with whatever ingredients you prefer or already have on hand. For example, sweet potatoes can be substituted for the yams or even roasted butternut squash. Don't like black beans? Use red beans instead. This recipe calls for red cabbage, but if you prefer green cabbage, that works well here too, it just doesn't have the same antioxidant goodness that comes with the color of the red cabbage. If you want the cabbage more pickled, you can prepare the cabbage up to 3 days ahead of time and it will be even more sweet and tart. No matter how you decide to prepare the tacos, I hope you and your family will enjoy them as much as we do!
A healthy eating tip to share before the recipe:
Canned black beans can be just as healthy as dried beans. I like to use canned beans because they are instantly ready and also because I can never remember to soak dried beans over night. But, they can be canned with a lot of salt. Rinsing them with water before using them removes the excess salt and sodium. You can add salt back in as you prefer. More and more studies are coming out about the dangers of bPA so I try to avoid it when possible.  Try to find cans that have a bPA-free lining such as Westbrae Natural or Eden Organics brands. I like to stock up on these brands of beans when my local store has them on sale so I always have them on hand.
Yam & Black Bean Tacos with Quick Pickled Cabbage
Serves 6 (2 tacos per person)
Ingredients:
-1 medium yellow onion, diced
-2 yams (around 2 lbs total), julienned into ¼-inch fries
-½ red cabbage, sliced into thin strips
-Small handful parsley, finely chopped
-2 limes, quartered
-6 ounces queso fresco, sliced into ¼-inch strips
-3 cloves garlic, smashed and peeled
-2 15-ounce cans black beans, rinsed and drained
-Olive oil, salt, pepper and red pepper flakes, to taste
-2 teaspoons sugar
-¼ cup white vinegar
-24 soft corn tortillas, warmed according to directions on the package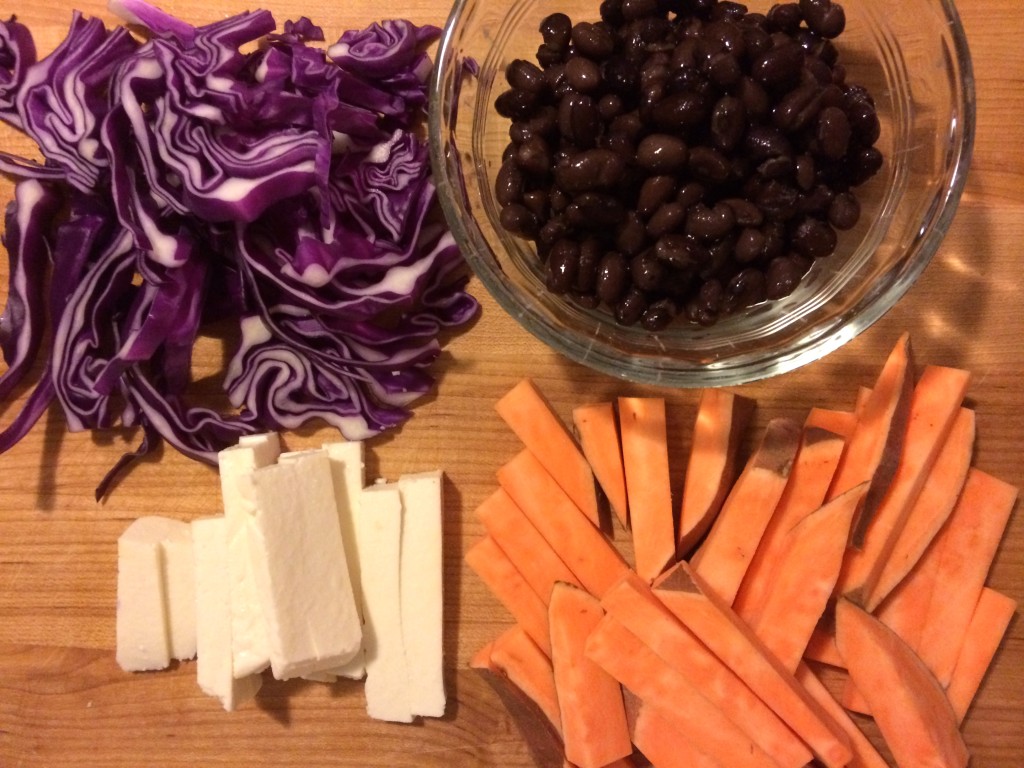 Preparation:
1. Heat the oven to 400°
2. Quick pickle the cabbage
Finely chop one clove of garlic and, in a large bowl, mash it with 1 teaspoon of salt and ½ teaspoon of pepper. Mash in the sugar and whisk in the vinegar. Add the cabbage and stir to coat. Cover and set aside.
3. Roast the yams
In a large bowl, toss the yam sticks with olive oil, salt and pepper. Line a baking sheet with parchment paper and spread the yams out in an even layer. Roast for 15 minutes. Remove them from the oven, shake them around a bit and sprinkle with more salt. Roast for an additional 15 minutes, or until the yams are soft and tender. Set aside.
4. Prepare the beans
Heat a medium saucepan over medium heat. Add in around 1 tablespoon olive oil, 2 smashed garlic cloves and red pepper flakes. Cook for around 30 seconds and add the onions and 2 pinches of salt. Stir and sauté for 8-10 minutes, stirring occasionally, until the onions begin to yellow and then brown. As the onions begin to brown and caramelize, add in 1-2 tablespoons room temperature water and stir to scrape up the brown bits on the bottom of the pan. Pour in the beans, another pinch of salt and stir through. Let the mixture come to a simmer, cover and cook for around 10 minutes stirring occasionally. Remove the cloves of garlic before serving.
5. Build your tacos
I like to layer two tortillas on top of each other so they don't break. Then add some yams, a small scoop of beans, cheese and cabbage. Sprinkle some parsley on top and a squeeze of lime. Enjoy!
Originally, I served the tacos to Eliana in a deconstructed form. She can be a bit choosy about which foods can go together during any given meal. But, once she saw that Mommy, Daddy and our friends were eating the taco parts all together, she needed to join in on the messy fun. It was a proud, proud moment for this foodie Mama to see my baby holding a taco properly. Sniff-she's growing up!
Happy Cooking!
Tags: black beans, cabbage, cheese, garlic, gluten free, Meatless Monday, onions, parsley, queso fresco, sweet potatoes, tortillas, yams
« Previous Happy New Year! Vegan Rice Crispie Treats: {Kids Cook} Monday Meal Next »