Print This Post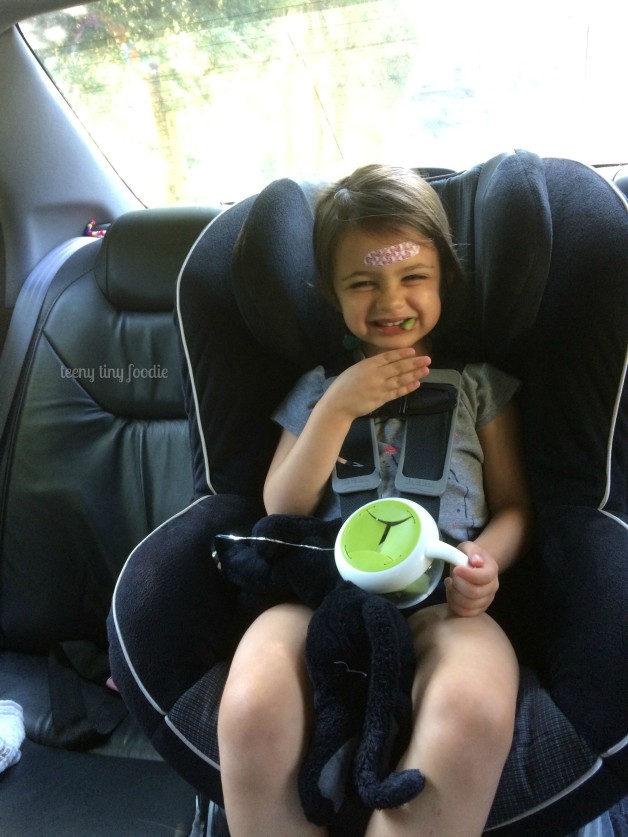 We recently moved from the busy streets of Brooklyn to suburbia and we spend a lot more time in the car than we used to. When I learned that OXO Tot was giving out free travel products in order for bloggers to Choose Your Own Adventure, I jumped at the chance to try them out!
I love a box of OXO Tot goodies!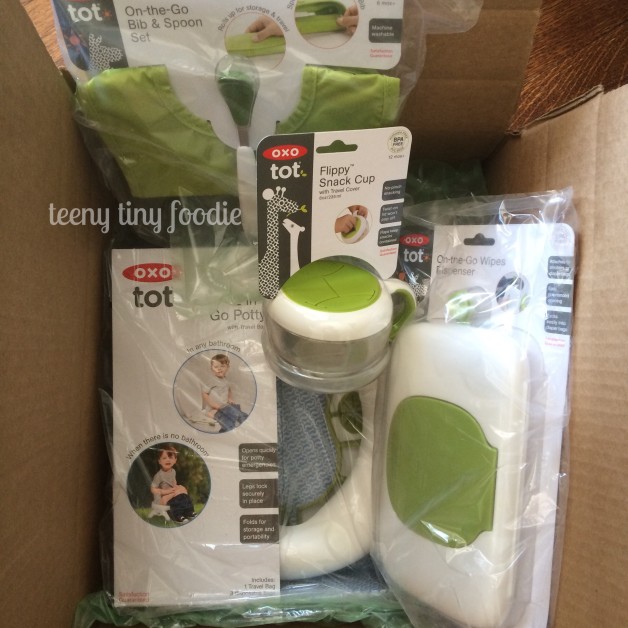 Eliana is not new to the concept of eating on the go. She's enjoyed countless snacks and lunches over the years while we've been out and about and on the go. She's dined in her stroller, on the train, in the car between activities, at the beach and more. I have relied on, and loved, the OXO Tot Flippy Snack Cup with Travel Cover for years! It's truly my favorite snack cup and I have tried many. Before we head out of the house I load it up, put the lid on it and toss it in my bag. The lid keeps all the crumbs in the snack cup and not on the bottom of my bag. The bpa-free sturdy plastic bowl keeps Eliana's snack protected from getting crushed and the top leaves an opening just big enough for little hands to get in and out easily but small enough to keep her food safely contained inside. These snack cups come in a variety of pretty colors, are super easy to use and they're great for taking anywhere!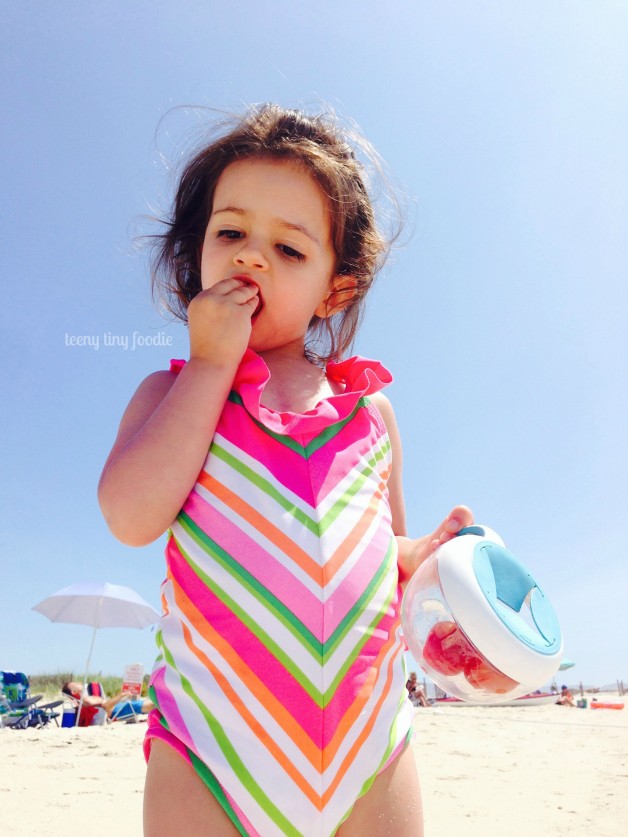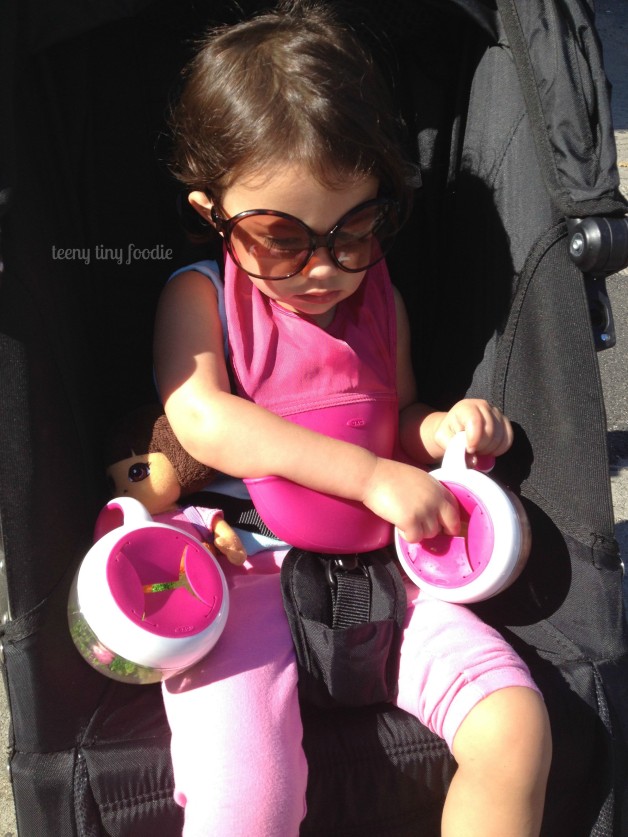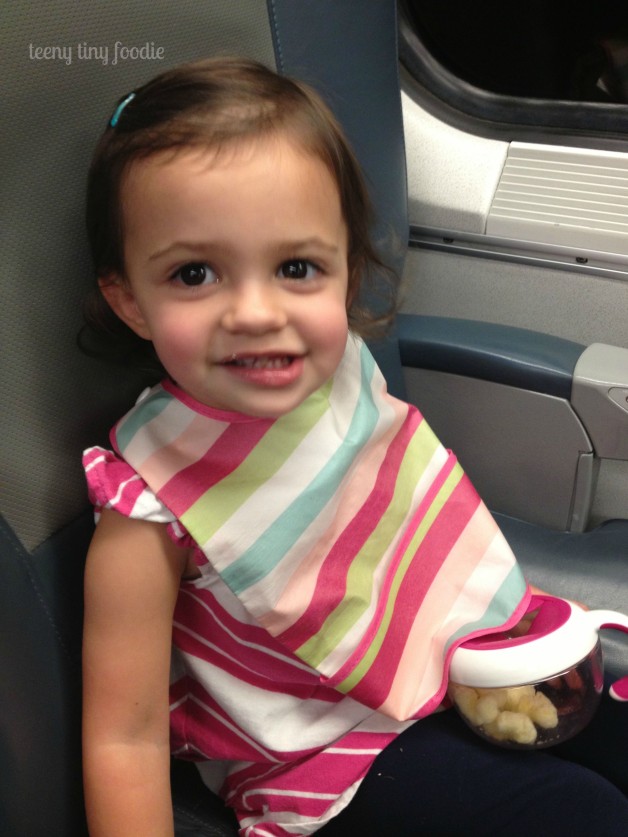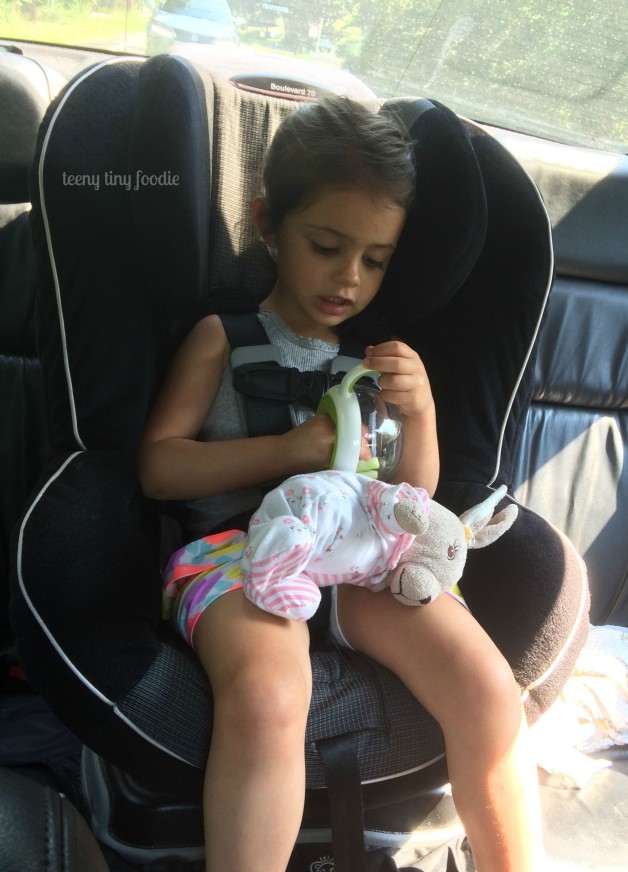 I have to confess that I've had my eye on the OXO Tot On-the-Go Wipes Dispenser for a while now. I love the sleek design and the fact that you can get a wipe out using just one hand. Since becoming a parent, I greatly appreciate when I can accomplish something with just one hand!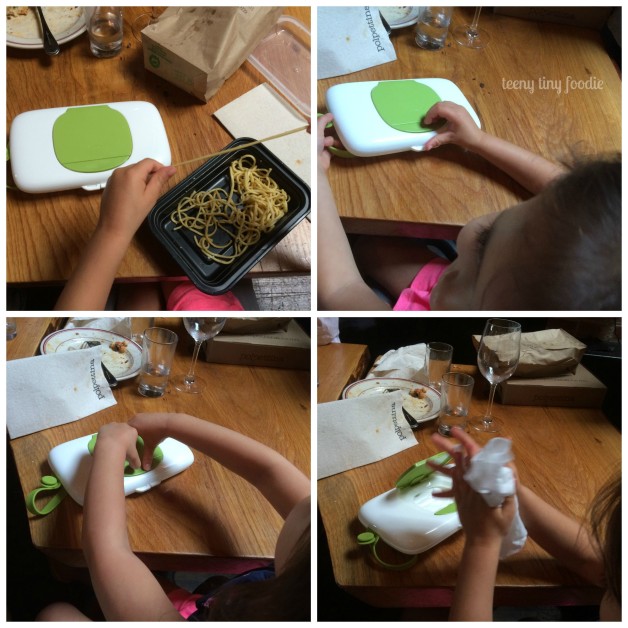 A year ago, Eliana started wearing undies rather than easy-ups. I admit I was nervous during our first few days of venturing out into the world because, you know, she could pee anywhere at anytime and on a dirty public toilet, too! Though I did carry around tons of gear in "the potty bag" I didn't worry so much about where she would actually go because living in Brooklyn, there were tons of restaurants and stores around where we could quickly duck in and use the bathroom. The car, however, presents a different problem. Even though we make it a habit for everyone to use the bathroom even to "just try" to go before we head out in the car, inevitably, she has to go to the bathroom when we are en route and there are no places to stop to use the bathroom. So what do we do? We set up the OXO Tot 2-in-1 Go Potty on the floor in the backseat and Eliana has her own private little restroom. I feel that sitting in the car to use a little travel potty is way safer than setting her up on asphalt on the side of a major highway like I-95 or the FDR—places Eliana has declared, "I have to go potty!!!"
The potty opens up so she has a comfy, raised little seat on which to sit and there are bags that come included with the potty which have an absorbent pad in them to, ahem, catch what she puts out. When she's finished, we give her a wipe to clean herself off, she tosses that into the bag and we tie up the bag and keep it in the back until we get to a garbage can. The Go Potty folds back up and we stash it in its pretty little travel bag until we need it again. One tip we've learned the hard way: before putting the Go Potty away, load it with a clean bag so when your little one has to go, you can just unfold it and use it. Time is of the essence in such 'emergencies', so better to have the seat already lined to not waste precious time fumbling around with the bag under pressure.
Take the picture already, Mom! I have to go potty!!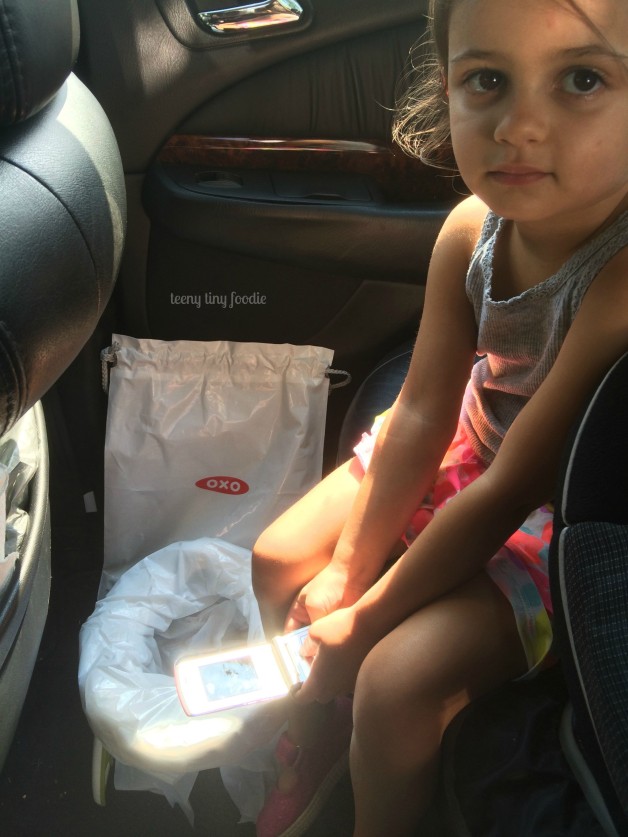 So when you set out on your next adventure with your little one, don't forget to stock up on these great travel supplies from OXO Tot!
« Previous There's No Place Like Home Peaches & Cream Overnight Oats: Kids Cook Meal Next »