Print This Post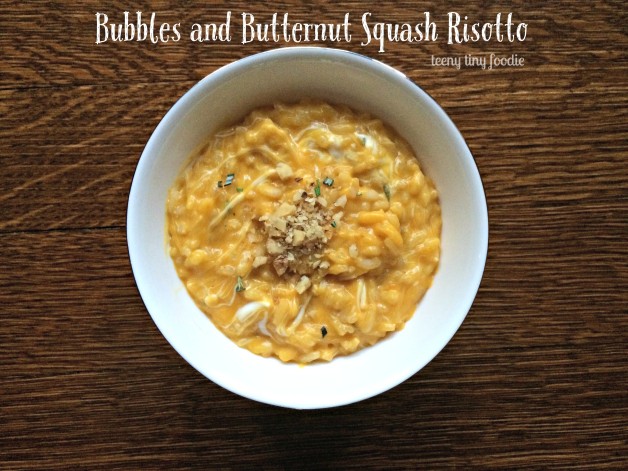 I used to hate squash. Like, really hate it! While growing up, my experiences with squash were overcooked, mushy zucchini or yellow squash and I wanted no part of it. Over the last several years I've been trying to eat more seasonal, local produce so I've been introduced to myriad types of squash and I've been reformed! I had no idea that varieties like acorn squash or butternut squash even existed. Now, I'm a bit of an addict. As soon as the weather turns colder, I bug the farmers at my farmers market for their winter squash. Butternut squash is my personal favorite. We've been playing around with couple of other new recipes using this beautiful, orange fruit, so stay tuned for even more butternut squash! But today, we are sharing with you our newest recipe: Bubbles and Butternut Squash Risotto.
Before the recipe, I have a few tips and ideas to share:
1. I haven't listed exact amounts of herbs and spices for this recipe. I like to pour around a teaspoon each of salt, black pepper, finely chopped fresh rosemary and dried thyme into small individual bowls. As I'm cooking, I like to take a pinch at a time of the herb or spice I want to add and taste as I go using little, clean spoons to get the flavors I want.
2. Preparing risotto is not an easy task. Plan to spend about 30 minutes stirring the Arborio rice as you add small amounts of broth to the pot. It can be tempting to add it all together at once, but this will result in crunchy risotto. I'm guessing you don't want crunchy risotto! I like to think of this step of the recipe time as a time to work on my biceps and my ambidexterity.
3. Your little sous chef can help you prepare this recipe. Eliana helped me by chopping and tearing the mozzarella, tearing off leaves of rosemary and stirring the rice mixture. An older sous chef can help chop the shallots and crush the garlic, too.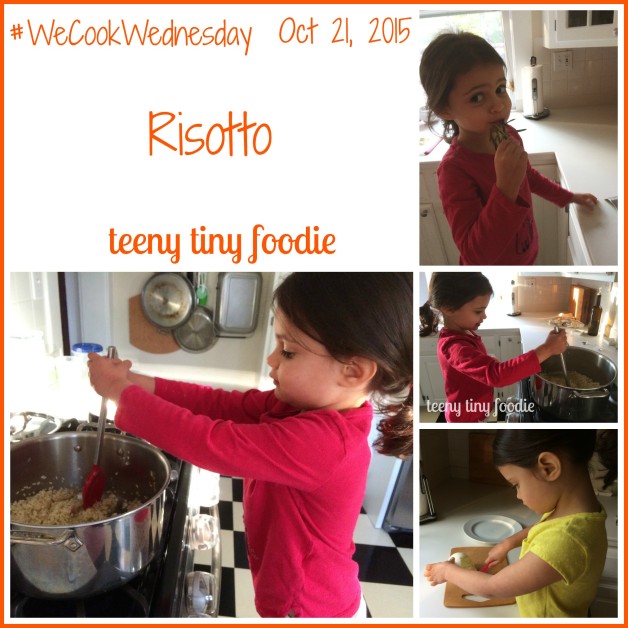 Bubbles and Butternut Squash Risotto
Serves 4-6
Ingredients:
-3½ tablespoons olive oil
-3½ tablespoons unsalted butter
-2 shallots, diced
-2 teaspoons crushed garlic
-A 2-inch sprig of rosemary
-1½ cups Arborio rice
-⅔ cup dry prosecco or champagne
-5-6 cups vegetable stock, homemade or low-sodium store bought
-¼-½ teaspoon fresh rosemary, finely chopped
-Approximately ½ teaspoon dried thyme
-Salt and pepper, to taste
-4 ounces fresh mozzarella, chopped or torn into small pieces
-Crushed walnuts for topping, optional
Preparation:
Warm the liquids:
 Measure out the prosecco or champagne and leave it on the counter so it comes to room temperature. Meanwhile, warm the vegetable stock in a small saucepan.
Begin the risotto:
 In a large pot, heat the olive oil and butter over medium heat. After the butter melts, add the shallots, sprig of rosemary and a small pinch of salt. Stir and sauté for 2 minutes, stirring occasionally. Add the chopped garlic, stir and sauté for another minute.
Add the rice and stir so it is coated with the oil, butter, shallots and garlic. Cook for 3-4 minutes, stirring occasionally. Remove and discard the sprig of rosemary. Or let your little sous chef play with it before discarding it.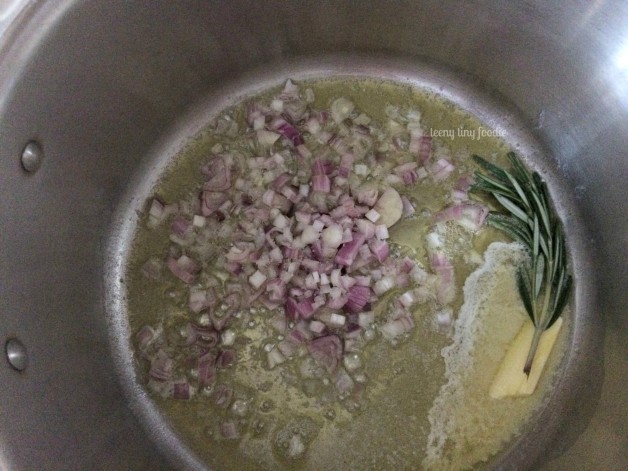 Add the liquids:
Add the prosecco and stir until it is absorbed, around 3-4 minutes. Add the warmed vegetable stock, ½ cup at a time, stirring constantly so the rice absorbs all the liquid. This can take around 30 minutes but it is well worth it.
Stirring the liquids is a great activity for an energetic little helper. Just don't be surprised if some of the vegetable stock splashes out of the pot. 😉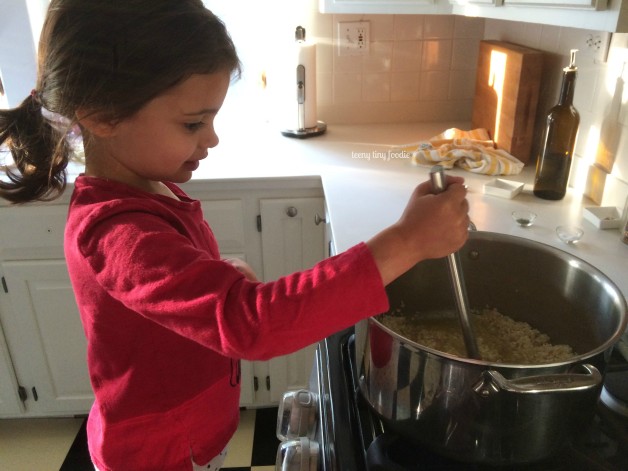 There might be some sampling of the ingredients as your little chef cooks, too.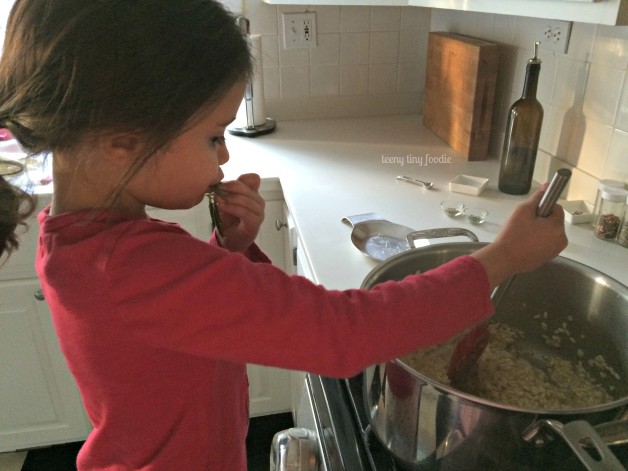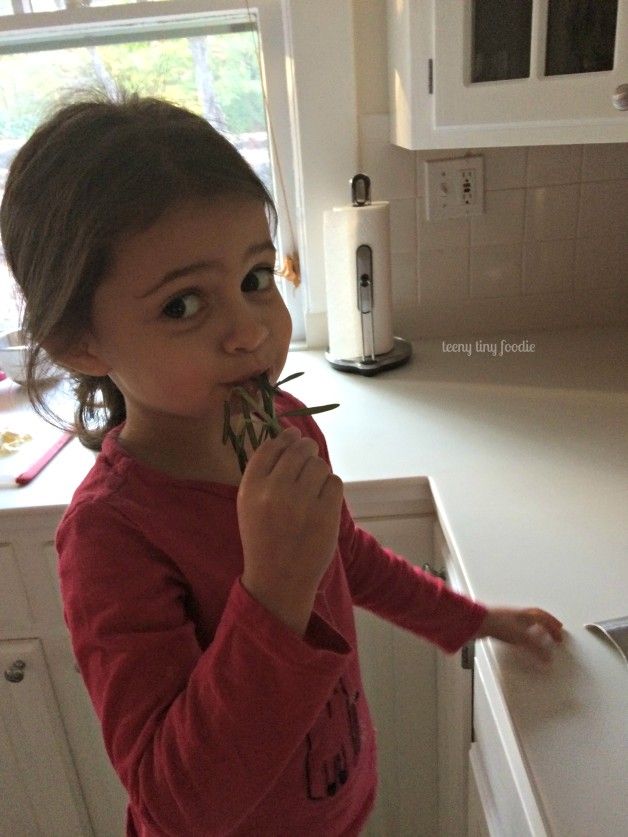 Add the purée, spices and cheese:
Stir in the purée, and a pinch each of rosemary, thyme, salt and pepper. Stir well and taste. Add more herbs and spices as desired. Turn off the heat and stir in the fresh mozzarella. Give it a final taste, adjust flavors as desired and serve. Top with chopped walnuts and rosemary and enjoy!
As we prepared the recipe, Eliana was super excited about it. However, she balked at actually trying it when it was done (oh, the joy of temperamental 4-year olds).
Hmm, I ate all the different parts of it while I cooked it but eat it all together? Thats' just crazy talk, Mommy!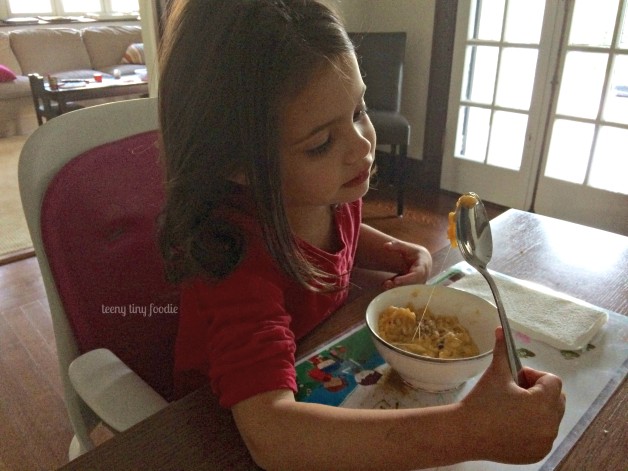 Once she gave it a taste, she decided it was actually really good and gobbled it up. (These little people truly are nutty. Am I right??)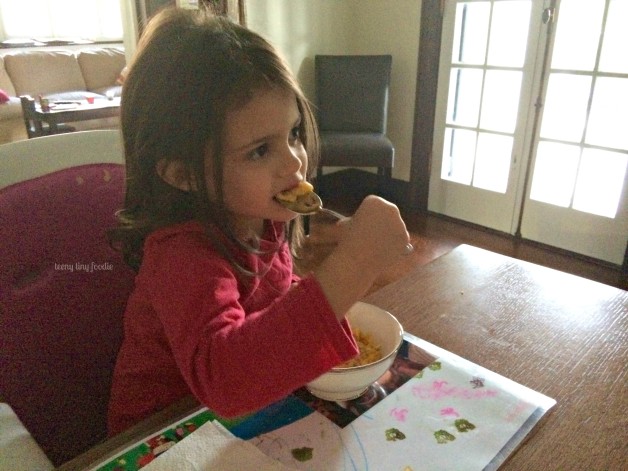 Happy Cooking!
Tags: butternut squash, garlic, gluten free, KidsCook, Meatless Monday, mozzarella cheese, prosecco, rice, risotto, rosemary, shallots, Thanksgiving, thyme, vegetarian
« Previous My 6 Favorite Plant-Based Recipes 5 Meat Free Recipes for Your Thanksgiving Table Next »