Print This Post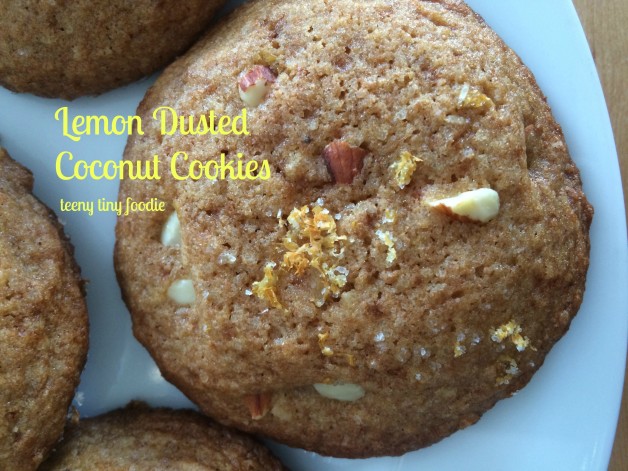 Sometimes there are recipes that haunt me. I get an idea for something I want to make but try after try, after try I can't get it "right." So, I take a break and walk away from that recipe for a while to clear my head and hopefully gain inspiration for how to fix it. Today's Monday Meal, Lemon Dusted Coconut Cookies, is one of those recipes. Eliana and I began working on this recipe in December and almost 6 months later, we (finally) nailed it. Woohoo!
I LOVE these cookies and so does Eliana. (Though, to be honest, I'm pretty sure she hasn't met a cookie she doesn't like.) We hope you love them too. And stay tuned for another recipe using these cookies coming this summer!
Here are photos of two of the times we made these cookies together for #WeCookWednesday.
First, we tried them in December. It was my birthday, hence the tiara Eliana wanted me to wear.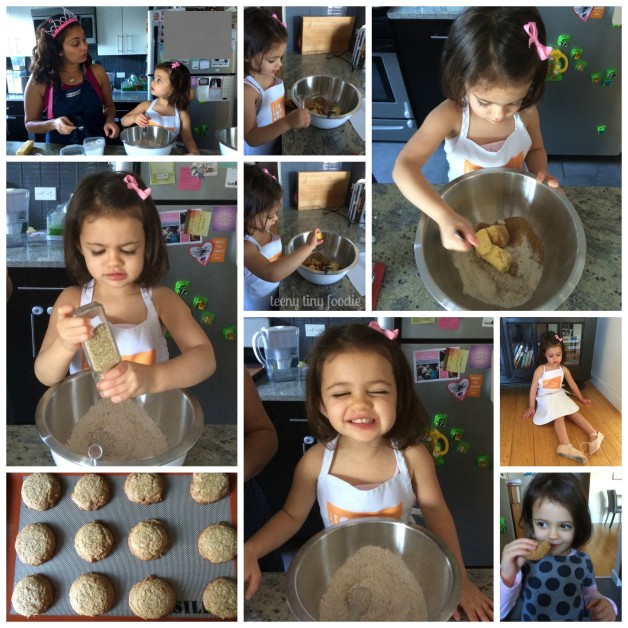 Over the next several months, I tried a few variations on my own. Then Eliana and I made them together again in the spring and we added in the recipe for Lemon Dust. We discovered that Lemon Dust was the missing ingredient!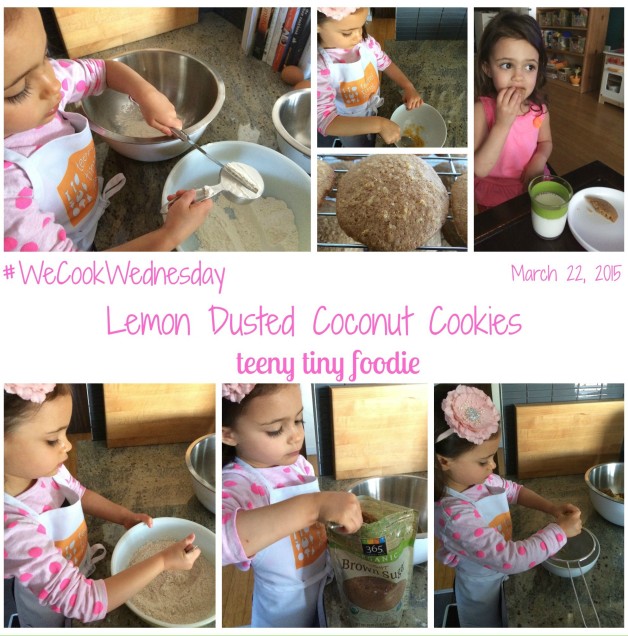 Now for the final recipes…. Enjoy!
Lemon Dust
Ingredients:
-½ teaspoon salt
-3 lemons
Preparation:
 Zest the lemons and spread out the zest in an even layer on a small plate.
Allow the zest to sit out on a counter for 2 days to dry out.
In a small bowl, combine salt and the dried zest. Using a spoon, crush the zest and salt together.
Store in a sealed container in the refrigerator for up to 1 month.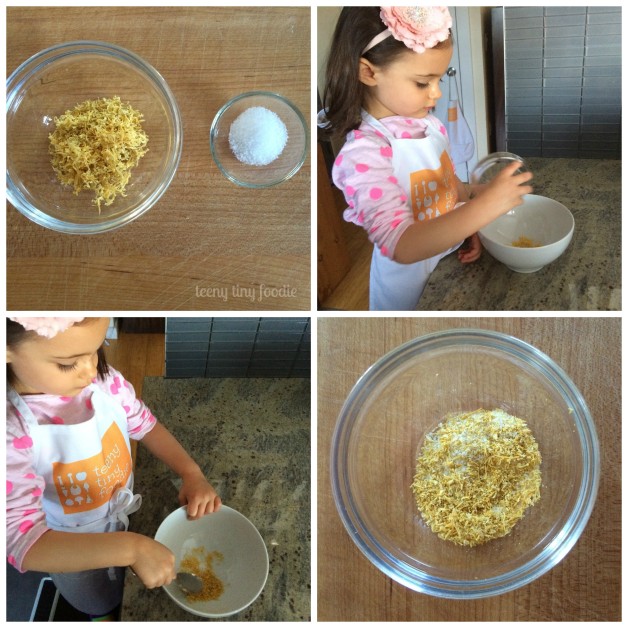 Lemon Dusted Coconut Cookies
Yields around 40 cookies
 Ingredients:
-½ cup all purpose flour
-1¾ cups whole wheat flour
-½ teaspoon baking soda
-1½ teaspoons sea salt
-2 sticks unsalted butter, softened (I usually leave it out overnight)
-Juice of 1 lemon
-Zest of 2 lemons
-¾ cup light brown sugar
-¾ cup packed dark brown sugar
-1 teaspoon vanilla extract
-2 large eggs at room temperature
-⅓ cup raw almonds, roughly chopped (optional)
-3 tablespoons unsweetened coconut flakes
-Lemon dust (see recipe above)
Preparation:
Heat the oven to 375°F. Prepare two cookie sheets by lining them with a Silpat or parchment paper.
In a small bowl, combine the flours, baking soda and salt. Mix together with a fork.
In a large bowl, beat the butter, sugars, vanilla, lemon juice and lemon zest. Beat until creamy. Add the eggs one at a time, beating well after each.
Gradually beat in the flour mixture and then add in the coconut flakes and almonds, if using.
Scoop out rounded tablespoons of cookie dough and place them onto the cookie sheets. Sprinkle Lemon Dust over the top.
Bake for 6 minutes or until the edges begin to brown.
Rotate the cookie sheets and switch oven racks, if necessary, for even browning. Bake for 6 minutes more.
Let cookies sit for 1 minute before removing them to wire racks to cool. Repeat with remaining batter.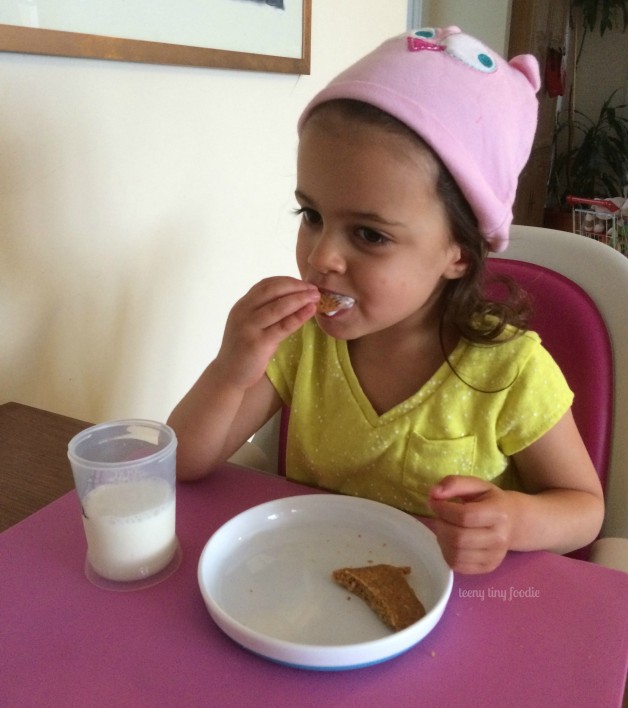 Happy Cooking!
Tags: #WeCookWednesday, butter, coconut, cookies, dark brown sugar, eggs, Kids Cook, lemons, MeatlessMonday, salt, vanilla, whole wheat flour
« Previous Let's Make a Green Smoothie: Toddler Recipe 2 Minute Tips with teeny tiny foodie: How to Squeeze a Lemon Next »