Print This Post
We went to see the pediatrician on Tuesday for Eliana's 9-month check-up. (9 months!!) We talked a lot about food again at this appointment.
As I knew, Eliana is now supposed to eat 3 meals per day. Breakfast, lunch and dinner along with bottles around bedtime and naps. Mash rather than puree her food. Give her things like "sticks" of roasted vegetables, soft cheeses and fruit as "finger food" too. If I thought I was feeding her all day long before, I truly am now!
That night, I spent a little bit of time feeling guilty and bad that I hadn't figured out all the meals before. It's a life skill she needs to learn and if I want to make her a teeny tiny foodie– she needs to be eating regularly, right? And then, I had an epiphany. I am making this SO MUCH HARDER than it actually is and needs to be. (That's not atypical for me.)
I decided to take the advice I'd give to someone else: Don't overthink it, just do it and you'll figure it out. So I did.
And this is how it went the last few days:
-Nursing/a bottle when she wakes up
-When she wakes up from her first nap, we do Breakfast
-Nursing/a bottle before her second nap
-Lunch when she wakes up
-Nursing/a bottle before her third nap
-Dinner when she wakes up
-Nursing/ a bottle before bed
And you know what? It has been so much fun!!
Why didn't I do this before?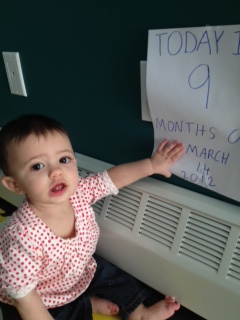 I'm such a big girl!
« Previous The Good, The Bad and The Messy – Part 1 (The Bad) The Good, The Bad and The Messy- Part 2 (The Good and The Messy) Next »