Print This Post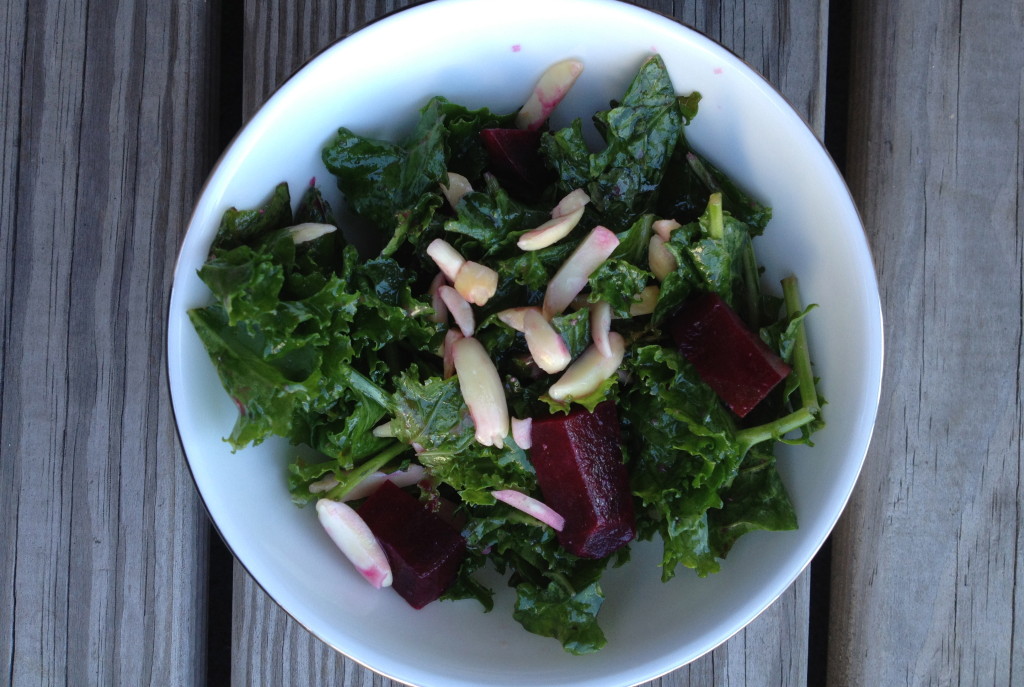 One night a few months ago, I was having dinner at my friend Libby's apartment for a "Girl's Night In" while her hubby was out of town. Libby isn't only a friend, she is truly that neighbor that I go to when I need to borrow an extra baking sheet or the person I text when I have too much of an ingredient and I want to unload a little so it gets used before it spoils. She and her son Dash are also "taste testers" whenever there is a recipe I'm working on. Anyway, that night I would have been happy to feast on just bread and cheese, but she wanted us to have our greens and she threw together a delicious kale salad with a knockout dressing all in about 7 minutes. The salad and dressing were the stars of the night. Below are my tweaked versions of the kale salad Libby made and my replica of her amazingly easy dressing.
But, before the recipes, there are some tips and ideas I want to share.
Kitchen and Cooking Tips:
1. Libby's salad dressing will keep for about a month in the refrigerator if stored in a tightly sealed container, so I usually make a double batch to save time for future meals.
2. Mason jars rock. I'm coming to the "Mason Jar Party" late, but now that I have some, I use mason jars for everything. I store nuts, seeds and grains in mine and I love to use them as vases, too. They are inexpensive, make a very tight seal (people use them for canning, after all) and they keep your food super fresh. Plus, if you store your dressing in one, you can just shake it up in the jar before using it so you don't have to transfer it to a bowl and use a whisk and get another other kitchen tool dirty.
3. Always make your dressing before preparing your salad. Even if it is only ten minutes earlier. This gives your dressing time to emulsify and basically have a little flavor party. Just whisk it together again before enjoying.
4. When making a salad, your greens need to be dry in order for the dressing to stick to them. I used to just pat them with a kitchen towel, but I've recently discovered that a salad spinner really is the way to go.
5. The juice and skin from beets will stain your skin. To prevent this, wear latex gloves. I'm usually too lazy to go get gloves so I end up with tinted hands for a day.
Kids in the Kitchen Ideas:
1. Kid-friendly tools allow your teeny tiny sous chef to help out. The OXO Salad Spinner is so easy to use and stable on the counter that it is a tool Eliana can use easily with a little support.
2. Your teeny tiny sous chef can also help out by tearing the kale for the salad. No knives required. Just two clean and eager hands.
Featured Tools: 
Libby's Salad Dressing
Ingredients:
-½ cup rice wine vinegar
-⅓ cup vegetable oil
-1 tablespoon plus 1 teaspoon soybean paste
-1 teaspoon dried mustard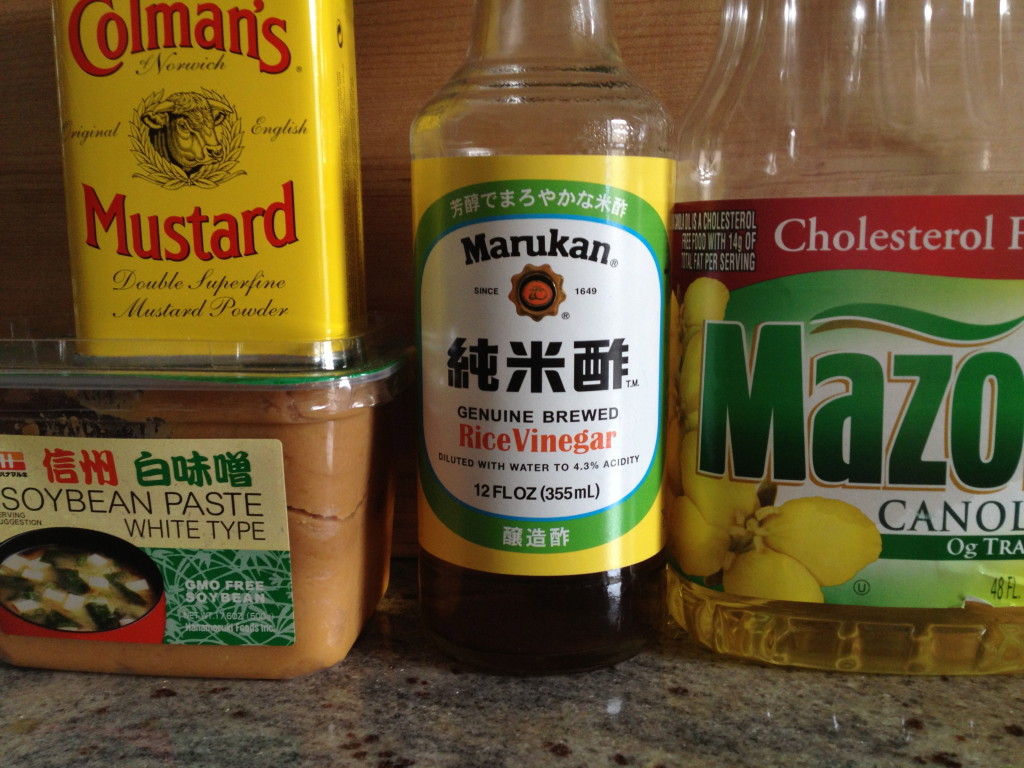 Preparation:
Pour the vinegar into a small bowl and add the  soybean paste.
Whisk quickly with a fork so the soybean pasta dissolves into the vinegar.
Whisk in the dried mustard and the oil.
Taste, adjust ingredients as desired and set aside.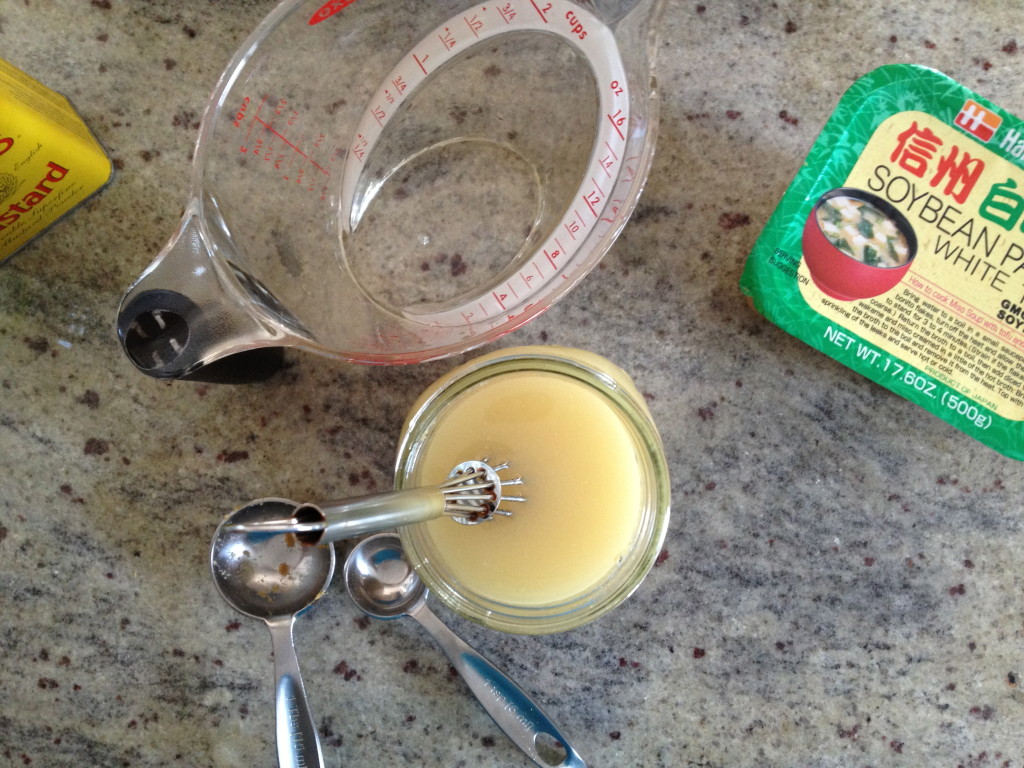 Massaged Kale Salad with Roasted Beets
Serves two adults for a meal or 4 adults as an appetizer
Ingredients:
-1 bunch kale, rinsed and dried
-2-3 roasted beets, chopped into ½ inch chunks (Need a recipe for roasted beets? Click here).
-⅓ cup blanched or slivered almonds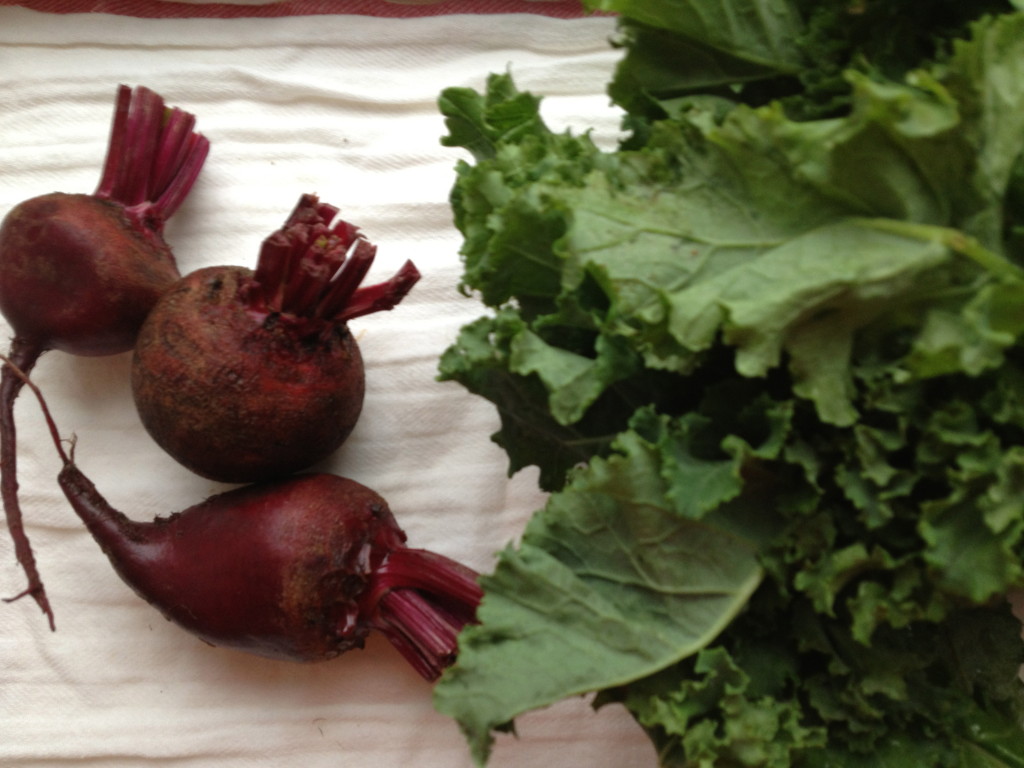 Preparation:
Into a large bowl, tear the kale leaves into ¾ inch pieces.
Pour a drizzle of the salad dressing over the kale and massage* it for 1-5 minutes.
Toss in the beets and almonds.
Add 1-2 tablespoons of the dressing over the top.
Mix it all together and enjoy!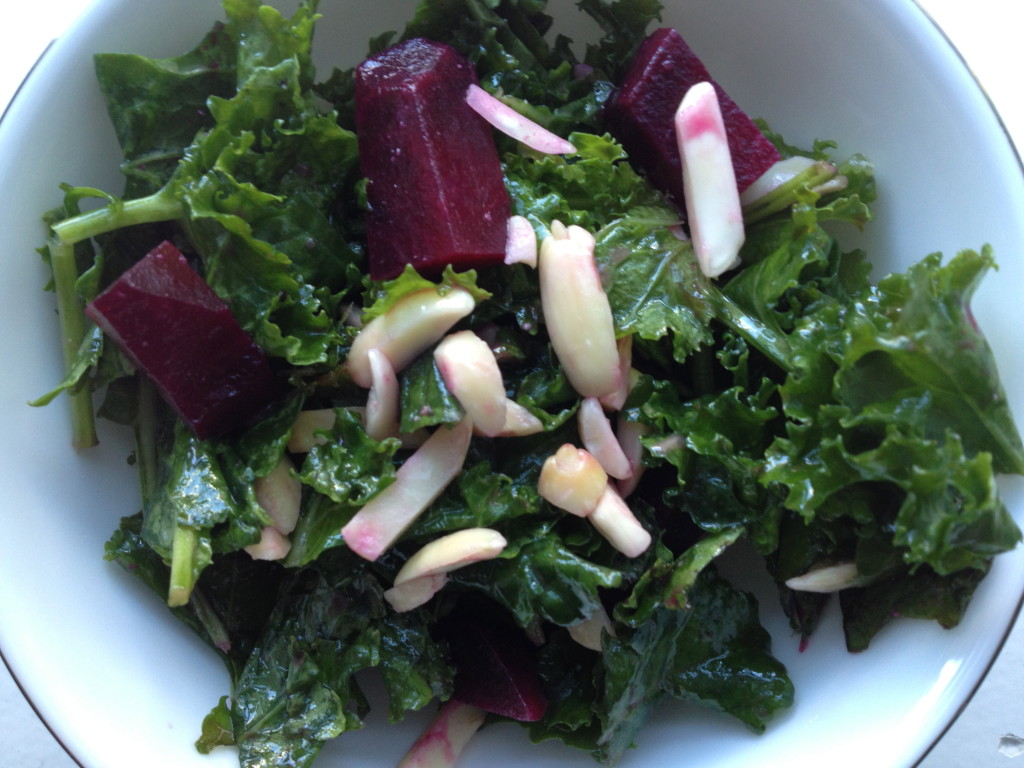 *Here's how Eliana and I typically massage our kale:
Clean and dry your kale and remove the ribs. Then tear or chop kale into ¾ inch pieces and place in a bowl. Pour a little bit of olive oil, prepared salad dressing or lemon juice over your cleaned and dried kale and begin massaging it. Literally put your hands in, grabs small fists of it and massage it in your hands the way you might someone's shoulders.
Happy Cooking!
Tags: almonds, beets, gluten free, green foods, kale, Kids Cook, leafy greens, Meatless Monday, soybean paste, vegan
« Previous Summer Vegetable Pasta Sauce and Purée: {Meatless} Monday Meal Just So We're Clear Next »