Print This Post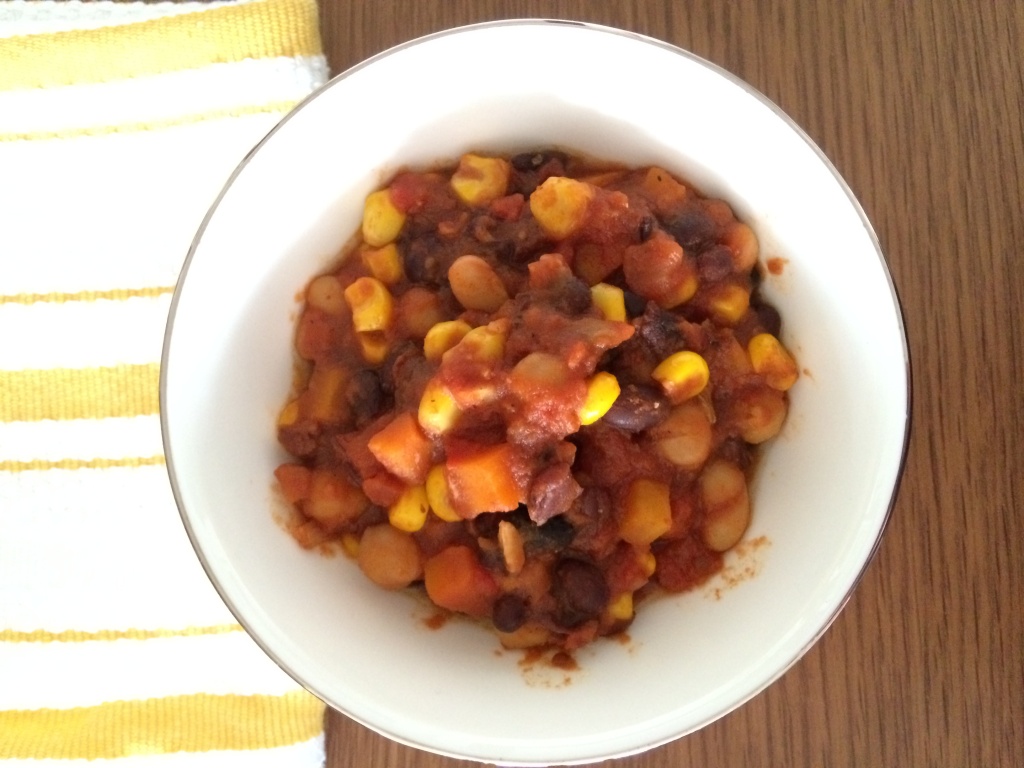 Vegetable and Bean Chili has been one of my staples for years. It isn't hard to prepare, the ingredients are inexpensive to buy, it keeps well in the freezer, and a large pot of it can easily feed a crowd. It is a very low-maintenance meal to prepare, too. It can hang out, simmering on the stove unattended, for a while. Which is perfect since I spend lots of time running around after a small person and can forget about silly things like, oh the food that is cooking on the stove. I also love that I can throw in any veggies I have in the fridge that weren't used for another recipe or are just taking up space waiting to be used. The chili alone is yummy and satisfying, but pair it with some of my homemade Jalapeño Cornbread? Now you've got a tasty, healthy and super-filling meal.
3-Bean Vegetable Chili
Yields 8 servings
Ingredients:
-1 large yellow onion, chopped
-½ jalapeño pepper, finely chopped
-2 carrots, peeled and chopped
-Around 1 cup corn kernels, thawed if using frozen
-1-2 28-ounce cans chopped tomatoes
-1 15-ounce can cannellini or white beans, rinsed and drained
-2 15-ounce cans black beans, rinsed and drained
-1 15-ounce can garbanzo beans (aka chickpeas), rinsed and drained
-Garlic cloves, smashed and peeled, to taste
-3-4 tablespoons olive oil
-Salt, pepper, cayenne pepper, chili powder and red pepper flakes, to taste
-Your favorite chili toppers
Preparation:
In a large, lidded saucepan, heat olive oil over medium heat. Add red pepper flakes and cook for 15 seconds. Add the onions, some salt and stir. Cook for 3 minutes and add the garlic and jalapeño pepper.
Stir and cook 1-2 minutes. Add the carrots, a pinch of salt and stir.
Cover and let the vegetables cook for around 5 minutes.
Add the beans and some more salt and mix together well. Cook for 1-2 minutes.
Add in the tomatoes, mix thoroughly and bring the chili to a low boil. Cook for 10 minutes.
Add in spices, stir, cover and simmer over low heat for at least 20 minutes and up to 1 hour. The chili will be yummy after 20 minutes, but if you have the time, you can leave it for up to an hour so the flavors have more time to meld. Add the corn and simmer for another few minutes just to heat the corn through.
Turn off the heat, stir, taste and adjust seasoning as needed.
Top with your favorite accompaniments.
Happy Cooking!
Full disclosure: I used to make my "Homemade" Jalapeño Cornbread using the Jiffy brand mix for corn muffins. I'd follow the recipe on the box and just add some canned corn kernels and a chopped jalapeño pepper. And, just so you know, I always told people it was from the box. But lately, I've been working on my own recipe so that I know all of the ingredients—for example, I make mine with some whole wheat flour and can control the amount of sugar I put into it. So, ta-da! Here's my recipe for cornbread that is actually homemade.
Jalapeño Cornbread
Adapted from King Arthur Flour
Prep time: 10 minutes
Cook time: 20-25 minutes
-½-1 jalapeño pepper, finely chopped
-¾ cup corn kernels
Dry ingredients:
-1 cup whole wheat flour
-¾ cup white flour
-A little less than ¼ cup sugar
-1 cup cornmeal
-2 teaspoons baking powder
-¼ teaspoon baking soda
-½ teaspoon salt
Wet Ingredients:
-¾ cup skim milk
-¾ cup whole milk
-½ cup unsalted butter, melted and cooled
-1 large egg, lightly beaten
Heat oven to 375°. Mix dry ingredients in a large bowl. Mix in the jalapeño pepper and corn. Whisk the wet ingredients together in a smaller bowl. Pour all of the wet ingredients into the dry ingredients at once and mix through. Don't over stir- there should be lumps. Pour into a greased 8×8-inch baking dish. Bake for 20-25 minutes until the edges become golden and pull away from the sides of the dish.
Cool for 5 minutes on a cooling rack and serve.
Variations:

-Make muffins by preparing the recipe as directed and instead of using an 8×8-inch baking dish, fill muffin cups ¾ of the way full with batter
-Don't like spice? Leave out the chopped jalapeño peppers and try orange or green peppers instead
Eliana LOVES both the chili and cornbread. Here she is enjoying it while my father-in-law, Steve, feeds it to her.
Happy Cooking!
Tags: carrots, corn, gluten free, Meatless Monday, onions, peppers, tomatoes, Winter
« Previous Someone's in the Kitchen with Mommy Once, Twice, Three Times a Chicken Next »