Print This Post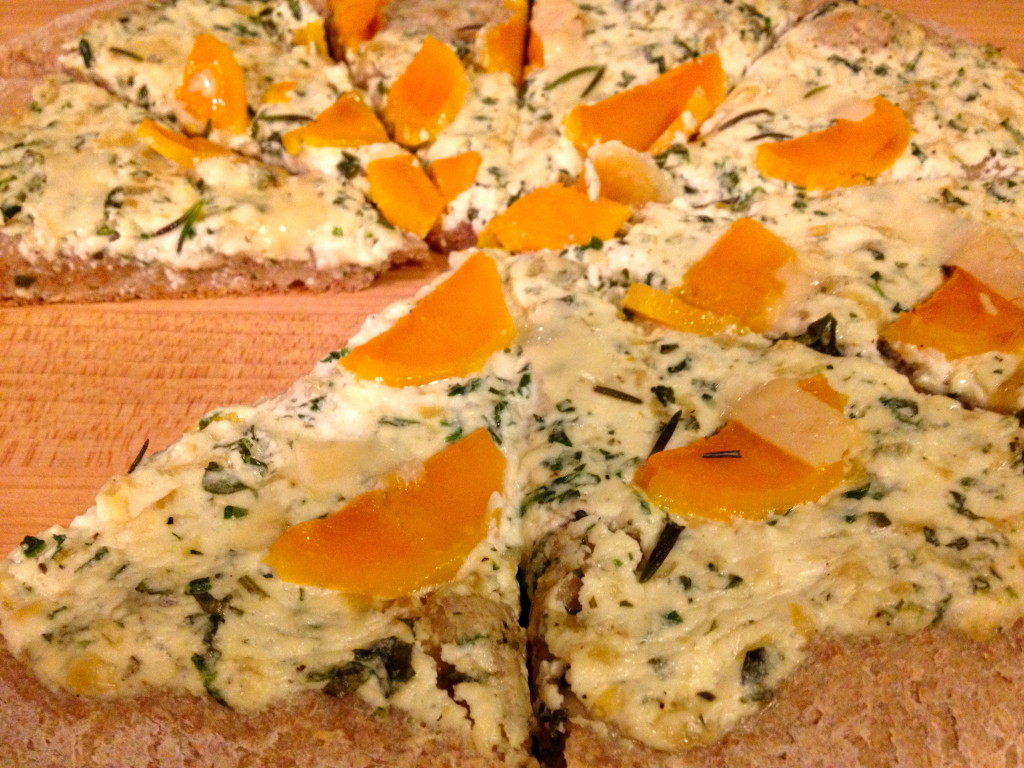 Pizza. The word alone makes me smile. I absolutely LOVE pizza. But, it has a pretty bad reputation for being unhealthy. So,when I cook pizza, I try to make it a bit healthier by using a whole grain crust and topping it with lots of vegetables. This way, I feel better about indulging in it and serving it to my family, too.
The preparation of this recipe has a lot of flexibility. Depending on what your schedule looks like on the days leading up to making this pizza, you can spend around two hours and make this entire recipe from start to finish; or, you can split up the cooking over the course of a few days. For example, you can prepare the roasted squash and caramelized onions on a day when you know you'll be home for a while and then store those vegetables in their own airtight containers until later in the week when you want to make the pizza.
Recently, when I made this recipe I roasted the squash early in the day when Eliana was napping and I knew I was home for a while. That night, I used part of the roasted squash and some barely thawed caramelized onions* I had stored in the freezer, but I could have caramelized them while the squash roasted if I didn't have some ready to go.
Are you new to making pizza at home? Read the Tips & Ideas I've collected about making pizza by clicking here. 
Whole Wheat Pizza with Roasted Butternut Squash
-¼-½ cup sliced roasted butternut squash** (Here's a link to how to roast squash).
-1½ cups part skim ricotta
-⅛ cup caramelized onions, minced (Here's a link to how to caramelize onions).
-1 teaspoon rosemary, finely chopped plus additional for topping
-1-2 cups arugula, rinsed and patted dry
-1 garlic clove, smashed
-¼ teaspoon salt, plus an additional pinch to add to arugula
-¼ teaspoon pepper
-Olive oil and red pepper flakes, to taste
-Parmesan cheese and Locatelli romano cheese shaved, to taste
-Whole wheat pizza crust, at room temperature (Lately, I've been buying dough from a local Italian restaurant and using it that same evening).
Heat the oven to 450°.
Prepare the arugula:
Heat a medium-sized sauté pan over medium heat. Add some olive oil, the garlic clove and some red pepper flakes. After about 30 seconds, add the arugula and a pinch of salt. Stir and sauté for 1-2 minutes or until the arugula is cooked. Transfer the arugula to a plate and set it aside.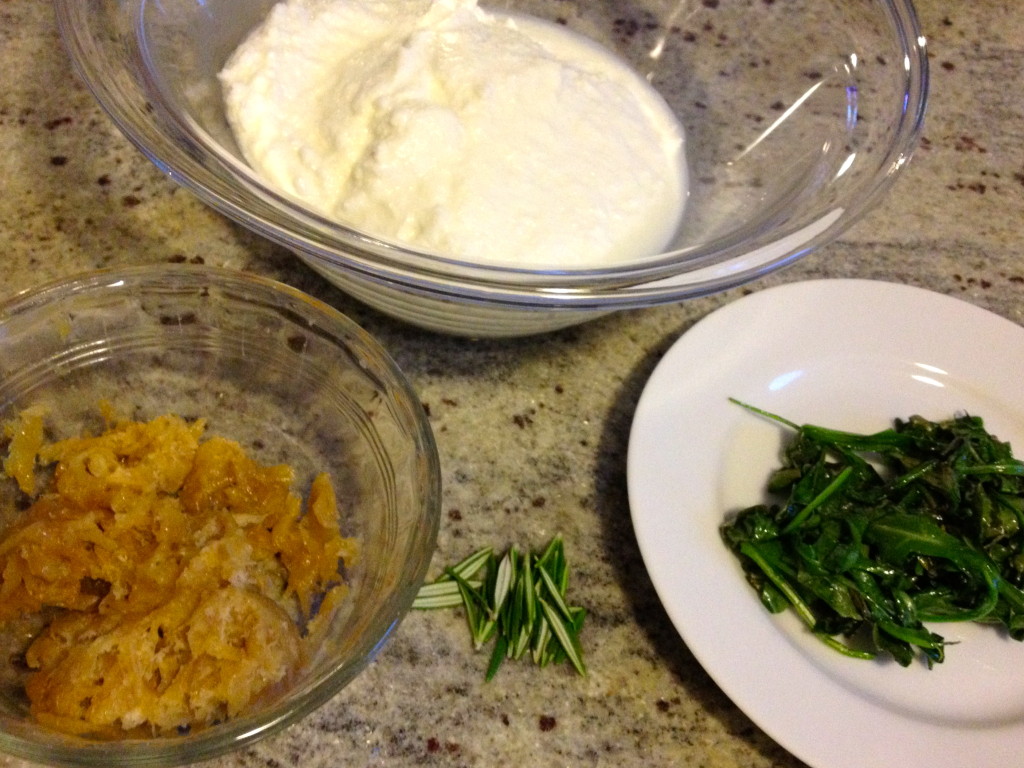 Make the sauce:
Put the onions, arugula, ricotta, rosemary, salt and pepper into a food processor or blender. Puree until smooth. Taste and adjust seasonings as desired.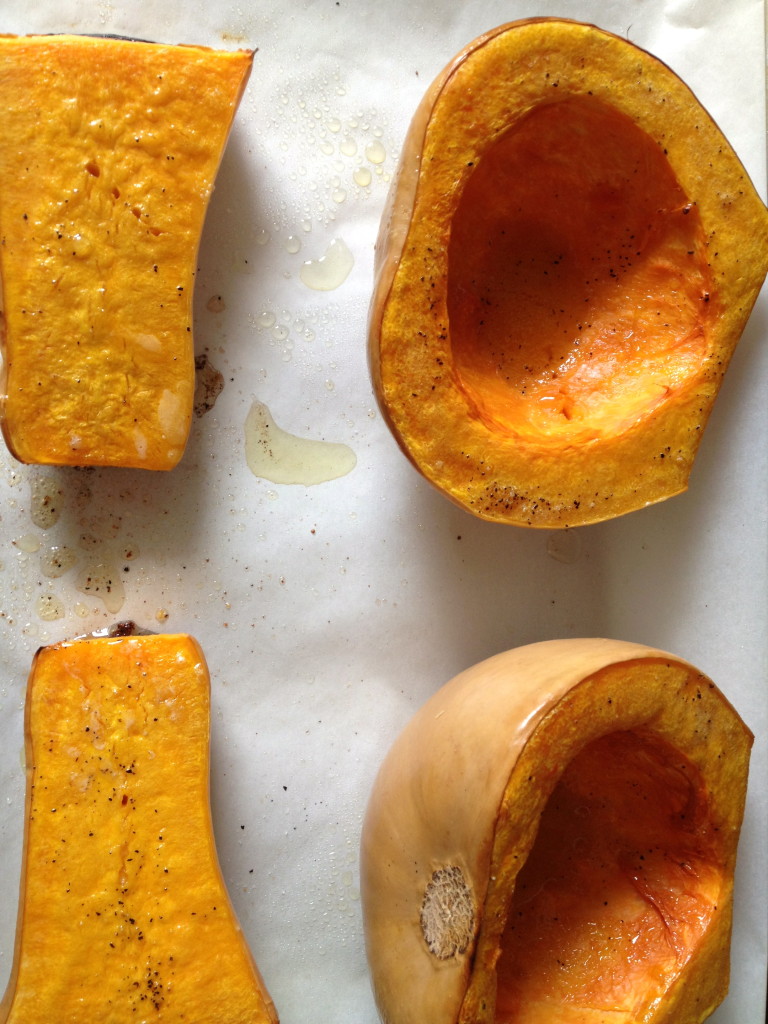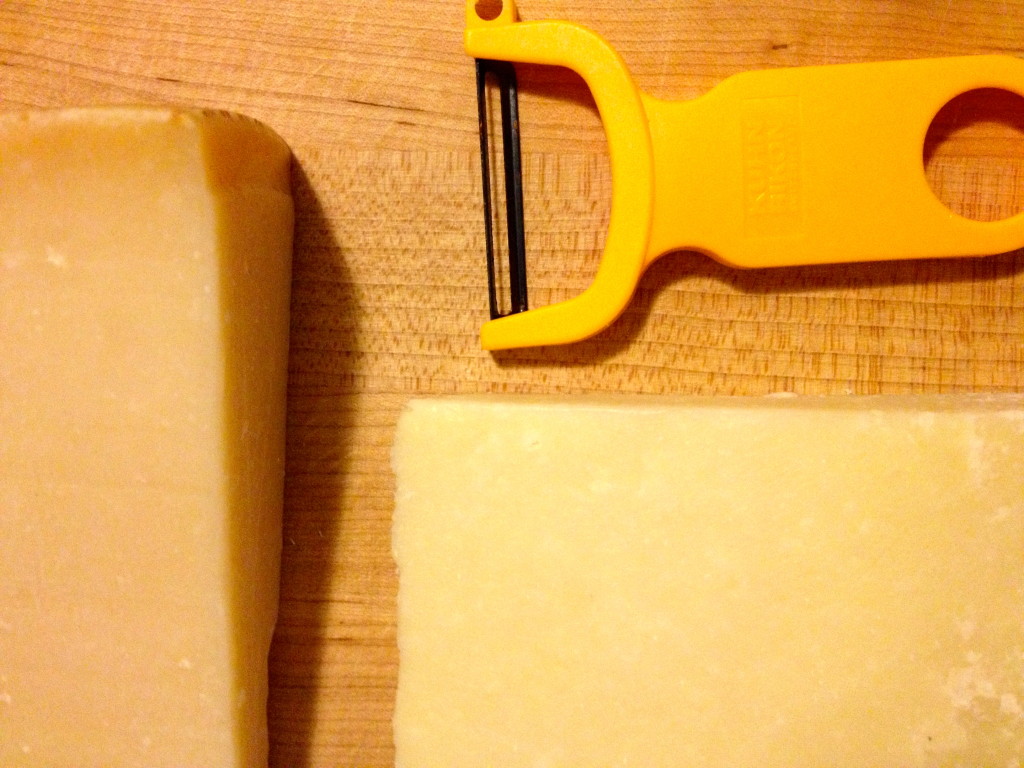 Bake the pizza:
Roll or shape the pizza crust to fit a baking sheet or pizza stone. Bake the pizza crust alone for 1 minute.
Remove from the oven and spread the sauce over the pizza. Place the butternut squash slices on top and add the shaved cheese as well. Bake for 12 minutes.
Once it is cooked, let the pizza rest for 1 minute before slicing. Add a few pinches of chopped rosemary, more shaved cheese, slice and serve.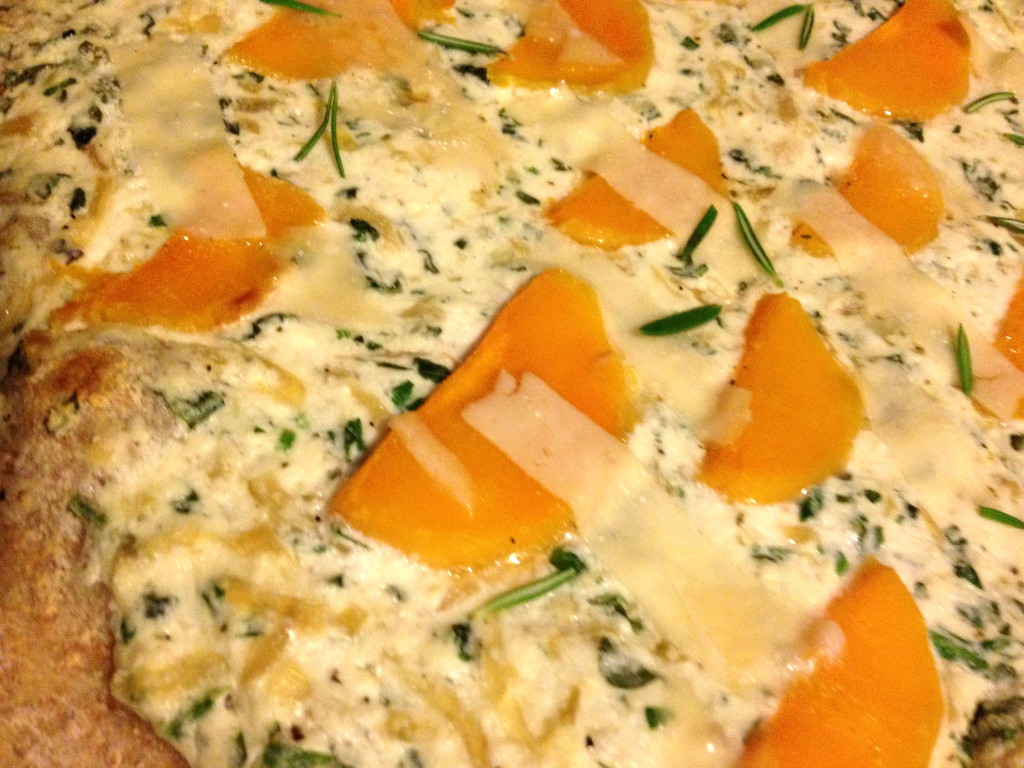 Eliana loved this dish! She was so excited about it she giggled through most of the meal. She doesn't really eat pizza all that often. Typically, her selfish parents polish off the entire pizza without leaving any for her to try the next day and the couple of times we've ordered it at a restaurant she hasn't been so interested in it. So, I had to help her figure out how to eat it.
*I've pretty much decided that caramelized onions make anything and everything savory taste better. In order to make them properly, you need to cook them on a very low heat for a long time. Since I like to use them often, I've begun making them in big batches and freezing them in small quantities of around ¼ cup. This way, I can add the yummy and intense flavor of caramelized onions without spending around 1½ hours to make them every time.
**Since I only used a very small part of the roasted butternut squash for this recipe, I used it for a few other recipes across the week. Stay tuned for those recipes!
Happy Cooking!
Tags: arugula, baby and family, leafy greens, onions, pizza
« Previous #EGGcited Roasted Vegetable Strata Matzoh Ball and Vegetable Soup #eggcited Next »