Print This Post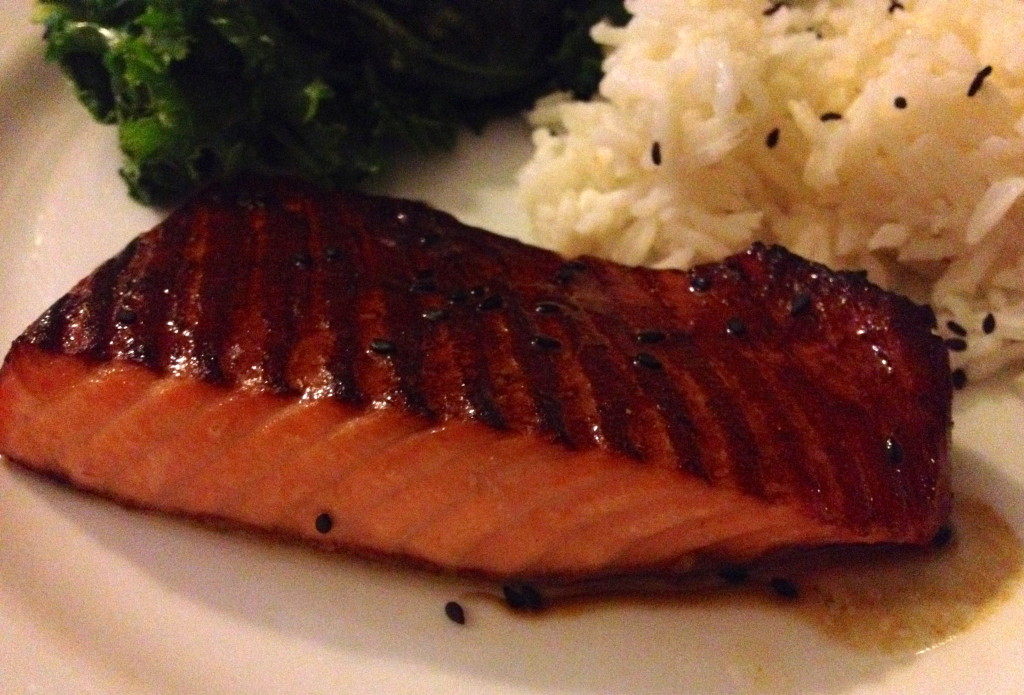 Broiled Salmon Fillets with Super Easy Asian Sauce
Yields 4-6 adult portions
Ingredients:
For the fish:
-1½ pounds salmon fillet with skin removed and portioned into 6 4-ounce pieces or 4 6-ounce pieces
-Few pinches each of salt, pepper and garlic powder
For the marinade:
-⅓ cup tamari or low-sodium soy sauce
-⅛ cup dark brown sugar, packed
-2 teaspoons molasses
-⅔ cup water
-⅛ cup vegetable oil
-1 tablespoon rice wine vinegar
-2 teaspoons ground ginger
-2 teaspoons garlic powder
-Sriracha or other red chili sauce, to taste
Preparation:
Marinate the fish:
Make the marinade by whisking together the ingredients in a medium-sized  bowl.
Place the salmon inside the bowl making sure to get marinade on all sides of the fish.
Cover the bowl and place it in the refrigerator for at least 15 minutes or up to 1 hour.
Turn the fish once or twice while it marinates so the flavors distribute evenly.
Remove the fish from the refrigerator about 10 minutes before you want to cook it.
Roast the fish and boil the marinade:
Place a baking rack about 6 inches from the heat source and turn your broiler onto low. Meanwhile, line a baking sheet with aluminum foil—I basically wrap the baking sheet in foil to avoid a major clean up.
Then, put a piece of parchment paper over the aluminum foil. Place the fillets on the sheet, skin side down, around 1 inch apart.
Broil for 6-10 minutes until the fish is fully cooked and flakes easily.
While the fish broils, pour the marinade into a small saucepan and bring to a boil for 5 minutes, stirring a couple of times to kill any bacteria that may have formed in it while the raw fish was marinating.
Drizzle a bit of the heated marinade over your fish as desired and enjoy!
Make this a meal by pairing it with Sesame Greens and your favorite rice.
Happy Cooking!
Tags: gluten free, salmon, sesame seeds
« Previous Sesame Greens Baked Tofu with Super Easy Asian Sauce & Marinade Next »