Print This Post
Over the summer, Matt and I had a few date nights at home when we cooked pizza together. Previously, I'd always used pre-cooked pizza dough, but this summer we began using fresh pizza dough instead that we bought from the refrigerated section of the grocery store. We prefer to use whole-wheat dough like this one. Below are some tips and tricks we learned these last few months about cooking pizza using fresh dough, cooking it on the grill and baking it in the oven. Recipes are at the bottom of the post.
General pizza-making tips and lessons learned when using fresh pizza dough:
 -Your pizza(s) won't turn out to be beautiful, concentric circles like the guys at the restaurants make. Get yourself over it. Your oddly shaped concoctions will still taste yummy.  And they might even look like a state or country.
-An actual pizza cutter is a brilliant invention.
-If you make a "sweeter" pizza, top it with something more savory to balance out the flavors. For example, a corn and caramelized onion topping is delicious served with fresh arugula on top.
-This meal is not a quick meal. Making pizza can be a multi-step process depending on what 

you want to use as toppings.
Here are sample steps.
       -Step 1: Remove pizza dough from the refrigerator around 3-5 hours

before

preparing  

        the pizza. I learned the hard way that it takes a while for the dough to be malleable        

        enough to stay flattened-out.

       -Step 2: Prepare the tomato sauce (Unless you are using jarred sauce.)

       -Step 3: Prepare the topping(s)

       -Step 4: Prepare and cook the pizza
Tips for cooking pizza on the grill:
-Unless you have a fancy pizza-sized spatula or paddle to use on the grill, it is

way easier

and a lot less stressful to cut the pizza dough in half and make two smaller pizzas. Use a well-oiled flat-edged cookie sheet to slide the pizza(s) onto the grill. Start the cookie sheet at the back of the grill and, moving forward slowly, let the dough slide off as you bring the cookie sheet toward yourself.
-Cooking pizza on the grill is fast. Only about 3 minutes per side. Have your toppings ready to go and next to the grill so when you flip the crust after 3 minutes, you can quickly top your pizza(s) and get the cheese to start melting without burning the bottom of the pizza.
Tip for cooking pizza in the oven:
-After stretching-out the dough to fit your baking pan, cookie sheet or pizza stone, cook the dough alone for around 3-5 minutes so it will be cooked through underneath all your yummy toppings.
So, you may be wondering if Eliana the teeny tiny foodie liked these recipes too? Wellll,
unfortunately, she hasn't really had the
opportunity
to taste the homemade pizzas yet.
Matt and I usually love the pizzas so much that we eat the whole pizza right then and
there selfishly leaving none for our darling daughter. Eliana has tried these recipes in
deconstructed parts or in other forms such as zucchini parmesan slices with her dinner
the other night or the corn and caramelized onions mixture with arugula as pasta
"sauce." But, we promise, we will make it as a family one weekend so Eliana gets her
fair taste of this yumminess!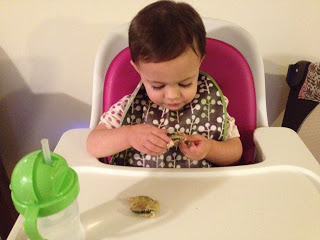 Hmm, what's this?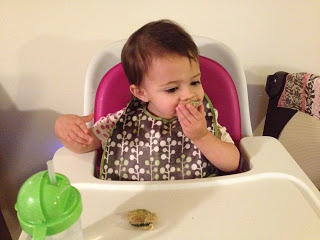 That zucchini part is fine but scraping off the breading with my teeth is THE BOMB!
And, here are the recipes.
Whole Wheat Pizza with Zucchini Parmesan
This is a 3- to 4-step recipe depending on whether or not you make your own tomato sauce. The first step is to make sure the pizza dough comes to room temperature. Steps 2 and 3 are to make the tomato sauce and prepare the zucchini parmesan and they are interchangeable. Step 4 is to prepare and cook the pizza.
·   

1 package of fresh whole-wheat pizza dough

·   

Around 8 ounces of fresh mozzarella, sliced

·   

Around 1½-2 cups of tomato sauce (Homemade or jarred. My recipe is below.)

·   

1 zucchini, sliced into thin disks

·   

3 egg whites, lightly beaten

·   

1½ cups Italian style breadcrumbs

·   

1½ cups whole wheat flour

·   

Grated parmesan, salt and pepper and olive oil to taste
Step 1: Room temperature pizza dough
I learned the hard way to take the pizza dough out of the refrigerator around 3-5 hours before preparing the pizza. Just leave it in its bag on the counter.
Steps 2: Preparing the zucchini parmesan
Preheat the oven to 350°. Slice zucchini and set aside. Into a shallow bowl pour the breadcrumbs. Mix in grated parmesan, salt and pepper.  Spray a baking pan or cookie sheet with cooking spray or line with a Silpat or parchment paper. Set up your dredging station by arranging from left to right the whole-wheat flour, egg whites, breadcrumbs and your baking pan. Take a slice of zucchini and dredge both sides in the flour, egg whites, and breadcrumbs shaking off the excess in between each bowl.  Lay the zucchini onto the baking pan. Bake for 10-12 minutes or until the zucchini slices begin to lightly brown, flip the zucchini slices over and bake for 10-12 minutes more. Transfer to a cooling rack.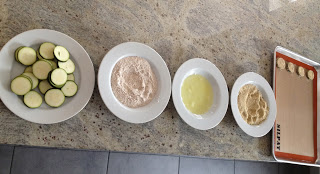 The dredging station
Step 3ish: Make the tomato sauce
Step 3 or 4: Preparing and cooking the pizza in the oven (See below for "on the grill")
**First and foremost, follow the cooking directions listed on the label of the pizza dough even if the temperature or cooking time is different than what I've suggested.**
Preheat the oven to 450°. Pour around a tablespoon of oil onto a baking pan or cookie sheet. Stretch out the dough to fit the pan. Bake just the crust for 3-5 minutes. Remove the dough and cover it with tomato sauce. Bake for 10 minutes. Remove the pizza and add the fresh mozzarella and zucchini slices. Bake for 10 minutes more. Remove from the oven, sprinkle with freshly grated parmesan, slice and serve.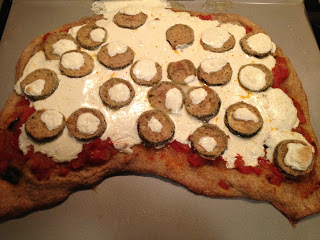 A big, tasty blob of Zucchini Parmesan Pizza!
Homemade Tomato Sauce with Fresh Tomatoes
·   

3-4 large tomatoes, chopped

·   

1 medium yellow onion, chopped (For this batch, I had 3 shallots so I used those instead)

·   

1-2 cloves of garlic, peeled and crushed

·   

Olive oil, salt, pepper, red pepper flakes to taste

·   

Chopped fresh herbs such as basil
Pour olive oil into a large pot on medium heat. Add garlic and red pepper flakes and sauté for 1 minute. Add the onion and a pinch of salt. Stir. Sauté for around 3-4 minutes or until the onion starts to become translucent. Add chopped tomatoes and stir through. Add salt and pepper to taste. Mix through and let simmer on low heat for at least 10 minutes. Add fresh herbs, stir and let simmer for another few minutes. Taste and adjust seasoning as needed.
Variations:
-Let sauce cool slightly, then puree in blender or mixer.

-Add chopped fresh vegetables with the onion to make a primavera sauce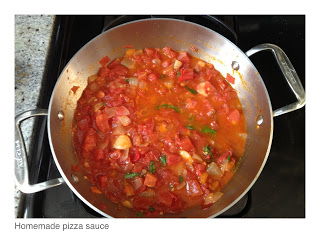 I use this sauce for pizza and for pasta.
To cook pizza on the grill:
Heat the grill to medium heat. Oil the grill and place the dough (1-2 pieces) onto the grill. Close the grill and cook for 3 minutes. Flip the dough, cover with sauce and topping(s), close the lid and cook for 3 more minutes. Remove from the grill, slice and serve.
Grilled Pizza with Corn and Caramelized Onions
Another multi-step recipe listed below
·   

1 fresh whole wheat pizza crust, at room temperature

·   

1 medium onion, sliced and caramelized

·   

1 ear fresh corn, kernels removed

·   

Around 1 cup of part skim ricotta cheese

·   

Around 8 ounces of fresh mozzarella, cut into small chucks

·   

Around 1-1½ cups of grated parmesan

·   

2 parts rosemary to 1 part basil, finely chopped

·   

Garlic powder, olive oil, salt and pepper to taste

·   

Organic arugula, chopped
Step 1: Caramelize your onions
Here is a link to an easy recipe I found online that I use to caramelize onions. Add a little water or white wine to deglaze the pan if the onions begin to stick. While the onions cook, you can begin Step 2. After the onions have cooked, transfer them to a plate to cool slightly.
Step 2: Prepare and set aside your greens and parmesan
Chop the arugula and your herb mixture and set them aside separately. If using a block of parmesan, grate and set aside. If using store bought grated parmesan, pour it onto a bowl or plate so it is ready for you to use. 
Step 3: Assemble your topping
To a large mixing bowl add the kernels of corn, ricotta, some of the grated parmesan (reserve some for topping the whole pizza later), ¾ of the chopped herbs, salt, pepper and garlic powder. Mix and taste. Adjust seasoning if needed. Add the caramelized onions and stir.  Set mixture aside.
Step 4: Prepare and grill the pizza
Either, roll out dough into a circle using a rolling pin or flatten it out with the heels of your hands. Brush the grill with olive oil then set to medium heat. Place dough onto the grill and cook for 3 minutes. Hold your breath for ultimate success, flip over the dough and brush with olive oil.  Spread the ricotta mixture onto the crust and add mozzarella chunks. Cook 2-3 minutes more. Remove from the grill, top with remaining herbs, shaved parmesan and arugula.
Slice and serve.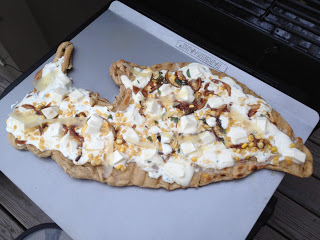 Corn and Caramelized Onion Pizza in the shape of a non-specific country.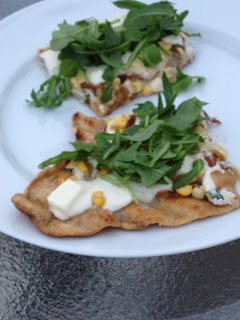 Topped with chopped arugula. YUM!
Tags: arugula, corn, leafy greens, onions, pizza, tomatoes
« Previous Whole Wheat Apple Banana Muffins No One Said This Would Be Easy Next »