Print This Post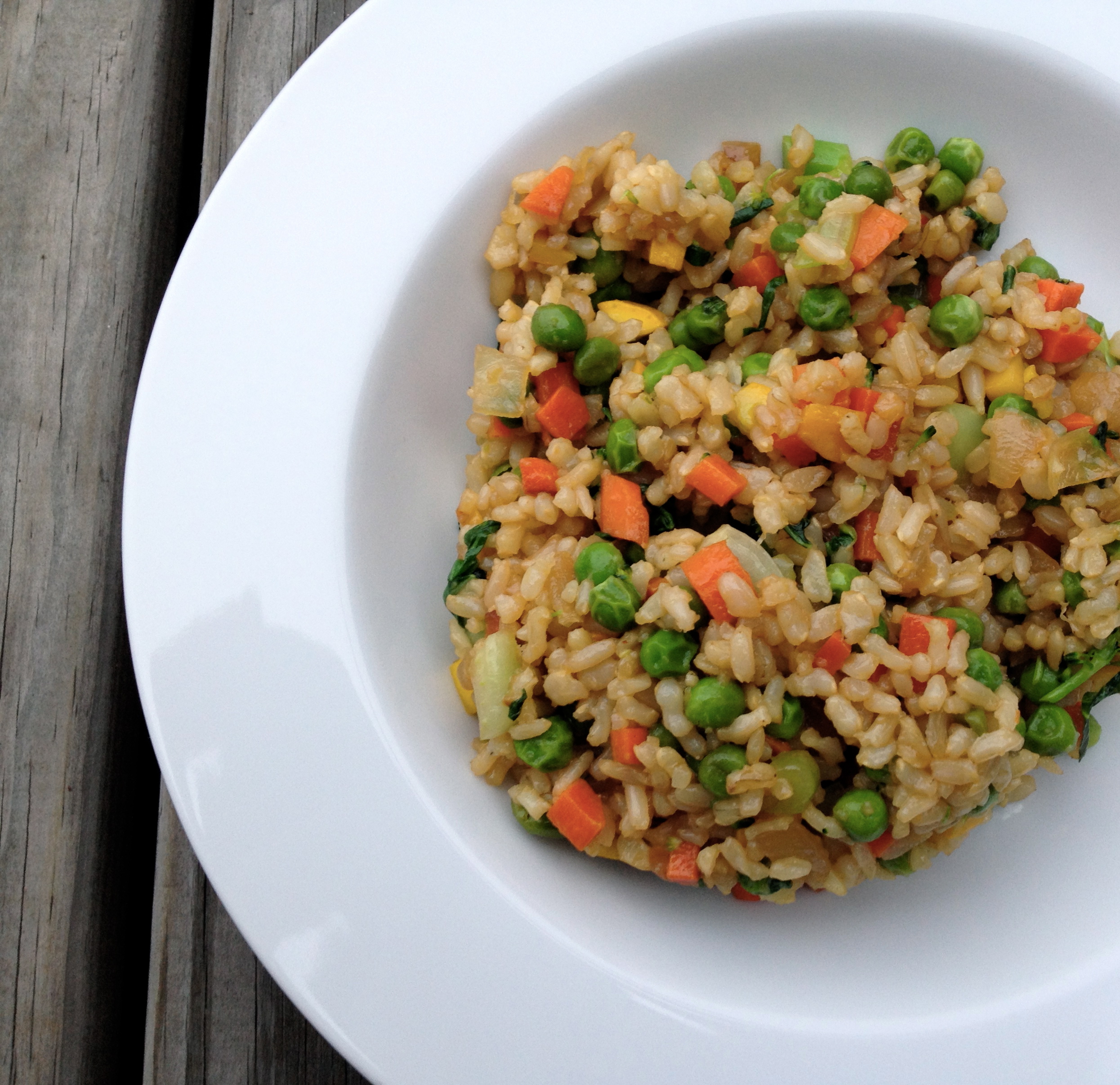 I love this recipe for a bunch of reasons:
1. It is an easy "I'm too tired to cook" recipe.
2. It provides vegetables, starch and protein all in one dish.
3. You can customize it with whatever vegetables, proteins and type of rice you want.
4. You can make it using only one large pan so that cuts down on the clean up time.
5. You can cut down on prep time by using frozen vegetables. Just look for a brand with no added sugar or sodium.
6. You can also save time by making a large batch of rice and freezing the 4 cups for this recipe in a zipper-topped bag for up to 4 months. Just leave it in the fridge for the day to thaw or on the counter for 1-2 hours before making this recipe.
Vegan Fried Rice
Yields around 7 cups
Ingredients:
-1¾ cup frozen peas
-2-3 carrots, peeled and diced
-2 small bunches baby bok choy, finely chopped
-1 small yellow or white onion, diced
-2 small yellow squash, diced
-1½ cups broccoli florets, chopped
-4 cups cooked brown rice, at least a day old
-1½ tablespoons vegetable oil
-3 tablespoons tamari or low-sodium soy sauce
-Salt, to taste (This is just to bring out the flavor of the vegetables, not to really add saltiness to the dish).
-Sriracha or other hot chili sauce, to taste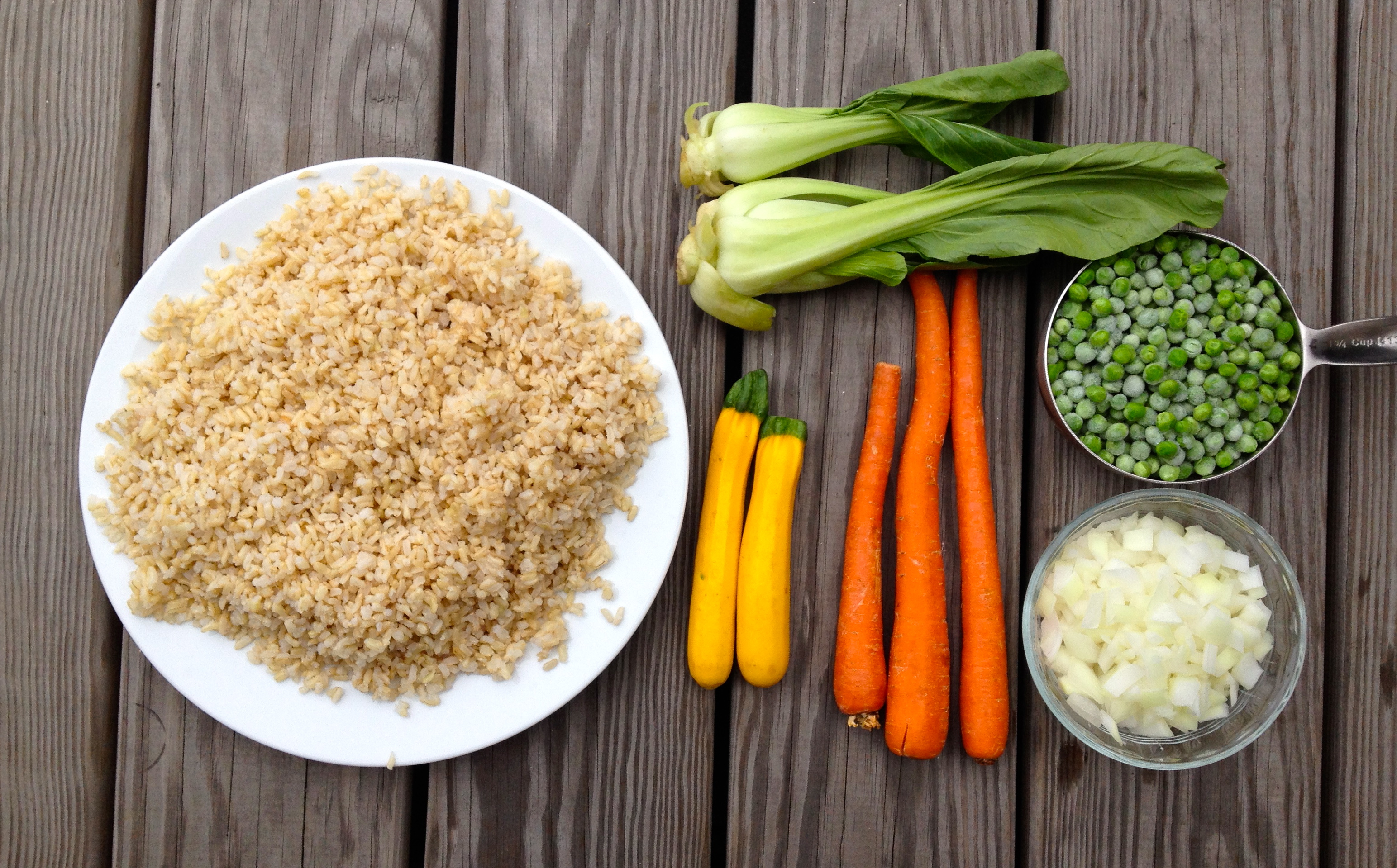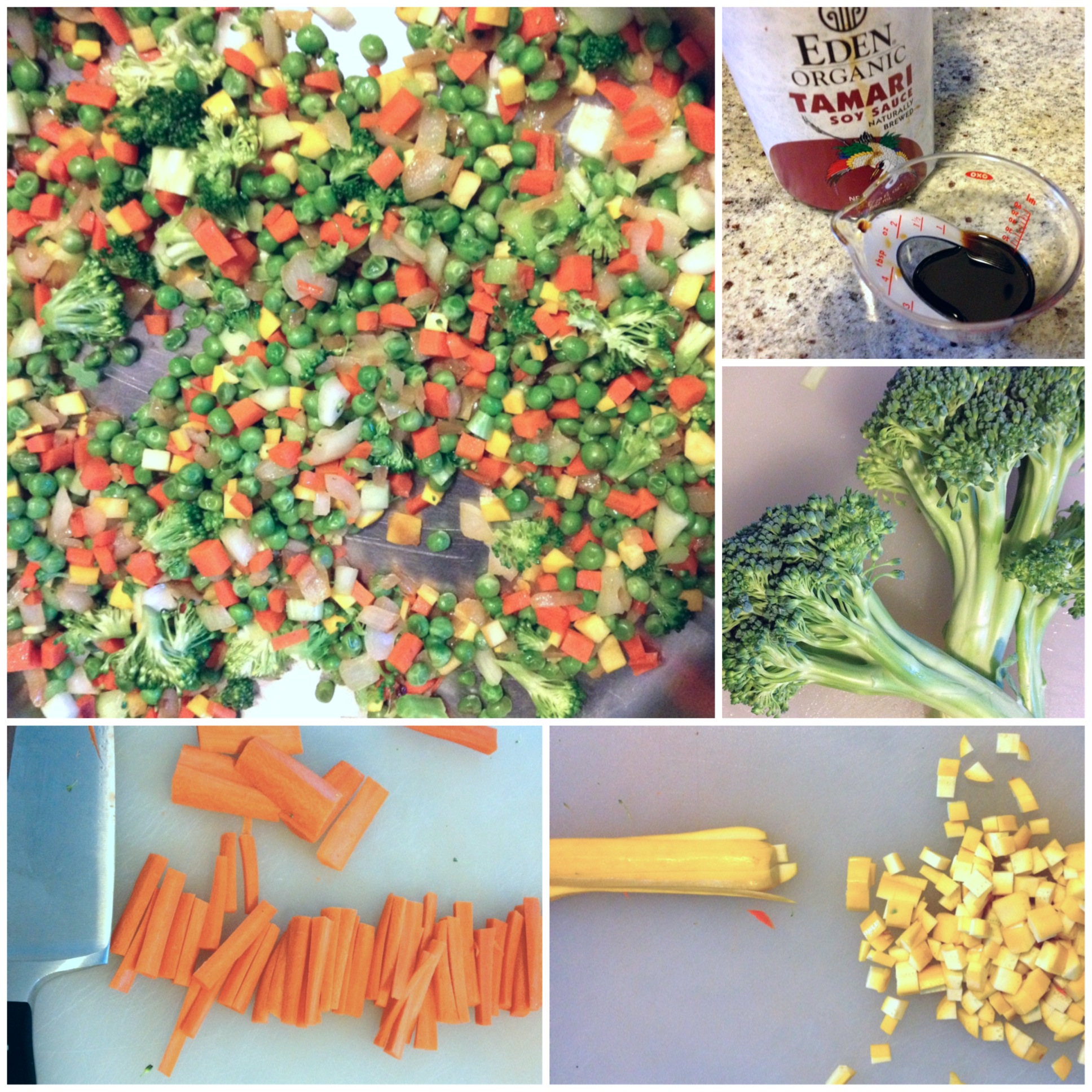 Preparation:
Heat a large sauté pan over medium heat and add the oil and onions and a small pinch of salt. Let the onions cook until they begin to become translucent, around 4 or 5 minutes, stirring occasionally.
Add the carrots, a pinch more salt and stir. Cook another 2 minutes, stirring occasionally. If needed, deglaze the pan by adding a little bit of room temperature water and scraping the tasty brown bits of veggies off the bottom of the pan.
Add the squash, broccoli and peas with a bit more salt. Stir and let cook for about 2 minutes, stirring occasionally.
Add the rice and stir it all together. Cook until the rice heats through, around 2-3 minutes. Add the tamari and optional Sriracha and stir.
Taste, adjust seasonings as desired and enjoy.
Happy Cooking!
Tags: bok choy, broccoli, brown rice, carrots, gluten free, leafy greens, Meatless Monday, onions, peas, yellow squash
« Previous Come Cook with Me! Roasted Pumpkin and Apple Purée Next »