Print This Post
Here are the changes I made to the recipe:
·   Instead of 1½ cups of all-purpose flour, I used 1 cup of whole-wheat flour and ½ cup of all-purpose flour.
·   I only had 1 banana so instead of 2 bananas and 1 medium apple, I used 1 banana and 1 large Crispin apple. The apple was really juicy so I added the juice to the wet ingredients.
·   I don't have a pan for mini muffins so I used a pan for regular-sized muffins.  The recipe yielded 12 regular-sized muffins and a small loaf of bread.
·   I cooked the muffins for around 23 minutes. 
The muffins were delicious! I think adding in the apple juice made the muffins extra moist.
And did my teeny tiny foodie like them? Oh, yeah. The muffins were a major hit with Eliana.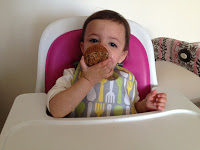 Can I get the whole thing into my mouth at once? You can bet I'm gonna try!
She loved them
so much
that when I had the
nerve
 to try to give her a few spoonfuls of yogurt with cinnamon (which she loves) in between bites of her muffin, she had a MAJOR tantrum. She was

so loud

that I kept expecting my next door neighbor to come running over to make sure we were okay. Really.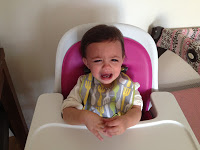 But I want MORE OF THAT MUFFIN!!!!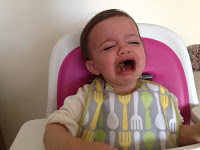 GIVE ME BACK THAT MUFFIN YOU EVIL WOMAN!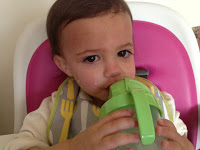 I'm SO putting you into a nursing home when you're old, Lady!
After a brief hiatus from snack, Eliana actually finished all of the yogurt and then scarfed down the rest of the muffin.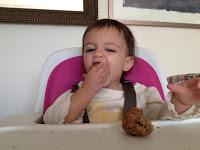 Let me shove this into my mouth super quickly in case she tries to take it away again.
And here are photos of the actual muffins.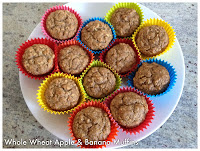 « Previous Thirds, please! Recipes for Homemade Pizza Next »