Print This Post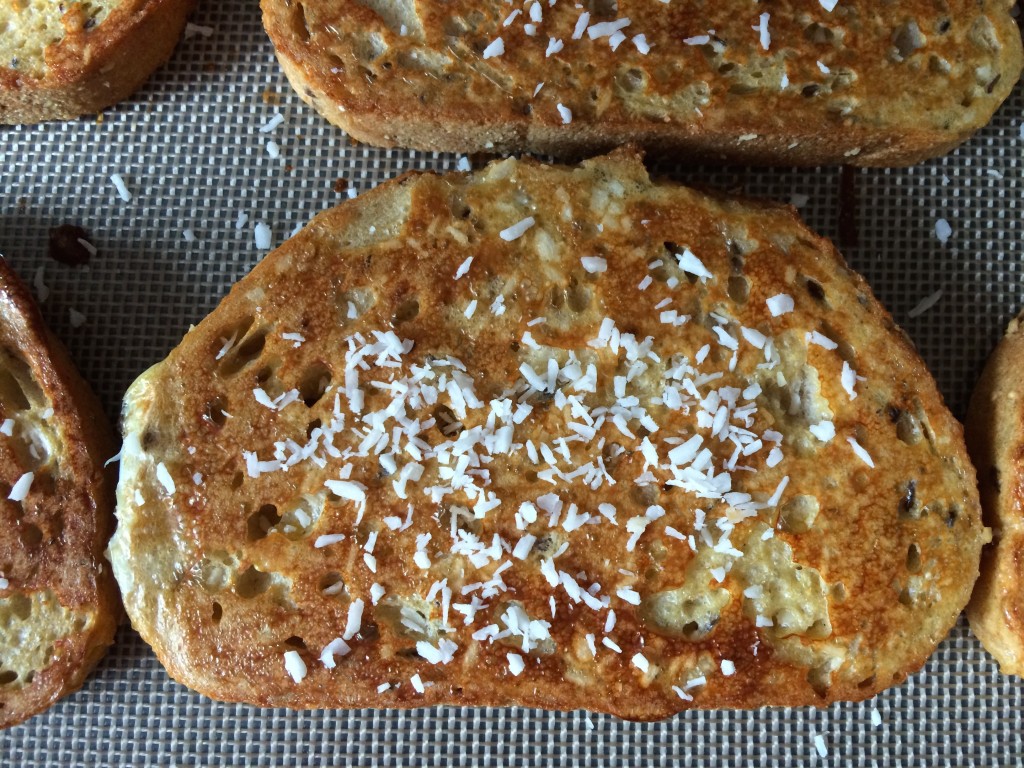 Since Eliana will be three years old in about two weeks (gasp!), I figure it's time to give her more responsibility in the kitchen. The downside of this will be the extra mess that she leaves in her wake and the time and a half I should add to how long it takes to prepare any given recipe. If you've been reading teeny tiny foodie over the last two years (specifically posts like Bibs are Made to Get Dirty, Helicopter Mommy and Mess Happens…), you know that I have a hard time with "messy". But, as I said, my teeny tiny sous chef is about to turn three and that means she is ready to take on bigger tasks in the kitchen. For this recipe I went waaaaay beyond my comfort zone to let her work with raw eggs (eek!) and take over even more of the measuring, scooping and pouring. Did everything make it perfectly into the bowl? No. But I survived. (And cleaned the counters more often than I typically do when it's just me cooking.)
Specifically, Eliana played the part of teeny tiny sous chef for this recipe by:
1. Cracking and separating eggs and then beating them;
2. Scooping and leveling off sugar and coconut flakes;
3. Pouring sugar, milk, vanilla, and coconut flakes into the mixing bowl;
4. Mixing the ingredients together;
5. Dipping the bread into the egg mixture and placing it on the baking sheet.
So, why do I want Eliana more involved in the kitchen if I know that everything will be messier, our meal won't get onto the table for a lot longer than we hope and measurements may not be quite exact? Because I get to spend time with her engaging in a fun activity, she learns science and math skills, and she gains a greater appreciation for what it actually takes to prepare a meal. She exercises her math skills when we count the scoops of ingredients we use, level off dry ingredients to make sure our measurements are precise, and use mathematical language as we talk about measurements and equivalencies. She gets to see science in action by watching how a whole egg changes when it is cracked, then beaten, then how it combines with additional ingredients in the mixing bowl, and then again when the mixture is baked.
Do eggs get perfectly scrambled and are ingredients well incorporated when my toddler is left in charge? No, but I can take over in the end and whisk away.
Do recipes get prepared in a timely matter? Not at all. We all have a pre-prep snack if she helps me cook when tummies are already rumbling.
Do ingredients get sampled along the way? Yes, so we add a little more when needed.
Does the kitchen get way messier than when it's just me in there? Always. Then, the activity turns into a lesson about cleaning up our messes, too.
But having these experiences with her and helping her learn about and understand food in deeper ways is without a doubt worth all the mess and extra time these cooking sessions create.
Kids in the Kitchen Tip: Always make sure to keep your cooking and your sous chef sanitary and safe by washing toddler hands and wiping counters right after touching ingredients that can be dangerous, such as raw eggs.
For this recipe, I used Wholesome Sweeteners Organic Coconut Palm Sugar, which I received in a box of sweet goodies from Wholesome Sweeteners to sample. I prefer this unrefined sugar to the refined type, since it is derived from drying the nectar of the coconut palm tree flower, which gives it a rich, caramel flavor while retaining some of the nutrients of the nectar. One cup of this sugar is equivalent to one cup of light brown sugar.
Coconut French Toast
Yields 3-6 servings
Ingredients:
-6 pieces whole grain bread
-2 whole eggs
-2 egg whites
-3 tablespoons milk
-½ teaspoon pure vanilla extract
-1 tablespoon Wholesome Sweeteners Organic Coconut Palm Sugar
-1 tablespoon shredded unsweetened coconut, plus additional for topping (I like Bob's Red Mill brand)
-Optional toppings: pure maple syrup, honey, unsalted butter
Preparation:
Heat the oven to 375° and line a baking sheet with a Silpat or parchment paper.
Whisk all of the ingredients together in a large bowl.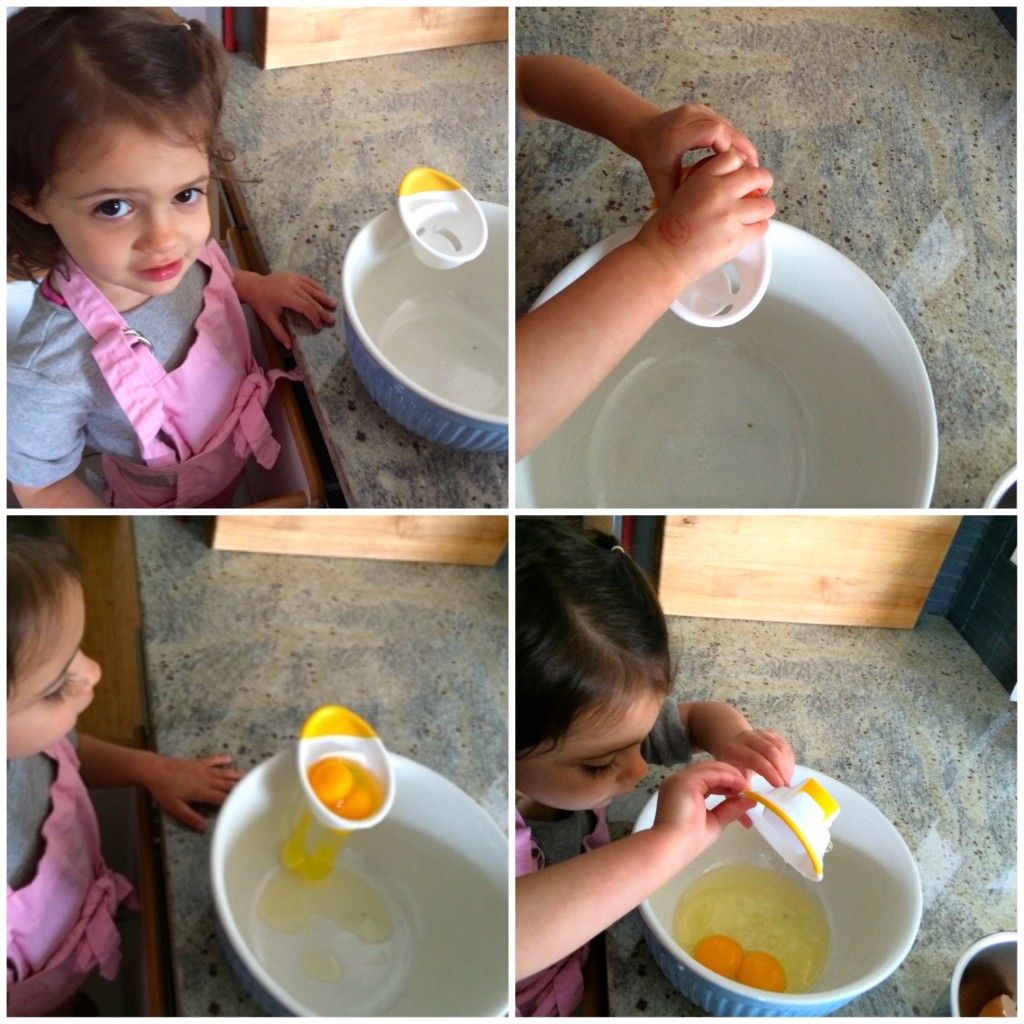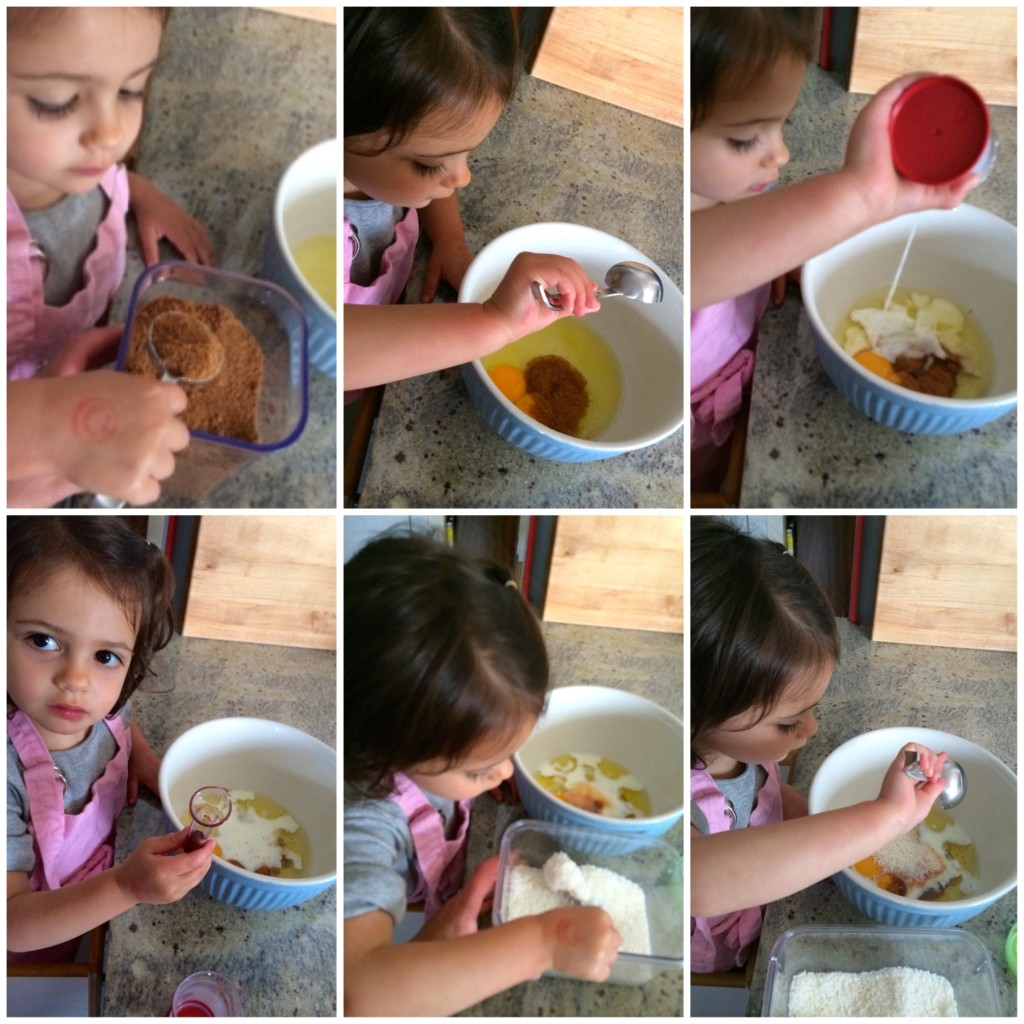 One piece at a time, dip each side of the bread into the egg mixture. I like to gently press down the bread to let it soak in some of the egg mixture.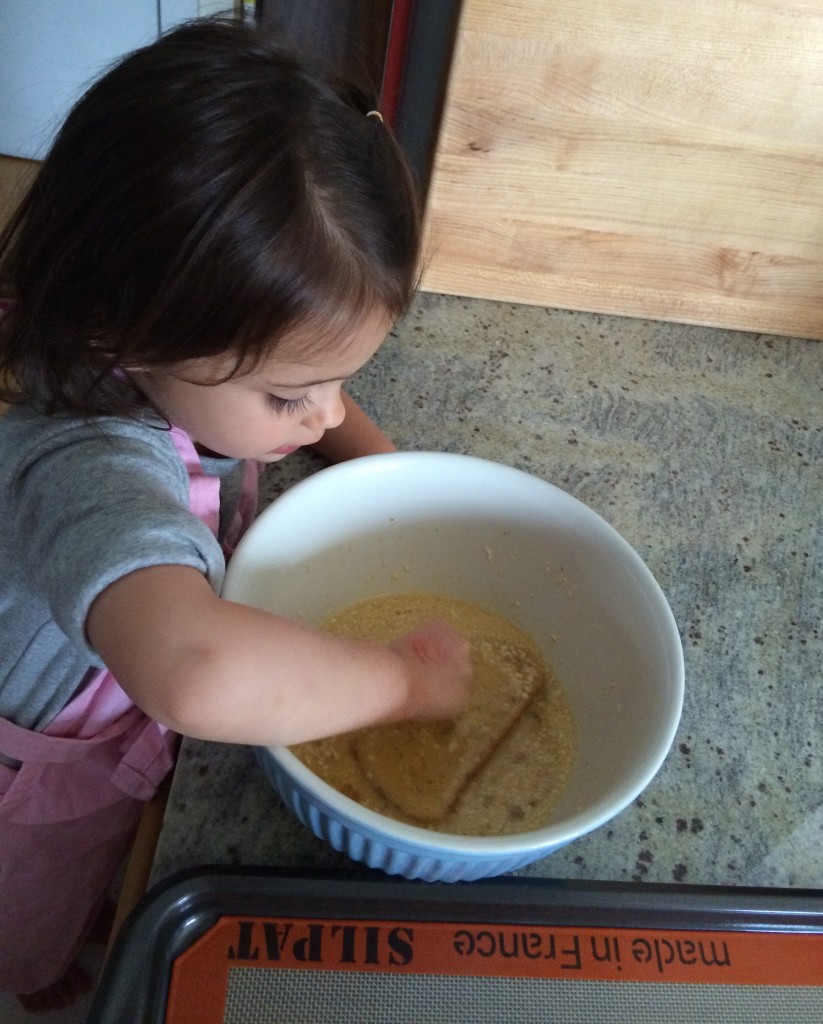 Place bread slices on baking sheet and bake for 12-13 minutes, flipping once after 6-7 minutes.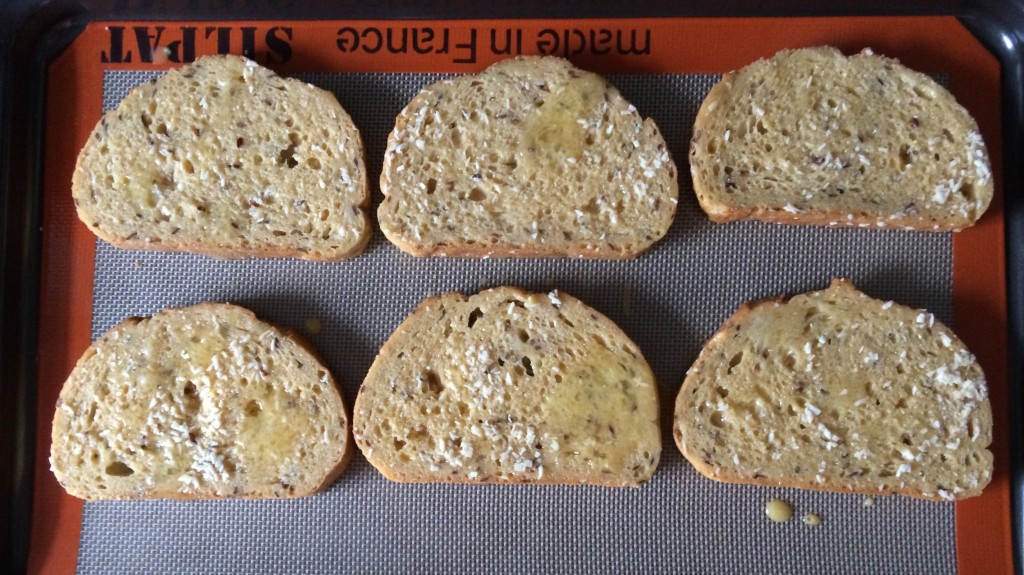 Top each slice with a sprinkle of coconut flakes, additional desired toppings and enjoy!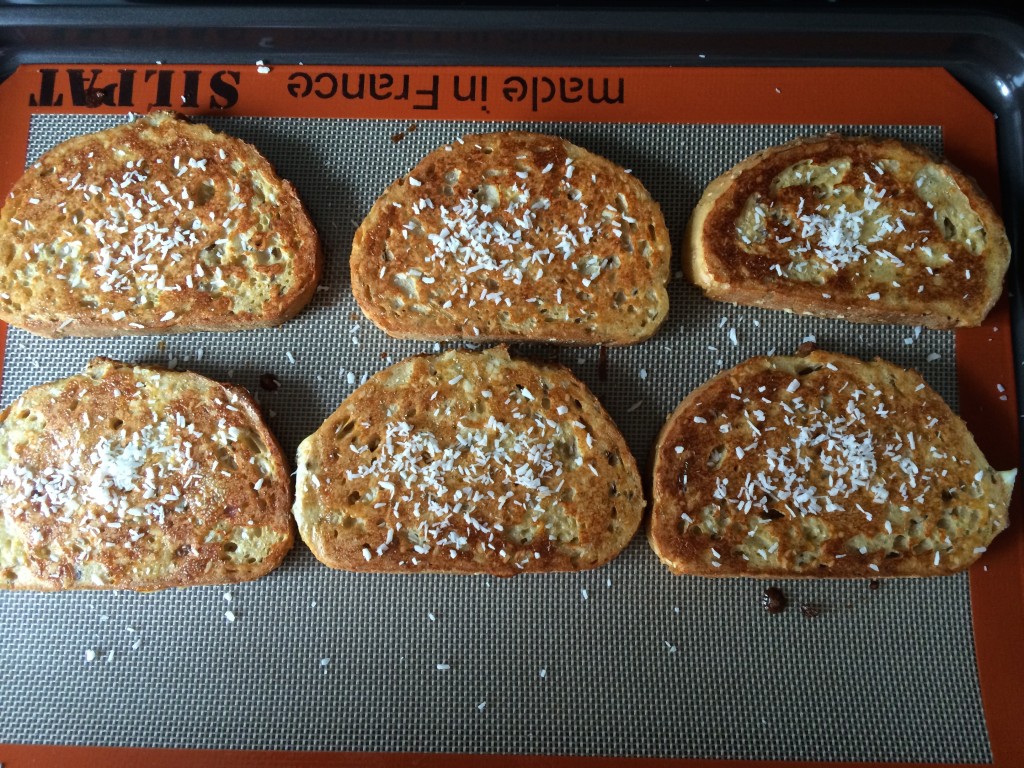 Happy Cooking!
Tags: breakfast, coconut, coconut palm sugar, eggs, Kids Cook, milk, vanilla
« Previous 8 Food Safety Facts All Home Cooks Should Know Green Hummus: {Meatless} Monday Meal Next »