Print This Post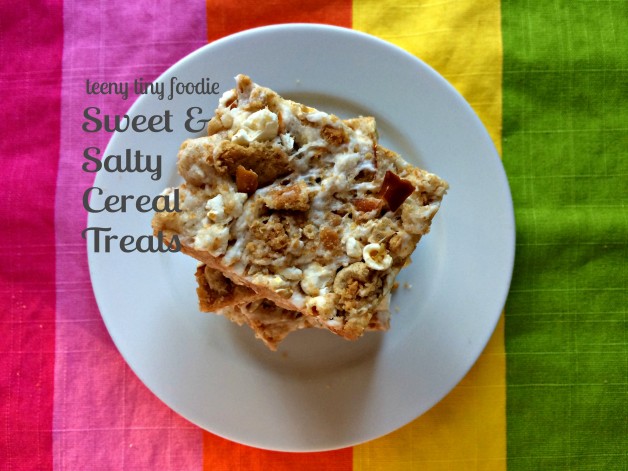 Today we are sharing a new recipe that Eliana and I developed together! This recipe for Sweet & Salty Cereal Treats has a special place in my heart because it was the first recipe that we prepared together in our new kitchen in the burbs. We've been working hard on and, dare I say, perfecting it since we moved and we're finally ready to share it with you. Eliana and I made this recipe many times for #WeCookWednesday in order to get it "right." On Wednesdays, Eliana and I make whatever she wants to make. Learn more about that kitchen tradition here.
Before I share our recipe, here are a few tips and ideas about it:
1. I recommend having all your tools and supplies ready to go before you begin. You'll need: a gallon-sized zipper-top bag, a large glass bowl that is microwave safe, a silicone spoon for mixing the ingredients together, a greased 9×13 inch baking dish and a heavy object you can use to crush the ingredients. I like to use a large rolling pin while Eliana has more success with a sturdy, metal measuring cup.
2. For this recipe, we used specific brands of some items. We used Dandies brand vegan marshmallows, Cascadian Farms brand Purely O's cereal, and Bachman brand pretzels, but you can use whichever marshmallows, whole grain cereal and pretzels you prefer.
3.  A little sous chef can help make this recipe by measuring and/or counting out ingredients, pouring them into the bag and bowl, mixing the ingredients together and crushing ingredients like the cereal and graham crackers. Younger sous chefs may have a harder time crushing the popcorn and pretzels so you might want to do that part. Be prepared because you may have to "fix" or finish the work of a younger sous chef. See the photos below for how Eliana helped make these treats.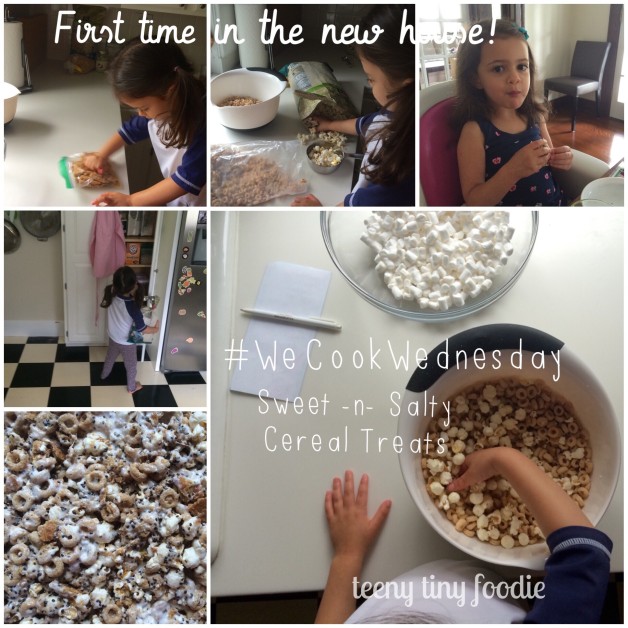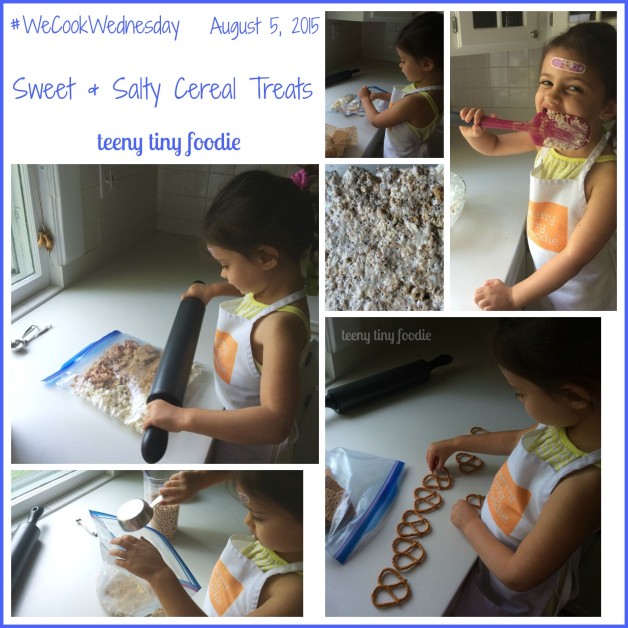 Counting out ingredients is a great way to work on math skills in the kitchen!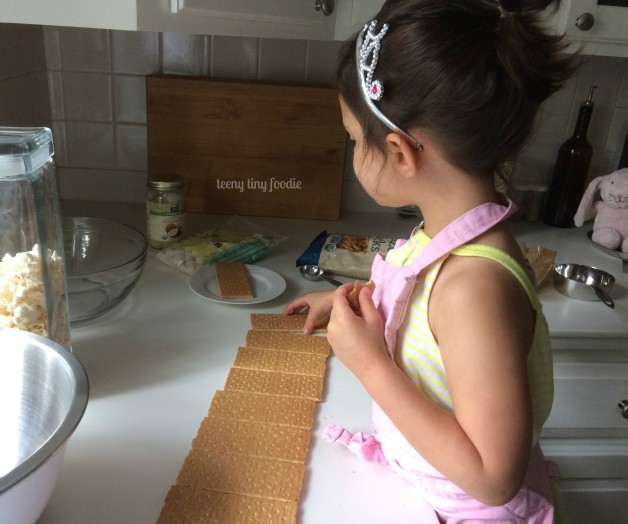 Smashing ingredients is something even a young sous chef can do in the kitchen. Plus, it's a great way to get out a little energy or release some tension when necessary!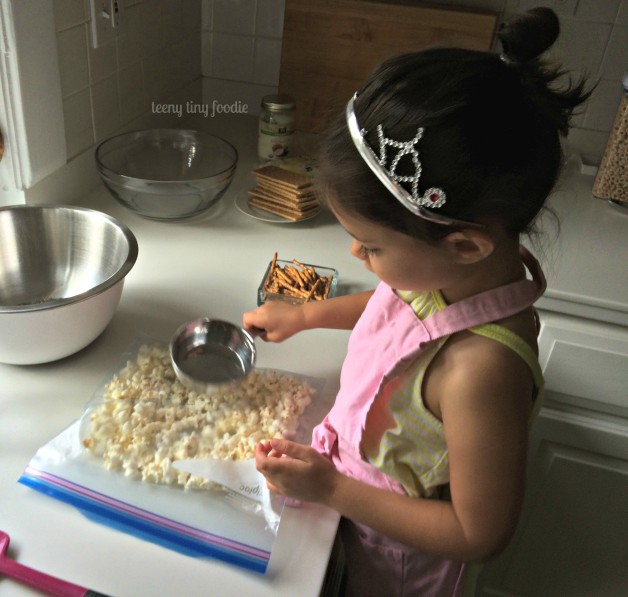 Without further ado, here's our recipe! We hope you love them just as much as we do.
Sweet and Salty Cereal Treats
Ingredients:
-2 cups whole grain "O's" cereal
-2½ cups lightly salted popcorn (We like to use air-popped popcorn)
-8 graham crackers
-1 cup pretzels
-¾ teaspoon salt
-10 ounces mini marshmallows
-3 tablespoons refined coconut oil
-Oil or cooking spray to grease the 9×13 inch baking dish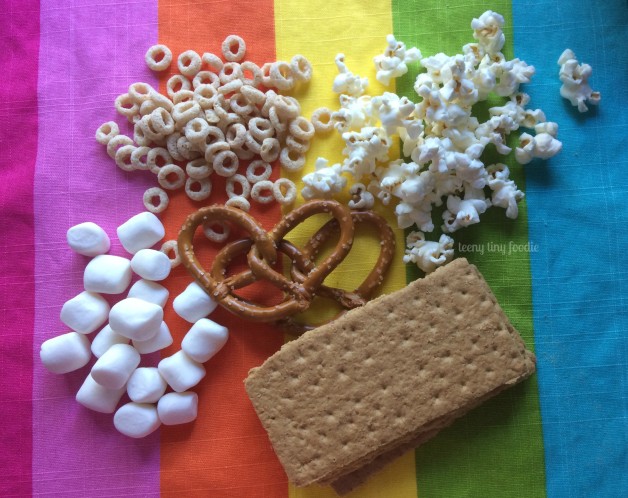 Preparation:
Crush the dry ingredients:
You want to break down the dry ingredients in the suggested order to prevent having cereal and graham cracker dust. First, put the popcorn and pretzels into a zipper-top bag, seal it and crush with a rolling pin or other heavy object. Once the pretzels have broken into bite-sized pieces, add the cereal to the bag, seal it, and crush the mixture a little bit more. Finally, add the graham crackers, seal the bag, and smash the mixture a little more so the graham crackers are broken into bite-sized pieces. Add the salt, seal the bag again and shake it around so everything mixes together.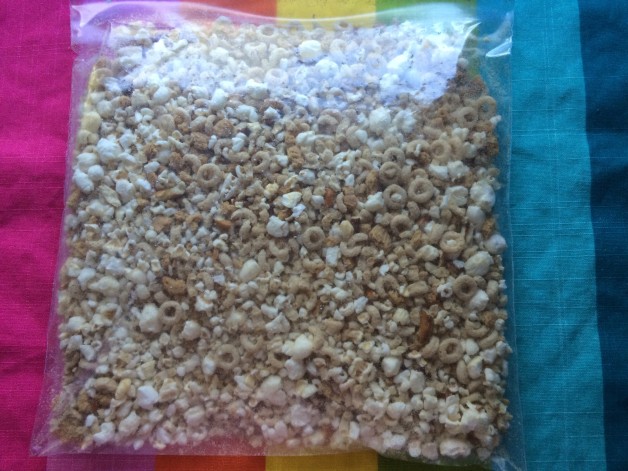 Prepare the marshmallows and coconut oil:
Place the marshmallows and coconut oil into a large glass bowl, and microwave them until the marshmallows have melted. This usually takes around 2 minutes in my microwave.
Mix it all together:
Stir the melted marshmallows and coconut oil together then add the crushed dry ingredients and carefully mix it all together so the dry ingredients are coated in the marshmallow mixture.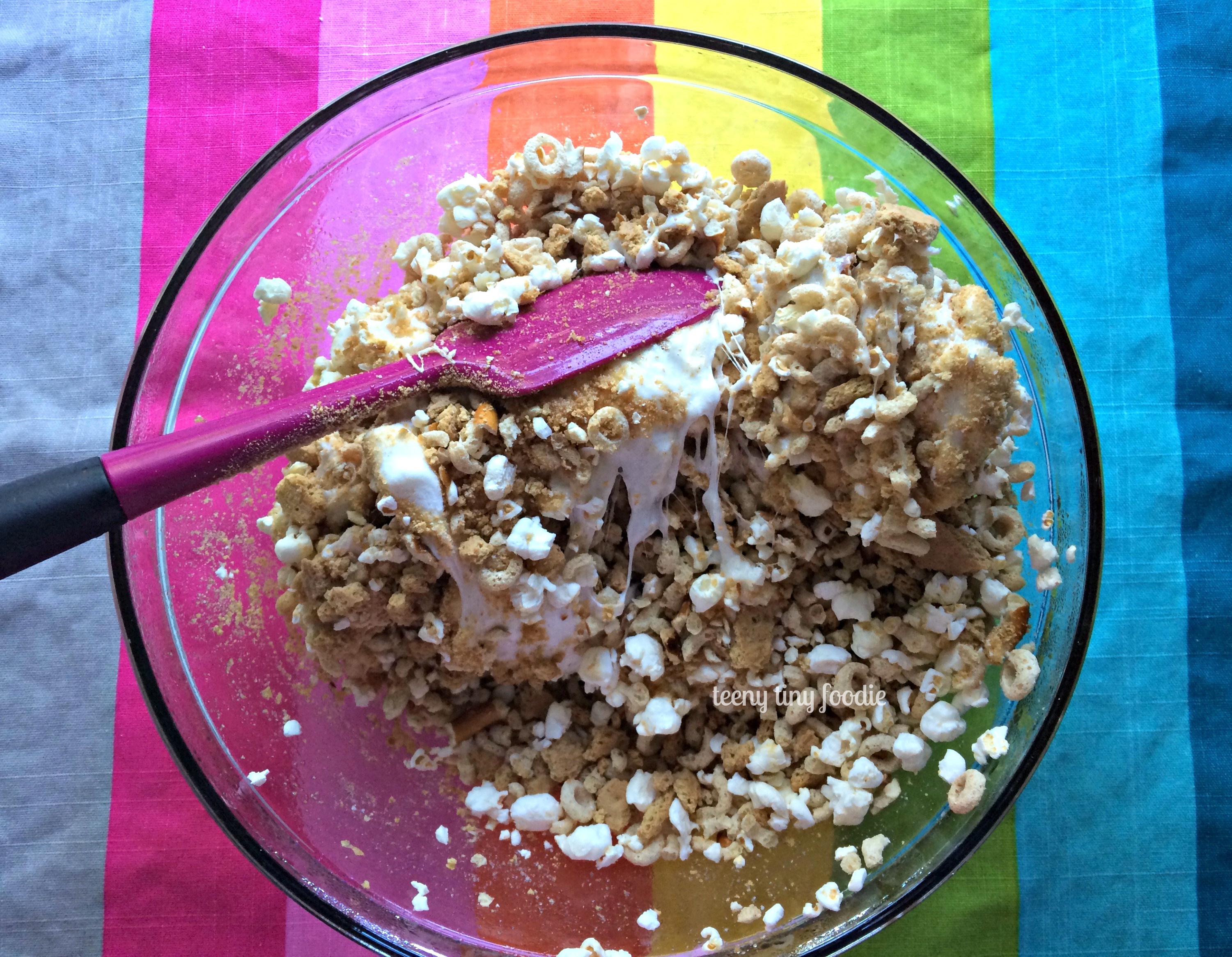 Finish it up:
Pour the mixture into the greased baking dish, press it down and flatten it out into the dish. Let it cool for at least a hour before slicing and enjoying.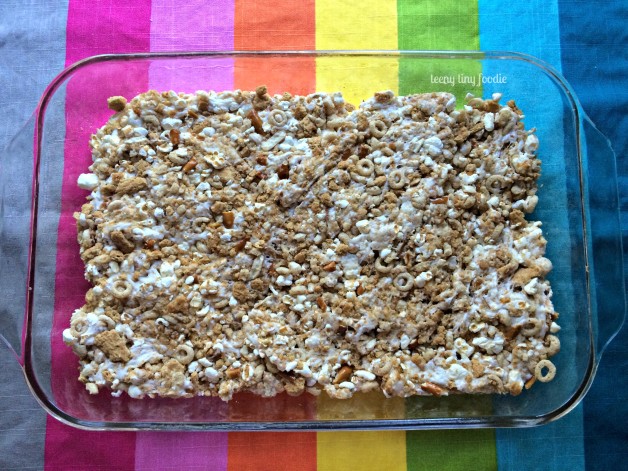 Happy Cooking!
Tags: #WeCookWednesday, coconut oil, dessert, graham crackers, Kids Cook, marshmallows, Meatless Monday, popcorn, pretzels, vegetarian
« Previous Cooking with Eliana & October Unprocessed 2015 How To Freeze Homemade Pancakes and French Toast Next »