Print This Post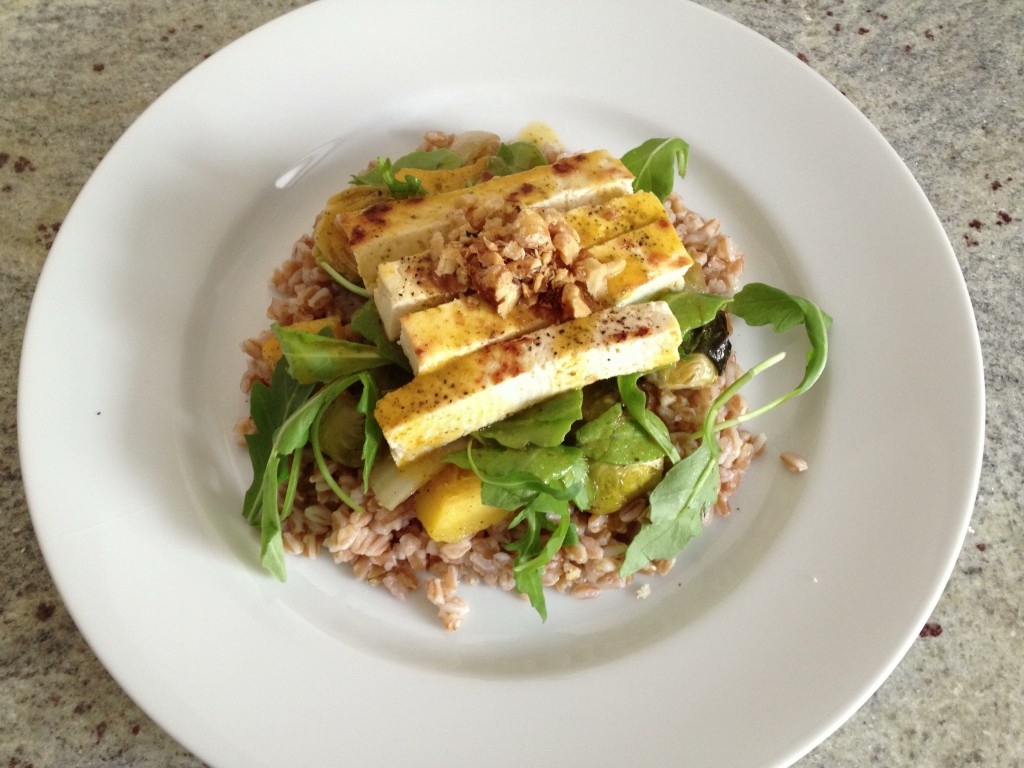 When we came home from visiting my parents for a week, I noticed two things in our kitchen that needed to be cooked right away: an acorn squash and two pounds of extra-firm tofu. So, those ingredients rattled around in my brain until I came up with the recipe below. This recipe is broken up into six steps but the steps overlap in terms of timing, so you can work on more than one step at a time.
The next time I make this, which will likely be this week, I will roast two acorn squashes so I can make extra sauce. It was so delicious that I used the left over sauce on other recipes across the week.
Roasted Vegetables with Seared Tofu and Squash Sauce
Prep time: around 25 minutes                Cooking time: around 1 hour and 10 minutes
-2 zucchinis, sliced into ½ inch rounds
-1 large onion, sliced into half-moons
-2 cups brussel sprouts, sliced in half
-1 acorn squash, cut in half with seeds scooped out
-1-2 cloves of garlic, ends cut off but with the skin still on
-1 quart low-sodium vegetable broth (I try to use organic broth when I can find it)
-6 sage leaves
-2 cups organic arugula, washed and patted dry
-1-2 pounds extra firm tofu, drained and pressed (Click here for how to press tofu)
-½ cup walnuts, halved
-1 cup uncooked farro
-Homemade spice mixture consisting of: ½ tablespoon each of cinnamon and chili powder and ½ teaspoon each of salt and pepper
-Olive oil to taste
Step 1: Press the tofu and roast the walnuts:
Press the tofu. Preheat the oven to 350°. Make the spice mixture and adjust seasonings to your liking. Spread walnuts in a single layer on a baking sheet. Roast walnuts for 5-10 minutes stirring a few times. After removing the walnuts from the oven, pour into a medium-sized bowl and toss with around ½ tablespoon of the spice mixture. Set aside to cool. After the walnuts cool, finely chop them.
Step 2: Roast the vegetables
Turn the oven up to 400°. Place the acorn halves in a baking dish or on a rimmed baking sheet.  Brush with olive oil and sprinkle with 1 teaspoon of the spice mixture. Set aside. Into a large bowl, put the brussel sprouts, onion and zucchini. Toss with olive oil, salt and pepper. Pour into a lined roasting pan or baking pan. Wrap the garlic cloves in foil and place them in a corner of the roasting pan with the mixed vegetables. Roast both the acorn squash and mixed vegetables for 30-40 minutes. Stir the mixed vegetables a few times. After 30 minutes, test the acorn squash by piercing it with a fork. If it is tender, remove it. Otherwise, test again in 5 minutes. After the acorn squash cools a bit, put ¼ of the squash aside to make the sauce. Cut up the rest of the acorn squash into 1-inch chunks and mix it in with the other roasted vegetables.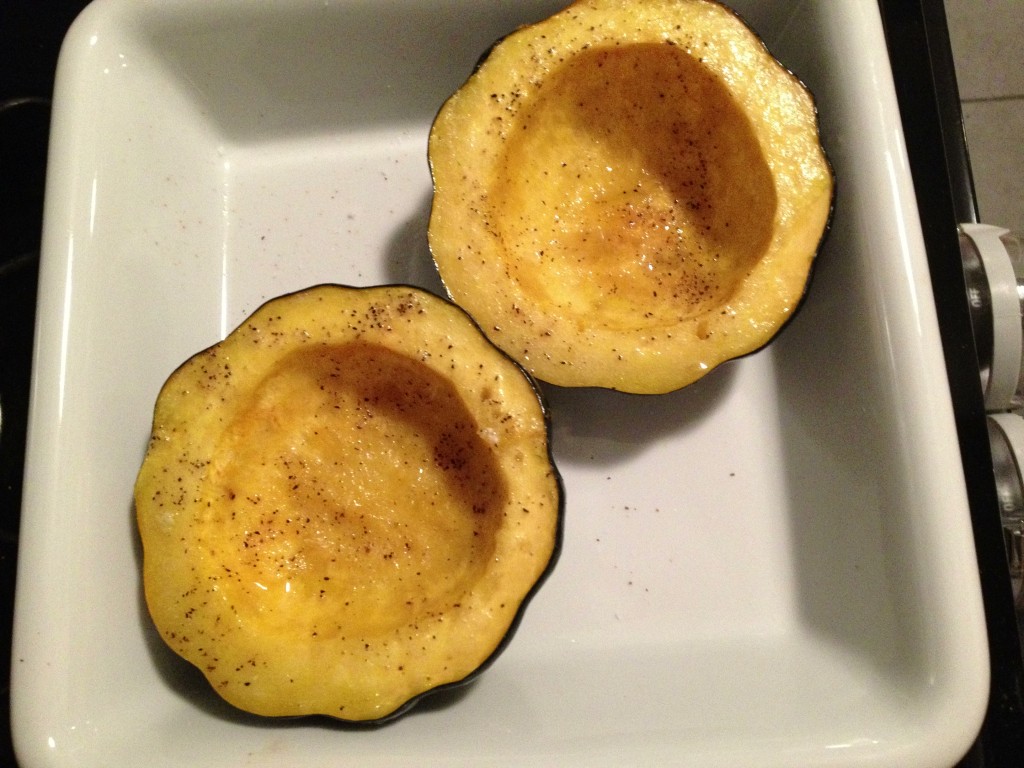 Step 3: Cook the farro
Meanwhile, prepare the farro. Put 1½ cups of vegetable broth, 1 cup of water, a sprinkle of salt and the farro into a medium-sized saucepan and stir. Bring to a boil. Simmer the farro, partially covered, for 25-35 minutes stirring occasionally until tender.
Step 4: Prepare the squash sauce
While the farro cooks, prepare the squash sauce by bringing 2½ cups of vegetable broth to a boil in a small saucepan. Once it is boiling, put the sage leaves, reserved ¼ of the roasted acorn squash, 1-2 pinches of the spice mixture and roasted garlic into the saucepan. Simmer for 4-5 minutes. Remove from the heat and puree. Taste and adjust seasoning as needed.
Step 5: Sear the tofu
Sear the tofu by heating a large non-stick pan over medium-high heat. Sprinkle a little bit of salt and pepper on one side of the tofu slices and place seasoned-side down in the pan for around 3 minutes. Season the other side of the tofu and flip. Cook for 3 more minutes. Repeat steps until all the tofu is seared on both sides. Cut into 1-inch thick strips or chunks.
Step 6: Put it all together
Build the plates by layering in the following order: Start with farro, then add the roasted vegetables, next arugula, after that the tofu. Ladle squash sauce over it all and then top with some chopped walnuts.
Variations:

-Serve with a different protein such as a fried egg or a baked/grilled chicken breast seasoned with the spice mixture
-Serve over a different short, whole grain such as brown rice, quinoa, whole-wheat orzo or whole-wheat couscous
-Substitute pistachios for the walnuts
So, did Eliana, the teeny tiny foodie, like it? Despite the funny faces she's making in the photos below, she ate it up.
Happy Cooking!
Tags: arugula, farro, leafy greens, Meatless Monday, nuts, sprouts, Thanksgiving
« Previous Homemade Croutons This Little Foodie Went to Market Next »