Print This Post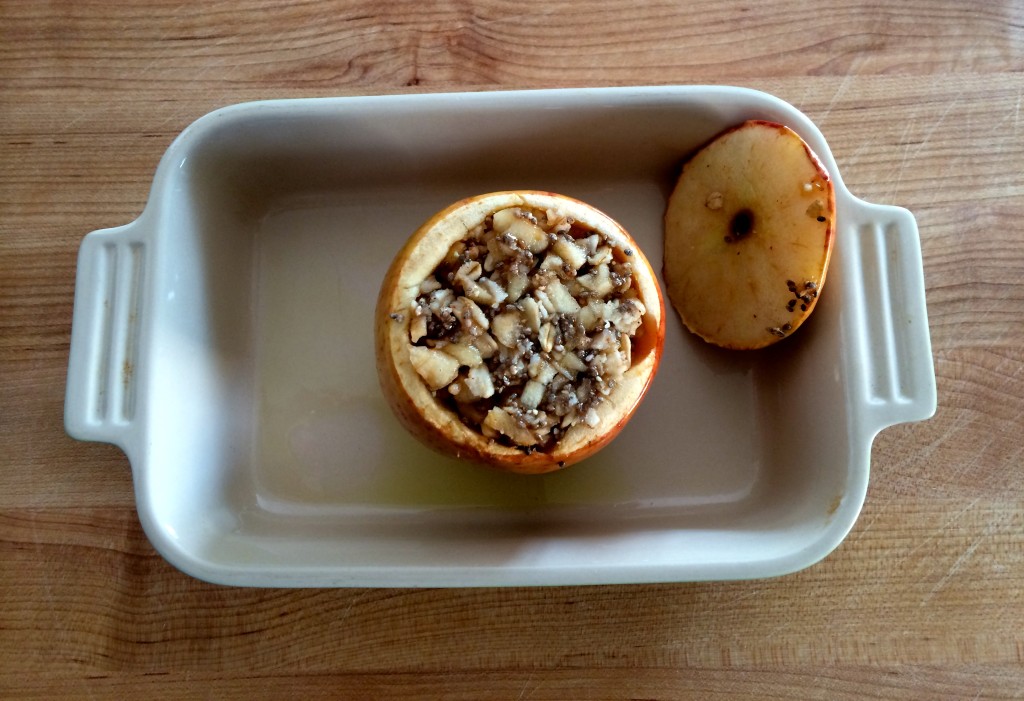 The other day I looked into the fridge and saw- GASP –an apple that was about to move past its prime. NOOOOO! I hate, hate, hate when I forget about delicious, healthy, fresh produce and don't use it in time. Normally, I'll just turn older apples into applesauce to add to yogurt, oatmeal or eat by itself. But then I got to thinking: apples…oatmeal…maple syrup. Hmmmmm. So what did I do? I came up with this tasty way to enjoy an apple even if it's on its way out. Enjoy this tasty breakfast on its own or accompanied by some plain yogurt. Or, turn it into a delicious dessert and serve it alongside some ice cream or frozen yogurt for a sweet treat.
First, a couple of tips and ideas about this recipe:
1. Most importantly, be careful when removing the top of the baked apple. Steam will escape and it can be very hot.
2. Your Little Chef can help you prepare this treat by mixing the ingredients together (with support) or helping to fill the apple before baking it. You can also give your Little Chef some culinary control by allowing her to sprinkle in some extra ingredients such as unsweetened, shredded coconut or raisins.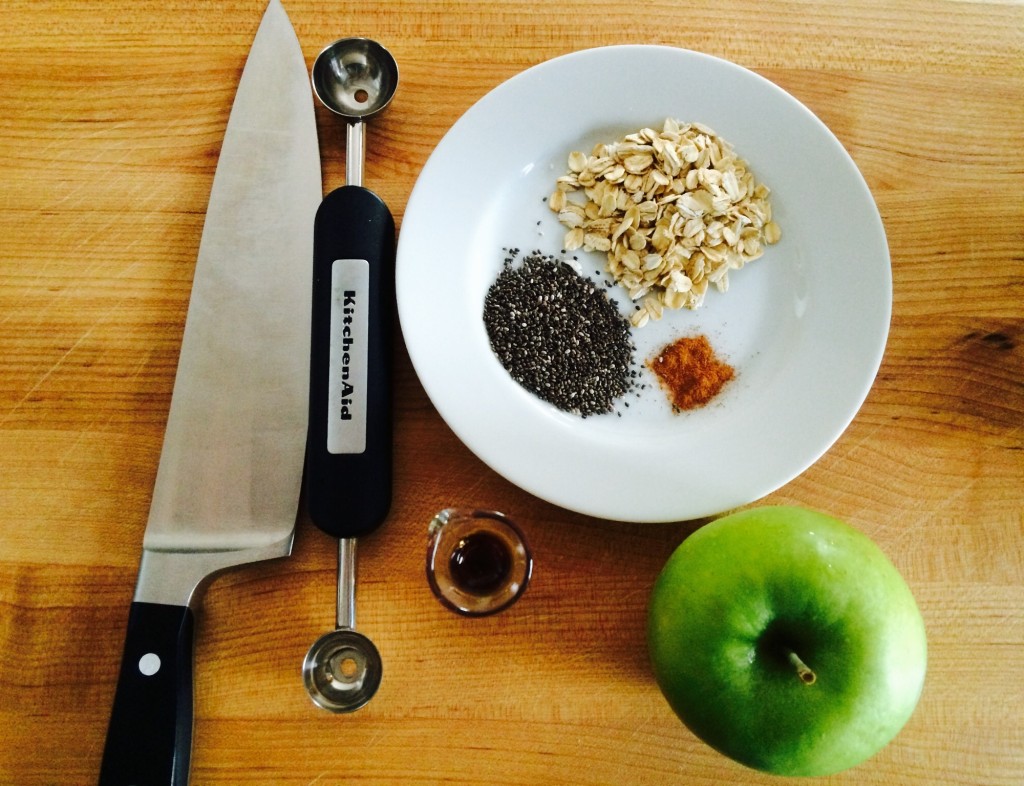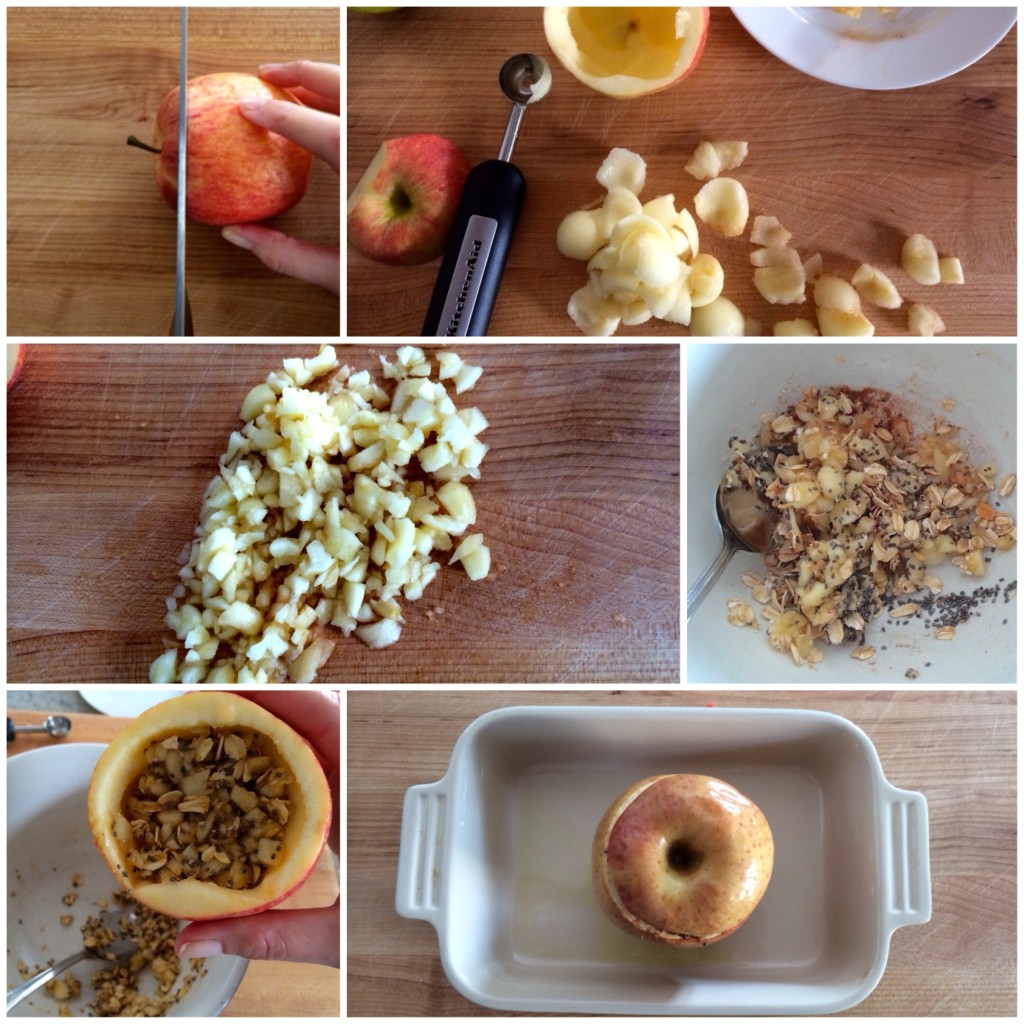 Baked Apple with Oatmeal
Yields 1 serving
Ingredients:
-1 apple
-1 teaspoon chia seeds
-1 teaspoon maple syrup
-1 tablespoon oats
-Dash of cinnamon
Preparation:
Heat the oven to 325° and either grease a baking dish or line it with parchment paper.
Slice off the top ⅛ inch of the apple, leaving a ring intact. Set top aside.
Scoop out and discard the core.
Scoop out the rest of the flesh leaving a border around ⅛ inch thick of apple. I find that a small melon baller or even a rounded ½ teaspoon-sized measuring spoon works well.
Finely chop the apple pieces and add them to a bowl.
Stir in the rest of the ingredients and mix well.
Fill the empty apple with the mixture. Fill to the top and pack it down. Cover with the apple top and place in baking dish.
Bake for 35 minutes.
Please be careful when removing the lid of the baked apple because steam will escape.
Eat topped with plain yogurt for a balanced breakfast, with vanilla ice cream for a sweet treat, or by itself.
Happy Cooking!
Tags: apples, chia seeds, cinnamon, maple syrup, Meatless Monday, oats, seeds, vegan
« Previous Sharing the Local Love: Two Perfect Gift Ideas to Enjoy in NYC Jalapeño Cornbread: {Meatless} Monday Meal Next »