Print This Post
At the end of July, my little family took our first official vacation together. For a week, we rented a house on Long Island's North Fork and lived like suburbanites. It was glorious and beautiful and amazing and everything we wanted from our family vacation. We walked to the neighborhood beach, enjoyed the use of full-sized appliances, and made many visits per day to our neighbors the horses (yes, literally, our neighbors were horses) to feed them apples.
The afternoon before we left for our getaway, I was running around packing everything, including my "Desert Island Kitchen Tools"  that I just had to have with me. However, I knew there were some veggies, eggs, bread and an onion that needed to be used up before we left town. What's the first thing that came to my mind when I saw all those ingredients together? A strata, of course. So, I made enough strata to enjoy that night for dinner as well as to have some leftovers for the next couple days.
My "recipe" for this Kitchen Sink Strata was to simply empty out the refrigerator and pantry by using every remaining vegetable and bit of bread we had before we left town for a week. Basically, throw everything but the kitchen sink into it and leave no perishables behind! A bonus of cooking a strata is that hands-on prep time isn't so long and the strata cooks in the oven with no attention needed for at least 40 minutes. So, I had hands-free time to pack or stress about whether or not I really must take my OXO Good Grips Whisk with me. (Yes I did, by the way. And I used it a few times).
Here's what I found when I searched the fridge and pantry:
-Three different types of bread: 1 half of a sesame bagel, 1 whole wheat pita and 4½ pieces of whole wheat bread
-1 small onion
-Half of a bunch of kale
-2 cobs of raw corn
-¼ pack of shredded mozzarella cheese
-An unopened pack of fresh mozzarella
Using those ingredients, here's the recipe for my Kitchen Sink Strata. Don't have these exact ingredients on hand? No problem! Stratas are very forgiving, so you can throw any old veggies, any type of bread, cheese (or not) and eggs in a baking dish and voila, you've got a meal. If you like the idea of an egg-based main dish but don't want to use any bread, then click here for a recipe for a frittata. Interested in an alternate "Kitchen Sink" type meal? Try my No Recipe Pantry Pasta Sauce.
Kitchen Sink Strata
Ingredients:
-All available bread cut into ½-inch chunks (enough to layer the bottom of the baking dish)
-5 egg whites and 3 whole eggs, whisked
-1 splash of milk
-1 small onion, chopped
-½ bunch kale, finely chopped
-Raw kernels from 2 cobs corn
-1 small handful parsley
-1 small handful basil, finely chopped
-½ cup shredded mozzarella
-Around ½ cup fresh mozzarella, chopped
-Parmesan cheese, shredded to taste
-Around 2 tablespoons olive oil
-Salt, pepper, garlic powder and chili powder to taste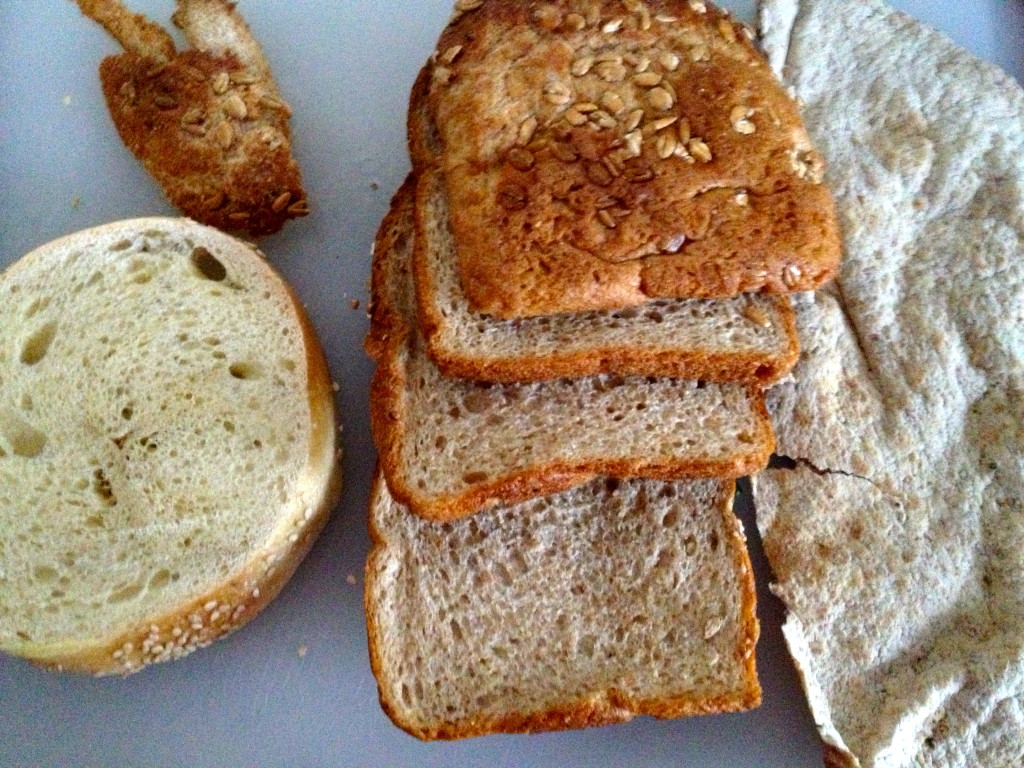 Preparation:
Heat the oven to 325° and grease a 9×12-inch baking dish.
Heat olive oil in a large pan over medium heat. Add the onions and a pinch of salt. Stir and sauté for 5-7 minutes, stirring occasionally.
Meanwhile, prepare the bread chunks and spread them in an even layer on the bottom of the baking dish.
Then, add the kale, kernels of corn and a pinch more salt to the onions. Stir again and sauté for around 2 minutes. Add the chopped basil and parsley and turn off the heat.
In a large bowl, whisk together the eggs, milk, a few pinches of salt and couple pinches of pepper, garlic powder and chili powder.
Stir the vegetables and cheese into the eggs and mix well. Pour mixture into the baking dish and bake for 40-45 minutes until set.
Let rest around 5 minutes before enjoying it.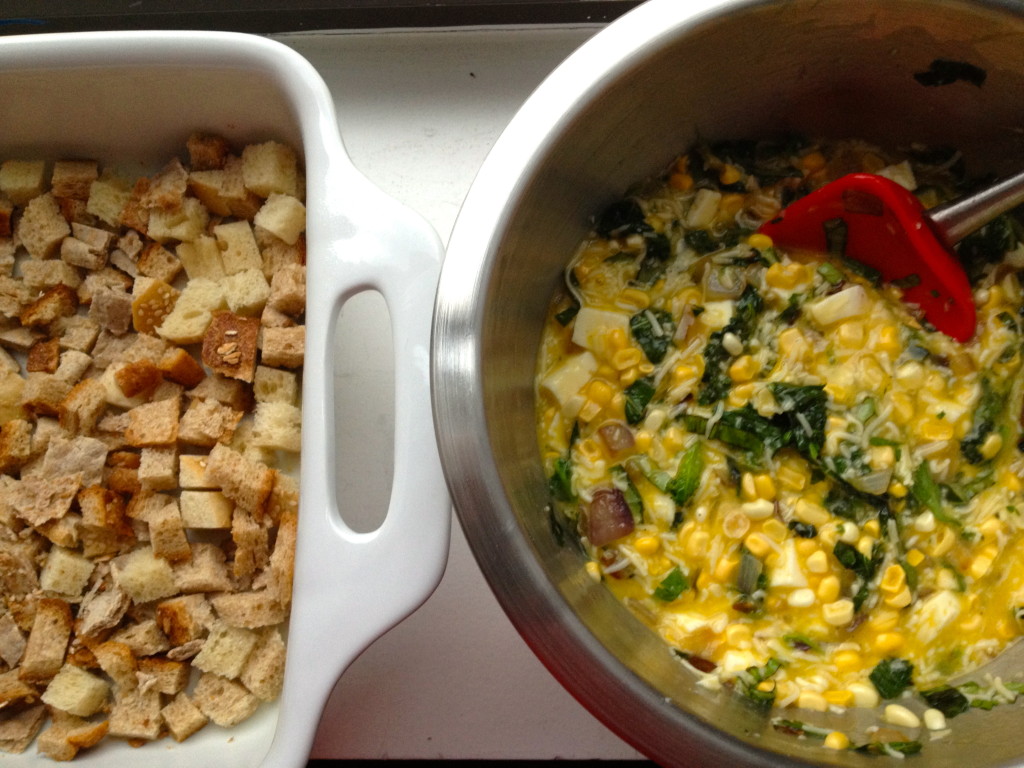 Happy Cooking
Tags: basil, bread, cheese, corn, eggs, kale, leafy greens, Meatless Monday, milk, onions, parsley, summer
« Previous Simple Blueberry Purée Desert Island Kitchen Tools and More Next »