Print This Post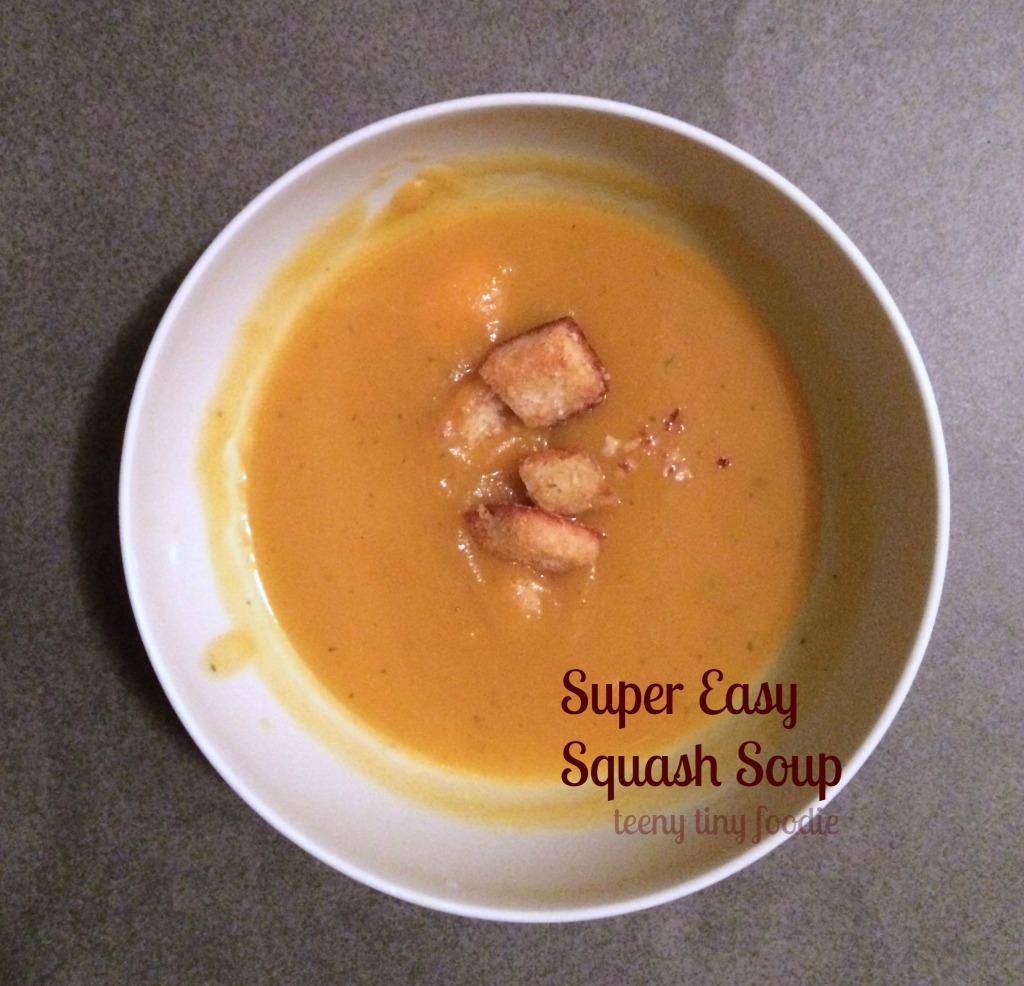 In my experience, the trick to getting my toddler to eat soup is the mix-ins. Often Eliana will exclaim that she doesn't like soup, even before she has tasted it or knows anything about it. That's when I break out my secret weapons: tasty mix-ins! Croutons are my favorite item to mix into her soup because Eliana can't resist carbs and she inevitably scoops up some soup as she digs out the croutons. Plus, the croutons absorb some of the soup so she gets even more of the soup into her belly. Without intending to, she eats almost an entire bowl of the soup she "doesn't like." Parenting win! I'm not above a little parental manipulation in the name of getting my daughter to eat healthy foods. 😉
For this soup, I made a variation on the recipe for my homemade croutons by tossing the bread with grated locatelli cheese before baking it and also right after it came out of the oven. You can certainly omit the cheese to keep this dish vegan. Other mix-ins I like to use include cubes of seared tofu, sliced or crushed nuts or popcorn. Also, we used butternut squash but you can use pumpkin or acorn squash or another winter squash if you prefer.
Super  Easy Squash Soup
Yields 3½ cups
Ingredients:
-3½ cups vegetable stock
-14 ounces or 6 cups of chopped roasted butternut squash
-½ yellow onion, diced
-2 cloves garlic, peeled and smashed
-2-3 teaspoons olive oil
-Sea salt and pepper, to taste
-Dash of cayenne pepper, optional
-Small sprig of fresh rosemary
-Fresh parsley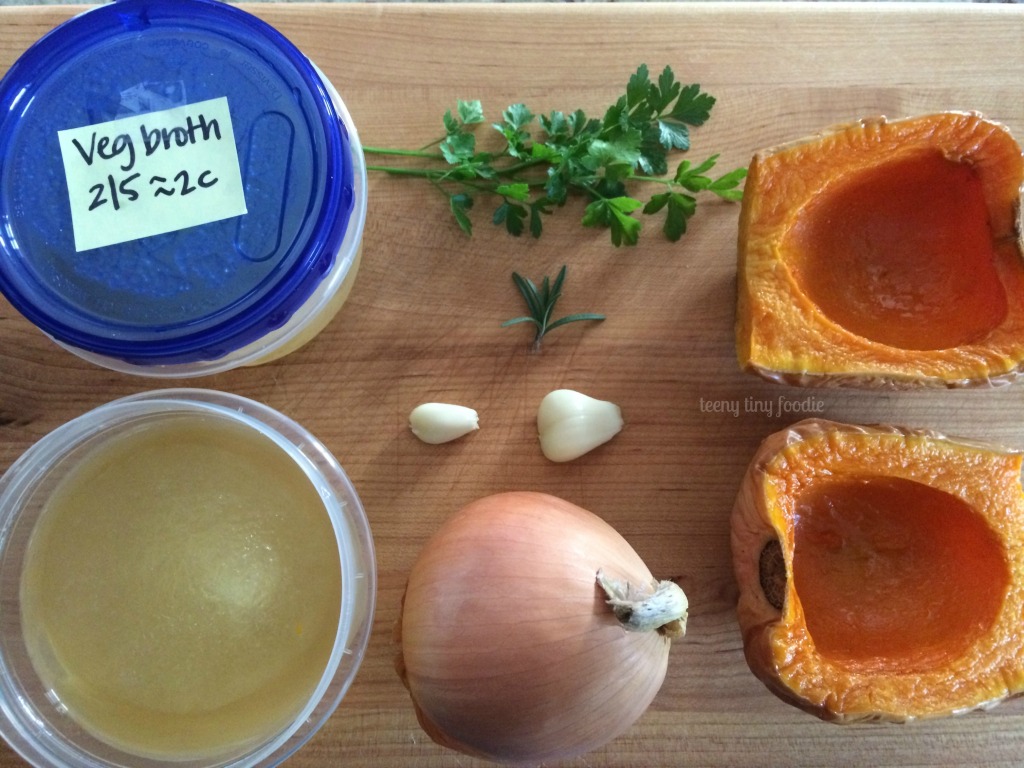 Preparation:
In a medium-sized saucepan, heat olive oil and garlic cloves over medium heat.
After a minute, add the onion and a pinch of salt. Stir occasionally and sauté until brown, around 10-12 minutes.
The bottom of the pan will brown a little bit. You want to use that to add extra flavor to the soup. Add a few tablespoons of the stock to the pan with the onions and stir vigorously to stir up the brown bits and deglaze the pan.
Cook for 2 more minutes. Add the butternut squash and 2 pinches of salt. Stir and cook for 3 more minutes.
Stir in the rest of the stock, cover and bring to a boil.
Boil for 5 minutes and reduce the heat to simmer for 20-30 minutes. Add parsley and rosemary and simmer for 8-10 minutes.
Turn off heat, remove the sprig of rosemary, and purée until smooth.
Giving my toddler the chance to add the mix ins by herself gives her the feeling that she is in charge of this meal.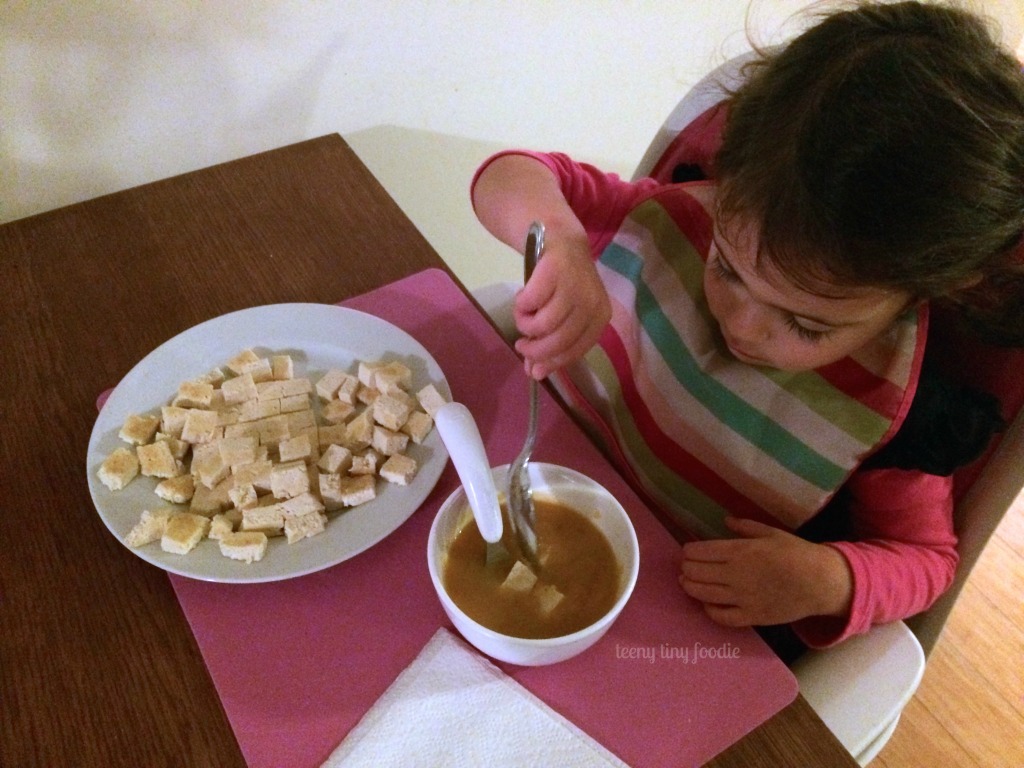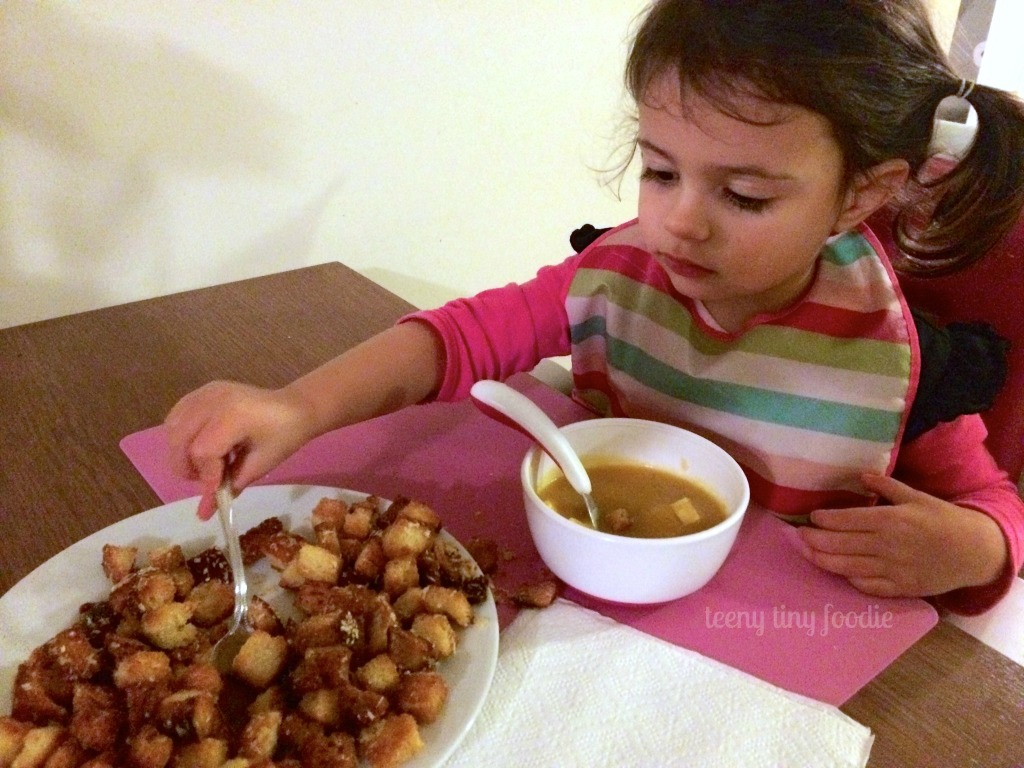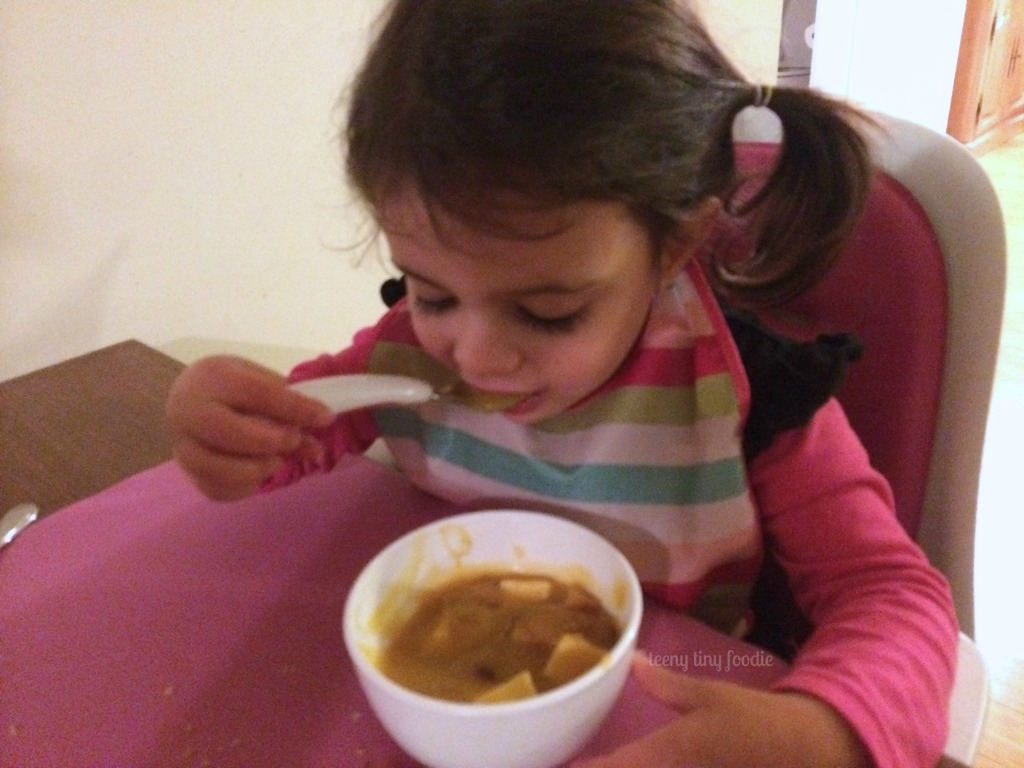 YUM!
Happy Cooking!
Tags: baby and family, butternut squash, Meatless Monday, Purees For Two, Thanksgiving, vegan, vegetarian
« Previous How to Roast Butternut Squash Cinnamon Squash Pie: {Kids Cook} Monday Meal Next »