Print This Post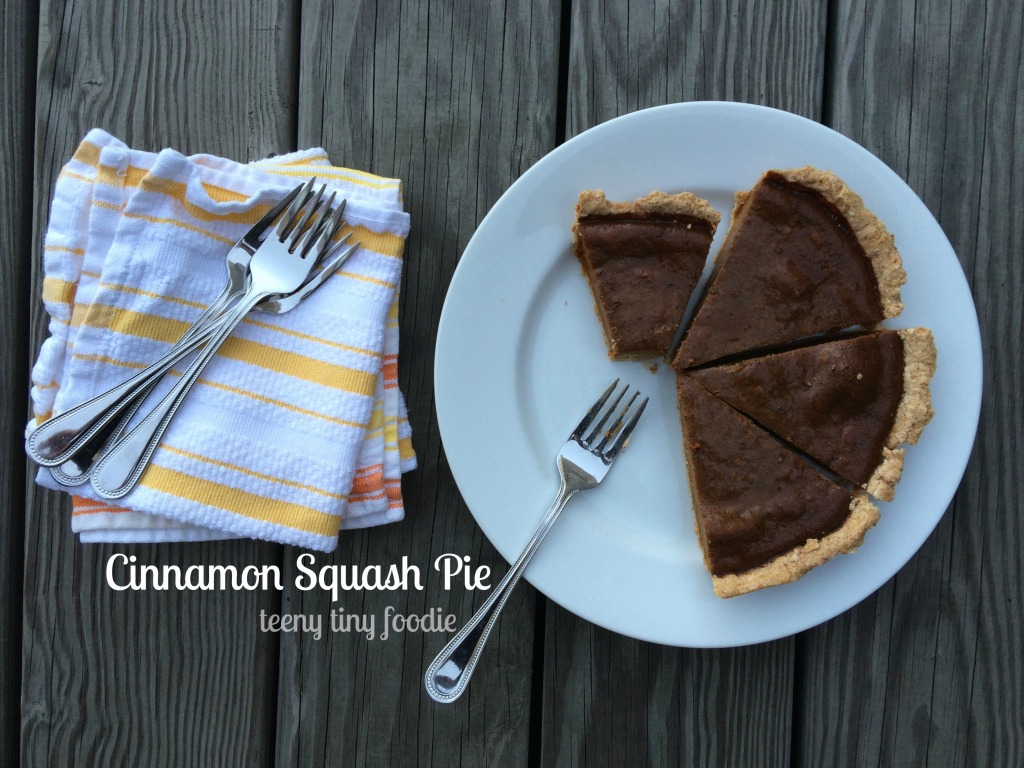 A few weeks ago, I told you all about our new kitchen tradition called #WeCookWednesday. The first recipe Eliana wanted to make together for this event was Pumpkin Pie. We made the recipe a few times and created our own version that I am sharing today. Below is our recipe for Cinnamon Squash Pie. It's so tasty, you just might want to swap out your traditional pumpkin pie for our version at your Thanksgiving dinner.
A few notes about the recipe:
1. You can roast and purée the butternut squash ahead of time. Keep it in an airtight container in the fridge for up to 3 days or in the freezer for up to 3 months. If you freeze it, don't forget to thaw it in the refrigerator for a few days before you want to use it.
2. You will have leftover butternut squash purée. You can serve it to your baby, turn it into macaroni and cheese, squash bites (in the recipe, swap 1-2 tablespoons of purée for the chopped squash), soup or pancakes.
3. Your little foodie(s) can help you prepare this recipe. The photos below  illustrate some of the ways my 3-year old helped me. Visit this post to get even more ideas.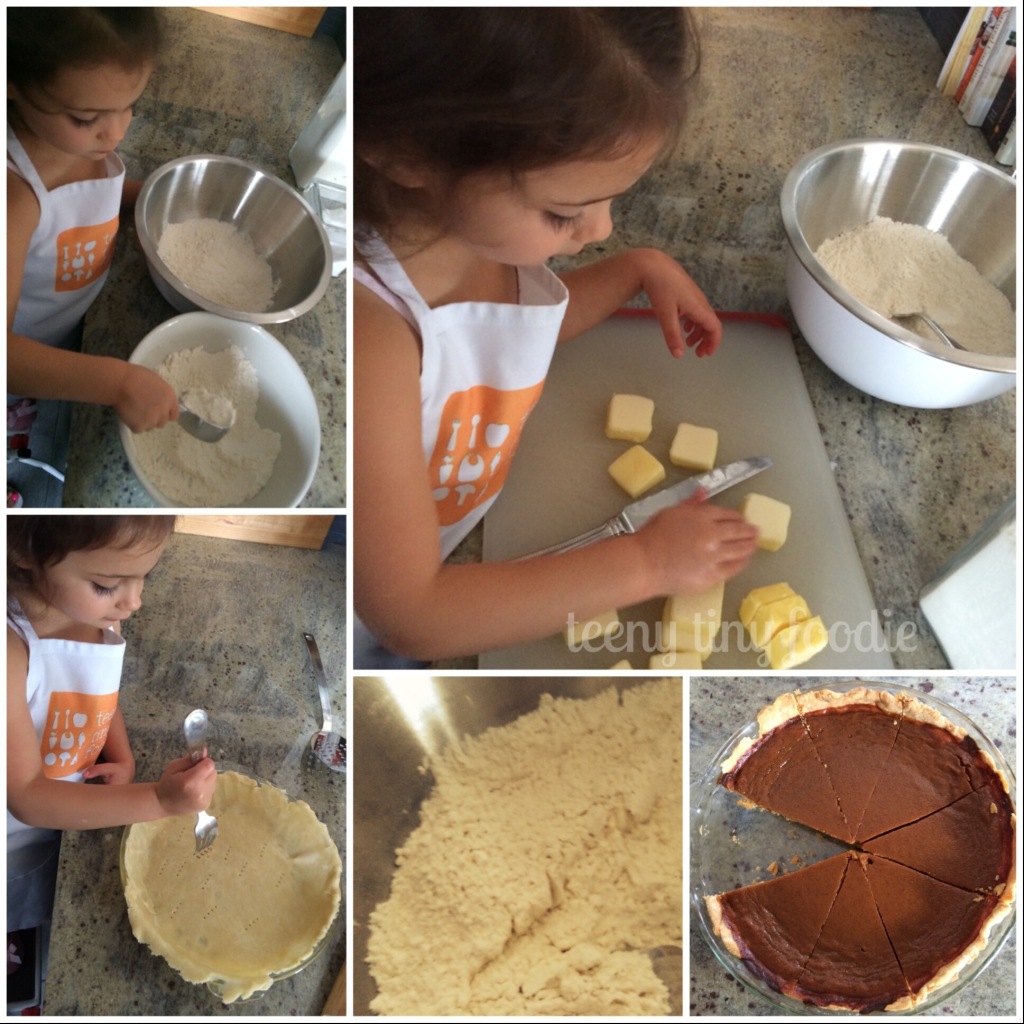 Ingredients:
For the butternut squash:
-1 small butternut squash, seeded and cut into quarters
-Olive oil to rub onto the squash
For the pie crust:
-1¼ cups whole wheat flour
-1 cup all purpose flour
-½ teaspoon salt
-12 tablespoons unsalted butter, cold and cut into small cubes
-5-6 tablespoons cold water
-1-2 cups dried beans for weighing down the crust while it bakes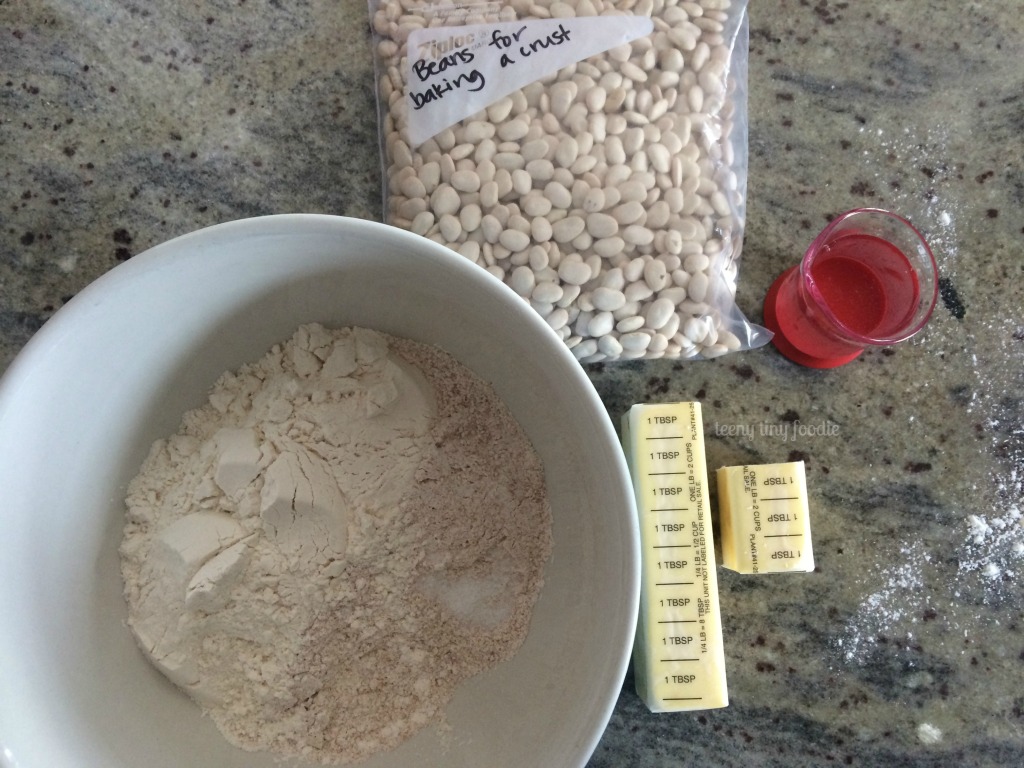 For the filling:
-3 cups roasted butternut squash purée
-3 large eggs
-2 teaspoons pure vanilla extract
-14 ounces sweetened condensed milk
-½ cup whipping cream
-2 tablespoons molasses
-2 tablespoons olive oil
-2 tablespoons arrowroot
-2 tablespoons cinnamon
-A pinch (approximately ⅛ teaspoon) fresh rosemary, finely chopped
-1 teaspoon ground ginger
-½ teaspoon salt
Preparation:
Heat your oven to 375°F and line a baking sheet with parchment paper. Rub the inside of squash pieces with olive oil, place them oiled side up on the baking sheet and bake for 40-50 minutes, or until you can pierce them with a fork. Remove from the oven and allow them to cool to the touch. Remove the skin and purée until smooth. Set aside around 3 cups for the pie filling. See above for ideas for how to use the rest.
Meanwhile, make the crust:
In a large bowl, whisk together the flour and salt. Add the butter, mixing it in with your hands until the mixture is crumbly. Take a break every 10 seconds or so to prevent the dough from getting too warm. Using a fork, stir in the water, 2 tablespoons at a time until the dough is moistened. Divide the dough into half and shape each half into a ball. Wrap one half tightly in plastic wrap and zip inside an airtight bag. Refrigerate it to use it within 2 days or freeze for up to 3 months.
Place a large piece of parchment paper onto your counter and lightly dust it with flour. Place the second half of the dough onto the parchment paper and roll it out into roughly a 12-inch circle (or as close as you can get it). Place an inverted 9-inch glass pie dish on top of the dough and carefully flip the dough and parchment paper over into the pie dish.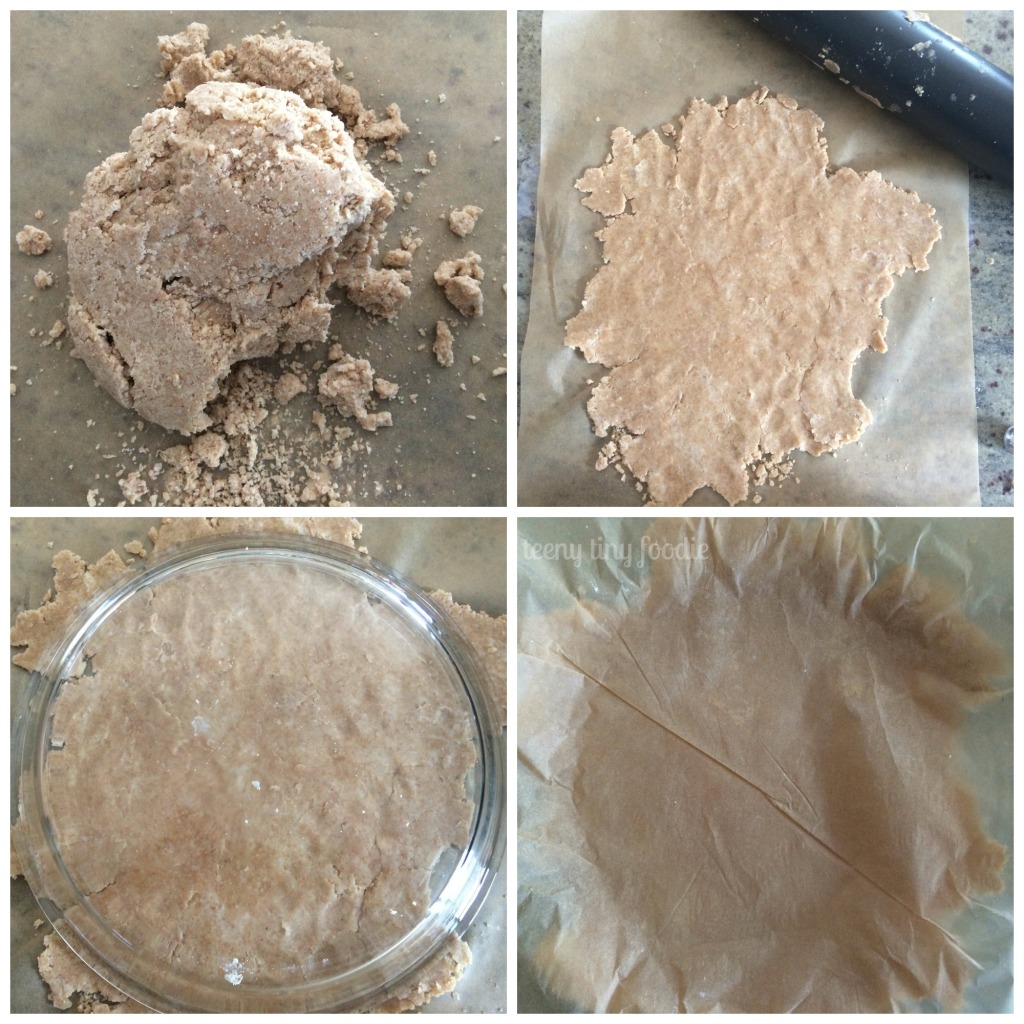 Press the dough down and remove any parts that hang over the dish. You can use them to fill in any gaps as needed. See the photos of my "Franken-crust" below. Pierce the dough all over with a fork. Refrigerate for 15 minutes.
Remove dough from the refrigerator and line it with parchment paper. Add the dried beans and spread them out evenly over the parchment paper and bake for 12 minutes. Remove from the oven and lower the heat to 350°F.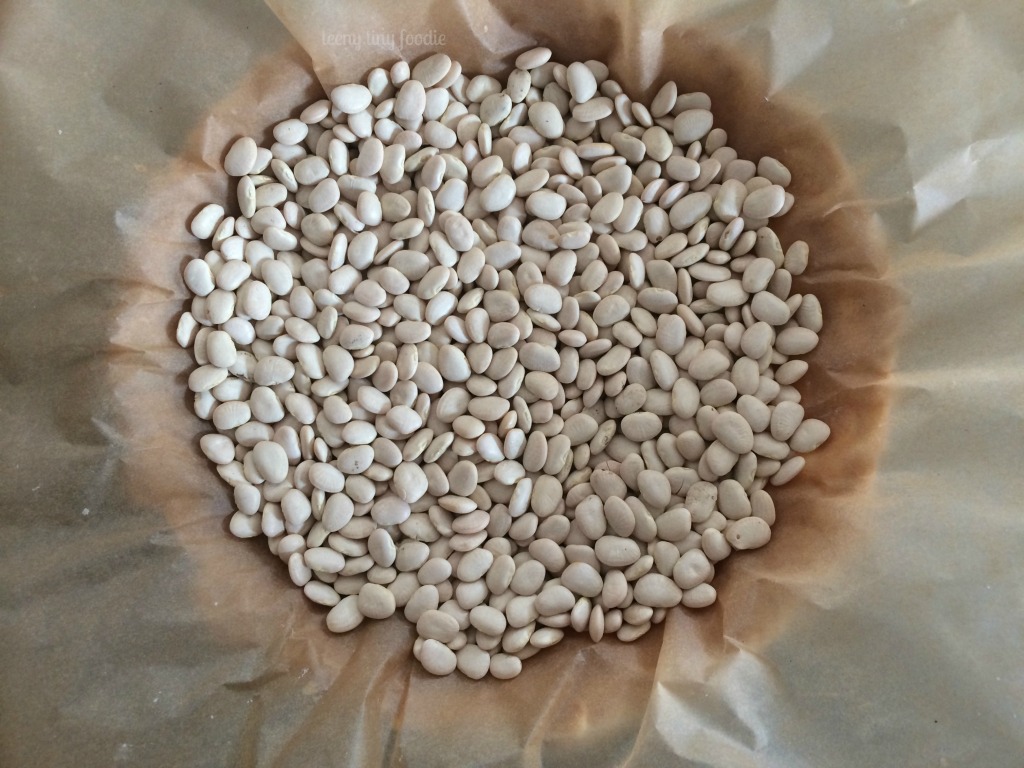 Prepare the filling:
In a small bowl, mix together the arrowroot, cinnamon, rosemary, ginger and salt and set aside. In a large bowl, whisk the eggs. Add the butternut squash purée, vanilla, milk, cream, molasses and olive oil to the large bowl and whisk together. Whisk in the arrowroot mixture from the small bowl.
Bake the pie:
Line a baking sheet with aluminum foil and place the crust on top of it. Pour the filling into the crust and bake for 1 hour and 25 minutes at 350°F. You will have around 1½ cups of filling leftover. You can bake the extra filling in a small greased baking dish or pour it into 4-6 lined muffin tins.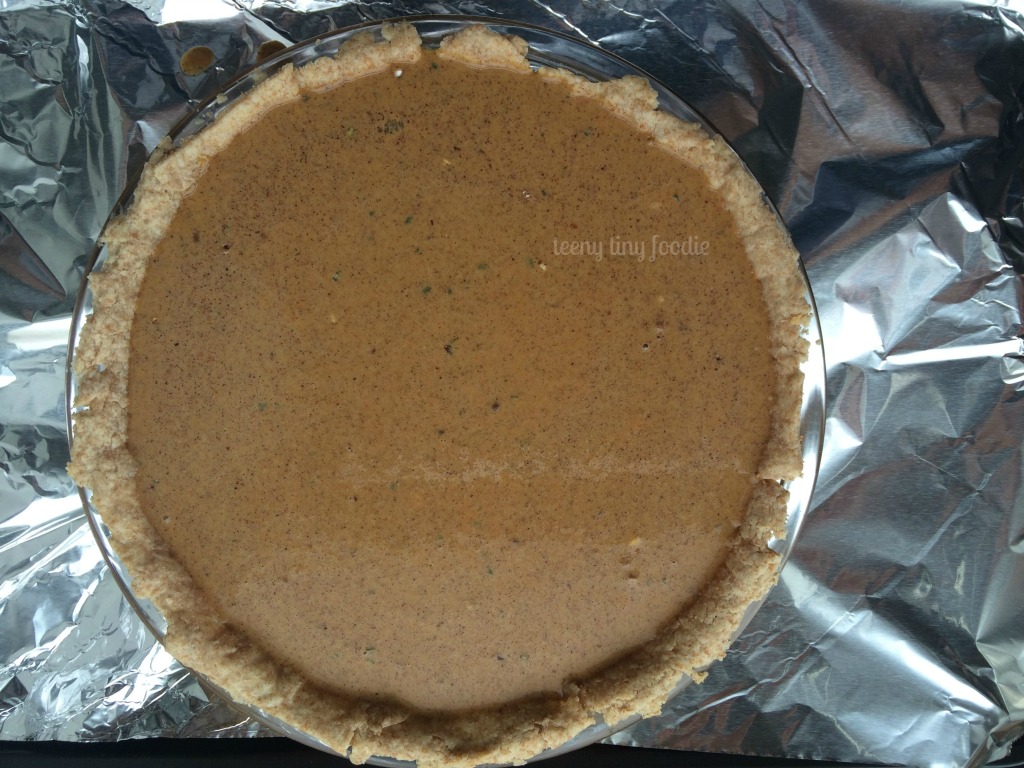 Transfer to a cooling rack and cool for at least 30 minutes before enjoying. Enjoy the pie at room temperature or chilled. Store pie in an airtight container in the refrigerator.
Unfortunately, I don't have any photos to share of Eliana eating the pie. She really liked it and she especially enjoyed dunking it into her milk before taking a bite. I just didn't manage to document it. Oops!
Happy Cooking!
Tags: #WeCookWednesday, baby and family, butternut squash, dessert, Kids Cook, Meatless Monday, Purees For Two, Thanksgiving
« Previous Super Easy Squash Soup: {Meatless} Monday Meal Farro with Butternut Squash Next »