Print This Post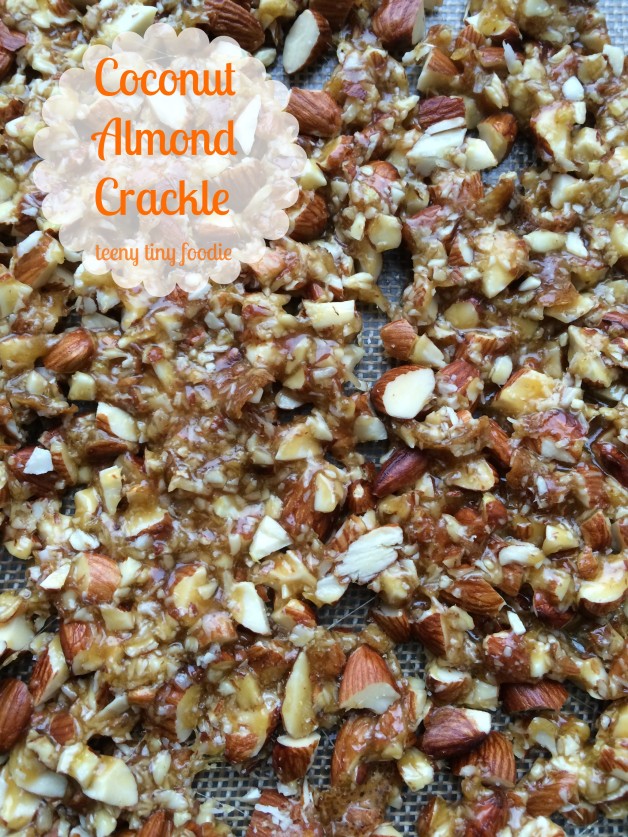 Around a month ago, I got the idea to make a crunchy brittle-like candy. After doing some research, it seemed like recipes for nut brittles typically include corn syrup. Corn syrup isn't an ingredient I keep on hand so I searched for a recipe without it. I found this one by Average Betty and modified it to create my recipe for Coconut Almond Crackle.
A couple of tips before the recipe:
First, to get a truly crunchy nut brittle, you need to use a candy thermometer. I made this recipe a few times without using a thermometer and it tasted delicious, but it wasn't as crunchy and candy-like as a typical nut brittle.
Second, once the temperature of the water mixture reaches 300°F, you'll need to work quickly, so make sure your baking soda and coconut oil are measured and ready to use before that happens.
Eliana helped me make this recipe. She helped by:
1. Measuring out the water, sugar, coconut flakes, baking soda, salt and almonds.
2. Pouring the sugar and water into the saucepan.
3. Pouring the chopped almonds, lemon zest and coconut flakes into the bowl and mixing them together.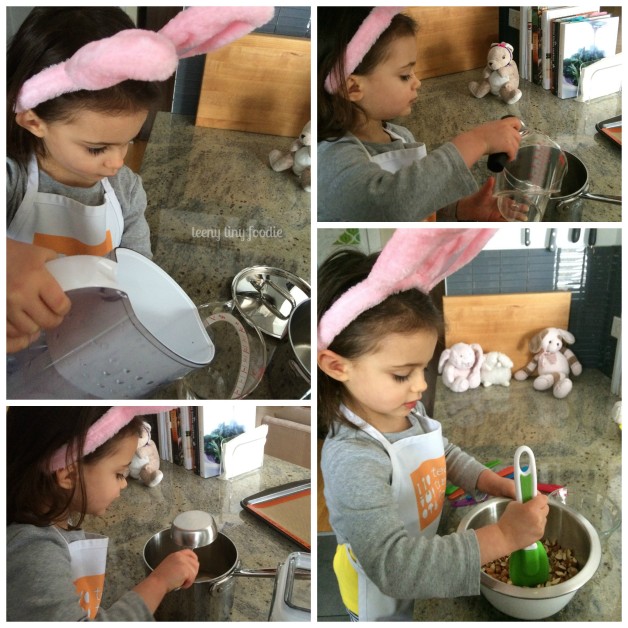 But, while we were cooking, the student became the teacher! Eliana decided she wanted to get her "babies" (her stuffed animals) to help us. She decided she would teach them some knife skills using her set of plastic knives from Ikea. Could this Foodie (and Teacher) Mama be more proud?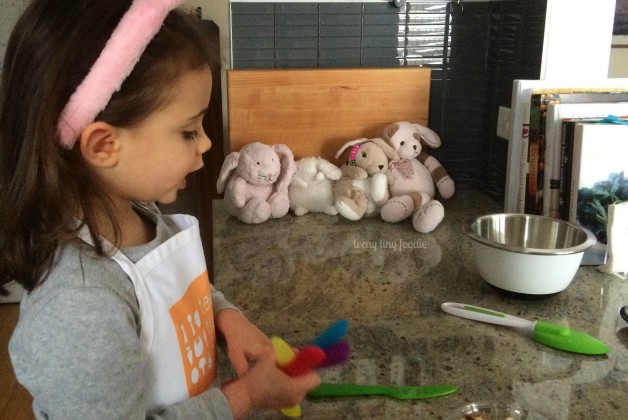 Ingredients:
-1 cup raw almonds, chopped
-1 tablespoon unsweetened coconut flakes
-2 pinches of sea salt
-⅔ cup sugar
-½ cup water
-1 pinch baking soda
-Peel of ½ lemon
-Zest of ½ lemon
-2 teaspoons virgin coconut oil
Preparation:
Set up a rimmed baking sheet with a silpat or greased parchment paper.
Mix together the almonds, coconut flakes and lemon zest. Set aside.
In a small saucepan, heat water, lemon peel, sugar and 1 pinch of salt over medium heat until it boils and the sugar dissolves. Whisk mixture together.
Once boiling, boil for 10-20 minutes or until mixture reaches 300°F on a candy thermometer. Remove from heat.
Immediately add the coconut oil and baking soda and stir until it foams and then turns glossy.
Add the almonds, coconut flakes and lemon zest and stir until well-coated. Pour out onto the baking sheet and flatten into a thin layer.
Sprinkle remaining pinch of salt over the top and allow to cool for at least 20 minutes before breaking into smaller pieces and enjoying.
Happy Cooking!
Tags: almonds, coconut, coconut oil, lemons, salt, sugar
« Previous Let's Make a Quesadilla: Toddler Recipe Flashback Friday: Cookies and Confessionals Next »