Print This Post
A couple of months ago, I bought a new cookbook. It's called Fresh Food Fast by Peter Berley and Melissa Clark. I've tried a number of recipes from here and loved them all. There are several that I have made a bunch of times. After I've made a recipe a couple of times, I tend to make little changes here and there. Sometimes I do this to experiment with a new taste. Sometimes it is because I'm missing an essential ingredient to the recipe and have to scramble for a suitable replacement.
Below is my "unintentional" variation on Peter Berley's Chilled Cucumber Soup with Mint.  I served it with a chickpea salad and some tomatoes I picked up during our weekly trip to the farmer's market, as well as some garlic bread.
So why am I telling you all of this? The other evening for dinner, I gave Eliana some of the soup and salad. She went CRAZY for the soup. She actually started "crying" when I so rudely took the spoon away to try to snap a photo of her eating it. The nerve of me, right? I hope you and your little foodie enjoy these recipes as much as Eliana did!
Cold Cucumber Soup
Adapted, unintentionally, from Peter Berley
– 3-4 cucumbers, peeled, seeded and roughly chopped
– 1½ cups low-fat plain yogurt
– 1 scallion, white parts only
– 1 handful of fresh basil leaves
–  Fresh garlic, salt, pepper, chili powder to taste
Put all items in a blender and puree. Taste and adjust seasoning as needed. Put soup in the refrigerator for an hour or more before serving.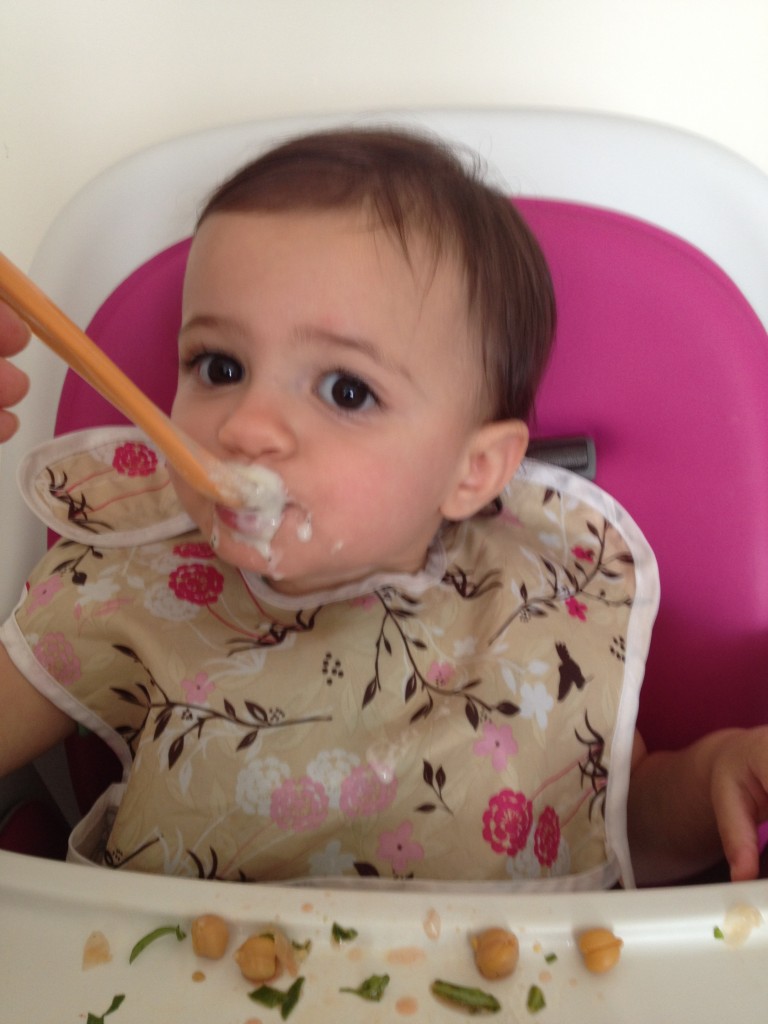 Happy Cooking!
« Previous Chickpea and Tomato Salad Foodie Fun Next »