Print This Post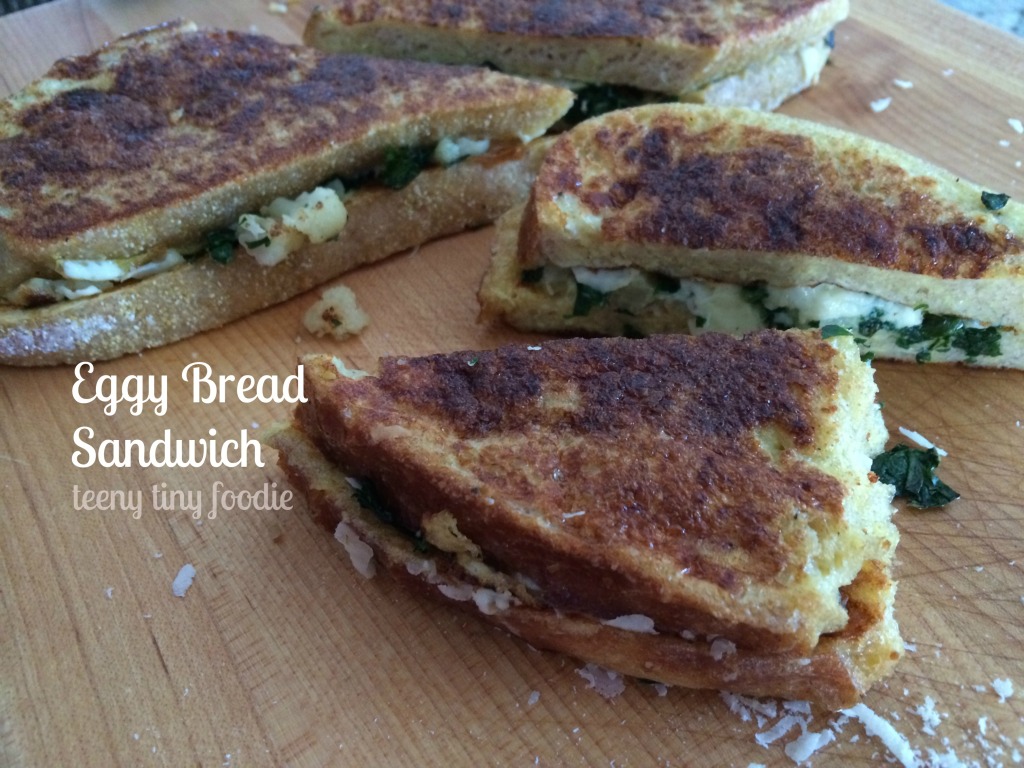 This is one of those crazy dishes that came together by accident and can only be attributed to serendipity. Here's the story: One afternoon as lunch time was drawing closer, Eliana and I were both hungry and there was nothing in the house that was already prepared for us to eat. As I scoured the fridge surveying the odds and ends located inside of it, I remembered something I had heard from a fellow Instagram user. When I posted a photo for Coconut French Toast over the summer, "Bee" left a great tip when she commented that she makes a savory version of french toast as a way to stretch leftovers to serve more people. Hmm. That got me thinking… A savory french toast could be a delicious, protein-packed "bread" for a sandwich. I had eggs, locatelli cheese, raw kale and a little bit of roasted cauliflower from dinner out earlier that week. I grabbed those ingredients and set to work making us lunch. This week's Monday Meal, Eggy Bread Sandwich, is the result of that serendipitous moment! Thanks, Bee!
Some notes before the recipe:
1. Make sure to have your ingredients measured and ready to go before you begin cooking. This dish comes together quickly but there are a few parts to work on at the same time. You should also have your pans and tools ready to go before cooking.
2. Here are my recommendations for pans to have ready to use: Use either a large (10-12 inch) nonstick sauté pan for both the kale and the sandwich or a medium sauté pan for the kale and a griddle pan for the sandwich. Keep handy the lid of a medium pan either way so you can use it to press the sandwich at the end of cooking. Don't use the lid to your large pan since it will just sit on the pan and not allow you to press the sandwich. (Can you tell I tried that once? Whoops!)
3. You don't have to use kale and cauliflower in your sandwich. We prefer the combination of kale and cauliflower but I've used roasted carrots in place of the cauliflower and it's yummy. You can use other greens as well. Just adjust cooking times to accommodate the "green" you choose.
4. This recipe yields one adult serving but many of the photos show the recipe as prepared for Eliana and me. I increased the ingredients by half.
5. Your little sous chef can help you prepare this by adding spices to the eggs, whisking the eggs and pushing the lid of the pan down on the sandwich at the end of cooking. Additionally, an older sous chef can help chop veggies and help sauté the kale.
BYOS: Bring Your Own Stool and cook!! This little lady grabbed the stool from the bathroom so she could get in on the action. Apparently, mommy was taking too long to get the kitchen stool for her. 😉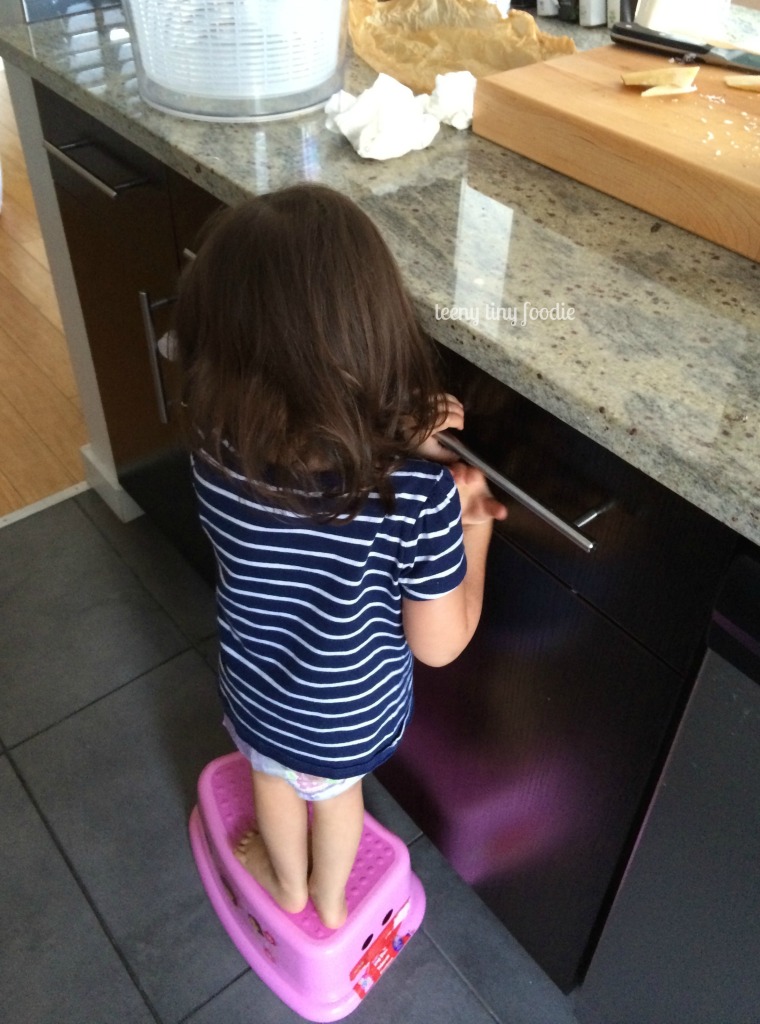 Eggy Bread Sandwich
Yields 1 adult serving or divide into half for a toddler serving
Ingredients:
-1 egg
-1 egg white
-2 slices whole grain bread
-1 ounce locatelli or parmesan cheese, shredded
-Around ⅛ cup roasted cauliflower, finely chopped (Don't forget to prep this beforehand! Here's a recipe.)
-Around 1 cup raw kale, rinsed, dried and roughly chopped
-1 small clove garlic, smashed and peeled
-2 teaspoons olive oil, divided into half
-¼ tablespoon of butter (optional)
-A few pinches each of salt and pepper
-Small pinch of garlic powder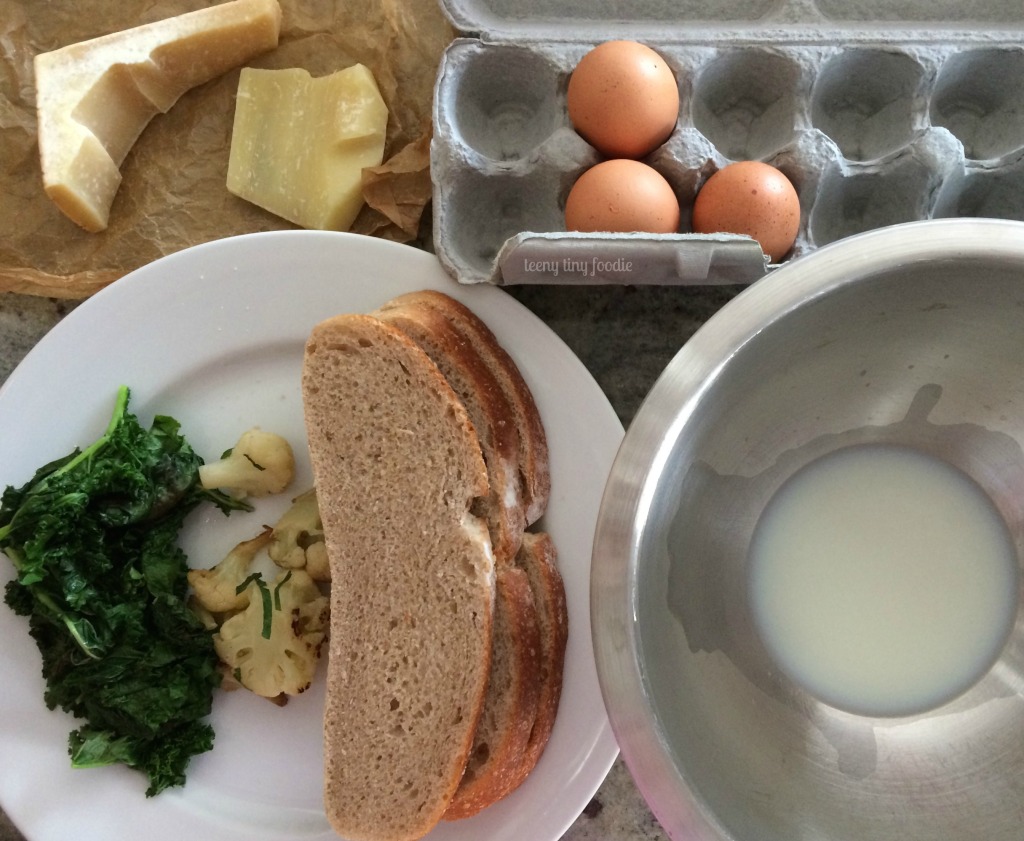 Preparation:
Sauté the kale:
Heat 1 teaspoon olive oil in a medium sauté pan over medium heat. Add the garlic and kale and a pinch of salt. Stir and sauté for about 5 minutes, stirring frequently. Remove to a cutting board to chop later in the recipe.
Shred or grate the cheese:
I typically use a microplane zester or a box grater for this job.
Soak the bread:
Whisk together egg, egg white, 2 pinches of salt and 1 pinch each of pepper and garlic powder in a small bowl. Pour mixture into a low shallow dish wide enough to fit all of the bread. Place piece side by side in the dish and let soak. Flip after 2 minutes.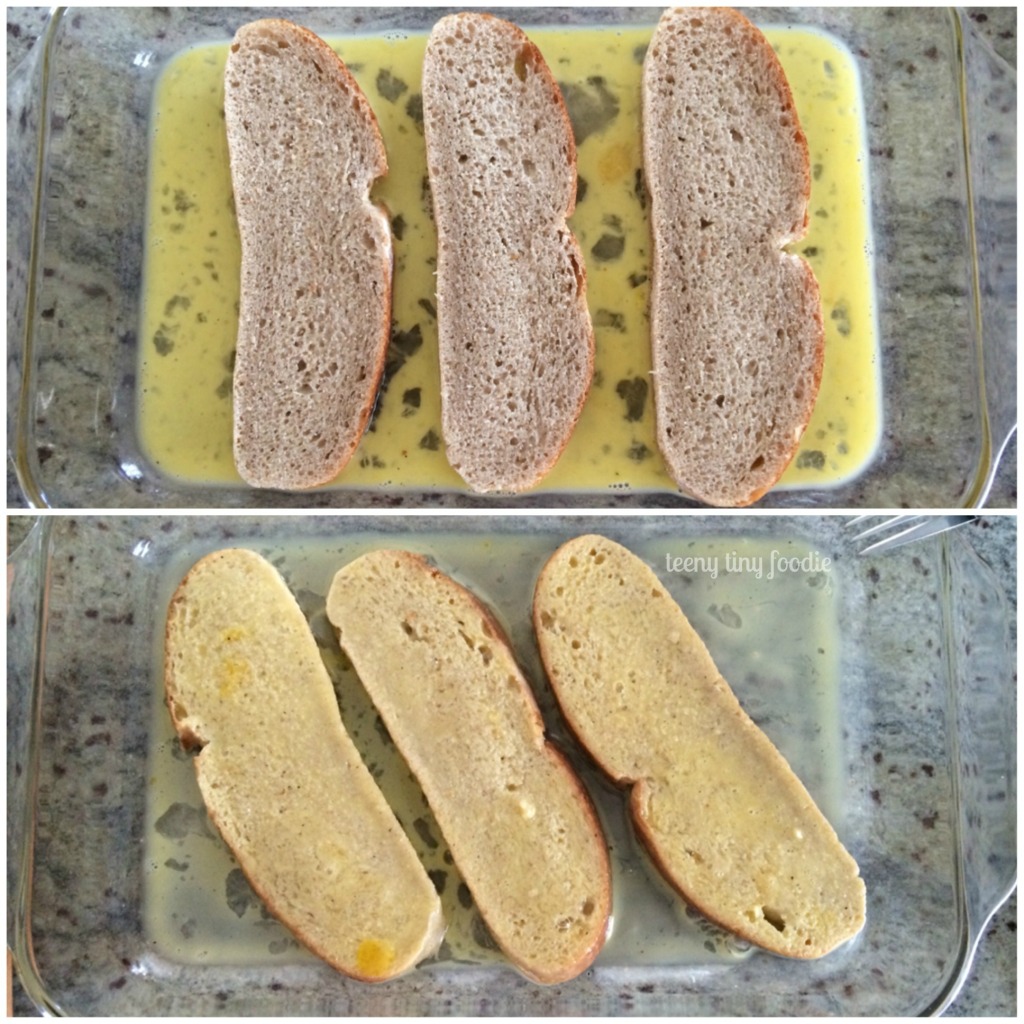 While the bread soaks, assemble the vegetables:
Cover and reheat the cauliflower in the microwave for 20-30 seconds, or until warmed through. Finely chop when cooled to the touch. Finely chop the kale.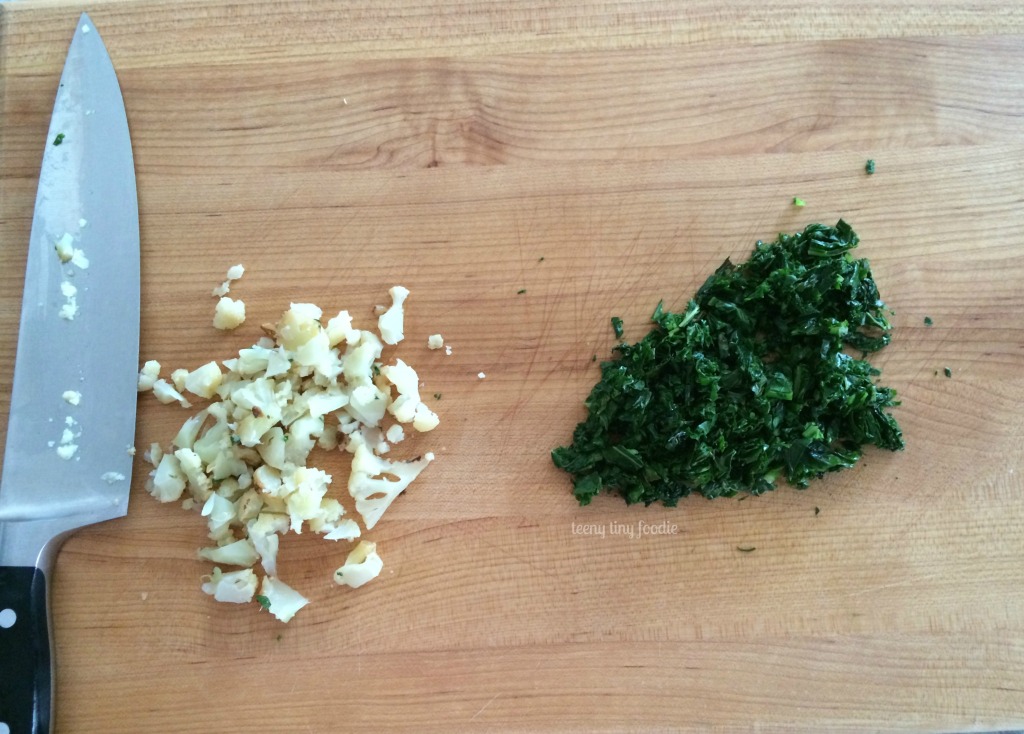 Cook the sandwich:
Heat a large nonstick pan over medium high heat and add the rest of the olive oil and (optional) butter. Place bread slices flat onto pan and let sit, untouched, for 2 minutes. Flip the bread and top 1 piece with half the cheese, then the cauliflower, then the kale and then the rest of the cheese.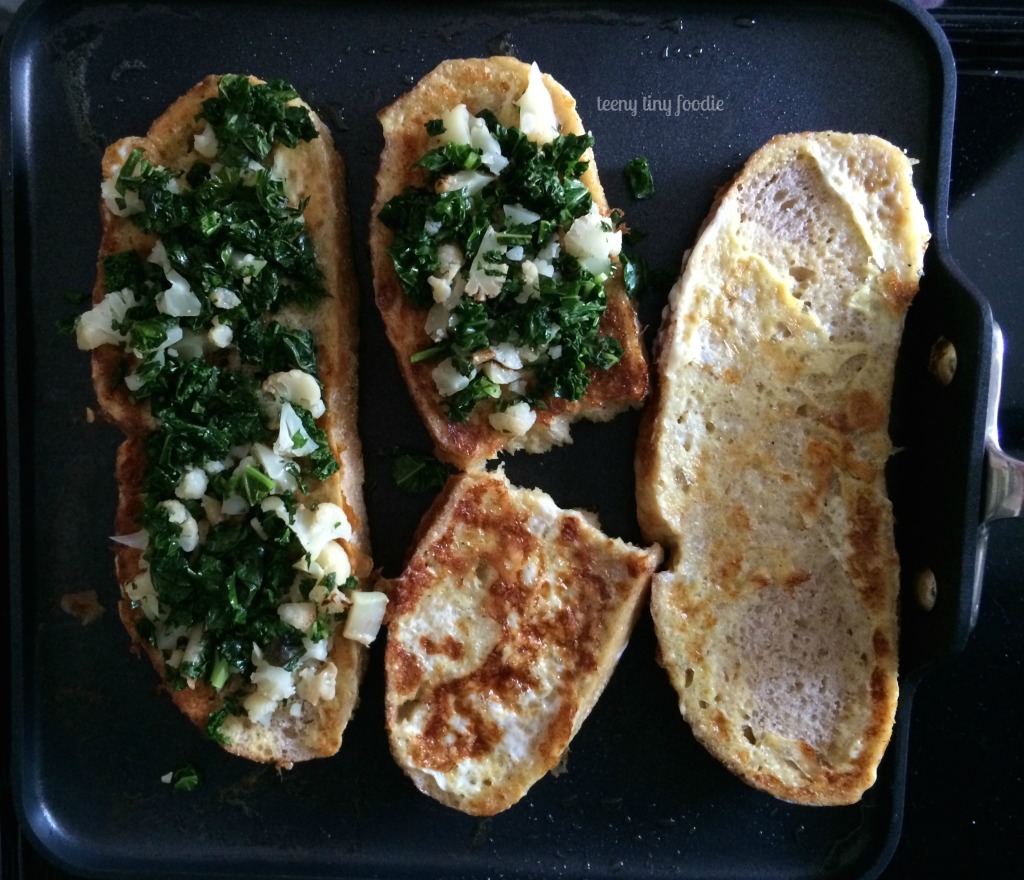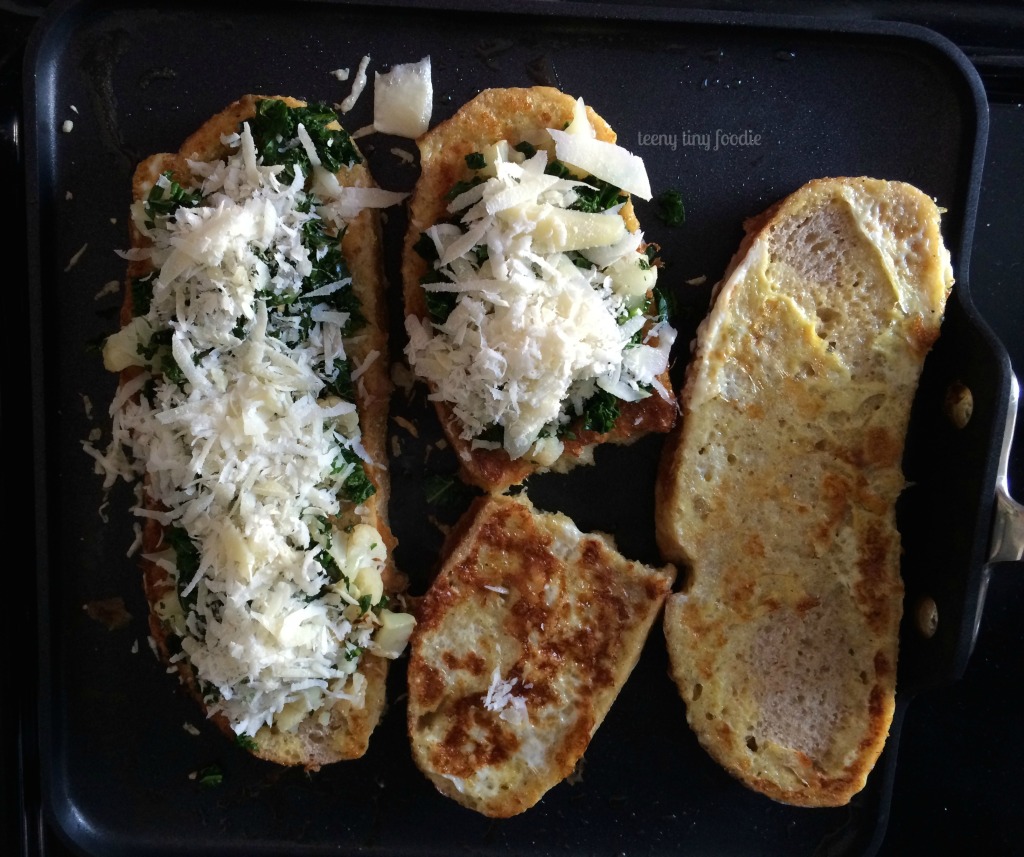 After 2 minutes, cover the sandwich with the un-topped bread, flip carefully and let cook for an additional 30 seconds. I like to use the lid of a pan to press down on the sandwich so it becomes panini-like.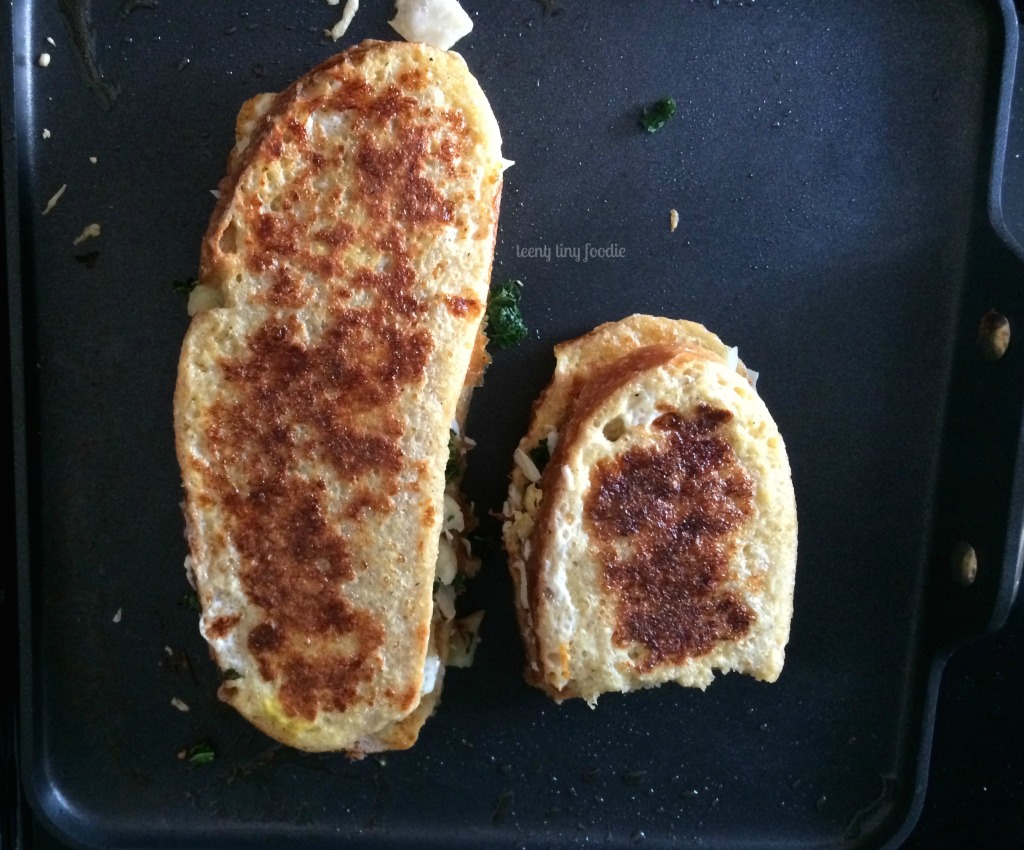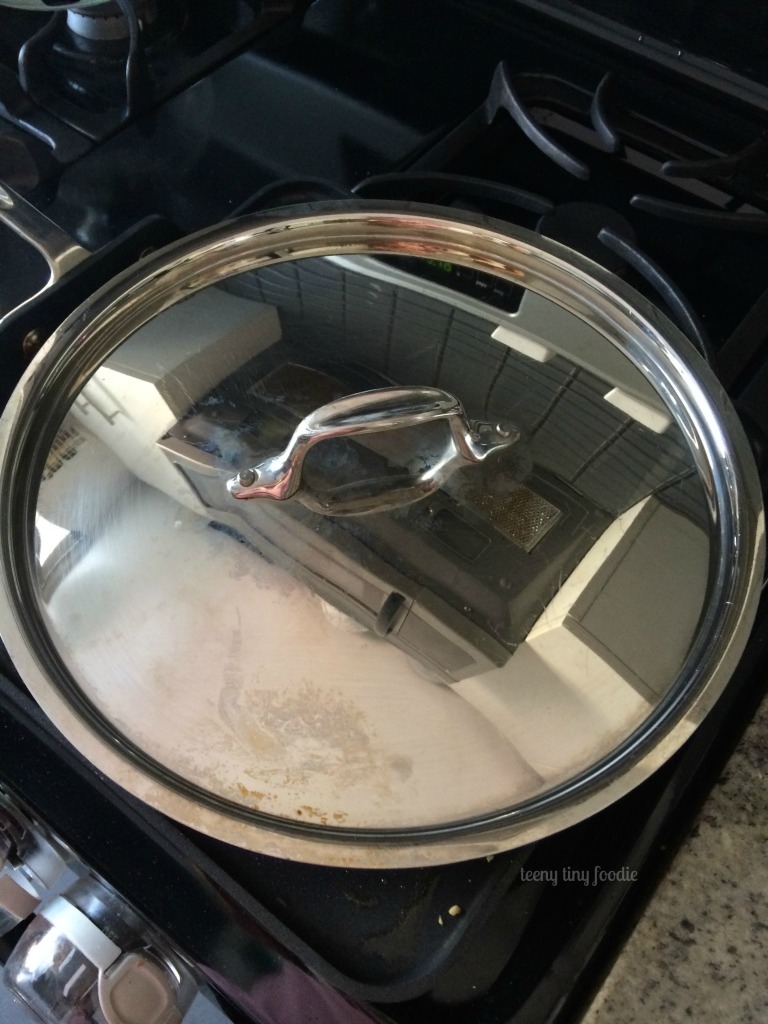 Remove to a plate or cutting board, slice in half and serve.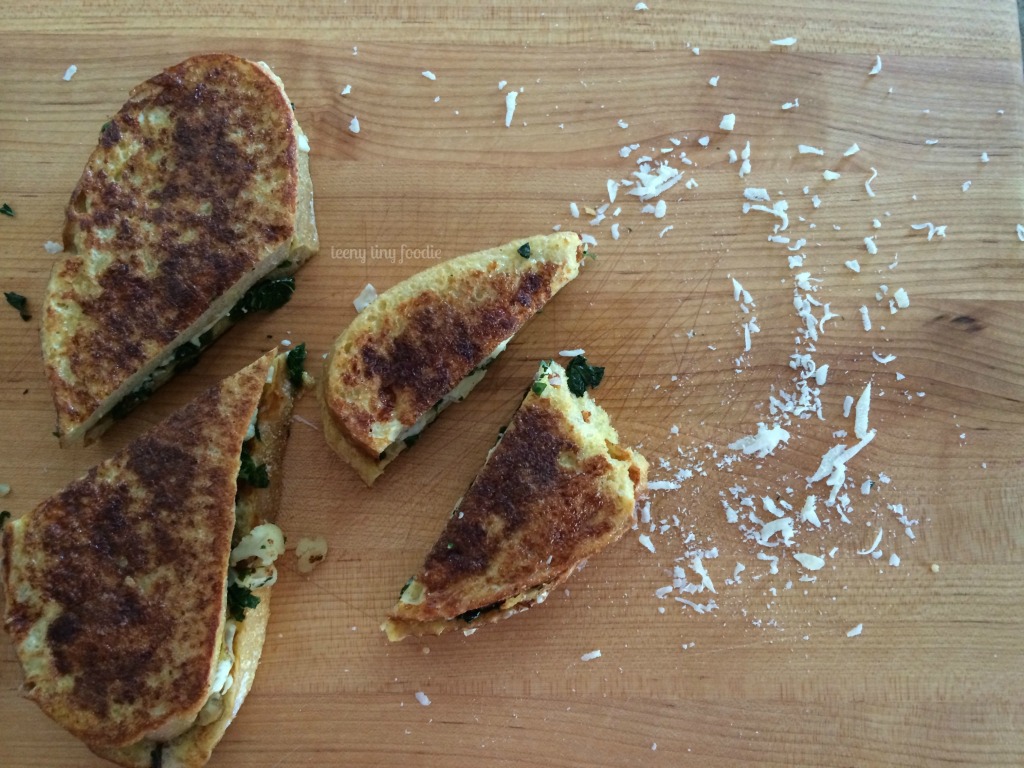 Toddler plate: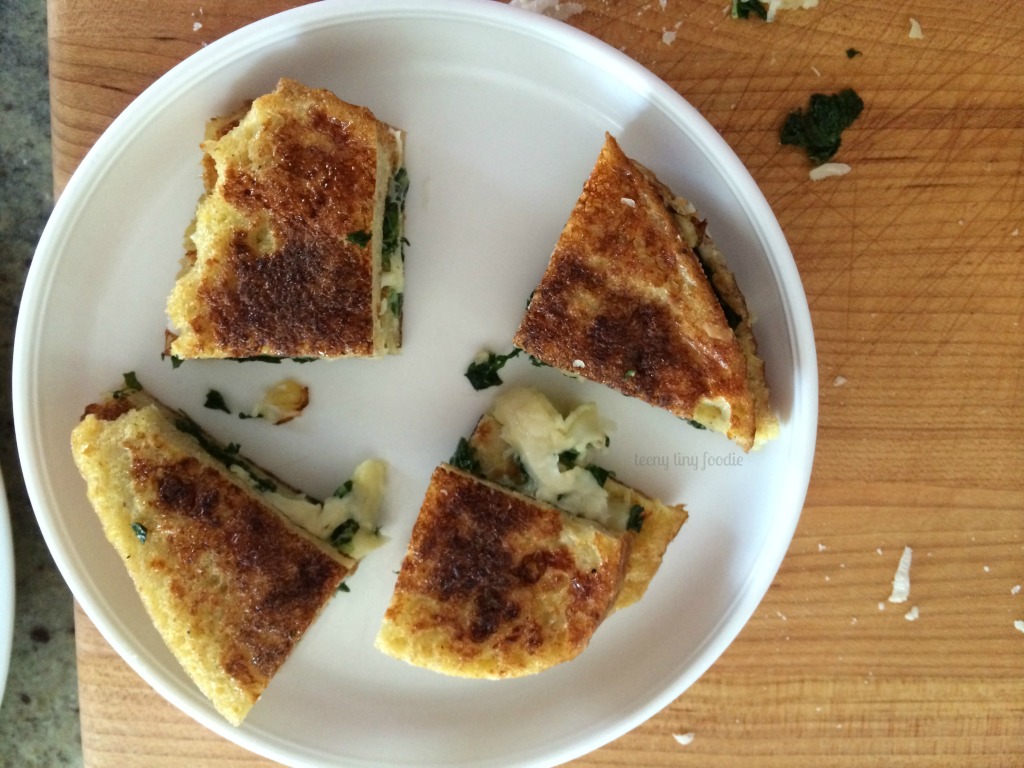 Thumbs up, everybody! Our sandwich looks GOOD!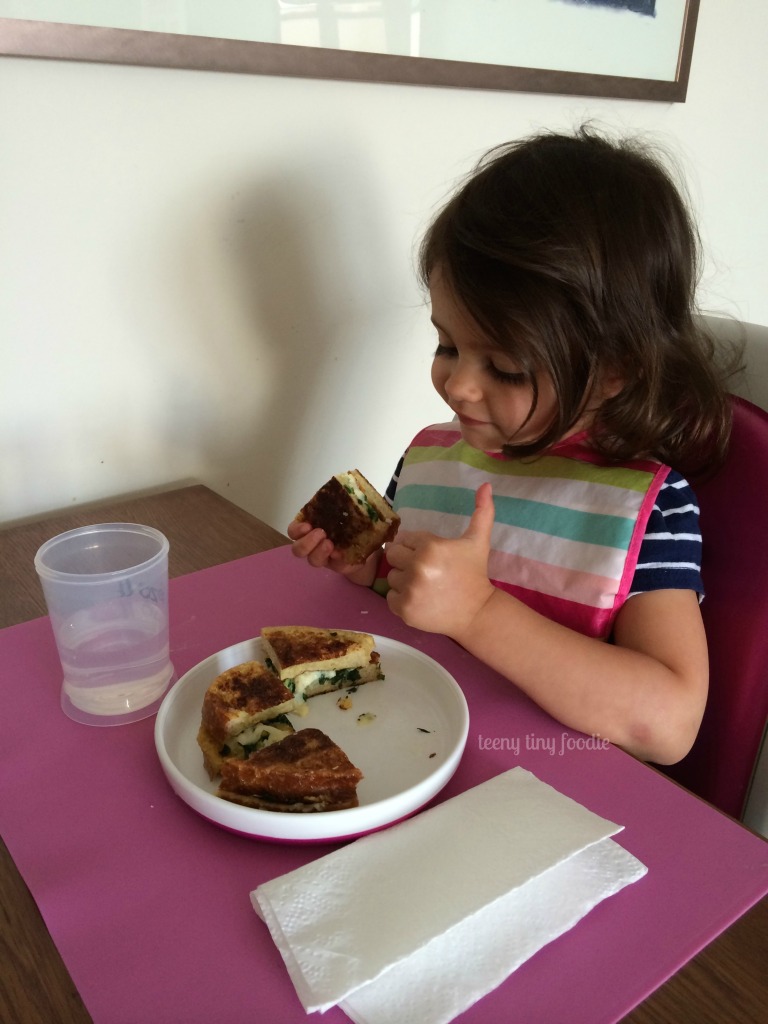 So good I'm doing the yummy dance!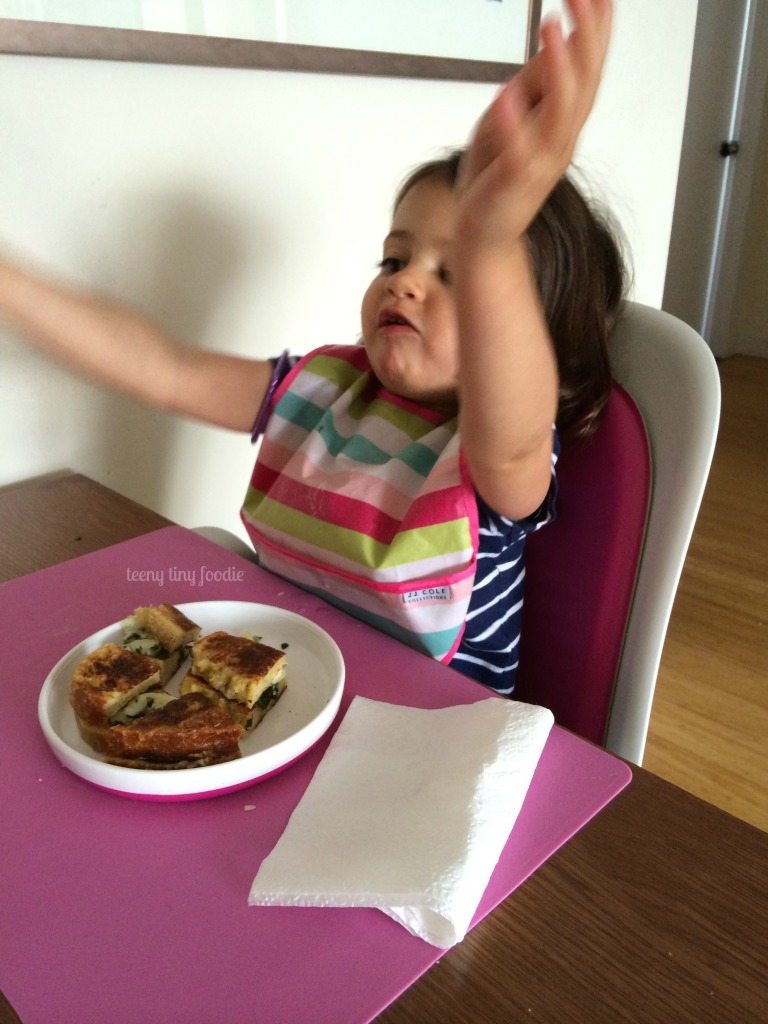 Happy Cooking!
Tags: bread, cauliflower, eggs, kale, Kids Cook, leafy greens, locatelli cheese, Meatless Monday, olive oil, sandwich, vegetarian
« Previous How To Roast Cauliflower Book Review: Garden Safari Vegetable Soup Next »